Diversity Reboot (Summits and Virtual Job Fair) Honorarium Policy - EFFECTIVE JANUARY 2022
Chat & Learn Honorarium Policy - EFFECTIVE JULY 2022
PowerToFly's Diversity Reboot Summits, Virtual Job Fairs, and Chat & Learns are free for all attendees. In alignment with our mission, it's important our speakers are compensated for the time and energy spent extending their expertise to PowerToFly. Speakers, not bound by alternative partnership agreements, have the option to receive a $350 honorarium for successful participation in our virtual events should the event be shared by the participating speaker/speakers' organization. Sharing includes, but is not limited to: promotion on social media (Facebook, Twitter, LinkedIn, Instagram, TikTok, etc.), inclusion in a newsletter, message in a public group/ community, or similar marketing effort. Proof of promotion is required to receive the honorarium. Speakers with alternate partnership agreements (quid-pro-quo speaking, pay-per registrant partnerships, paying clients, etc.) may not be eligible for this honorarium but could be eligible for other compensation based on the initial agreement.
Speakers participating in PowerToFly's Chat & Learn program will receive an honorarium of $350 once per year regardless of the number of talks they participate in but will be eligible for additional compensation including access to the registration list and a pay-per registrant incentive. Speakers at PowerToFly's summits will be eligible for the $350 honorarium for each summit talk as well as pay-per registrant incentive but will not be able to receive access to the registrant list unless a separate agreement has been reached with PowerToFly. Compensation specifics can be discussed with your contact at PowerToFly and all compensation is subject to change based on specific conversations with the PowerToFly team.
We acknowledge that not everyone will want or have the ability to receive an honorarium, therefore speakers will have the option to donate their honorarium to that month's charity/ organization (pre-determined by PowerToFly), or to refuse the honorarium altogether.
Payments will be sent out by the close of the first week in the month following your speaking engagement.
Please note that PowerToFly does not allow for pre-recorded talks unless specific arrangements are made with the PowerToFly team via summit@powertofly.com/livechat@powertofly.com in advance and confirmed with written communication from a PowerToFly team member.
Speakers acknowledge that each talk will be recorded and that recording is the property of PowerToFly. Speakers grant PowerToFly permission to use their likeness, image, voice, and/or appearance as such may be embodied in any photos, video recordings and the like. Speakers agree that PowerToFly can use said material for any purpose consistent with PowerToFly's mission(s). These uses include, but are not limited to, videos, publications, advertisements, news releases, websites, and any promotional or educational materials. The recording of each talk will be available and accessed for free on PowerToFly's website in perpetuity. PowerToFly will provide speakers a link to their recording once it is posted on the PowerToFly website which Speakers are encouraged to share with their community. Speakers will not receive additional compensation if their talk is rewatched, rebroadcast, included in a future summit, shared on social media or in a newsletter, etc. Raw files of recordings cannot be supplied to speakers unless by specific arrangement with PowerToFly.
Payments will be issued via a third-party system so PowerToFly only needs the speaker's email address to complete the payment (no further banking information is required). Please note that this policy will not be applicable to speakers from Summit, Virtual Job Fair, or Chat & Learn sponsors or official partners (with a signed partnership agreement) and other exceptions may apply that are subject to privileged and confidential conversations with the PowerToFly team.
In order to receive the payment, speakers must adhere to the following:
Complete a Typeform that you will be sent prior to the virtual event confirming your email address and indicating whether you would like to receive the honorarium, have PowerToFly donate the honorarium or if you will be refusing the honorarium. Please note: The form must be completed before the conclusion of the event unless you have emailed summit@powertofly.com/livechat@powertofly.com to make alternative arrangements and have received written confirmation from a PowerToFly team member.
IMPORTANT - Payments will be sent out by the close of the first week in the month following your speaking engagement.
Payment will be sent via the third-party service Giftly. If you do not receive an email from Giftly, please check your spam folder and if you still do not see it, please email summit@powertofly.com/livechat@powertofly.com.
In order to be eligible for the payment, you must arrive within the predetermined time for your talk including the pre-live time in our virtual green room.
If you fail to promote the event within your network or social accounts, you will be deemed ineligible for the honorarium. PowerToFly will provide promotional materials ahead of time. PowerToFly may request screenshots to prove the promotion was made.
If you fail to respond to the PowerToFly team within 48 hours of receiving an email when confirming logistics and specifics for your talk, you will be removed from the event and you will be deemed ineligible for the honorarium.
If you do not attend your talk and/or you are more than 5-minutes late for your talk, you will be deemed ineligible for the honorarium.
If you experience extreme video and/or audio issues during your talk to the point that the talk can not continue, you will be deemed ineligible for the honorarium however the PowerToFly team will work with you to find a time to remount or record your talk at a separate time at which point you will be eligible for the honorarium.
If your talk or any additional communication during your talk breaks PowerToFly's Code of Conduct (see below), you will be deemed ineligible for the honorarium.
If the PowerToFly team learns of or observes inappropriate behavior or exchanges that go against the mission of our company prior to your talk, you will be asked to not speak at the event and you will be deemed ineligible for the honorarium.
Code of Conduct:
Thank you for joining us at PowerToFly's virtual events. We welcome an open discussion; however, to ensure our event meets the highest level of ethical conduct, professionalism, and service we ask you to be kind and thoughtful in your interactions with both your fellow speakers and our attendees. This includes not participating in any actions the PowerToFly team would perceive as bullying, discriminatory, or harassment. If you do not abide by this code of conduct, you will be removed from both your talk and the summit/Virtual Job Fair/Chat & Learn as a whole. Thank you for understanding and for helping us make this event a positive experience for all involved.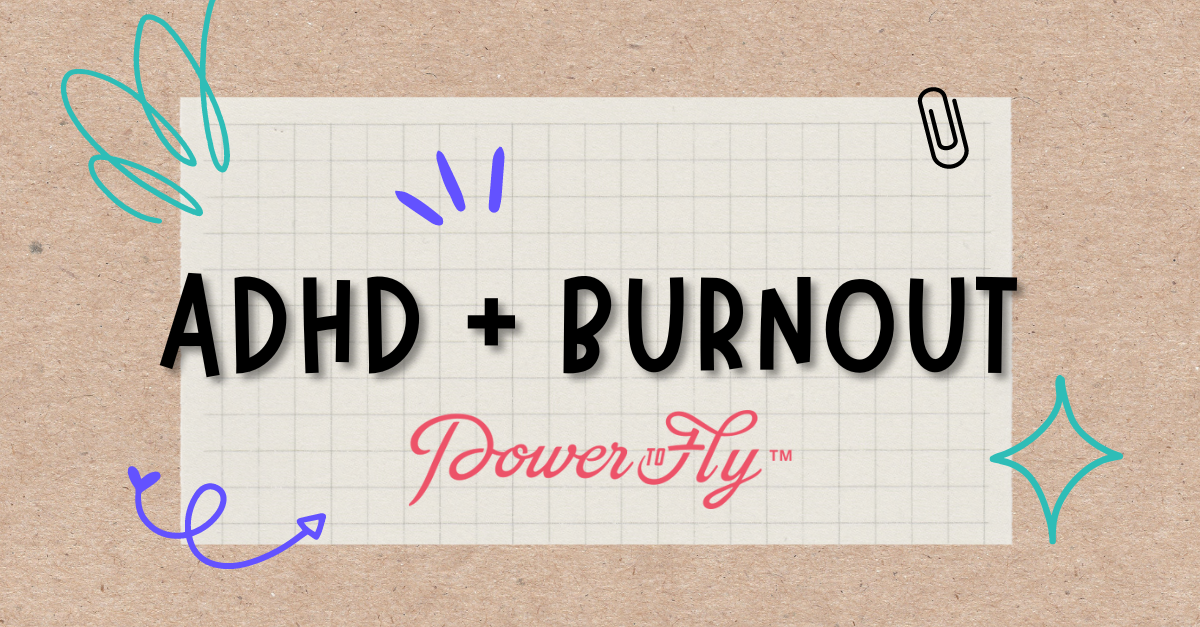 Diversity, Equity, and Inclusion
Have you ever been so exhausted that you quit your job?
You may have been experiencing burnout.
Burnout is characterized by overwhelming exhaustion, detachment from your work, and a sense of ineffectiveness.
And while anyone can experience burnout, if you have ADHD, you may be more susceptible to it.
Before you get to the point where quitting feels like your only option, there are steps you can take to set healthy boundaries and start feeling more like yourself again. Read on to learn how you can recognize burnout in yourself, and what to do if you're experiencing it!
How Does ADHD Burnout Feel?
There are some clear signs that you're burning out, but ADHD can make the descent to burnout harder to detect. These warning signs include:
Lack of motivation - not wanting to do the things you need to do or the things you love.
Exhaustion - feeling overly tired both mentally and physically.
Irritability and mental fatigue - feeling short-tempered, mean, or like you snap easily.
Physical discomfort - body aches, low energy levels, and general pain.
Negative outlook - the tendency to find something wrong with nearly everything.
Emotional dysregulation - feeling weepy, sad, or unable to smile or connect with others.
Generally, burnout starts with taking on too much. Exhaustion creeps in, and you feel like every day is working against you because you are constantly overwhelmed. You may start to feel like the entire world is spinning out of control, or like no matter what you do you can't keep up (or catch up).

If this resonates with you, you might be on the road to ADHD burnout.
Why People with ADHD Can Be More Susceptible to Burnout
So why does ADHD make some folks more susceptible to burnout? There are a few common ADHD traits that often result in behaviors correlated with burnout (taking on too much, working too long, etc.):
Hyperfocus - ADHD is not exclusively about attention deficits. In fact, hyperfocus is the opposite – a deep, intense concentration to the point of being oblivious to your surroundings. Per WebMD, hyperfocus is a state of highly-focused attention that lasts for an extended period of time. You concentrate on something so hard that you lose track of everything else going on around you. When hyperfocus sets in at work, it can be hard to unplug or be aware of the people and environment around you.
Time Tracking - Losing track of time is one thing, but if you find yourself losing track of hours without realizing it, that could be related to burnout. People with ADHD perceive time not as a sequence of events the way others usually do, but as a diffuse collection of events viscerally connected to the people, activities, and emotions that fill them.
Difficulty Prioritizing - Do you take on too much and then struggle to prioritize it? When someone asks for help, does everything often go to the wayside so you can jump in? Or maybe the daunting anticipation of the tasks ahead prevents you from starting. Per ADDitude, ADHD impacts your temporal processing abilities, which can affect executive functioning.
Combating ADHD Burnout
If you think you may be suffering from ADHD burnout, there are a few ways to take back control. Here are three tips for combating ADHD burnout:
Reserve Your Yeses - Pump the brakes when you recognize the early signs of ADHD burnout. Start reserving your yeses right away. Say no, and practice not apologizing. It is okay to say, "I have a lot on my plate right now and cannot take that on. Thanks for thinking of me." Saying no is nothing to apologize for, and it should be celebrated! You are working to protect your energy above all else.
Practice Over-Estimating - If you think you could knock something out in a day, give yourself a week. Overestimate on time and allow yourself the grace to have a little more time than usual to complete projects. Slowing down when starting a new job or role will help you produce high-quality work and prevent ADHD burnout.
Drop the Mask - Be honest with your employer and friends. Let them know that although you seem to keep up internally, you struggle. Identifying ADHD burnout from the outside can be extremely difficult. Your honesty and transparency will position you to determine if your environment is supportive and inclusive.
How to Support Colleagues Dealing with ADHD Burnout
The experiences above may not resonate with you personally, but perhaps you've noticed other people you work with describe or experience them.
If you're a manager, there are several ways you can support colleagues with ADHD (as well as neurodivergent employees more generally) to help prevent burnout. Ask for clarity on when they have felt the most supported at work. Discovery questions like, "how did you feel at that time?" or "how was the pace of that project?" can help you to understand their actual capacity.
Download this free guide
if you're looking for more ways to support your neurodivergent coworkers. Work with your DEIB and HR team to develop new neurodivergent inclusivity standards to help you stay ahead of the ADHD burnout cycle.
READ MORE AND DISCUSS
Show less
Loading...