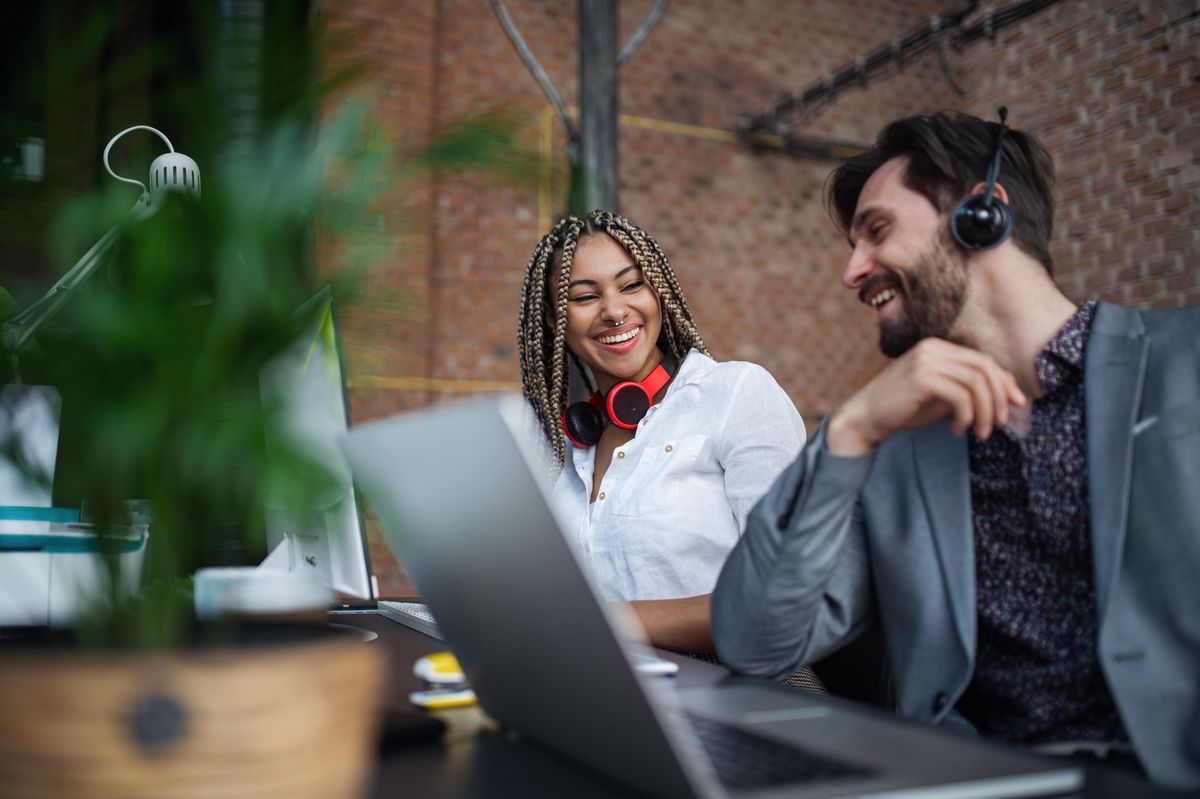 Resources for Employers
When was the last time your company audited its approach to recruiting and retaining diverse early-career talent?
Too often, early career-focused DEIB initiatives take a backseat to other hiring and recruiting priorities. Many companies allocate the bulk of their time and resources to finding and developing mid-career and more senior talent. But if your strategy for building out a robust pipeline of diverse talent doesn't also include reaching folks at the very beginning of their career journeys, you could be at a major disadvantage later on.
What Gen Z Wants at Work
By 2025, Gen Z will make up 27% of the global workforce. People in this age group don't always respond to traditional recruiting tactics, which, to Gen Z, can sometimes read as fake or overly transactional. And once recruited, Gen Zers come to companies with different expectations for what work should look like compared to previous generations.
For one thing, seeing their values reflected in their day-to-day work, including when it comes to DEIB, isn't just preferred by many Gen Z professionals — it's a requirement. And they have different expectations for the when and where of how work gets done, too. Those currently under the age of 24, for instance, are the demographic most likely to quit if required to return to an office full-time, a recent ADP report found. This means companies that hope to stay competitive among Gen Z candidates don't simply need to offer location flexibility. They'll also need to overhaul their onboarding and employee engagement processes to help bring young, diverse talent into their cultural fold from afar.
Meeting Diverse Early-Career Talent Where They're At
Companies that hope to create cultures that support diverse early-career professionals should consider more than their employee engagement programming. They'll also need to keep in mind the obstacles, including financial challenges, that many in this group face when working to access the white-collar workforce in the first place.
As a 2022 report found, the average Black student loan borrower in the U.S. takes on almost 50% more debt than their white peers, owing an average of $25,000 more at the end of a bachelor's degree. This debt alone can hold early-career workers back, but it doesn't end there. With interest, per a Brookings report, 51% of white loan-holders are facing loan balances that exceed what they originally took out — and that number climbs to nearly 60% for Latinx borrowers and 75% for Black borrowers. Intersectionality applies here, too; women have more debt than their male counterparts and take two years longer than men to pay it off.
Student loan reform may be an issue of federal policy, and President Biden's recent move to cancel up to $20,000 of student loan debt for millions of borrowers is sure to have a transformative effect on the careers of countless diverse professionals. But there are other things we can be doing, too, to create company cultures and policies that support diverse early talent and their unique needs.
Is your company overdue an update to its early career recruitment and retention strategy? In our Executive Forum event "Finding & Engaging Diverse Interns and Early Career Professionals In a Zoom World," we heard from subject matter experts about what companies need to do differently today to better reach (and hang onto) Gen Z talent. Here's what they suggested.
10 Key Ways Your Company Can Support Diverse Early-Career Talent
1. Offer scholarships and paid internships for multiple types of entry-level talent.
Unpaid internships help support entrenched socioeconomic and racial divisions, so make sure that you're not contributing to the income gap by asking new-to-the-workplace talent to work for free. You want your company's culture to be one of supporting on-the-job growth. That's why it's also great for retention of diverse early-career and career-switching talent to offer scholarships for continued education and professional development.
2. Make career paths clear and support internal rotations.
Underrepresented talent may be impacted by explicit or implicit bias about what kind of work they should do or what kind of promotions are available to them. Take away some of the opportunity for subjectivity by clarifying the career paths available at your company and what talent needs to do to advance to each level. Offering internal rotational programs gives talent opportunities to get outside of their comfort zone and try out different versions of your company culture without having to look for an external role.
3. Double down on the mentorships you offer.
Traditional mentorships are powerful, particularly if they give diverse talent an opportunity to find a mentor who has shared life experiences with them. (And that access to a relatable support network can be especially crucial for first-generation college students, who might not have deep benches of professional support.) But reverse mentorship, when the tables turn and early-career talent are the ones answering questions and advising more experienced workers, can have a major impact, too. It gives diverse talent a chance to have their voices heard and to shape the future of the company — which gives them motivation to invest and be invested in at the same time.
4. Partner with external organizations, like PowerToFly, Handshake, BYP Network, and the Washington Internship Institute, to reach targeted, diverse candidates.
A big part of finding diverse early career talent, whether you're looking for entry-level candidates or bringing on interns, is knowing where to look. Connecting with candidates on platforms they're already frequenting is key, as is the need to prioritize long-term relationship building with this talent pool. Reaching early career candidates through third-party organizations that have already cultivated a relationship with them makes the job easier. (From the candidate's perspective, think of it as being sent opportunities that were vetted by a friend, versus relying purely on impersonal job boards!)
5. Start dialogues with HBCUs, women's colleges, and bootcamps that are regularly engaging with diverse young professionals.
Ask your employees to participate in recruiting at the schools they attended, as well as to connect with their schools' alumni associations and career centers. Companies are also seeing success allowing interns to do social media takeovers on Instagram, showing what an actual internship experience is like while representing their school.
6. Be open and honest about the future of remote work and potential for growth at your company.
The more you can transparently share upfront, from practical info like your company's remote work plan and the role or internship's salary band to the potential career paths your organization is able to offer, the better chance you'll have at getting applicants from less-privileged backgrounds.
7. Create regular spaces for reflection, empowerment, and healing.
This looks like facilitating connection between employees with similar experiences (like in identity-based employee resource groups) as well as providing separate opportunities for people to talk and share their experiences with people who don't have the same background (like in listening circles and facilitated conversations). For this policy to work, it needs to be regular — not a one-off conversation after a round of race-based violence, but something more like a quarterly practice.
8. Level up your DEIB training.
Learning is different from reflecting, and it needs a different kind of programming. Show up for diverse talent by bringing the rest of your organization along in their own development, pushing beyond introductory sessions on inclusive language and allyship with the help of trained professionals.
9. Embrace data and analytics when it comes to inclusion and engagement at work.
It can be easy to talk, high-level, about how important it is to support diverse early career talent. But have you asked them how they're doing and what they need? And compared those answers over time? If not, you're missing out on the best guidance for what your specific company needs to improve upon its culture. Get granular, with data on retention, employee satisfaction, amount of employee referrals, participation in ERGs, racial bias incidents, and more.
10. Don't assume young hires will be digital natives; provide them with all the training they need.
Starting a job you feel under-trained in is overwhelming, particularly for early career professionals who can benefit from more instruction and mentorship upfront. When onboarding early career professionals, you should set up checkpoints every day and be as comprehensive with your training materials as possible. How set up for success your Gen Z hires feel from the outset can majorly impact your likelihood of retaining them down the road.
Download the full "Finding & Engaging Diverse Interns and Early Career Professionals In a Zoom World" report here.

Want to hear from experts and collaborate with other executive-level thought leaders on ways to take your DEIB strategies for early career talent to the next level? Join us at our upcoming (free!) Diversity Reboot virtual summit: Early Career Connections & Mid-Career Pivots.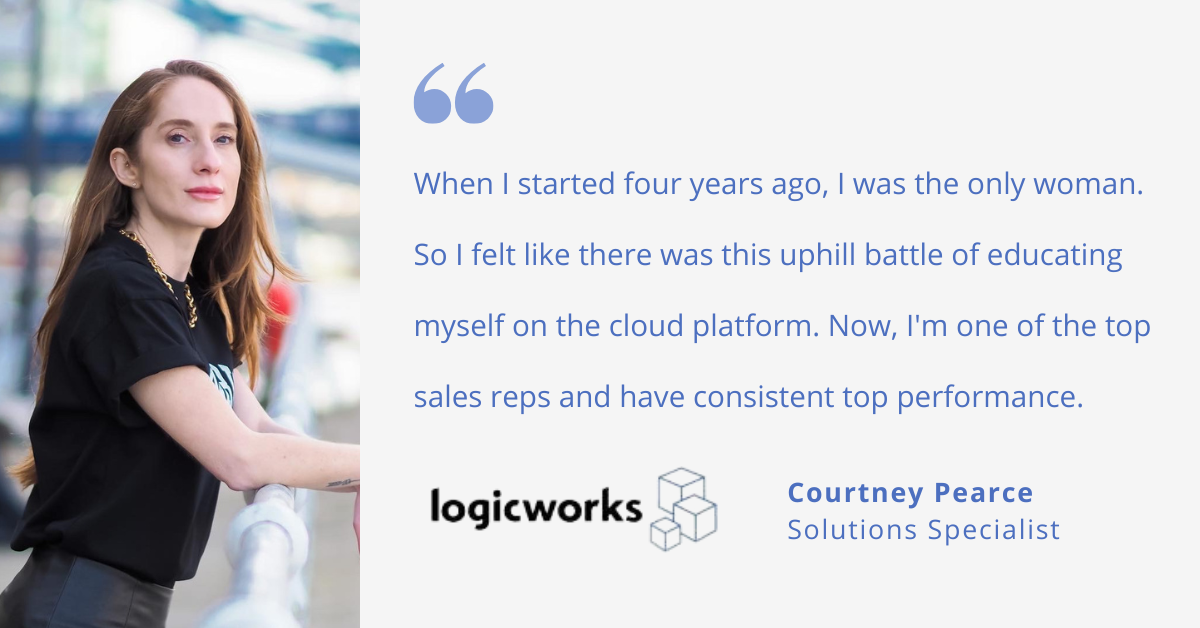 Logicworks
Courtney Pearce's background isn't one you'd expect to find in a tech sales position. But as a motivated self-starter, it makes all the sense in the world that she's been so successful in her role as Solutions Specialist at Logicworks.
If you ask her what she's most proud of about her time so far at Logicworks, she'll say her growth over the last four years.
"Even though I came from a technology company that was selling software, selling infrastructure and infrastructure managed services is very different. There was a learning curve. And when I started four years ago, I was the only woman. So I felt like there was this uphill battle of educating myself on the cloud platform. Now, I'm one of the top sales reps and have consistent top performance. So I'm most proud of my growth over the last four years."
Courtney has a lot of wisdom to impart to those interested in taking on the sales side of tech. We sat down with her to learn more about how she broke into the tech world by utilizing her retail experience.
An Unexpected Path Into Sales
Courtney started college as an Orthodontics major but eventually realized that science wasn't her calling.
"Although I'm a great student, science and math were difficult subjects for me," she admits. "I ended up taking a random textile and clothing elective and it was my favorite class."
She enjoyed the breadth of the program and decided to become a Textiles and Clothing major.
"You got the opportunity to learn the sociology behind why people wear clothes, the chemistry behind dying, how to make fabric, then creating a line from start to finish and marketing that to the class," she shares.
Although fascinated by the program, her career journey didn't lead her to the fashion industry but rather to an adjacent career in retail.
"I ended up accepting a leadership position for a big box department store," she says. "At 23 years old, I ran a 35 million dollar store. It was a great experience and I learned a lot."
After two years of working in retail for various name brands, she found her way into a tech company through a recruitment role.
Breaking Into the Tech World
While Courtney was working at a recruiting firm, she was approached by a security tech company with a position as a technical recruiter. She was interested in the role and applied, but didn't get an immediate response.
"I didn't hear back, but continued to follow up," she recounts. "One night, I got a phone call that said, 'You're not a good fit for the technical recruiter role, but we have this new group that we're building out called business development and they're working directly with sales. Based on your experience and the fact that you're willing to follow up, we think you'd be a great fit'."
At the time Courtney knew nothing about the tech space but that didn't stop her from interviewing for the position.
"I spent an entire week browsing the website, watching all their product marketing videos, and tried to wrap my head around what this security company did," she explains.
During the interview, she blew them away with her knowledge of the company.
"I gave my five-minute spiel and I think that impressed them," Courtney shares. "I had taken the time to research the company, and not having had a tech background, I tried to comprehend what they do."
Hired as a business development rep, she had the opportunity to build the team from the ground up.
Reaching New Heights at Logicworks
Courtney continued to rise in the ranks, but she eventually felt that she had hit a plateau. With a desire to try out something new, she looked to Logicworks who offered her the career advancement she was looking for.
"I had reached my potential with my previous employer. There wasn't anything new for me to learn. I wanted to figure out what was next in my career. There was an opening at Logicworks for a Solution Specialist to be based in Boston. That was enticing for me."
When Courtney moved to Logicworks she was able to explore job autonomy.
"It gave me the opportunity to move into a territory that I'd been working in for many years, but also run that territory like my own business," she explains. "There was nobody else working within that space, and I could create the process that I wanted to."
Now at Logicworks, she experiences the constant changes of a cloud system.
"I'm constantly learning," she shares. "We're constantly evolving our services, what products we're providing, and how our services are integrated as the cloud is maturing. It keeps me interested every single day."
Now as a sales lead, Courtney focuses on building relationships with current and potential clients.
Coincidentally, the relationship-building skills that Courtney uses on a daily basis come from her experience in retail.
"I think coming from retail, you have to be able to talk to anyone," she says. "You're getting a lot of different customer personalities, so it allows me to be comfortable talking to strangers, which I think is key in sales."
Along with sales experience, Courtney's internal drive has been key in propelling her forward.
"Being a self-starter and watching YouTube videos on what the cloud is, what AWS is, and taking that time on my own to learn and absorb as much as I can are, at the end of the day, the kinds of things that you can prepare you to enter the tech space," she explains.
Ultimately, it was the skills she learned in retail and her self-taught understanding of tech that have led to her success.
Advice for Entering the Tech World Through Sales
If you're looking to enter the tech world from a sales angle, Courtney offers this advice:
Find companies that resonate with your values. "Whether you like their product and think that product is solving a pain point in the marketplace, or you align with the company's values, work for a company whose mission you support," Courtney advises.
Be pleasantly persistent. "The biggest thing that helped me was when I reached out and nobody responded, and then I followed up and nobody responded, and then I followed up again and they called me. Being pleasantly persistent shows that you're interested and invested in the organization," she explains.
Do your research. "Take the time to figure out what the company does and what they are all about. Educate yourself above and beyond the basic training material to ensure that you have the right knowledge base to be successful in the role."
If you are looking to grow within the tech space, check out
these open positions at Logicworks
.
READ MORE AND DISCUSS
Show less
Loading...