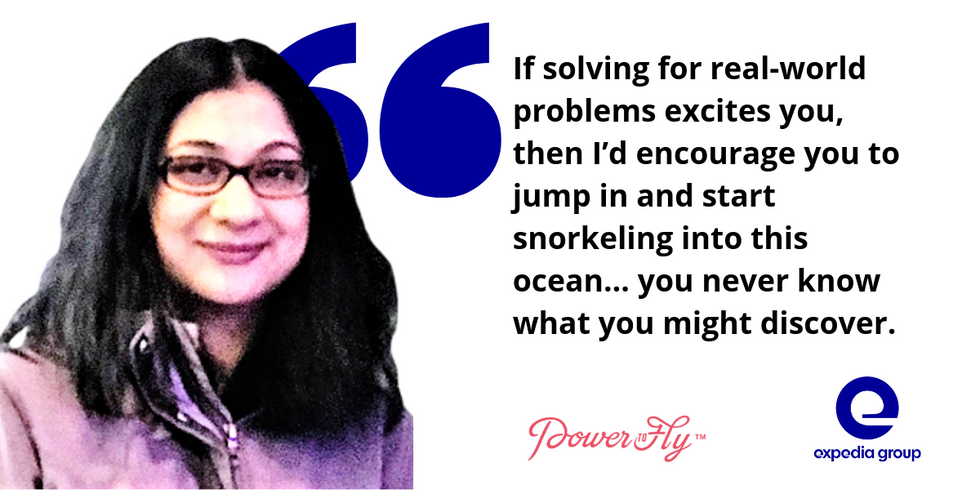 Expedia Group
From Using Data to Help People Travel Better to How a Career At Expedia Group Can Help You Find Your Passion
If you're not entirely sure what a career in data science entails, you're not alone. It's a relatively new term, and a lot can fall under the umbrella of data science. To understand what data science is, why it's important, and what kinds of candidates are well suited to the field, we sat down with Senior Data Science Manager at Expedia Group, Soma Bhattacharya, PhD.

---
Soma encourages anyone who enjoys intellectual exploration to take the plunge: "If solving for real-world problems using the power of big data and scientific methodology excites you, then I'd encourage you to jump in and start snorkeling into this ocean… you never know what you might discover."
Read on to learn more about data science, Soma's journey into the field, and why she loves applying her knowledge as a data scientist at Expedia Group. Plus, we got her tips for how anyone (even those without a PhD) can start a career as a data scientist.
So, first off, what is data science?
"Data science is just an industry coined term which really implies using big data and statistics, which was traditionally only utilized in academia," which is where Soma got her start, completing her doctorate in economics.
Now that big businesses have finally caught on to leveraging big data, there's a pressing need for qualified data scientists. That's how, in part, Soma made the leap from research (and over two dozen peer-reviewed papers) to business.
Although some people might initially see this leap as odd, Soma's background in economics gave her a strong foundation in statistical modeling, which is what she's used to solve problems as a health policy researcher, and now as a data scientist at Expedia Group. In her words, "The only thing that changed when I shifted gears from academia to health policy to industry, was the kind of questions I'm solving for."
What kinds of questions is data science answering at Expedia Group?
At Expedia Group, the kinds of questions Soma's answering help provide a better experience to travelers across the world, and that's an Expedia Group foundation that Soma believes in wholeheartedly - bringing the world closer.
Soma's data science team is involved in building chatbots so customers can self-serve for all their service needs, but data science at Expedia Group goes well beyond that. There are multiple teams dedicated to pushing the travel industry forward, leveraging the full capabilities of Artificial Intelligence and Data Science to help customers make the most of their travels.
For Soma, the key is, "helping the customer search effectively… search for what they really are looking for." Because many customers don't know where to begin when planning their travels, data science can help them find what's actually relevant to them, and plan the trip of their dreams, even if they weren't entirely sure what they were looking for.
What's life like at Expedia Group as a woman and a mother?
In Soma's experience, the idea of bringing the world closer doesn't just apply to Expedia Group's approach to customers, but to employees as well. In the same way the company helps introduce travelers to the rich diversity of culture, food, thought, and people that the world has to offer, it brings employees from diverse backgrounds together to, "celebrate and learn [from one another]."
Whether it's training programs for junior women led by female leaders at the company, mentoring programs, or gathering together as a company to celebrate holidays from all over the world (most recently Chinese New Year), Soma feels like Expedia Group goes the extra mile to be an inclusive place to work.
As a mother of two young kids, this has been particularly instrumental in ensuring she can adjust her schedule in order to meet all of her responsibilities as a mother, while still being able to, "utilize my skill sets that I had worked so hard to build to make some meaningful contributions in this space."
Can you pursue data science at Expedia Group even if your background isn't in statistics?
If you think you might like to take the plunge into data science, but you don't have a PhD in economics like Soma, don't worry. When we asked her if Expedia Group offered any paths for folks who want to career pivot, her answer was a resounding, "We highly encourage that."
Expedia Group has early career opportunities starting with internships and training programs for students, and many of these same programs are open to Expedia Group employees on other teams who are interested in trying something new. Soma even leads data science workshops for Expedia employees who are interested in learning more about the field.
Soma also prioritizes training, external and internal, for her team members because in a rapidly changing field like data science, "we need to keep up to date with all the skill sets."
Summing it up: Who can excel at Expedia Group?
As Soma puts it, "At Expedia Group we always have a thirst for great talent. We like to give everybody an opportunity to try out their talents…We believe in the old adage, 'If you judge a fish by its ability to climb a tree, it will live its whole life believing that it is stupid.' We believe that everybody has great talents, and it's just finding that right path. What motivates you. What you're passionate about. Where you know you can contribute."
If this sounds like a place you'd like to work, then check out their open roles on PowerToFly - Soma's team is growing! You can see the rest of their amazing benefits and learn more about their culture here.
Pax8
💎 How to build trust in your team? Watch the video to the end to find out!
📼 How should you work to build trust in your team? Play this video to get three top tips that will help you. You'll hear from Veronica Setzke, Senior Director of People Ops at Pax8, who shares tips and tricks she learned through years of coaching.
📼 How to build trust with peers in your team? Tip #1: Relationships. There's no better way to start forming relationships than having regular one-on-ones. It doesn't have to just be with your supervisor. It can be with your coworkers. It can be with those people that you collaborate regularly with. And it's really important in these one-on-ones that we're spending time listening. Take the time to be present and listen. Also, spend time together not working. Have lunch together. Go for coffee. Take a five-minute walk around the building and just have a conversation. Relations are a key element to trust!
📼 How to build trust? Open yourself in your team Tip #2: Vulnerability. Allow yourself to be vulnerable. Ask for feedback, whether it's feedback about a project, a process, or even maybe a leadership behavior that you're trying to master. This allows those on your team and those around you to see you as willing to be vulnerable. Trust and vulnerability go hand in hand. It doesn't mean that you're weak, but rather that you're open. It allows your team to understand that it's a safe place for them to also be vulnerable.
How To Share To Build Trust In Your Team - Tip #3: Clear Is Kind
Keep the team informed and say as much as you can about what you know. There are times that we hold information that could be shared. We could share that information that impacts others' work and have them have the opportunity to use that to do better. If you've learned something that could help your colleague make a better decision, share that! Try to ensure that your communication with others is clear. When you make the effort to be clear about your intentions, your work, and your roadblocks, it opens others up to do the same.
📨 Are you interested in joining Pax8? They have open positions! To learn more, click here.
Get to Know Veronica Setzke
She works as a People professional because she sincerely believes that people want to be excellent, and it is her role to help move the obstacles to their achieving success. She believes the employees deserve a culture that values their work and will respond to such a culture by creating amazing results. If you are interested in a career at Pax8, you can connect with Veronica on LinkedIn. Don't forget to mention this video!
More About Pax8
The company simplifies the way organizations buy, sell, and manage cloud solutions, empowering its partners to achieve more with cloud technology. At Pax8, they know that they are only as great as their people. They realize that every individual has unique personal and professional aspirations, which is why they strive to offer a complete and competitive Total Rewards offering for their members and family.
READ MORE AND DISCUSS
Show less
Loading...