GET EMAIL UPDATES FROM POWERTOFLY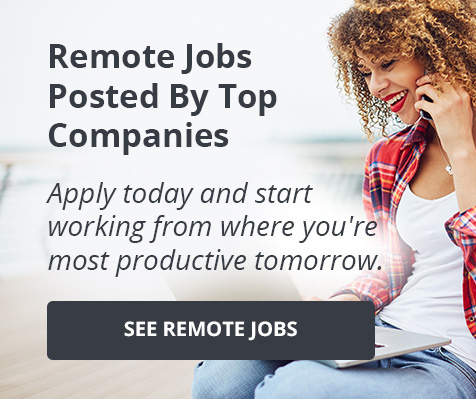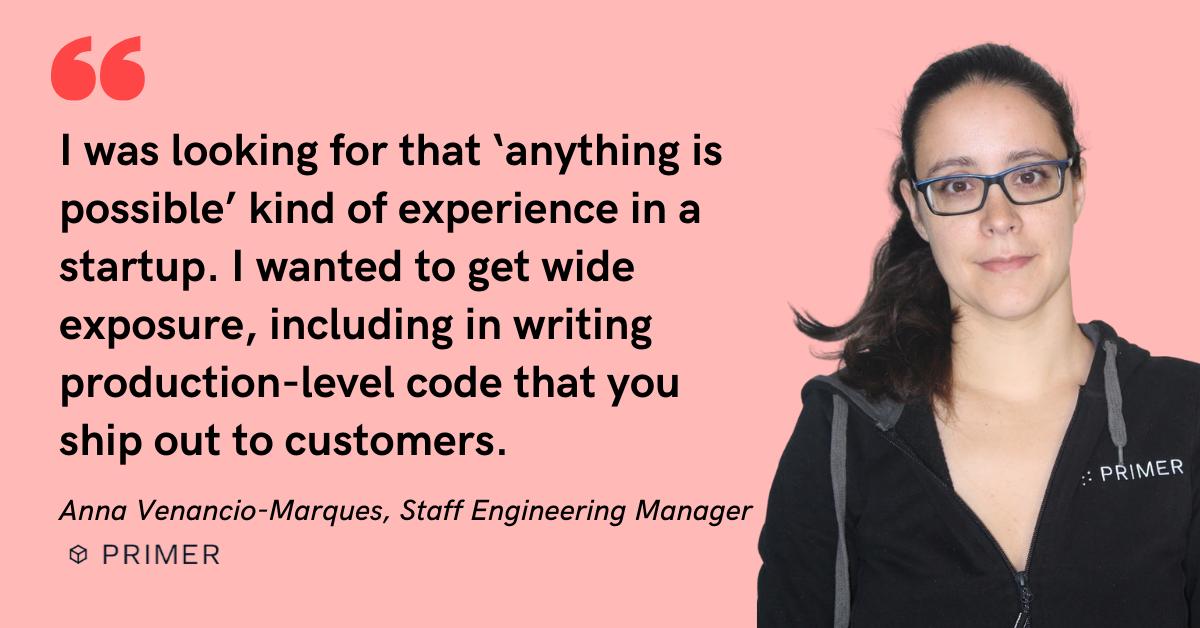 July 17, 2020
Primer
From Chemist to Coder:
Transitioning from Academia to Startups, Learning to Manage Others, and Exploring AI with Primer's Anna Venancio-Marques
Anna Venancio-Marques set out to get her PhD in chemistry because she was curious.
---
She was curious about how the world worked, about how she could have an impact. She was especially curious about molecular biology and microfluidics—the topic of her dissertation.

Several years of study later, her curiosity had waned in the face of the "publish or perish" pressure that academics of many disciplines face. Anna realized that advancing research on one specific problem probably wouldn't lead to the impact she wanted her career to have.
Now, as the Staff Engineering Manager at machine intelligence startup Primer, Anna has been able to make an impact on future applications of natural language processing, initially as an individual contributor and now as a team lead. "I feel that I have a lot of power when I do data science," she reflects. "Through science, I can have an impact."
And it's not so far off from her academic days. "Chemistry is really close to data science," she notes. "In my current role, I have experiments I need to run. I make hypotheses that I need to validate—and that's very much the approach a chemist would take. The transition has meant being open to more data and different questions outside the realm of chemistry. But the exploration is the same."
Big corporations vs. smaller startups: following the opportunity
Anna enrolled in an MBA program after finishing her PhD to help her transition from academia to the corporate world. When she finished that degree and was entertaining job offers, she was deciding between working for a big company or a more niche data science startup.
She went with the latter. "I was looking for that 'anything is possible' kind of experience in a startup," explains Anna. "I wanted to get wide exposure, including in writing production-level code that you ship out to customers."
She moved to San Francisco from Paris—she's originally from Lyon, France, but says her home country's startup ecosystem is still "developing" and she was drawn to the vibrancy of the Bay Area—and began her career as a data scientist.
Her first role at Primer was the deeply technical, fast-paced, opportunity-packed experience she was looking for. As the company grew, so did Anna's responsibilities. "There were always opportunities to raise your hand and say, 'Well, I'm interested in this, I'm willing to try it,'" she says. She was working on natural language processing projects, and as the company won more and more contracts, she took on more and more projects. "It was a much, much faster pace than I would've gotten in any other setting," she says.
Anna loved the problems she was solving. "It's really exciting to look at data and ask questions of the data to go after the answers. It's really fun to think you're just about to crack something and just about to get an answer," she remembers. But as her responsibilities grew, her time spent getting her hands dirty writing code shrunk. She started working with one other engineer, then took on a team of six, which grew to a team of ten.
She had become a manager—which was something she didn't quite know how to be.
"What got you here won't get you there": advice for new managers
Anna knows now that the skills she developed as an individual contributor weren't the ones she needed as a team lead. But she had to figure out what those new needed skills were—and how to acquire them. "I thought I had proved myself. I was very proud of my skills as an IC," she says. "But I needed to expand on them and be humble enough to realize that there was a whole new set of skills I needed to be developing."
Anna entered what she calls "learning mode," which was enabled by Primer's culture and values, particularly their focus on being "always human." To Anna, this means being actively willing to help, teach, and learn together, keeping in mind each team member's different experience and perspective.
Of all the new skills she's picked up, there are a few Anna would highlight for engineers making the transition to management:
Lean on the side of over-communicating. "Make sure you have a shared vocabulary," Anna says, giving the example of hearing a product manager use the phrase "anomaly detection" and not being sure whether that PM was referencing specific machine learning methods or more abstract concepts. "Over-communicate and ensure that you're on the same page and understanding the same things."
Assume the best in others. "You've got to assume good intent in other people—that will make them more likely to want to answer your questions and to send questions your way when they feel that they don't understand something."
Make connections all over the company. This advice serves two purposes, says Anna: first, as a manager, you'll need to be interfacing with people from other departments, and being friendly with them makes it easier. Second, managers need to "understand the value of the work you're doing as a company and transmit that to the people on your team," she says. Knowing intimately how the sales team is doing or what client service's experiences with users are like enables a manager to help transmit that bigger picture.
Have clear expectations when you make assignments. When handing off work to your team, says Anna, you need to get detailed. "You don't want them to have just a very vague idea of what you want to achieve, but rather something much more concrete that will allow you to flag those cases where something is stalling or not working," she says.
Know how to spot when people are blocked. "You need to be able to pull people back from going off in one direction, which requires a lot of self-awareness and listening to your team so that you can catch those situations," she says. A good flag that someone's off track and needs managerial intervention? "Listening to an engineer telling you, 'I'm almost there!' for a week straight," she says, smiling.
Though she misses writing code herself, Anna loves that her role allows her to empower others and celebrate their wins with them. "I get so excited when [my team] comes to me and shows me the things they've achieved or the really great ideas they've had. It's really nice to be at that central point," she says.
Driving towards the future
Currently, Anna's team is working on natural language processing—in essence, helping the analysts who use Primer's products make sense of and derive insights from the increasingly high volume of written texts available online.
"We're processing more and more writing, which is a kind of unstructured data. To go after that data, the tools scale very much linearly to the number of analysts you have," she says. "If we allow our computers to do a lot of the heavy lifting, we're allowing analysts to have more time to be curious about the data and to interact with it. We're making sure our software can provide answers for analysts and make sure humans are doing work that humans are good at."
Three years into her career at Primer, Anna still enjoys working with people as interested and curious about the future of data science and machine learning as she is. "It's so nice to see that enthusiasm throughout Primer. People are motivated no matter what their job responsibilities are," she says.
"Even if there are philosophical differences of what's the best way to answer a given problem, people want the best thing to be done for whatever question we're trying to solve for," she says of the collective drive and passion she sees on a daily basis.
Anna says that Primer's focus on being humble and low-ego and investment in continuous learning is what she most enjoys. "You need to be able to say that maybe two years from now, I'll retire code that I wrote because there's a much better solution—and that's perfect," she says.
If Primer's mission and ethos appeal to you, and you're excited by the possibility of continuous learning and teaching, check out their open jobs here or leave a question for Anna in the comments!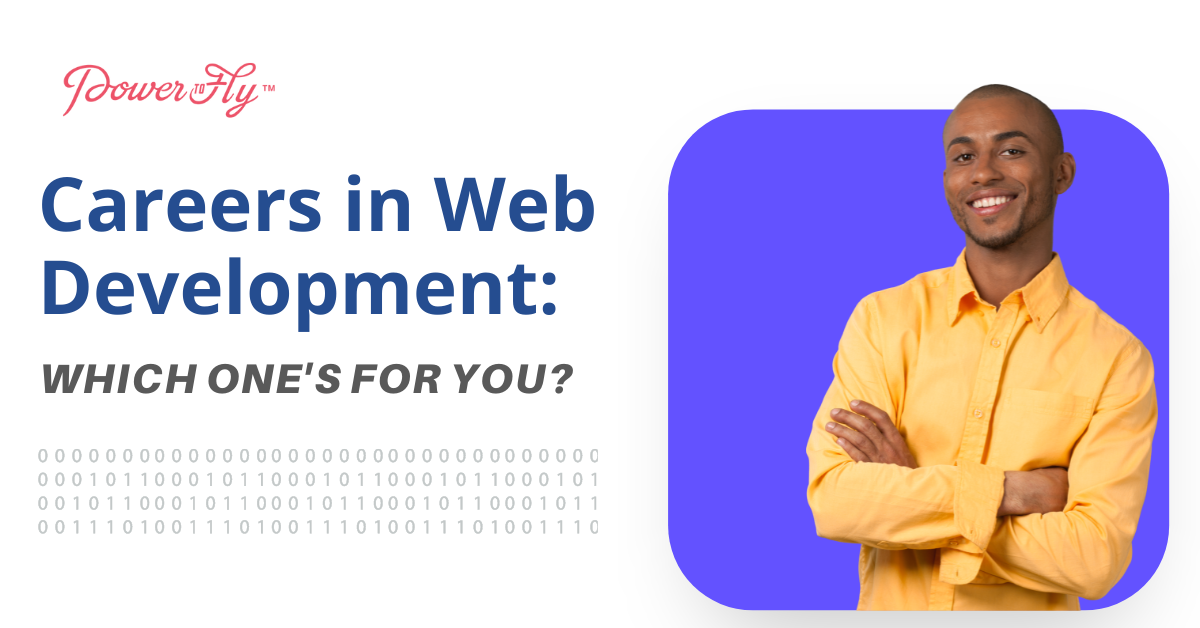 Upskilling and Development
We all have our favorite websites– the ones we frequent, bookmark, and recommend to others. You might even enjoy some website features so much that you've found yourself wondering why they aren't more popular. Or maybe you've experienced times where you were frustrated with a website and wished you could add features or even design your own!
If you've ever found yourself intrigued at the prospect of designing and developing your own websites, then a career as a web developer might be just for you!
As a web developer you would be responsible for coding, designing, optimizing, and maintaining websites. Today, there are over 1.7 billion websites in the world and, in turn, the demand for web developers is on the rise. In order to figure out what kind of web development work best suits you let's start with an introduction to the three main roles in web development that you can choose from.
The Three Types of Web Development Jobs
Front-End Web Development: The Creative Side
Think of front-end development as the décor of a house. The color scheme, furniture, manicured lawns, and overall aesthetic. In terms of a website, front-end development is laser-focused on the appearance of a website and its presentation on different devices. If you're considering a role in front-end development, it's important to learn programming languages such as HTML, CSS, and JavaScript. These three languages go hand-in-hand. HTML allows you to create user interface elements, CSS helps you with stylistic elements, and JavaScript allows you to incorporate online tools and connect your website to back-end functions.
In addition to programming skills, front-end developers need to be detail oriented, creative, willing to keep up with the latest trends in web development, cyber security conscious, and geared toward user-friendly designs. The median salary for a front-end developer can reach well into the $90,000 to $100,000 range.
Back-End Web Development: The Logical Counterpart
While a house can be beautifully decorated, it's incomplete without a solid foundation and efficient infrastructure. Similarly, a well-designed website depends on logical and functional code to power the features of that website. Back-end web development is code-heavy and focused on the specifics of how a website works. If you enjoy the analytical challenge of creating the behind-the-scenes code that powers a website, then back-end development is for you.
Since this role is more code-heavy, it's important that you learn numerous programming languages and understand algorithms and data structures. Some languages that are essential to back-end development are Ruby, Python, SQL, and JavaScript. Back-end developers also ensure that users can successfully retrieve and access data. This requires creating and using APIs (Application Programming Interfaces) which act as messengers that relay data related requests. Additionally, developing the code for the inner workings of a website also requires back-end developers to be conscious of the user interface features designed by front-end developers and to internally mitigate potential security risks. Due to the increased technical aspect of this position, back-end developers normally earn higher salaries than front-end developers. The average median salary for this role is around $118,000 per year.
Full-Stack Web Development: A Little Bit of Everything
A full-stack developer is essentially the Jack (or Jill)-of-all-trades in web development. Full-stack developers need to be knowledgeable about both front-end and back-end roles. This does not necessarily imply that you would need to be an expert in both roles, but you should fully understand the different applications and synergies they each imply. In order to work in this position, you will need to know the programming languages used by front-end and back-end developers. In addition to these languages, full-stack developers also specialize in databases, storage, HTTP, REST, and web architecture.
Full-stack developers are often required to act as liaisons between front-end and back-end developers. Full-stack developers need to be both problem solvers and great communicators. The end goal for a full-stack developer is to ensure that the user's experience is seamless, both on the front-end and on the back-end. In return, you can expect to earn a median salary of $100,000 – $115,000 a year for this role.
Taking the Next Step
Web development is both in-demand and lucrative! All three roles described above contribute to specific aspects of web development and the scope of each one can be customized to the industries and positions you feel best suit you. Regardless of which role you choose, all of them need a foundation in programming.
To gain the programming skills needed in each role, you can enroll in courses or learn independently. Coding bootcamps are a great way to boost your skillset quickly and efficiently.
Click here for some of our highly rated programming bootcamp options! Make sure to check out the discounts available to PowerToFly members.
READ MORE AND DISCUSS
Show less
Loading...