Diversity Reboot Summit 2021 Virtual Booths
Female Techpreneur is for female-led tech businesses, founders, Leaders, business owners to connect them to mentors, thought leaders, grants, investors, education, business support and so much more! FeTech has been designed to help tech businesses learn how to launch, scale-up and exit effectively. Our Aim is to create a hub for female entrepreneurs & leaders to close the gender gap and be more inclusive whilst delivering technological innovations.
"The tech world needs the perspective of more women founders if we're going to tackle some of the biggest challenges impacting us," said Craig Newmark, founder of craigslist. In 2019, FeTech came about as a result of my concern that females in Tech are not as lucky as their male counterparts in securing funding for their startups or scaling their businesses. Also, the lack of successful BAME role models for your girls going into STEM as a career or tech entrepreneur played a major part in my decision to create a platform will showcase and connect any female in tech and also our male advocates.
Our Mission:
We care about Innovation
We care about Equality
We care about Diversity
And what brings all these together for us is Technology
Our Aim is to create a hub for female entrepreneurs & leaders to close the gender gap and be more inclusive whilst delivering technological innovations.
Access to resources
One of the main challenges faced by any business is cash flow, and the tech industry is no exception. In fact, females in technology business have suffered even more in a male-dominated industry although this is changing progressively now, more can be done.
Networking opportunities
Whether small, medium or Fortune 100 or a CEO or Senior Exec, if you a part of a tech business creating a value then you are a "FeTech" and what makes it more interesting for Female Techpreneur is that fact that you are a female. And if you do not have tech experience we will make you feel at home.
Tech Boutique Ecosystem
We work with our partners and talent team to help you deliver your digital projects/products with our member's expertise, and for professionals in the group, you get the chance to collaborate on the project delivery. This is on our free plan, submit your resume to join.
We operate a female-led membership community program to provide wrap-around support on all areas of business launch to scaling.
This will provide a forum to:
Connect investors, alternative funding providers to startups
Associate with like-minded techpreneurs
Provide access to tech leaders/ mentors to guide you to success
Provide business support and business growth experts
Attend regular meetings, workshops/ events on a variety of hot topics and mastermind sessions
Pitch your startup business
Join our Startup Academy either as a thought leader or a business owner We are a very new initiative with strong values and open to collaboration and partnership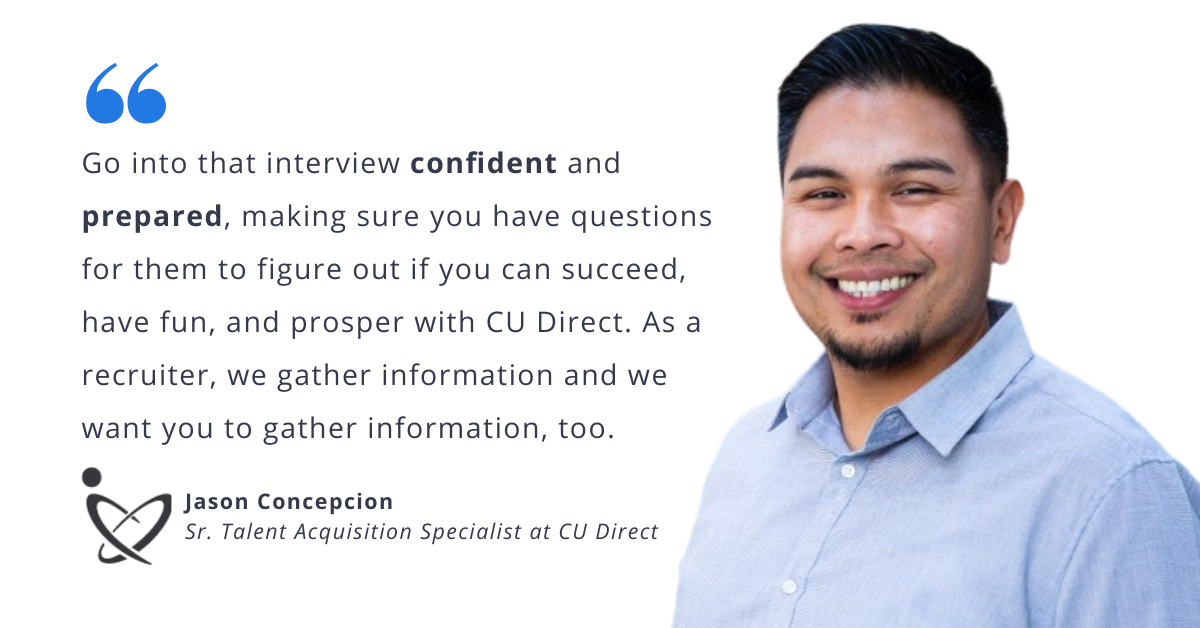 CU Direct
Jason Concepcion is a Sr. Talent Acquisition Specialist at CU Direct, a technology leader that delivers lending solutions to financial institutions, auto dealers, retailers, and medical providers nationwide. As a progressive company that looks for the best diverse talent, CU Direct prides themselves on seeking and taking care of their employees.
We sat down with Jason to learn about CU Direct's hiring process. Keep reading for his top 6 tips to put into practice when interviewing with CU Direct.
Tip # 1 Do Your Research
While it may seem obvious, learning about the company you're interviewing for is crucial. "Before the interview, do some research on CU Direct, our products and services, and even our subsidiary companies," says Jason. Doing the research will show the interviewer that you are highly interested and that "you did your due diligence in getting to know the company." Check out their About page to get to know CU Direct and its various projects.
Tip #2 Ask Questions
It's important to be transparent from the first point of contact with the company, which means asking questions to clarify and gain more information. Jason suggests, "when talking to the recruiter, ask questions. Go into that interview confident and prepared, making sure you have questions for them to figure out if you can succeed, have fun, and prosper with CU Direct. As a recruiter, we gather information and we want you to gather information, too."
Tip #3 Take Your Time
Pace yourself in the interview. Jason explains that "it's okay to pause, regroup, and answer questions. When asked about your experiences, taking your time will allow you to think of the situation, how you solved it, and what was the outcome."
Tip #4 Ask Yourself, 'What Do I Want to Do?'
Take inventory of what you have accomplished or learned in your professional trajectory so far. "We're not just looking for what you've done, but we are also looking for what you can do and what you want to do," says Jason. He believes that "those things are just as important as what you've done in the past. Your drive and determination will show us where you want to go and ideally, that will organically align with the positions we have here at our company."
Tip #5 Understand the Job Description
With your resume in hand, consider what experiences best align with the job description. "Valuable work experience can be found almost anywhere. It can come from your first job or it can come from your most recent job," Jason explains. Whatever small or short experience you have that matches the job description is worth mentioning and explaining, depending on the job you are applying for. Jason explains, "a good understanding of the job description you're going for, and related positions within the company will give you a greater insight as to what we're looking for and what you want to highlight or present in regards to this role."
Tip #6 Don't Be Afraid to Get Personal
One way to stand out in the interview process is to show that you'll be a good values fit, so intentionality throughout, and after, the interview can go a long way. Jason suggests sending a thank you email after the interview. "This will make sure that you stand out in front of thousands of applicants," he says. "Don't make it generic, tailor the message including details mentioned in the interview, this will show the person that you were completely engaged throughout the interview."
CU Direct's personal and careful recruitment process is a reflection of their fun and innovative atmosphere, their value of team members, and commitment to growth. They offer several benefits to their employees, such as a flexible working environment, paid time off, 401k match, college tuition reimbursement, and an exciting company culture. Because of this, they want to make sure people are treated with the same kindness and positivity from the start. As Jason reiterates: "We want to make sure you are prepared and ready for each step of this process, from interviewing, to asking questions, and to possibly onboard in the future," says Jason.
Are you interested to find out more about working at CU Direct? Check out their
openings
here!
READ MORE AND DISCUSS
Show less
Loading...