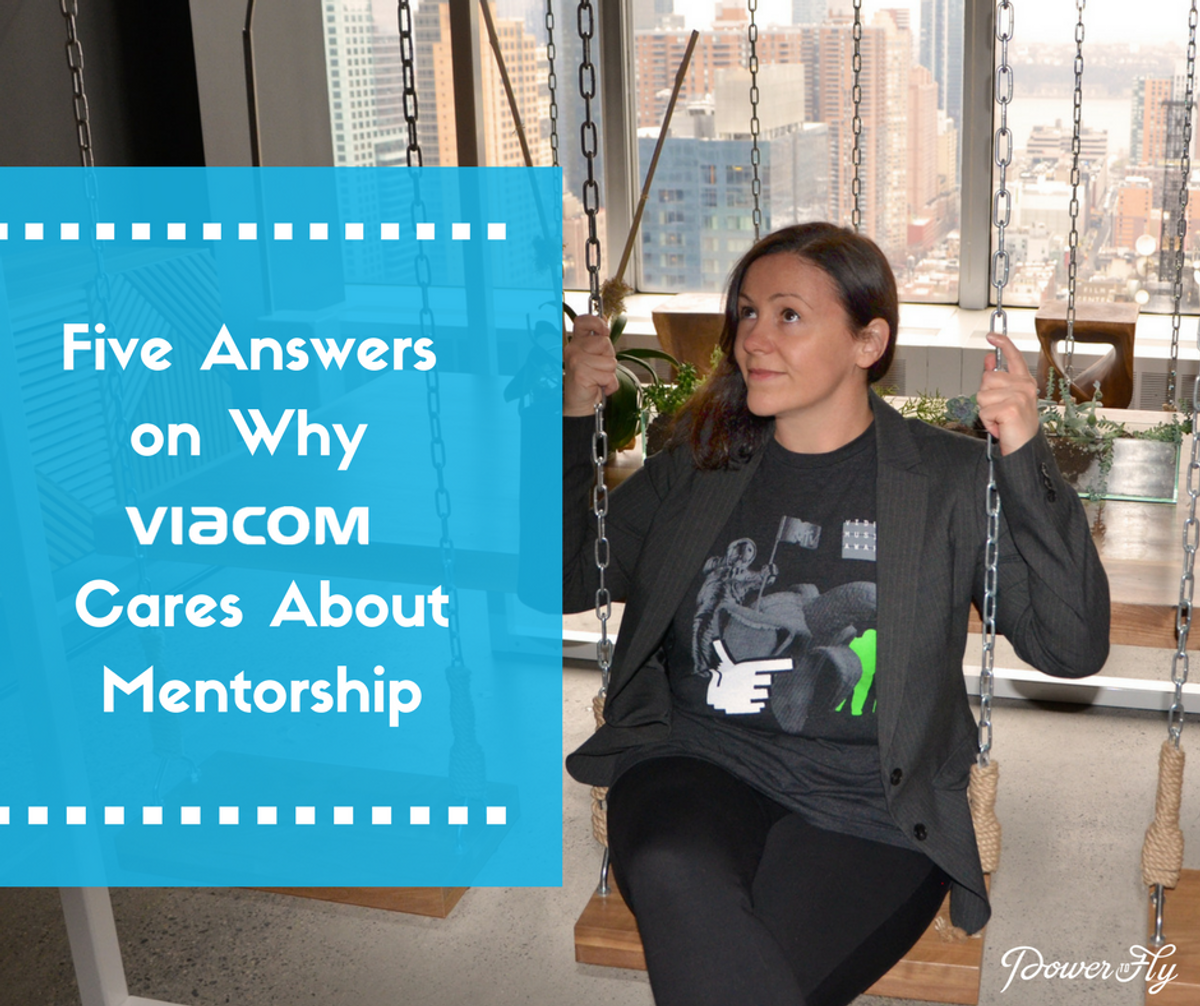 Companies That Care
Meet Aurelie Gaudry, the Senior Director of Mobile and Emerging Platforms for Viacom's music and entertainment brands. Aurelie oversees a team of developers who build the iOS and Android apps we use to watch episodes of Nashville (and many other shows). She also builds apps for emerging platforms such as Roku, Android TV, Apple TV and Xbox.
---
PowerToFly asked Aurelie about how mentorship has helped her grow from a front end developer at Viacom to a Senior Director over the last ten years.
"When we started doing mobile applications, at first we were outsourcing the development. The idea was to bring it in house to get better quality and more ownership of it. Because I was interested, and I had someone here with more experience with mobile, that person would teach some classes, like after the 9 to 5, and teach those who are interested. I started learning about mobile development and just got a lot more into it. It quickly grew into moving this all in house and I got the chance to build up a team of Android and iOS developers. Now I am in charge of the department."
This pivotal learning experience is one Aurelie carries over to her team.
"There are review processes in place to help people learn, in terms of being clean and efficient, writing well testable code," she said. "I have definitely heard from a lot of people that they have learned a lot getting into my group and getting that kind of feedback. It is very important at Viacom to make sure everyone is happy and growing."
We also dug into how Aurelie is paying it forward, by making sure others are growing in the Viacom community. Aurelie cites that hack-a-thons, for example, are a regular occurrence, including one last March with The Daily Show that featured Trevor Noah.
Viacom also partners with Girls Who Code, a non-profit organization that works to close the gender gap in technology, on a summer immersion program that provides high school students computer science instruction and mentorships with female company executives.
Aurelie details other initiatives focused on women in tech, like a recent Women in Computing event.
"The theme," she described,  "was gender issues and the team that actually won was a team of five high school students who built an Android app that was disguised as a food delivery app. There were hidden features where domestic abuse victims could call for help. It was really just great to see what five high school students can do. It is amazing what kids can do these days and women play a large role in that."
Want to learn more about roles at Viacom? Check out their company page here.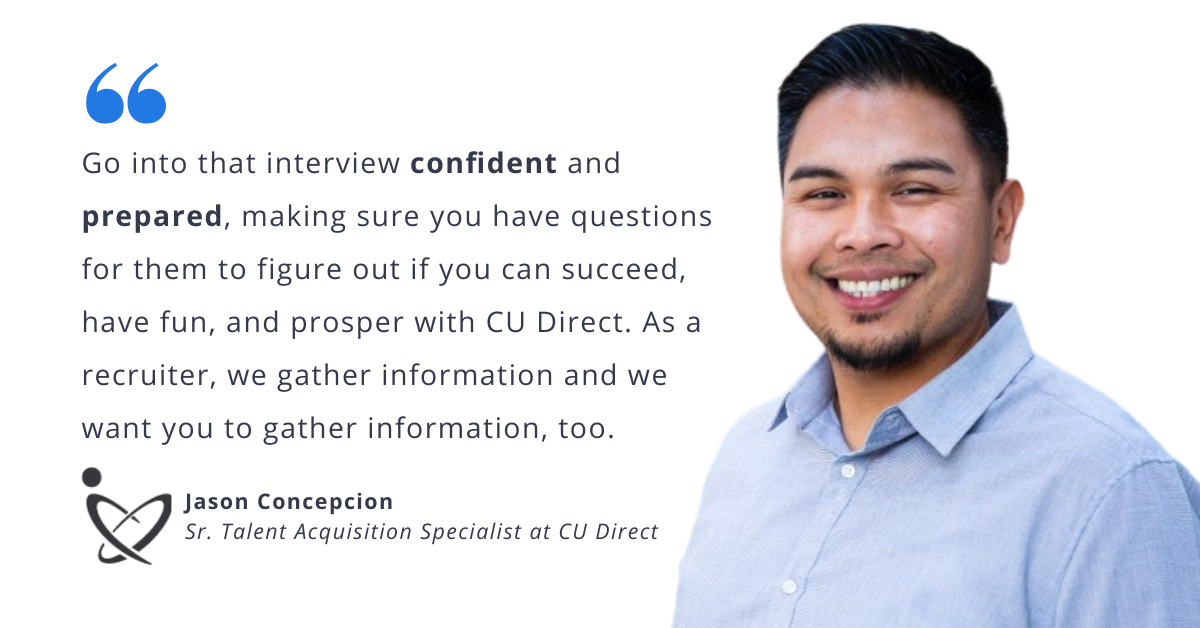 CU Direct
Jason Concepcion is a Sr. Talent Acquisition Specialist at CU Direct, a technology leader that delivers lending solutions to financial institutions, auto dealers, retailers, and medical providers nationwide. As a progressive company that looks for the best diverse talent, CU Direct prides themselves on seeking and taking care of their employees.
We sat down with Jason to learn about CU Direct's hiring process. Keep reading for his top 6 tips to put into practice when interviewing with CU Direct.
Tip # 1 Do Your Research
While it may seem obvious, learning about the company you're interviewing for is crucial. "Before the interview, do some research on CU Direct, our products and services, and even our subsidiary companies," says Jason. Doing the research will show the interviewer that you are highly interested and that "you did your due diligence in getting to know the company." Check out their About page to get to know CU Direct and its various projects.
Tip #2 Ask Questions
It's important to be transparent from the first point of contact with the company, which means asking questions to clarify and gain more information. Jason suggests, "when talking to the recruiter, ask questions. Go into that interview confident and prepared, making sure you have questions for them to figure out if you can succeed, have fun, and prosper with CU Direct. As a recruiter, we gather information and we want you to gather information, too."
Tip #3 Take Your Time
Pace yourself in the interview. Jason explains that "it's okay to pause, regroup, and answer questions. When asked about your experiences, taking your time will allow you to think of the situation, how you solved it, and what was the outcome."
Tip #4 Ask Yourself, 'What Do I Want to Do?'
Take inventory of what you have accomplished or learned in your professional trajectory so far. "We're not just looking for what you've done, but we are also looking for what you can do and what you want to do," says Jason. He believes that "those things are just as important as what you've done in the past. Your drive and determination will show us where you want to go and ideally, that will organically align with the positions we have here at our company."
Tip #5 Understand the Job Description
With your resume in hand, consider what experiences best align with the job description. "Valuable work experience can be found almost anywhere. It can come from your first job or it can come from your most recent job," Jason explains. Whatever small or short experience you have that matches the job description is worth mentioning and explaining, depending on the job you are applying for. Jason explains, "a good understanding of the job description you're going for, and related positions within the company will give you a greater insight as to what we're looking for and what you want to highlight or present in regards to this role."
Tip #6 Don't Be Afraid to Get Personal
One way to stand out in the interview process is to show that you'll be a good values fit, so intentionality throughout, and after, the interview can go a long way. Jason suggests sending a thank you email after the interview. "This will make sure that you stand out in front of thousands of applicants," he says. "Don't make it generic, tailor the message including details mentioned in the interview, this will show the person that you were completely engaged throughout the interview."
CU Direct's personal and careful recruitment process is a reflection of their fun and innovative atmosphere, their value of team members, and commitment to growth. They offer several benefits to their employees, such as a flexible working environment, paid time off, 401k match, college tuition reimbursement, and an exciting company culture. Because of this, they want to make sure people are treated with the same kindness and positivity from the start. As Jason reiterates: "We want to make sure you are prepared and ready for each step of this process, from interviewing, to asking questions, and to possibly onboard in the future," says Jason.
Are you interested to find out more about working at CU Direct? Check out their
openings
here!
READ MORE AND DISCUSS
Show less
Loading...