GET EMAIL UPDATES FROM POWERTOFLY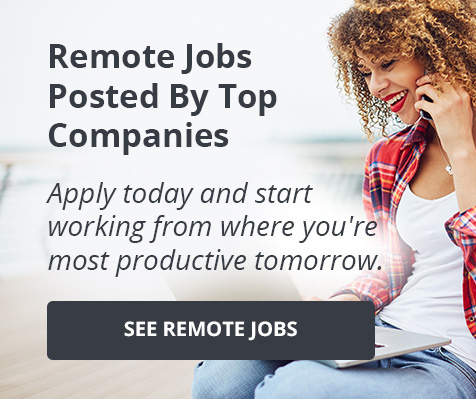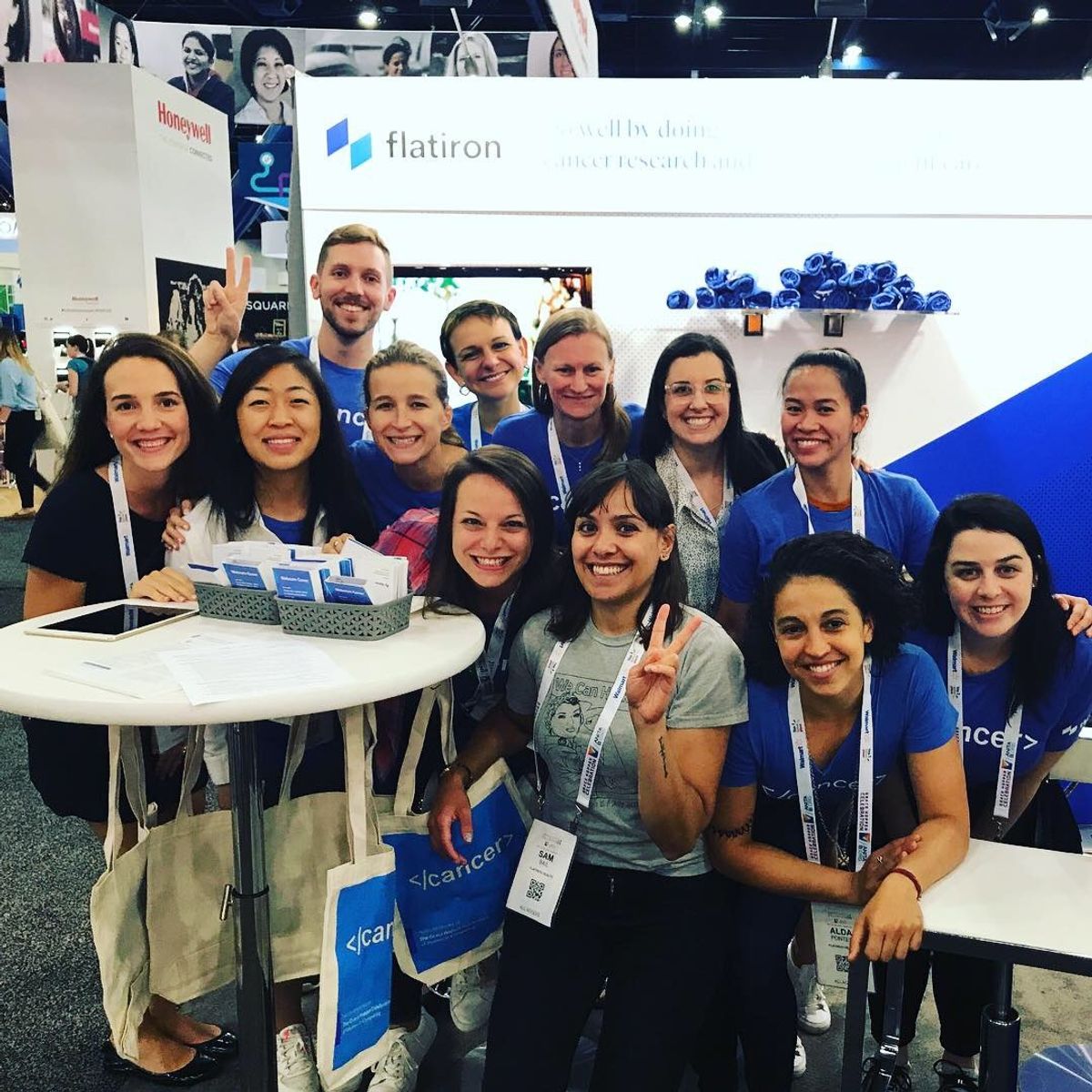 December 10, 2018
Flatiron Health Inc
Why Do I Keep Going Back To Grace Hopper?
Below is an article originally written by Stacy Gorelik, Director of Engineering at PowerToFly Partner Flatiron Health, and published on October 5, 2018. Go to Flatiron Health's page on PowerToFly to see their open positions and learn more.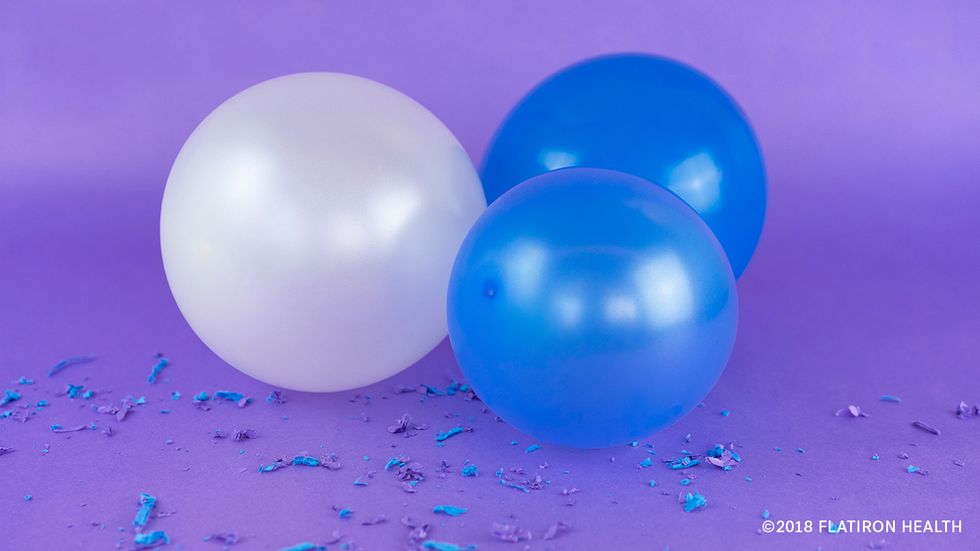 I believe today is an amazing time to be a technologist. I also believe it's an amazing time to be a woman technologist. Yes, sure, there are still plenty of challenges in many workplaces, schools and universities, and yes, young girls (particularly from underprivileged backgrounds) are still largely discouraged from moving into STEM by cultural and socioeconomic influences around them. But the power of the community that women in technology have built over time, despite, or because of, these challenges, makes this moment in time special to be a female in a technical field.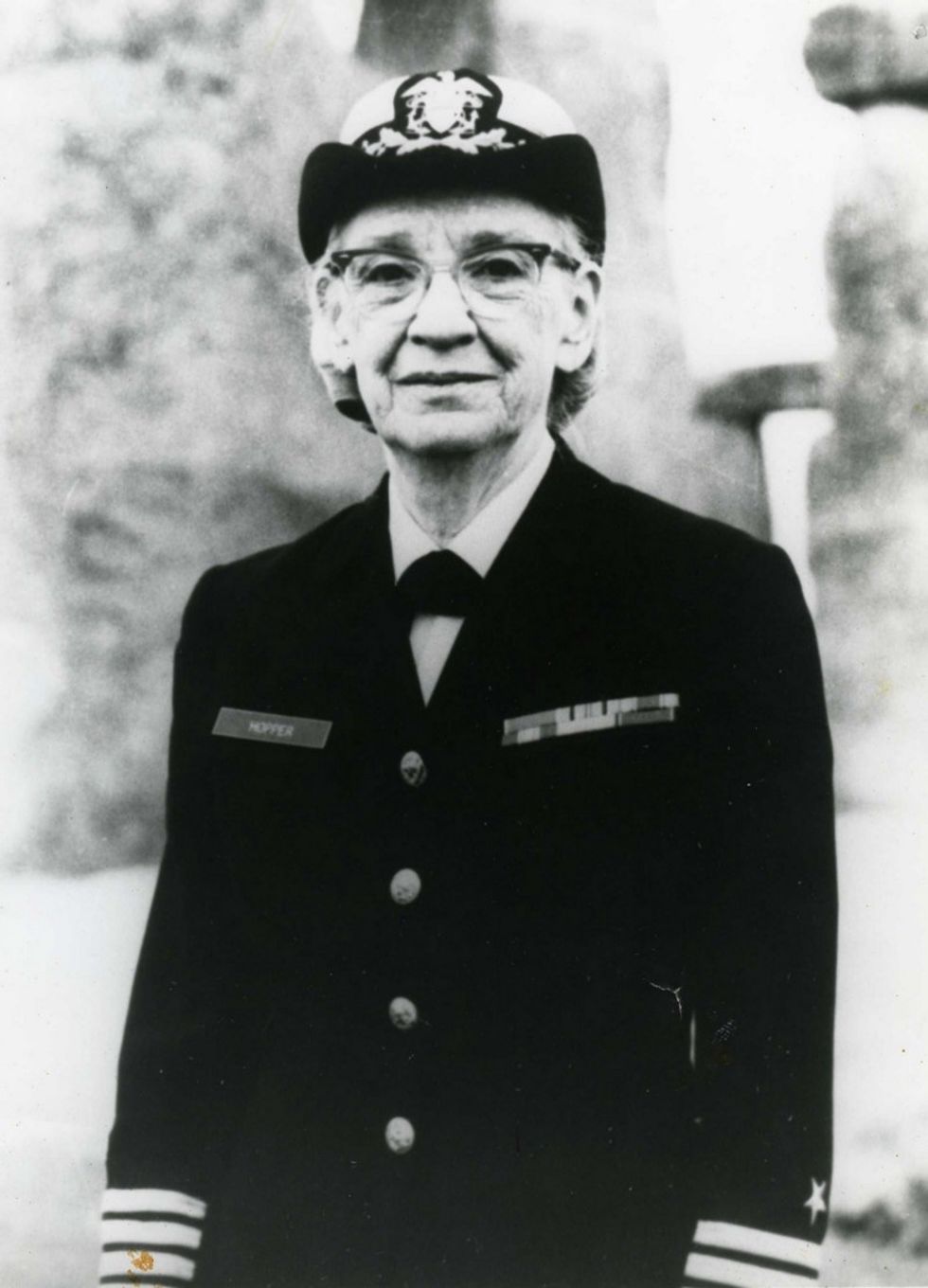 Grace Hopper, ca 1975
Last week, AnitaB.org gathered a record 22,000 women under the roof of the Minute Maid Park in Houston for the annual Grace Hopper Celebration. We learned, we recruited, we taught, we laughed, we bonded and some of us celebrated through the night. For those not familiar with the event: Rear Admiral Grace Hopper was a pioneer of computer programming who invented one of the first compiler-related tools and popularized the idea of machine-independent programming languages. The Grace Hopper Celebration, or more commonly referred to as just Grace Hopper or GHC, is the largest gathering of women technologists in the world.
Over the years, Grace Hopper has continued to grow at an unprecedented pace, both in the level of speakers and content presented during the conference, and in the number of companies and people who attend, but it has also enabled to stay relevant and important. Short of writing a 30-page essay, I wanted to document a few highlights of my experience this year to show why I continue to come back to Grace Hopper year after year:
The excitement leading up to Grace Hopper every year yields a high that's hard to explain: from speaking proposals submitted; to the recruiting strategies developed; to the company-sponsored panels aimed at building excitement specifically for GHC; to the flight full off women taking off from LGA and cheering each other on; to the song on the early morning shuttles to the conference center; to the spontaneous old mentee encounter in line for the coveted machine learning talk…
At the conference itself, the diversity and inclusion talks have become more meaningful every year, presenting us with tips, studies and solutions. The focus has slowly started to shift from just women in technology to other underrepresented groups, which I believe is not only important but crucial for our industry
This year, Anita Hill carried a message of hope in a closing keynote. In the midst of the Kavanaugh hearings, she made us look at all the progress that has already been made. She reminded us, "We thankfully now live in a world where corporate CEOs are saying 'I want to live in a better, more inclusive, diverse society'"
My colleague Jenny and I spent a large part of Wednesday in Mentoring Circles, teaching women of all stages in their career on how to boost their internal and external brands: sharing our experience, answering questions, connecting and learning a bit ourselves from the participants
I yet again met and connected with many incredible women: women who write code, women who run sizable organizations, women who coach others, women who use technology to empower our troops. After-hours events again sparked meaningful conversations, resulting in new connections made, knowledge exchanged, problems resolved
I loved overhearing our amazing Flatiron crew at our booth in the job fair: after a long day on her feet, Lucy, our machine learning engineer, felt no less inspired to teach every single person who came by our booth about how we combine human experts with automation to extract meaningful medical data from unstructured documents; Alda, our unquestionably most enthusiastic data insights engineer, coached a student on how to approach the recruiter; while another data insights engineer, Sam, high-fived her Twitter followers in the crowds
Thank you to AnitaB.org for yet another high-quality, meaningful event. As cliche as it sounds, it was truly inspiring to be around so many diverse women. The future is in OUR hands, as today we women technologists work for a better tomorrow. I am looking forward to riding on this high for another year, and sharing this experience with more Flatiron women in the years to come.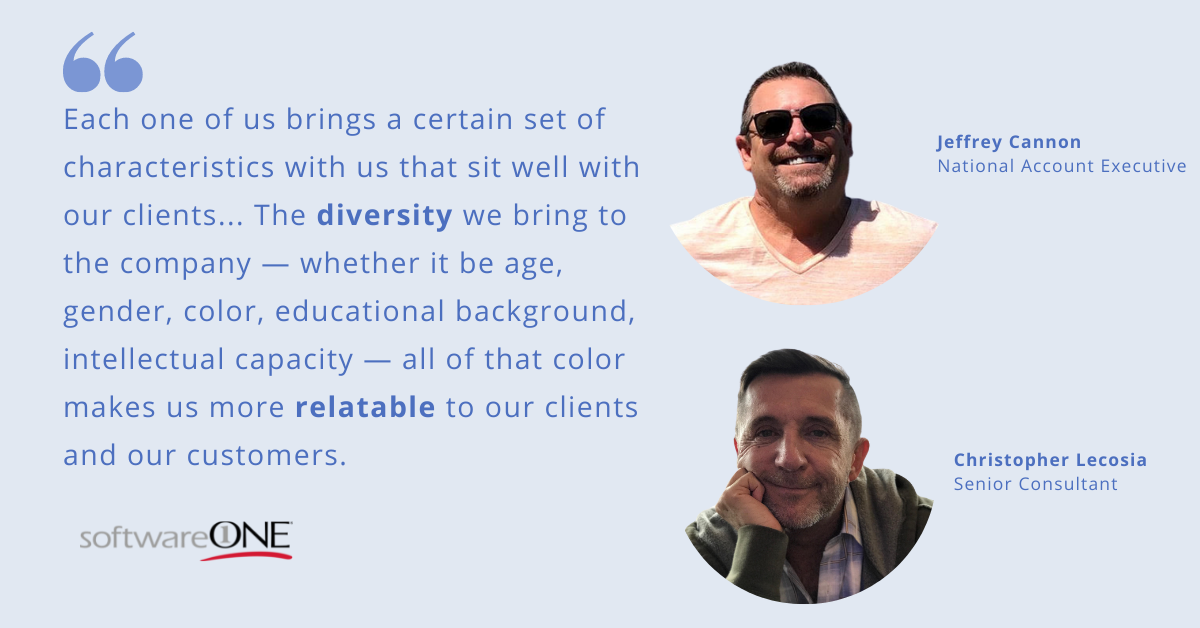 SoftwareONE
Insight from SoftwareONE's Jeff Cannon and Chris Lecosia
SoftwareONE's Jeff Cannon Business Development Executive US) and Christopher Lecosia (Senior Consultant) share a similar adventurous and brave spirit, which has led to a long trajectory of creative experiences for both of them. From taking care of two new puppies to backpacking across Europe — neither of them back down from a challenge.
As members of the LGBTQIA+ community, Jeff and Chris spent a large portion of their careers fighting for inclusive workplaces where they feel a sense of belonging, and opportunities to use their experiences to serve people, no matter what career stage they're in. And they've both recently found that in the global provider of end-to-end software and cloud technology solutions SoftwareONE.
We sat down with Jeff and Chris to hear their stories on how they navigated mid and late career changes and their journey to finding a company where they felt valued. Keep reading to the end for four major tips on how to successfully pivot careers.
The Journey to SoftwareONE
Jeff Cannon was born in Tacoma, Washington, but considers both Texas and Georgeia his home. After graduating from college with a bachelor's degree in English and History, "I wanted to go to graduate school for history," he explains. But upon arrival, he realized graduate school was not the right path for him, so he packed his backpack and set out for a trip through Europe instead.
This adventurous spirit led him back home to pursue exciting challenges, such as opening a hotel in Austin, working as a flight attendant in New York and Hawaii, and eventually pursuing a sales career at Dell. "I was an account executive for large university systems and large K-12 systems providing information technology to students to be able to further their education. It really fit in with my mantra around how important education is in society," Jeff explains."It's kind of my thing." But after nearly 20 years at the company, he decided to look for new opportunities. "I was tired of doing the same thing all the time." Enter SoftwareONE.
"This was an opportunity to do something completely different and take the information that I learned and use it to help build a practice that can accomplish some of the same things," Jeff explains. He joined the company as a Business Development Executive Executive where he works to build the company's education practice within the public sector in the United States.
SoftwareONE is a company where Jeff can thrive professionally and personally. He specifically cites the company to be people-first, which his coworker Christopher Lecosia agrees with. "SoftwareONE is a place where you can thrive as an employee, and where your creativity can flourish," says Chris.
SoftwareONE is a leading global provider of end-to-end software and cloud technology solutions, with headquarters in Switzerland. The company itself prioritizes people as their "greatest asset" and advocates for life-work harmony. Their company's core values are Employee Satisfaction, Customer Focused, Speed, Passionate, Integrity, Humble and Discipline, to name a few, and they ensure that they have "a welcoming – and constantly evolving – work environment for all", no matter the racial, ethnic, religious, sexual or other preferences.
Christopher works as Senior Consultant for SoftwareONE. He entered the field of IT in 1974. "Back then it was called data processing," he jokes. "But I kind of fell into IT consulting." He enrolled in college as an accounting major, but quickly realized that was not the path for him. "I drove into the parking lot of this college for the first day and I got very scared," explains Chris. "I turned around and went home and I found a job." And he was able to pursue jobs that allowed him room to change and grow with the market. He began as a systems programer and, progressively, he scaled to managerial data processing roles at multiple software companies, including IBM. He played a key role in leading and growing software asset management programs, directing support for configuration and asset management, and serving as a senior project manager for multiple teams in his previous companies.
His successful 40+ year-long career led to the start of a well-deserved retirement. "I turned 65 last October, and I thought, 'okay, I think I've had enough,' and I decided to retire in full." But his retirement was short-lived. "A few months before I retired, [my company] had put out an RFP to the street, which SoftwareONE responded to, and I'll never forget," says Chris. "I was hearing them respond to me and I thought, 'Wow, these people know what they're talking about. They're really sharp and I really believed in the value that they could bring.'" So when he was offered a position as a Senior Consultant, he didn't think twice about coming out of retirement. "In November, a recruiter from SoftwareONE called, and I started in January of 2022."
All-Around Authenticity
Changing jobs after working for a company long-term can be risky, especially later in your career. But both Jeff and Chris agree that the benefits of working at a company like SoftwareONE are well worth the risk. And for the first time, they've felt like they can show up as their full, authentic selves at work.
Jeff recalls past workplaces that, when push came to shove, "had an undercurrent of non-acceptance." This undercurrent brought many challenges, but he credits them for his confidence today. "I have no issues whatsoever showing up originally as myself. And at SoftwareONE, everybody's been really lovely." Even remotely, he finds ways to connect with his coworkers, and he feels like he can do so authentically.
Chris reiterates this in his own trajectory at SoftwareONE. "When I started, my Regional VP asked me for a bio. In my bio, I talked about my husband and my two dogs and how long we've been together. That got sent out to everybody in the organization. So when I onboarded, everybody already knew," he explains. "It was the first time in 65 years that, right from the get go, there was no pretense at all as to being something different than I am. And that's how I came out at SoftwareONE. It was good to do that. I feel truly authentic."
Advice for Mid-Career Pivoters
Both Jeff and Chris have successfully pivoted roles and companies later in their careers. They offer four tips to consider before making the jump to a new role or joining a new company.
1. Find a place that values service to the client. "Have the mindset of service," says Chris. " I'm a service oriented person and part of being of service is to share my experience, strengths, and hope with other people. Whether that's on a, social, spiritual, mental level, or on a professional technical level, this helps bring growth to you, and to the company you'll work for." Jeff shares that, "with this mindset, we see the challenges that customers face, so we're able to better articulate to customers what our value proposition is. We can help clients achieve their goals, and everything comes a lot more easily and naturally."
2. Believe in what you have to offer. Chris and Jeff share that aligning with the company's mission is another key aspect to consider before changing companies. "I never thought that anybody would want to hire me at 65 years old," Chris shares. "I had been in my former job where I saw many opportunities that I thought I was perfect for, in terms of advancement, but I wasn't given those opportunities because of my age. I started to feel dried up a little bit. When I got the offer at SoftwareONE, I felt I really wanted to come back, be of service, keep my brain sharp, and do something. I do believe I have something to offer to many clients, as well as colleagues. And that's what made me make the move."
3. Think of the experiences you bring to the table. Jeff shares how he transferred his knowledge to his new role. "I was able to take everything that I had learned about building an organization and bring it over to a company that needed that expertise specific to the United States. Being able to have the opportunity to do some of that background work and build on alliances has been, and continues to be, a great opportunity."
4. Find a workplace that prioritizes diversity. "Each one of us brings a certain set of characteristics with us that sit well with our clients," explains Chris. "The diversity we bring to the company — whether it be age, gender, color, educational background, intellectual capacity — all of that color makes us more relatable to our clients and our customers." This leads to the company's overall success.
SoftwareONE is constantly looking for dynamic employees like Chris and Jeff. Check out their company page to find out more about their roles!
READ MORE AND DISCUSS
Show less
Loading...