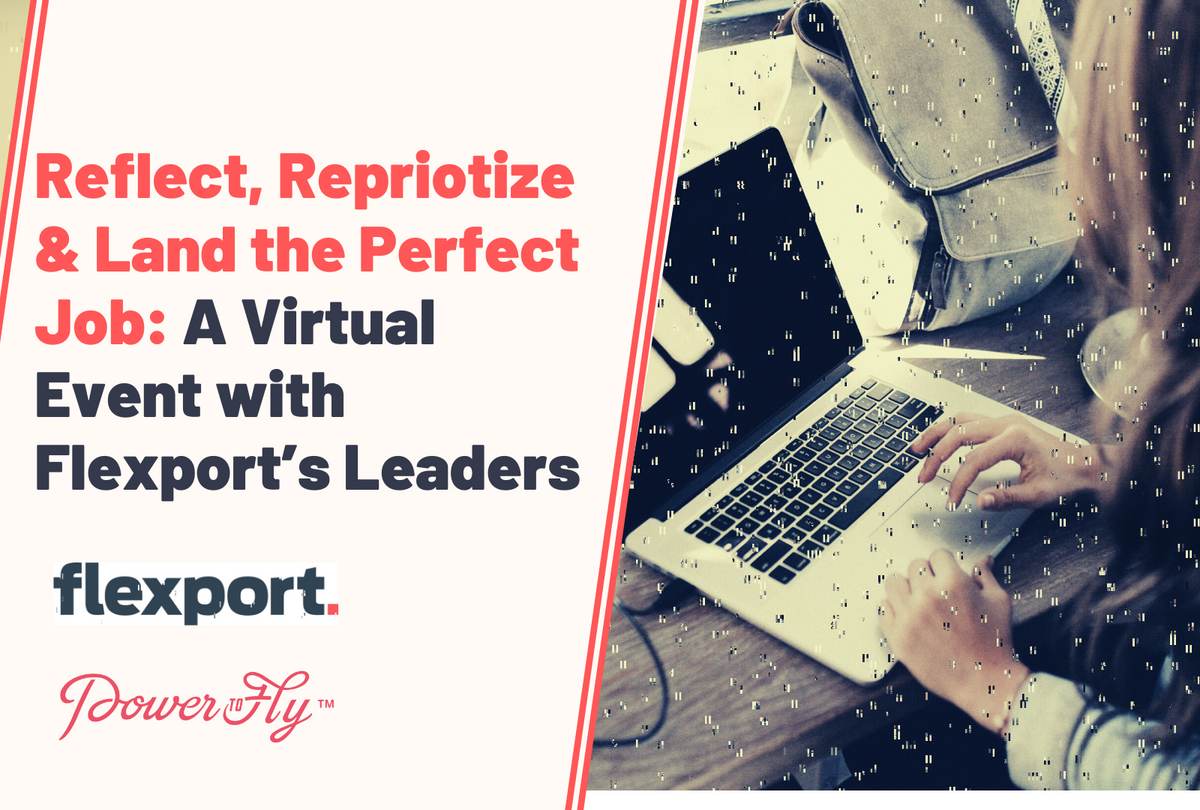 Flexport, Inc.
This June 2020, PowerToFly partnered with Flexport, the first digitized operating system for global trade, to present a virtual event focused on a timely topic: career progressions and pivots.
During our virtual event with Flexport's Head of Learning & Development and two employees who pivoted careers we discussed inspiring your career search and gaining the tools to get where you're going. Flexport also led our attendees through an illuminating activity where you planned your own retirement party followed by breakout discussions.
Speakers from Flexport included:
Sarah Gehrki, Director, People Programs and Chief of Staff to Head of People
Christina Cook, Business Intelligence Analyst
Lauren Fernandez, Head of Learning and Development
---
Flexport is the first digitized operating system for global trade. They have a rare business model that not only satisfies the global trade market but grows it. Over the past two years, Flexport has more than tripled its headcount and expanded its worldwide presence to 14+ offices and warehouses. While scaling rapidly, they've developed critical employee learning and development programs. Those involved in these initiatives will work with you to reassess your priorities and grow your own career, no matter the industry.
If you're interested in joining Flexport's team, check out these job opportunities. The team looks forward to connecting with skilled.
From Your Site Articles
Related Articles Around the Web
Pax8
💎 How to build trust in your team? Watch the video to the end to find out!
📼 How should you work to build trust in your team? Play this video to get three top tips that will help you. You'll hear from Veronica Setzke, Senior Director of People Ops at Pax8, who shares tips and tricks she learned through years of coaching.
📼 How to build trust with peers in your team? Tip #1: Relationships. There's no better way to start forming relationships than having regular one-on-ones. It doesn't have to just be with your supervisor. It can be with your coworkers. It can be with those people that you collaborate regularly with. And it's really important in these one-on-ones that we're spending time listening. Take the time to be present and listen. Also, spend time together not working. Have lunch together. Go for coffee. Take a five-minute walk around the building and just have a conversation. Relations are a key element to trust!
📼 How to build trust? Open yourself in your team Tip #2: Vulnerability. Allow yourself to be vulnerable. Ask for feedback, whether it's feedback about a project, a process, or even maybe a leadership behavior that you're trying to master. This allows those on your team and those around you to see you as willing to be vulnerable. Trust and vulnerability go hand in hand. It doesn't mean that you're weak, but rather that you're open. It allows your team to understand that it's a safe place for them to also be vulnerable.
How To Share To Build Trust In Your Team - Tip #3: Clear Is Kind
Keep the team informed and say as much as you can about what you know. There are times that we hold information that could be shared. We could share that information that impacts others' work and have them have the opportunity to use that to do better. If you've learned something that could help your colleague make a better decision, share that! Try to ensure that your communication with others is clear. When you make the effort to be clear about your intentions, your work, and your roadblocks, it opens others up to do the same.
📨 Are you interested in joining Pax8? They have open positions! To learn more, click here.
Get to Know Veronica Setzke
She works as a People professional because she sincerely believes that people want to be excellent, and it is her role to help move the obstacles to their achieving success. She believes the employees deserve a culture that values their work and will respond to such a culture by creating amazing results. If you are interested in a career at Pax8, you can connect with Veronica on LinkedIn. Don't forget to mention this video!
More About Pax8
The company simplifies the way organizations buy, sell, and manage cloud solutions, empowering its partners to achieve more with cloud technology. At Pax8, they know that they are only as great as their people. They realize that every individual has unique personal and professional aspirations, which is why they strive to offer a complete and competitive Total Rewards offering for their members and family.
READ MORE AND DISCUSS
Show less
Loading...