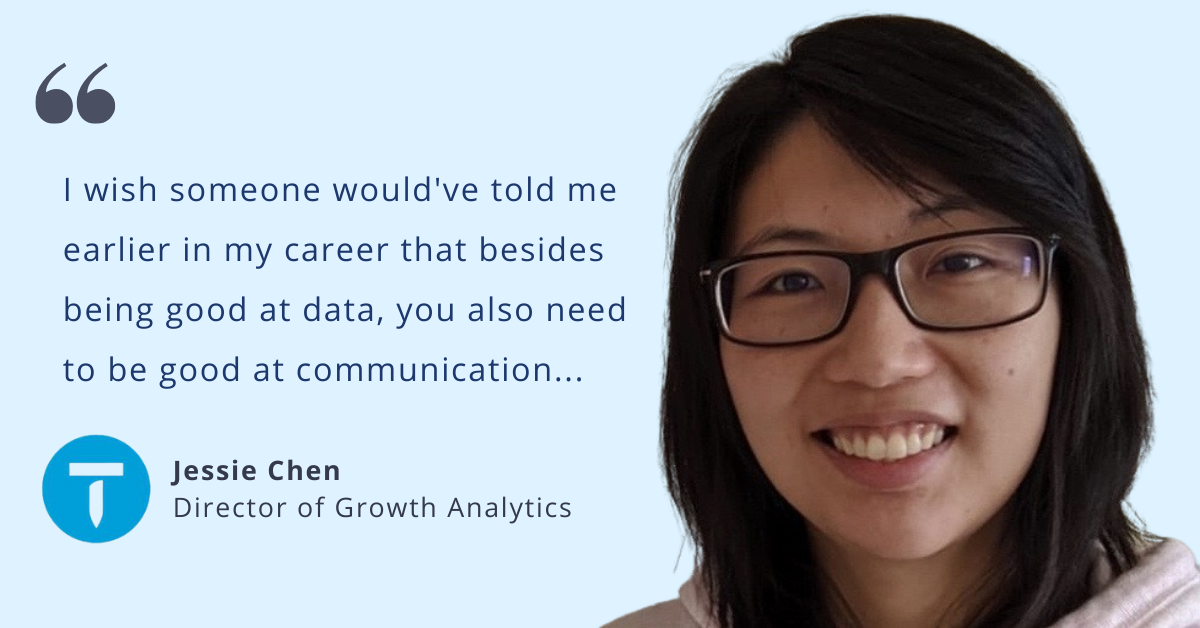 Thumbtack
Jessie Chen is naturally drawn to analyzing data.
"I just have a natural curiosity about data," she says. "When I see it, I want to know what the distribution looks like. If I take data and apply it to our customers, I think about what kind of a chart I can use. What kind of conclusion can I draw? Even if I wasn't getting paid to do it, it'd be hard to stop myself from wondering about these things."
Outside of work, she has even applied her knack for numbers to creating models for understanding the principles of poker and critically thinking about data presented in the news.
Jessie, originally from China, is the product of her global experiences, which have shaped how she thinks about data and how she leads her team as the Director of Growth Analytics at Thumbtack.
We sat down with Jessie to hear about her experience as a data analyst and learn four valuable tips for working in data.
Finding Her Voice
Right out of college, Jessie joined an American e-commerce company in Shanghai, which moved her all around different regions of Korea, Singapore, the US, and Europe.
Working for such an international company meant that Jessie would have to communicate in English as a non-native speaker. Adding that to the complexity of being a conflict-avoidant woman in the tech world, she found that it could be discouraging to speak up.
"I used to think too much before speaking up," she explains. "I was afraid that my opinions were not important enough. This led my teams to believe that I wasn't interested, or that I was disengaged."
Now, Jessie sees communication as an integral soft skill in data. "I wish someone would've told me earlier in my career that besides being good with data, you also need to be good at communication, talking to people, getting information, knowing who to talk to, knowing what kind of a resource you need to leverage in order to achieve your goal."
When Jessie talks about 'leverage', she's talking about the skills of influence and persuasion. According to her, data isn't just about presenting the information or analysis insights.
She says, "Your goal is to make some kind of product change. And to achieve that, it's not only about presenting the data. You also need to have the skill of influence. You need to find the right resource, the right sponsor. You need to know who to talk to so they can support you in pushing this forward."
Leading a Diverse Team
As the leader of a team composed of various cultural backgrounds, she leans into her international experience to help her empathize with her team members and pass on the indispensable soft skills she has acquired over her career.
"My team members all have very diverse backgrounds," she shares. "I feel that I can easily understand their difficulties or insecurities because of my own background. As a team leader, I can use my past experiences to relate to them, coach them, and motivate them to grow professionally."
She challenges her team members to communicate freely by asking for and giving regular feedback with the objective of creating a transparent workplace where each person feels comfortable, no matter who they are.
"Thumbtack intentionally encourages open discussion," she explains. "They are very transparent, which makes people feel comfortable speaking up. We as employees feel like we are owners because we are trusted with information and given the chance to give feedback. Overall, the company culture is probably the most important thing that allows people to communicate honestly."
In addition to this communicative culture, Jessie also highlights Thumbtack's benefits as evidence of a company that truly cares about its employees and recognizes their diverse, international nature.
For example, she explains, "We have flexible PTO, and people are encouraged to take it. It feels a little like going back to Europe where people can feel free to take two weeks in the middle of the summer or in winter and not feel guilty or judged."
Such a flexible vacation policy gives her and her team members the opportunity to travel home, visit friends abroad, or simply take time away from work.
Four Tips for Working in Data
From previous mentors to her experiences abroad, Jessie has a lot to share in regards to working in data. More than anything, she emphasizes that there's more to data than just numbers.
She offers these four pieces of advice for anyone wanting to grow as a data professional:
Build a solid foundation in analytical thinking. "Be a critical thinker. Challenge every number you see and take the time to prove the data."
Keep learning. "Refresh your skills and knowledge, and learn about the latest trends and technology."
Couple hard skills with soft skills. "Besides being good at data, you also need to be good at communication, presentation, and influence skills. Practice this by talking to people, getting information, knowing who to talk to and what information you need to achieve your goal."
Develop your network. "Besides presenting data, you need to know how to find the best resources and sponsors to present the data. It is important to develop a network to have contacts that will help you present data to the right people and meet your goals."
If you're interested in becoming a member of the Thumbtack team, check out their openings here!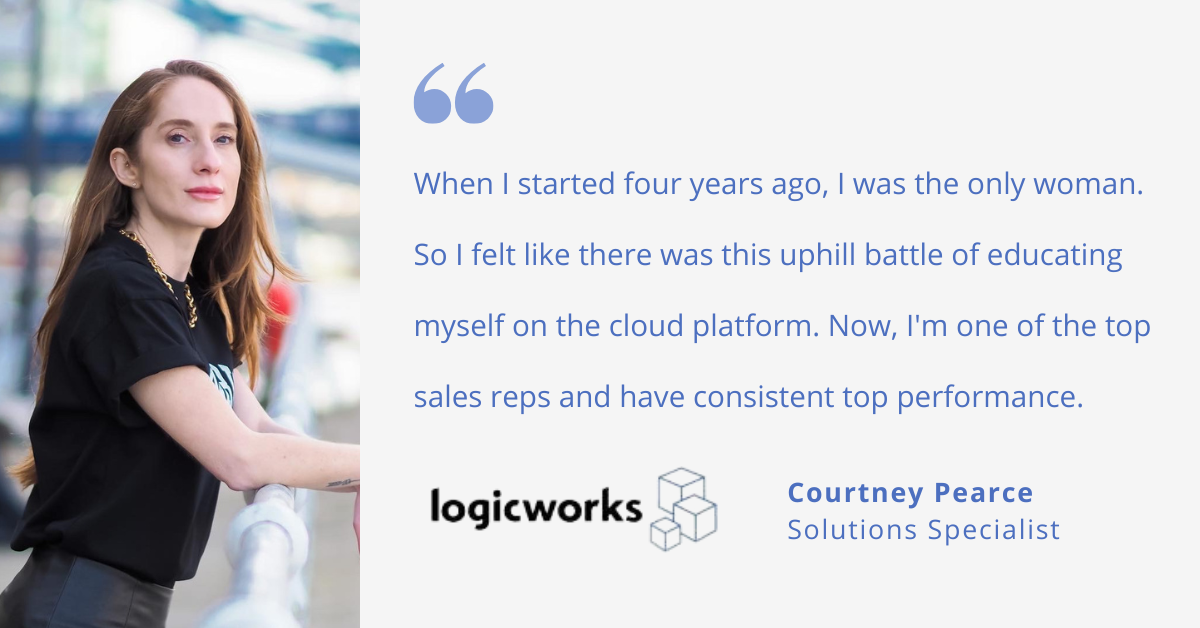 Logicworks
Courtney Pearce's background isn't one you'd expect to find in a tech sales position. But as a motivated self-starter, it makes all the sense in the world that she's been so successful in her role as Solutions Specialist at Logicworks.
If you ask her what she's most proud of about her time so far at Logicworks, she'll say her growth over the last four years.
"Even though I came from a technology company that was selling software, selling infrastructure and infrastructure managed services is very different. There was a learning curve. And when I started four years ago, I was the only woman. So I felt like there was this uphill battle of educating myself on the cloud platform. Now, I'm one of the top sales reps and have consistent top performance. So I'm most proud of my growth over the last four years."
Courtney has a lot of wisdom to impart to those interested in taking on the sales side of tech. We sat down with her to learn more about how she broke into the tech world by utilizing her retail experience.
An Unexpected Path Into Sales
Courtney started college as an Orthodontics major but eventually realized that science wasn't her calling.
"Although I'm a great student, science and math were difficult subjects for me," she admits. "I ended up taking a random textile and clothing elective and it was my favorite class."
She enjoyed the breadth of the program and decided to become a Textiles and Clothing major.
"You got the opportunity to learn the sociology behind why people wear clothes, the chemistry behind dying, how to make fabric, then creating a line from start to finish and marketing that to the class," she shares.
Although fascinated by the program, her career journey didn't lead her to the fashion industry but rather to an adjacent career in retail.
"I ended up accepting a leadership position for a big box department store," she says. "At 23 years old, I ran a 35 million dollar store. It was a great experience and I learned a lot."
After two years of working in retail for various name brands, she found her way into a tech company through a recruitment role.
Breaking Into the Tech World
While Courtney was working at a recruiting firm, she was approached by a security tech company with a position as a technical recruiter. She was interested in the role and applied, but didn't get an immediate response.
"I didn't hear back, but continued to follow up," she recounts. "One night, I got a phone call that said, 'You're not a good fit for the technical recruiter role, but we have this new group that we're building out called business development and they're working directly with sales. Based on your experience and the fact that you're willing to follow up, we think you'd be a great fit'."
At the time Courtney knew nothing about the tech space but that didn't stop her from interviewing for the position.
"I spent an entire week browsing the website, watching all their product marketing videos, and tried to wrap my head around what this security company did," she explains.
During the interview, she blew them away with her knowledge of the company.
"I gave my five-minute spiel and I think that impressed them," Courtney shares. "I had taken the time to research the company, and not having had a tech background, I tried to comprehend what they do."
Hired as a business development rep, she had the opportunity to build the team from the ground up.
Reaching New Heights at Logicworks
Courtney continued to rise in the ranks, but she eventually felt that she had hit a plateau. With a desire to try out something new, she looked to Logicworks who offered her the career advancement she was looking for.
"I had reached my potential with my previous employer. There wasn't anything new for me to learn. I wanted to figure out what was next in my career. There was an opening at Logicworks for a Solution Specialist to be based in Boston. That was enticing for me."
When Courtney moved to Logicworks she was able to explore job autonomy.
"It gave me the opportunity to move into a territory that I'd been working in for many years, but also run that territory like my own business," she explains. "There was nobody else working within that space, and I could create the process that I wanted to."
Now at Logicworks, she experiences the constant changes of a cloud system.
"I'm constantly learning," she shares. "We're constantly evolving our services, what products we're providing, and how our services are integrated as the cloud is maturing. It keeps me interested every single day."
Now as a sales lead, Courtney focuses on building relationships with current and potential clients.
Coincidentally, the relationship-building skills that Courtney uses on a daily basis come from her experience in retail.
"I think coming from retail, you have to be able to talk to anyone," she says. "You're getting a lot of different customer personalities, so it allows me to be comfortable talking to strangers, which I think is key in sales."
Along with sales experience, Courtney's internal drive has been key in propelling her forward.
"Being a self-starter and watching YouTube videos on what the cloud is, what AWS is, and taking that time on my own to learn and absorb as much as I can are, at the end of the day, the kinds of things that you can prepare you to enter the tech space," she explains.
Ultimately, it was the skills she learned in retail and her self-taught understanding of tech that have led to her success.
Advice for Entering the Tech World Through Sales
If you're looking to enter the tech world from a sales angle, Courtney offers this advice:
Find companies that resonate with your values. "Whether you like their product and think that product is solving a pain point in the marketplace, or you align with the company's values, work for a company whose mission you support," Courtney advises.
Be pleasantly persistent. "The biggest thing that helped me was when I reached out and nobody responded, and then I followed up and nobody responded, and then I followed up again and they called me. Being pleasantly persistent shows that you're interested and invested in the organization," she explains.
Do your research. "Take the time to figure out what the company does and what they are all about. Educate yourself above and beyond the basic training material to ensure that you have the right knowledge base to be successful in the role."
If you are looking to grow within the tech space, check out
these open positions at Logicworks
.
READ MORE AND DISCUSS
Show less
Loading...