GET EMAIL UPDATES FROM POWERTOFLY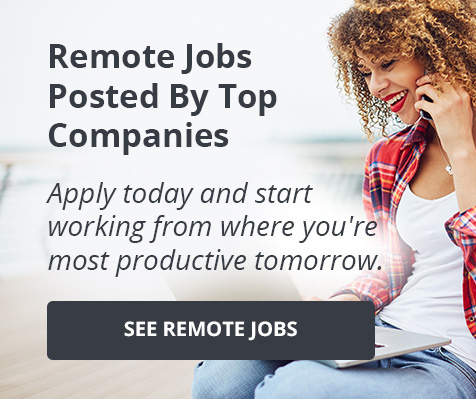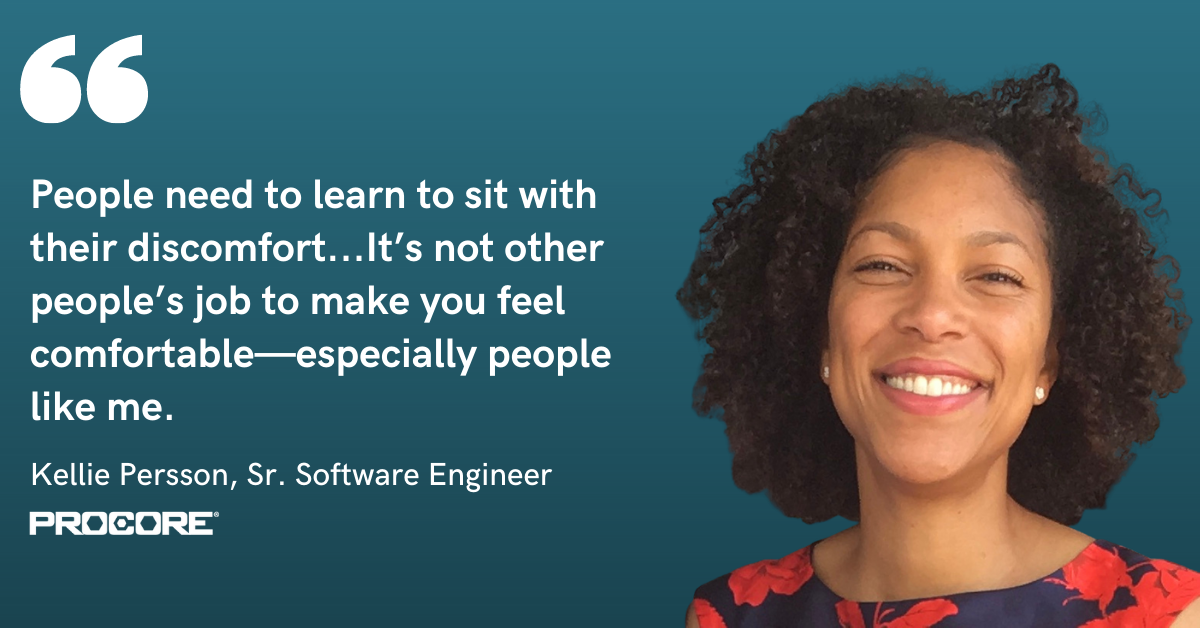 March 15, 2021
Procore Technologies Inc
Getting Comfortable with Discomfort: A Conversation with Procore's Kellie Persson
Kellie Persson was at the WWDC17, Apple's annual conference for developers, when she heard Michelle Obama give an answer about why there weren't more Black women in tech.
---
"'You're asking too late,'" Kellie remembers the former First Lady saying. "'If you're asking when you're trying to hire people, you need to go back to the beginning, find out why these young women aren't interested or what causes them to fall out of love with it. You start at the beginning.'"
Kellie, who is now a Sr. Software Engineer at cloud-based construction management software company Procore, is a success story of that early intervention.
She joined her elementary school's computer club, where she enjoyed playing games and designing a printable book starring Garfield. That interest continued into her senior year of high school, when she learned programming.
When she started at Spelman College, Kellie thought she wanted to be a patent lawyer, to combine her love for math and science with a reliable career path. But her deep-seeded passion for engineering won out after she took her first computer science classes.
We sat down with Kellie to talk about her experience studying amongst other Black women and then going to work in a field where she was often an "only," how she's learned to show up as her full self at work, and how she has experienced the Procore community.
"You just have to show up"
According to research done by the National Science Foundation, only 1.6% of engineers in 2015 were Black women.
That's not the experience Kellie had at Spelman, though. Being a student at the historically Black liberal arts college for women in Atlanta meant that Kellie was surrounded by other high-achieving Black women just like herself—and that the faculty had opted in to teach exactly that group.
"Spelman has a really competitive entry. When you start, it's like a reset, almost a level playing field. Everybody's smart. It sets up an environment where you don't know anything other than to be your best self," says Kellie. "You're not going in there talking with teachers who you feel don't value you or don't see your worth. You just have to show up, and that's a very big advantage."
Kellie learned that she had to show up and give her very best when she wrote a paper on The Tempest, a play she'd read in high school, and got a "D minus minus minus" on it. "It didn't knock my confidence," says Kellie, "but it helped me to see that I do have to show up as my best self."
Spelman gave her opportunities to test her confidence, and most importantly, to do so amongst a community of other women that proved that Kellie wasn't an anomaly. "I realized I wasn't an 'only' any more," she says. "Even if I didn't see a lot of me reflected in my workplace, I knew that we were out there."
Stepping away—and stepping back up
When Kellie began her career in engineering post-grad, she was plenty confident, but still felt decidedly outside of the "club" of mostly white men in her department.
"It felt like certain privileges or promotions or things were extended to members of the club," she says. And when Kellie decided to start a family, it "wasn't celebrated."
"I felt that I was held back because of choosing to have a family," says Kellie. She ended up stepping away from her field for about four years. She considered doing a master's program in dietetics, to line up with her lifelong interest in nutrition and wellness, but ended up deciding that going back to work in engineering was right for her and her family.
At her first job back, she had to learn how to develop in iOS, and that shook her—but just for a moment. "It hit me hard, like 'did I ever know what I was doing? Was I just faking it this entire time?'" says Kellie. "But I was able to tap back into what I had learned so many years prior at Spelman. That came back."
She especially remembered lessons from one of her mentors, Dr. Siga Fatima Jagne. "She was a firecracker, she had all this passion and she didn't try to dumb it down. I realized from her that you can be yourself. How exuberant or passionate you are shouldn't be offensive to people, and if it is, that's not your problem."
When Procore reached out about a job opportunity, Kellie was intrigued. Two former coworkers were working there and told her great things about the role, and her family had roots in the construction field. "I understood that space, I understood why it was such a need," she says.
As a Sr. Software Engineer, Kellie is committed to creating great, reliable products for Procore's customers. "Who wants to use an unstable product? If you can't rely on it, just imagine how our clients feel," she says.
Feeling a sense of belonging as a black woman in tech
The racial reckoning of the last year or so, stemming from George Floyd's death at the hands of police officers in Minneapolis, has led to conversations at many American workplaces that mostly-white leaders weren't practiced in having.
"Some people have never had to be an only, or be uncomfortable. And especially recently, there have been a lot of uncomfortable things that have come up and people don't know how to deal with it. That doesn't feel good to them, but people need to learn to sit with their discomfort and think about it," says Kellie of her experience talking about racism at work.
"It's not other people's job to make you feel comfortable—especially people like me. We've been in uncomfortable spaces and we didn't have someone try to make us comfortable; we had to deal," she adds.
She's found, though, that Procore's leadership has been willing to sit with those uncomfortable topics and to listen. "One of the best things that came out of that with Procore is not trying to run away from [problems], but acknowledging why don't we have a lot of people of color, why don't we have a lot of women, and saying 'let's do something about it,'" says Kellie.
Last summer was a hard time for many Black Americans, including Kellie, who says that the only meetings she showed up to with her camera on the week of George Floyd's death were those hosted by Procore's ERG for Black employees. "I needed that support group. I wasn't trying to explain to anybody. I just needed to talk to individuals who understood where I was at. I showed up every day and I did my job, but I didn't want to answer questions of how I was doing and 'what can I do to be better?'" remembers Kellie.
Later on, she also participated in listening sessions between that ERG and Procore's leadership. "They talked to each one of us," she says. "I felt valued and I felt seen."
Staying a rockstar
When Kellie thinks of where she'd like to be in five years, she has a pretty clear vision: "I just wanna try to be a rockstar."
"I want someone to, when they speak about me, not praise me, but talk about how I had a positive impact on them," she adds.
One key way she's able to make an impact? Leading by example: working hard, and showing up authentically, even when it makes others uncomfortable.
That's a lesson that she hopes everyone, but especially other Black women interested in tech, take to heart. "There are people that are rooting for you," she says. "You just have to go find them."
If you want to find your people at Procore, check out their open roles.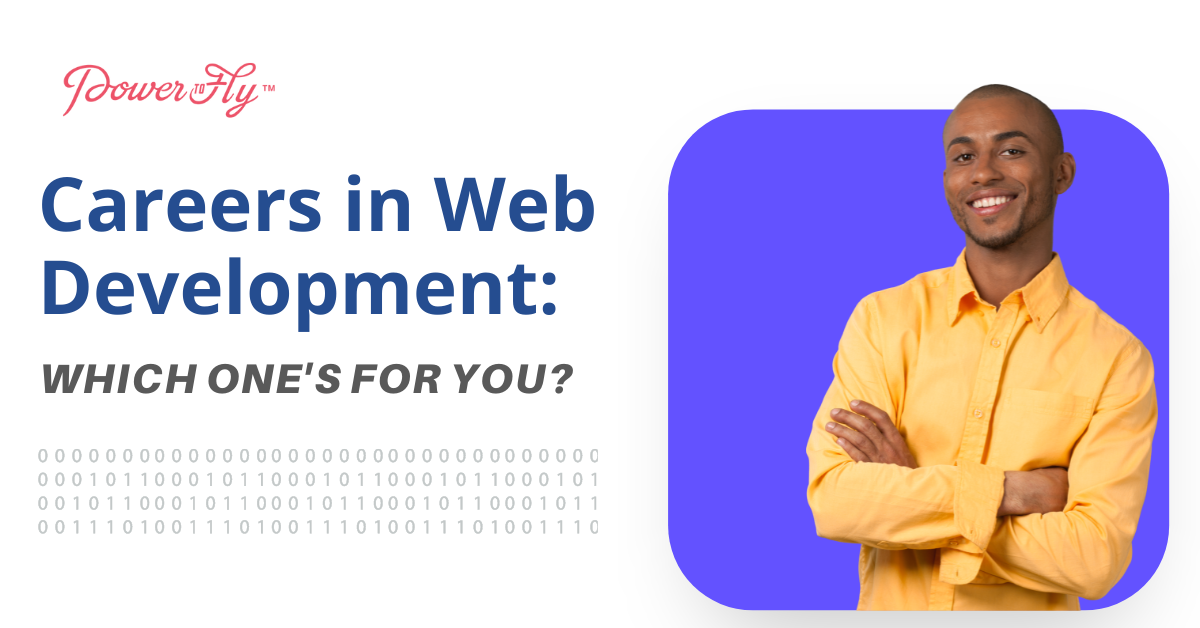 Upskilling and Development
We all have our favorite websites– the ones we frequent, bookmark, and recommend to others. You might even enjoy some website features so much that you've found yourself wondering why they aren't more popular. Or maybe you've experienced times where you were frustrated with a website and wished you could add features or even design your own!
If you've ever found yourself intrigued at the prospect of designing and developing your own websites, then a career as a web developer might be just for you!
As a web developer you would be responsible for coding, designing, optimizing, and maintaining websites. Today, there are over 1.7 billion websites in the world and, in turn, the demand for web developers is on the rise. In order to figure out what kind of web development work best suits you let's start with an introduction to the three main roles in web development that you can choose from.
The Three Types of Web Development Jobs
Front-End Web Development: The Creative Side
Think of front-end development as the décor of a house. The color scheme, furniture, manicured lawns, and overall aesthetic. In terms of a website, front-end development is laser-focused on the appearance of a website and its presentation on different devices. If you're considering a role in front-end development, it's important to learn programming languages such as HTML, CSS, and JavaScript. These three languages go hand-in-hand. HTML allows you to create user interface elements, CSS helps you with stylistic elements, and JavaScript allows you to incorporate online tools and connect your website to back-end functions.
In addition to programming skills, front-end developers need to be detail oriented, creative, willing to keep up with the latest trends in web development, cyber security conscious, and geared toward user-friendly designs. The median salary for a front-end developer can reach well into the $90,000 to $100,000 range.
Back-End Web Development: The Logical Counterpart
While a house can be beautifully decorated, it's incomplete without a solid foundation and efficient infrastructure. Similarly, a well-designed website depends on logical and functional code to power the features of that website. Back-end web development is code-heavy and focused on the specifics of how a website works. If you enjoy the analytical challenge of creating the behind-the-scenes code that powers a website, then back-end development is for you.
Since this role is more code-heavy, it's important that you learn numerous programming languages and understand algorithms and data structures. Some languages that are essential to back-end development are Ruby, Python, SQL, and JavaScript. Back-end developers also ensure that users can successfully retrieve and access data. This requires creating and using APIs (Application Programming Interfaces) which act as messengers that relay data related requests. Additionally, developing the code for the inner workings of a website also requires back-end developers to be conscious of the user interface features designed by front-end developers and to internally mitigate potential security risks. Due to the increased technical aspect of this position, back-end developers normally earn higher salaries than front-end developers. The average median salary for this role is around $118,000 per year.
Full-Stack Web Development: A Little Bit of Everything
A full-stack developer is essentially the Jack (or Jill)-of-all-trades in web development. Full-stack developers need to be knowledgeable about both front-end and back-end roles. This does not necessarily imply that you would need to be an expert in both roles, but you should fully understand the different applications and synergies they each imply. In order to work in this position, you will need to know the programming languages used by front-end and back-end developers. In addition to these languages, full-stack developers also specialize in databases, storage, HTTP, REST, and web architecture.
Full-stack developers are often required to act as liaisons between front-end and back-end developers. Full-stack developers need to be both problem solvers and great communicators. The end goal for a full-stack developer is to ensure that the user's experience is seamless, both on the front-end and on the back-end. In return, you can expect to earn a median salary of $100,000 – $115,000 a year for this role.
Taking the Next Step
Web development is both in-demand and lucrative! All three roles described above contribute to specific aspects of web development and the scope of each one can be customized to the industries and positions you feel best suit you. Regardless of which role you choose, all of them need a foundation in programming.
To gain the programming skills needed in each role, you can enroll in courses or learn independently. Coding bootcamps are a great way to boost your skillset quickly and efficiently.
Click here for some of our highly rated programming bootcamp options! Make sure to check out the discounts available to PowerToFly members.
READ MORE AND DISCUSS
Show less
Loading...