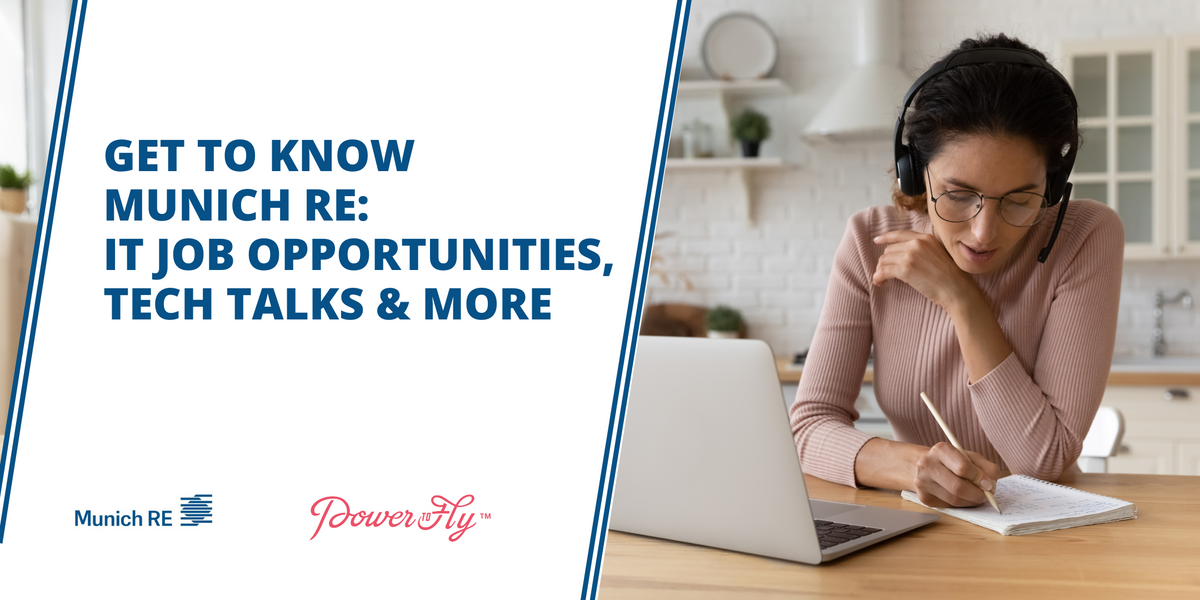 Munich RE
Munich Re, the world's leading reinsurance company, is tackling problems for their primary insurance clients and distribution partners with innovative and forward-looking digital solutions.
As new technologies disrupt the insurance value chain, how exactly does Munich Re stay at the forefront of change?
On September 29th, 2021, a few of their technology leaders joined us online to share an inside look at their company culture, transformational projects, and how they're investing in their IT and Tech specialists.
The event kicked off with a welcome address from Chris Hawman, SVP and Global Head of IT, Life and Health. Chris shared why he chose to join Munich Re after spending 25 years in various financial institutions, as well as why diversity is so important to the company.
"Munich Re does feel different than the other financial firms that I've worked for in my career" he shared. "Munich is our home office, but we operate dozens of businesses that are diverse in different parts of the insurance business, serving different clients and different markets around the world. So diversity is really baked into how we operate and how we need to compete in each and every market."
Chris also touched on how Munich Re fosters an inclusive culture and supports their team members with ample career development opportunities, a flexible work environment, and a focus on work/life balance.
Next, we moved into a Tech Talk with Yamila Harris, Global Head of Support, IT Service Delivery. She discussed how Munich Re has made a significant investment in "transformation initiatives" in response to the growing hybrid nature of the workplace—from self-service tools and tech bars to smart meeting rooms.
"We're looking at really thoughtful and innovative ways to improve the services that we're delivering for our colleagues while ensuring that we're setting the right foundation well into the future."
Moving into our panel discussion, we heard from Stephanie Copp, Global Head of IT Security Consulting & Testing, Karveen Baines, Global Head of Transformation and Supporting Services, and Phil Roeper, SVP & CIO Munich Re America Services—alongside Yamila Harris. The panel offered a behind-the-scenes look at their upcoming projects, career development opportunities, diversity initiatives, and the future of the company.
When asked about her favorite project, Stephanie shared her excitement around penetration testing, a specialty field within information security that tests and verifies the security of systems and applications by attacking them with the very same techniques and tools that attackers use.
Karveen discussed Munich Re's regular development conversations and how "the annual review encourages a one and done type development conversation, so [Munich Re] made active arrangements to move away from it and encourage continuous conversations… This enables [them] to really keep in touch with [their] people on how they're doing in real time."
Next up, Phil talked about how Munich Re is scaling across IT risk, cyber security, automation, and more, as well as the excitement of working for a global company.
"If you haven't had a chance to work in an international environment before, I must admit, I would recommend it."
We then circled back to Yamila who touched on how she's seen diversity and inclusion at play across her team. She wrapped up by saying, "this is a company where I feel like I can bring my whole self to work."
After a live audience Q&A, we broke into small breakout sessions with additional technologists and Talent Acquisition team members to learn about Munich Re's hiring process and answer more audience questions.
Interested in joining the team? Munich Re is hiring! You can view all of their open roles and learn more about the company on their PowerToFly page.
Pax8
💎 How to build trust in your team? Watch the video to the end to find out!
📼 How should you work to build trust in your team? Play this video to get three top tips that will help you. You'll hear from Veronica Setzke, Senior Director of People Ops at Pax8, who shares tips and tricks she learned through years of coaching.
📼 How to build trust with peers in your team? Tip #1: Relationships. There's no better way to start forming relationships than having regular one-on-ones. It doesn't have to just be with your supervisor. It can be with your coworkers. It can be with those people that you collaborate regularly with. And it's really important in these one-on-ones that we're spending time listening. Take the time to be present and listen. Also, spend time together not working. Have lunch together. Go for coffee. Take a five-minute walk around the building and just have a conversation. Relations are a key element to trust!
📼 How to build trust? Open yourself in your team Tip #2: Vulnerability. Allow yourself to be vulnerable. Ask for feedback, whether it's feedback about a project, a process, or even maybe a leadership behavior that you're trying to master. This allows those on your team and those around you to see you as willing to be vulnerable. Trust and vulnerability go hand in hand. It doesn't mean that you're weak, but rather that you're open. It allows your team to understand that it's a safe place for them to also be vulnerable.
How To Share To Build Trust In Your Team - Tip #3: Clear Is Kind
Keep the team informed and say as much as you can about what you know. There are times that we hold information that could be shared. We could share that information that impacts others' work and have them have the opportunity to use that to do better. If you've learned something that could help your colleague make a better decision, share that! Try to ensure that your communication with others is clear. When you make the effort to be clear about your intentions, your work, and your roadblocks, it opens others up to do the same.
📨 Are you interested in joining Pax8? They have open positions! To learn more, click here.
Get to Know Veronica Setzke
She works as a People professional because she sincerely believes that people want to be excellent, and it is her role to help move the obstacles to their achieving success. She believes the employees deserve a culture that values their work and will respond to such a culture by creating amazing results. If you are interested in a career at Pax8, you can connect with Veronica on LinkedIn. Don't forget to mention this video!
More About Pax8
The company simplifies the way organizations buy, sell, and manage cloud solutions, empowering its partners to achieve more with cloud technology. At Pax8, they know that they are only as great as their people. They realize that every individual has unique personal and professional aspirations, which is why they strive to offer a complete and competitive Total Rewards offering for their members and family.
READ MORE AND DISCUSS
Show less
Loading...