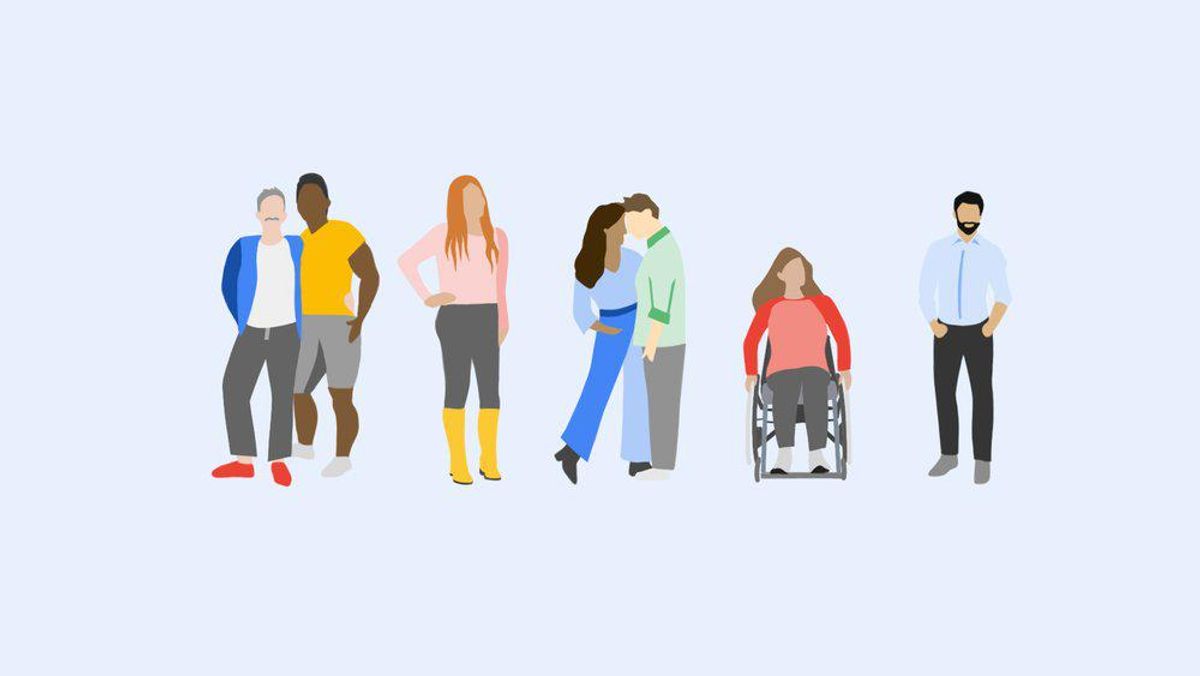 May 02, 2022
Google Inc
Building together, with and for everyone
Below is an article originally written by Melonie Parker, and published on Mar 29, 2022. Go to Google's company page on PowerToFly to see their open positions and learn more.
Editor's Note: Chief Diversity Officer Melonie Parker sent the following note to the company today.
In a conversation I had last year with civil rights scholar john a. powell about belonging, he talked about "building a place together, for all of us." I keep coming back to this as we reach new stages in the pandemic, and as we continue to support those who are impacted by the war in Ukraine.
I'm humbled by the many efforts happening across the company that show how we're making progress and building belonging at work, and in our world — together. Read on to learn more.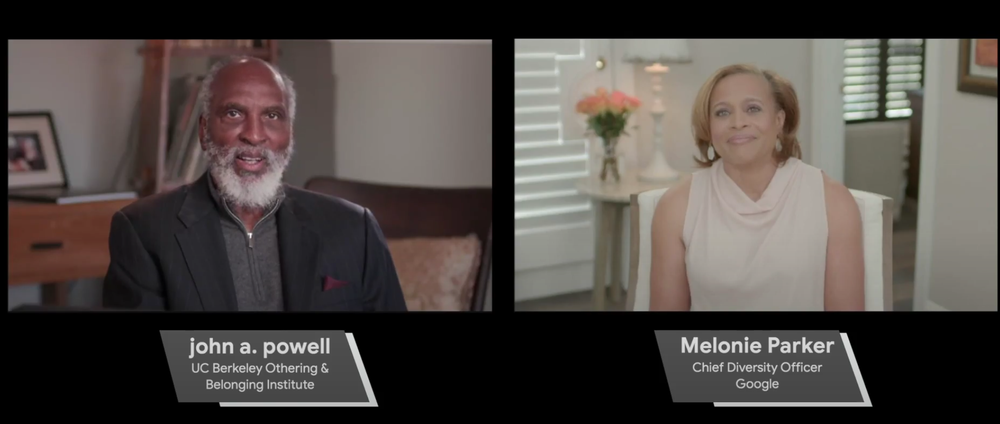 3:51
Supporting and investing in communities around the world
Supporting our global workforce and local communities around the world remains a top priority for us. Today, we announced several initiatives to help with the humanitarian crisis in Ukraine, and to support the post-war recovery of Central and Eastern Europe. We've also hosted community support sessions to help Googlers affected by the war, connecting them to wellbeing and emergency resources. And we're continuing to support the Ukrainian community through our products and services.
We're increasing our investments in communities across the globe, through efforts like expanding the Black Founders Fund initiative in Europe, where Google investments and support are helping Black-led startups succeed. These startups raised millions in funding and created more than 100 jobs in 2021. We announced in March that we will double the fund for 2022, providing equity-free cash awards and direct support to more Black entrepreneurs.
In Canada, Google.org is supporting the growth of Indigenous businesses and helping indigenous entrepreneurs reach broader audiences. Our February grant to the National Digital Inclusion Alliance is targeting tech access issues in rural and tribal communities in the U.S. And the Go Digital ASEAN program in Asia now reaches about 200,000 small businesses and underemployed youth in rural and isolated areas, as well as women and people with disabilities.
The AARP Foundation is helping us connect with more than 25,000 adults — primarily women and people of color from low-income communities in the U.S. — as they build digital career skills. And in January, the Google Career Certificates program became available in Spanish, enhancing tech skills for tens of thousands of U.S. job seekers.

Collaborating to expand opportunities
Our work to expand access to tech is guided by the expertise of organizations and institutions on the ground. Today, 59 faculty members are researching areas that aim to positively impact society like accessibility, algorithmic fairness, higher education and participatory machine learning as part of the Award for Inclusion Research Program. And close to 8,000 undergraduate students from underrepresented communities in eight countries are pursuing research careers in computing with funding from our exploreCSR awards.
Building on the momentum of our $50 million grant to 10 HBCUs last year, we recently announced an unrestricted grant to the Thurgood Marshall College Fund and United Negro College Fund to help create new HBCU student programming, guided solely by these organizations. We're also expanding our Grow with Google Career Readiness Program through the Hispanic Association of Colleges and Universities to bring digital skills training to 200,000 Latino college students.

Our ongoing equity work
Since first announcing our 2020 racial equity commitments, we've hired close to 4,700 Nooglers across our Atlanta, Chicago, New York City and Washington, D.C. offices. And last year, we had the highest ever year-over-year increase in women hires in Europe, the Middle East and Africa, thanks to targeted campus outreach and the establishment of a DEI recruiting team in the region.
Our work must extend beyond hiring and representation to support the day-to-day experience of every Googler. In February, we launched The Collective, a new six-month onboarding program designed for Black+ Nooglers and their managers. The program is now slated to expand to other countries such as Australia, Brazil, Canada, Ireland, the U.K., Singapore, and South Africa later this year.
We can only have belonging when everyone feels safe and heard. In February, we completed our rollout of the more than 50 new workplace commitments announced in September 2020. All of these commitments are in service of building a safe, respectful and equitable workplace where there is trust and accountability. For example, we've taken steps so that written warnings impact performance evaluations, promotion eligibility and compensation. And we now assign a specialist team to cases involving senior leaders to ensure appropriate scrutiny. Together, these changes set and uphold higher standards for the whole company — as we continue to take a harder line on inappropriate conduct and provide more care and support to people who raise concerns.

Community connections
In February, we hosted 2,000 Googlers for the first-ever Black Men of Google Summit — a half-day program to build connections around shared experiences. And in early March, more than 20,000 women and allies gathered virtually for our International Women's Day Summit, aimed at recognizing resilience and deepening community for women at Google.
In India, allies of the LGBTQIA+ community are engaging in identity-focused discussions known as "Chai Chats." Efforts like this, along with policies and initiatives, such as Google's Transgender and Intersex Medical Advocacy program, helped Google India achieve a gold rating in the country's first comprehensive benchmarking study of organizational inclusion.
This momentum is so energizing for the work ahead. Thank you to the many teams and community leaders who are helping us learn and make progress in building a world where we can all belong.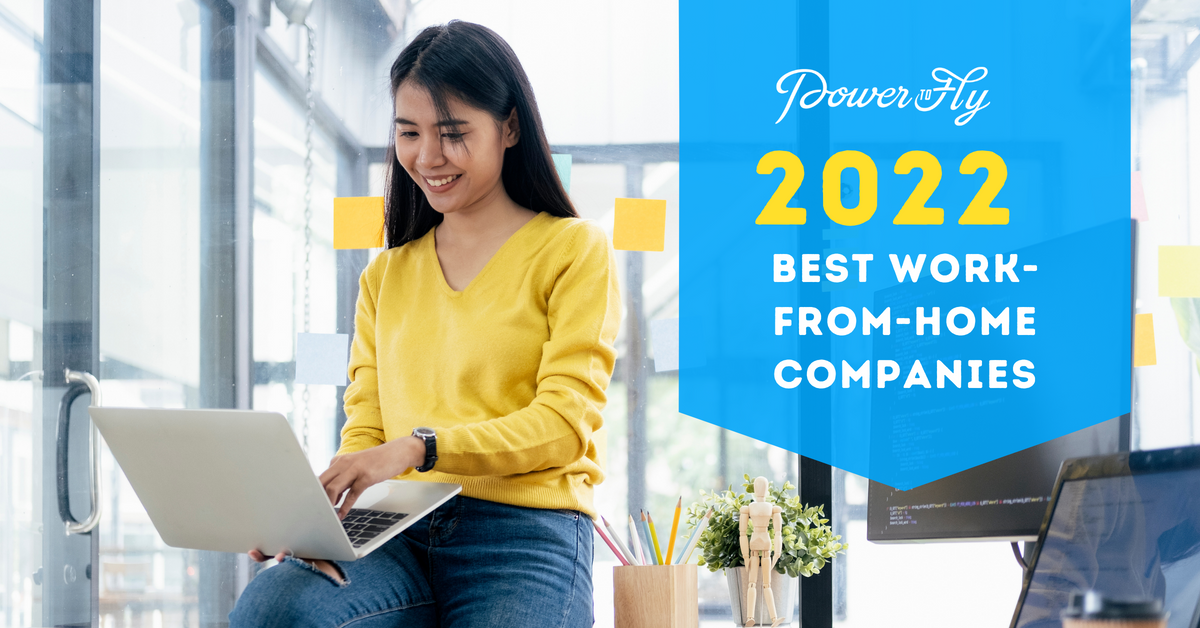 Featured Post
Every year, PowerToFly creates a list of the best work-from-home companies. Now that over half of the U.S. workforce is remote, compiling that list was a bit more challenging.
This year, we prioritized selecting companies that are remote-friendly—meaning they have both remote and in-person roles—but they have made long-term commitments to hiring and supporting employees who choose to work from home; and we think they have the perks, values, and organizational framework to allow all employees to flourish in their careers, regardless of location.
Keep reading to see our top 15 work-from-home companies for 2022, along with a description of what they do, why we like them, and who they're looking for.
PowerToFly's Best Work-From-Home Companies 2022:
Don't see what you're looking for? Check out a fill list of 5,000+ open remote roles here!
READ MORE AND DISCUSS
Show less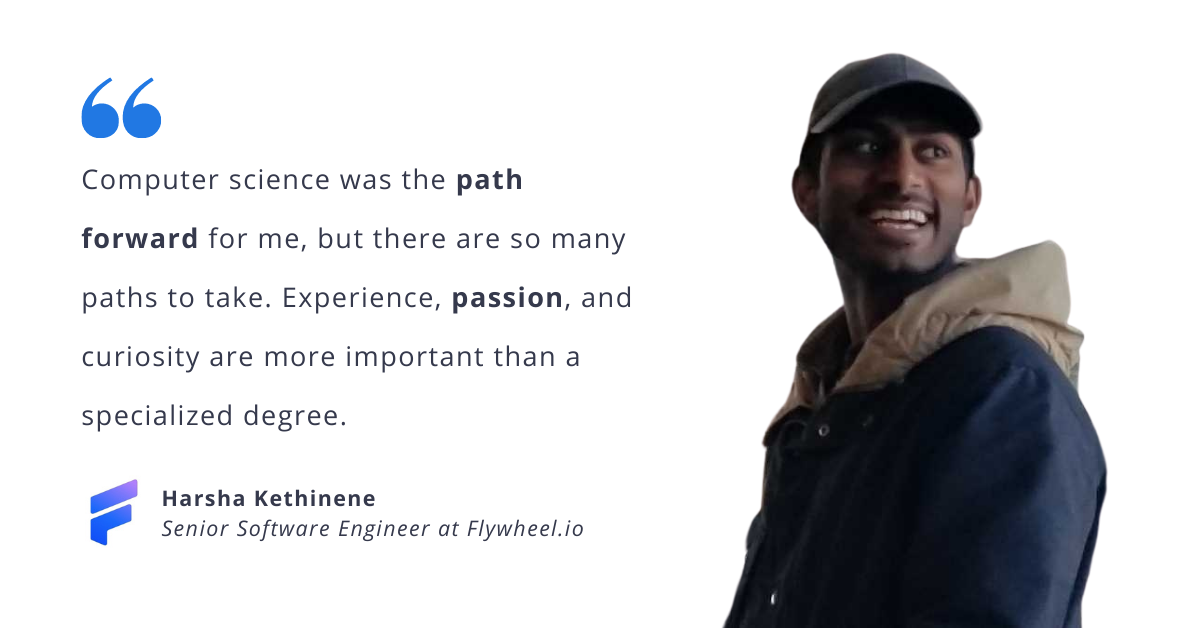 Flywheelml
Software development is in Harsha Kethinene's blood. "Both of my parents are in the computer science field," he says. "So when I was younger, they introduced me to programming." By the time he was in middle school, he was creating his own text-based video games. "I liked learning different languages and different ways of how to program, and by the time I was in high school, I knew I wanted to go into a STEM field."
And that's exactly what he did. Today, Harsha is a senior software engineer at Flywheel, a biomedical research data platform. We sat down with him to learn about his journey from college student, to intern, to engineer. Keep reading to hear his advice to smooth the transition from school to industry.
Figuring Out Next Steps
Harsha knew that he wanted to focus on science and technology in his career, so he originally opted for a double major in physics and computer science. "I had always been interested in astrophysics and space, and I wanted to learn more about that," he reminisces. "But then I took my first physics class and thought, 'alright, nevermind, we're going to stick to computer science.'"
With a new found focus, Harsha began tackling his classes and learning about different aspects of computer science, but he wasn't sure which area he wanted to focus on. "It got to a point where I thought, 'Is computer science really what I want to be doing?,' he explains. "Because what I was learning was interesting, but it didn't seem to fit with what I wanted to do."
That's when he decided to get some experience outside of the classroom to help him secure his career path. "It was my sophomore year, and I thought, 'I want to get an internship because it seemed like what smart people did,'" he laughs. After hearing about Flywheel from one of his colleagues at an on-campus student group, Harsha decided to apply for an internship.
After a series of interviews, they welcomed him on the team. He got the opportunity to dive into the industry and get insight on the different fields he could potentially work in. "Everything kind of clicked together and I thought, 'okay, this is what I want to be doing, software development.'"
Diving Into the Real World
This internship revealed some major differences between his development classes and the projects he was working on at Flywheel. "At Flywheel, what I was working on could change very fast," he elaborates. "At school you have a syllabus, you know what you are going to be working on."
While at university there were structured problems that had a neat solution, he realized that in the real world, he had to identify the problem first, and then try to solve the problem. "Sometimes you almost feel like a detective trying to figure out what's going on and why it's not working," he says. "So that's always fun. It keeps you on your toes."
"I'd say the hardest thing to learn, and what probably took me the longest to learn, is in school, when you write code, you just need to write it once, to get it to work, and then you can kind of ignore it for the rest of your life," he laughs. "You can't really do that in an industry. You need to write it and then make sure that six months from now you can still understand what you wrote."
Flywheel's dynamic, collaborative environment ultimately led Harsha to accept a full time offer as a software developer. Four years later, he's continued to climb the career ladder and is thriving in his current role as a senior software developer.
Tips for Transitioning Into the Industry
Harsha knows, first hand, that going from student to professional can be challenging. Keep reading for his advice to help smooth the transition.
Tip 1: Actively search for experiences and internships. Gaining real world experience is key to making the transition from student to professional smooth. One way to do that is through internships. "It feels very daunting when it comes to searching for an internship," Harsha confesses. "You see all of these postings online and you think, 'am I qualified for it?' Other times you get automated rejections."
When Harsha was looking for an opportunity to gain hand-on experience in the field, he relied on a network of support. "The reason I got my internship was by meeting somebody who mentioned this company that I'd never heard of." In addition to networking, Harsha recommends using other tools. "Try multiple avenues of looking for jobs and internships." Some of the avenues he suggests are industry meetups, school networking events, and conferences. "You need to break out of your shell a little bit to meet your people, to find these opportunities," Harsha advises.
Tip 2: Let your passions shine in the interview. After applying to a job or an internship, the second step is to prepare for the interview. Harsha's interview experience taught him that employers look for passionate people. "One of the people that interviewed me mentioned that they looked to see if candidates were doing any programming outside of school," he says. "That shows that you have a passion for it."
These days Harsha finds himself on the opposite side of the table as an interviewer. "When I'm sitting in on an interview, I tend to look for that [passion] as well, if they would enjoy working here in the software development industry."
Tip 3: Don't let your degree limit you. While Harsha pursued a degree in computer science, he's seen that there's no one correct path to a successful career in tech. "A computer science degree isn't really necessary at all," he elaborates. One of Harsha's former colleagues was a self-taught programmer. "He picked up small contract work online writing code and developing websites. Now, he's a software engineer at another startup."
Everyone's journey looks different, so there's no one-size-fits-all way to a successful career in tech. "Computer science was the path forward for me, but there are so many paths to take. Experience, passion, and curiosity are more important than a specialized degree."
Are you ready to put Harsha's tips into practice? Check out Flywheels' open roles here!
READ MORE AND DISCUSS
Show less
Loading...