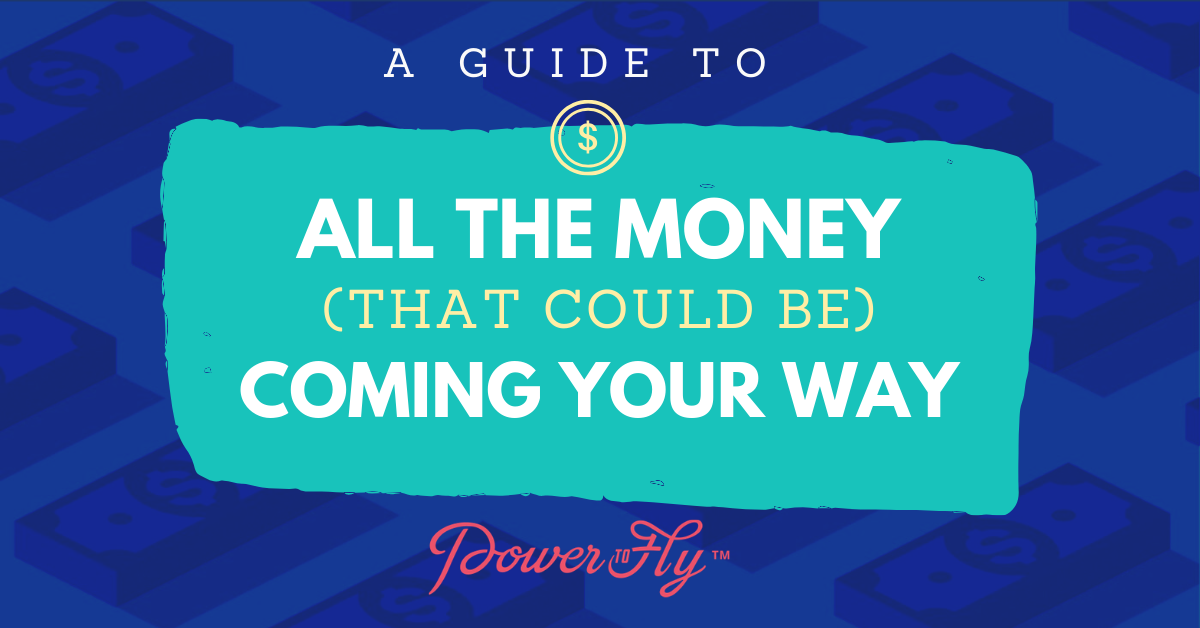 Work-Life Balance
A look at stimulus checks, unemployment benefits, and more.
American society may come out of the current coronavirus pandemic completely changed. We may realize it's at best inefficient and at worst negligent to tie employment to healthcare. We may realize it's not such a bad thing to have the state more carefully monitoring private enterprise. And we may keep universal basic income, a bare-bones version of which Congress agreed to try out when they passed the bill that will give $1,200 to every adult making less than $75,000. Or we may revert back to the old normal. If and when we make it through this, we can use our voices and our votes to advocate for whichever version of government seems like the one the future will require.
---
But for now, we need to be able to navigate the quick-moving changes to the support systems available to help all of us who are hurting. And the nature of government (slow) and the nature of our country (big, split up into 50 different states, full of citizens with very diverse experiences and needs) has meant that figuring out what money is available to who has been extremely complicated.
You've heard the stories: people who tried to file for unemployment six different times and couldn't get through, small businesses clamoring to qualify for new loan and grant options but getting stuck in the bureaucratic quagmire of doing so.
We've decided to corral all the relevant information on credits, grants, loans, and loan forgiveness or deferral options that are available to you right now, with the goal of this being as useful and transactional a document as possible.
With that in mind, here's an overview of the options available.
Stimulus checks
What is it? A one-time $1,200 credit (that means non-taxable income, so you won't have to pay taxes on this money on your 2020 taxes) going to every adult in America with a social security number who makes less than $75,000 annually. If you're married with no children and you and your partner make less than $150,000, you'll receive $1,200 each. You get another $500 for each child under 16 and you'll get a smaller payment if you make up to $99,000. There are a few corner cases—if you're in college and your parent(s) claimed you as a dependent on their tax return, you won't get it, for instance.
How do I get it? If you filed for taxes in 2018 or 2019, you don't need to do anything. You probably chose to get your refund in a direct deposit, in which case the IRS will send the credit directly to your bank account. If they don't have your bank information, they'll send it to your mailing address. If you need to update your information, your best bet is to finish your 2019 taxes ASAP and include the correct information on there, as that's what they'll use.
When do I get it? Payments should start arriving next week (April 15), but it will likely take several weeks or months until all the checks have been sent out.
Unemployment benefits
What is it? Financial help for workers—including self-employed or part-time workers—to replace lost employment income, whether they were fired, furloughed, asked to stay in quarantine, or had to stop working to care for a sick family member. This money would count as income and would thus be taxed for the 2020 year.
As part of the $2 trillion stimulus signed by Trump in March, jobless workers are eligible for an extra $600 a week on top of their state benefits until July 31. In California, for instance, the maximum weekly benefit is $450. If you worked in California and used to make $1,200 a week but lost your job due to the coronavirus, you could file for unemployment, get the maximum state benefit of $450 a week, and also qualify for the $600 a week federal benefit, giving you $1,050/week.
How do I get it? You'd need to file for unemployment with your state. Go here and enter your state to get started.
When do I get it? That depends on your state. Most unemployment offices are struggling to keep up with a huge inflow of people seeking benefits. The usual waiting period is one week from the date of filing, but that may be extended. The good news is that benefits are retroactive, so if it takes a week to get through and file your claim, that week will be paid out later once you've gotten through. And as far as duration of benefits, most states provide 26 weeks of benefits, and the new federal guidelines provide an additional 13 weeks of benefits.
Small business loans/grants
What is it? Federally-guaranteed loans available to small business owners and self-employed individuals. If a business owner uses the loan to maintain her payroll for up to eight weeks, pay rent and utilities, or pay their mortgage, the loan becomes a grant that doesn't need to be paid back. The loan/grant money is available to small employers (less than 500 employees) in an amount up to 250% of an employer's average monthly payroll (up to a maximum of $10 million).
If, for instance, you're a small business owner who usually pays out $12,000 in monthly payroll (which includes health insurance costs for your employees), you would qualify for a loan of $30,000. For loan money not used for those purposes that will need to be paid back, there are no fees, and interest rates are capped at 4%.
How do I get it? The program has limited funding and the Small Business Administration's website is already crashing with huge increases in traffic, so apply as soon as you can. You need to apply through a bank or other lender (like a credit union), so you should start by contacting the bank you usually use for business. The SBA's search tool to find lenders could be a good place to start if you don't already have a go-to bank, though many banks aren't taking new customers for this program. The application deadline is June 30.
When do I get it? That depends on your state. Most unemployment offices are struggling to keep up with a huge inflow of people seeking benefits. The usual waiting period is one week from the date of filing, but that may be extended. The good news is that benefits are retroactive, so if it takes a week to get through and file your claim, that week will be paid out later once you've gotten through. And as far as duration of benefits, most states provide 26 weeks of benefits, and the new federal guidelines provide an additional 13 weeks of benefits.
Other assistance
The federal government has waived two months of payments and interest for federal student loan borrowers and suspended automatic payments until September 30th.
The IRS has moved the federal tax filing deadline for 2019 to July 15, but keep an eye on your state income tax deadline changes.
The government has waived the 10% penalty on early IRA or retirement plan withdrawals of up to $100,000, if your withdrawal is because of the outbreak.
The bill puts a 120-day moratorium on non-payment evictions for renters whose landlords' mortgages are owned by federal entities like Fannie Mae and Freddie Mac (which is about 70% of all mortgages—look for your address here to see if your landlord's mortgage counts).
If you're a homeowner with a mortgage backed by Fannie Mae or Freddie Mac, you can delay payments for up to 12 months.
Some, though not all, internet companies have said they won't cut customers off for nonpayment. AT&T, Comcast, Sprint, T-Mobile, and Verizon are some of the companies who have agreed to do that, though they haven't been clear about how it will work and if customers will need to call and ask for that benefit.
Some utility companies are suspending shut-offs, but the government has not mandated that they do so and companies are doing so on a city-by-city and state-by-state basis.
This is an unprecedentedly difficult time for many individuals, families, and communities. We hope these resources can help. If you find yourself with resources to spare, consider donating money to your local food bank, where they may be experiencing up to 10x more demand than usual. You can find a local food bank here.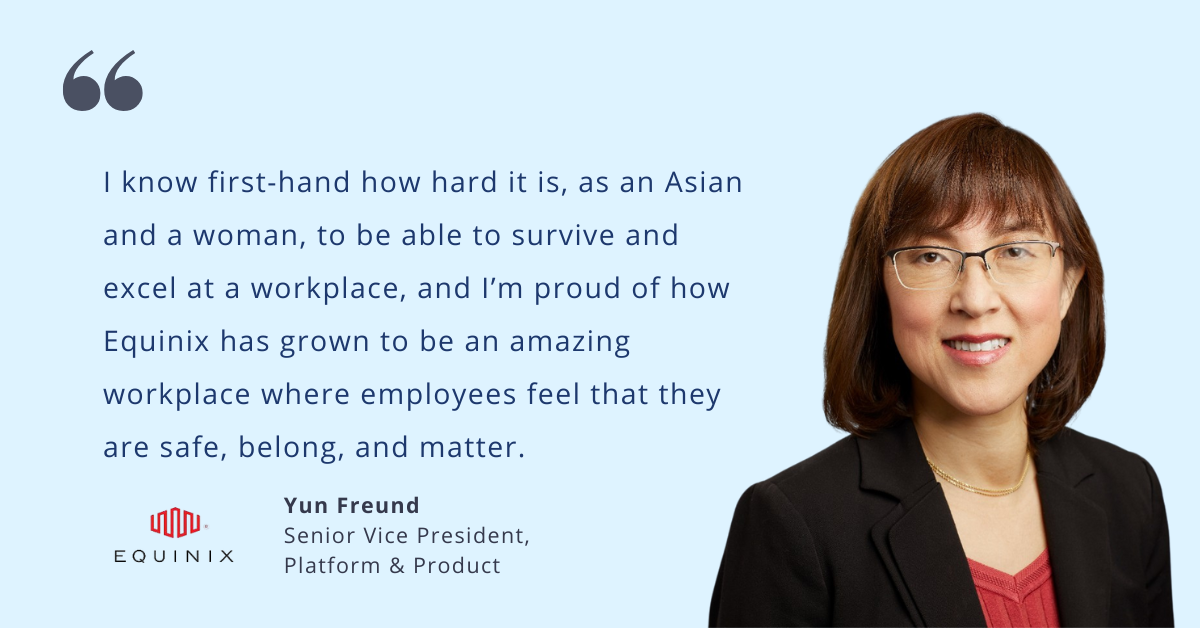 Equinix
Yun Freund considers her background to form the "typical immigrant story" — but sitting down with the SVP of Platform and Product at Equinix, it's clear she's made it her own.
"I came to the United States about 30 years ago with $80 in my pocket. I earned a CS degree from a Beijing university when computer science was new. I was good at math, so that's what I studied," explains Yun.
Fast forward a few decades, and Yun is now running one of the largest organizations at Equinix, a Fortune 500 digital infrastructure company focused on providing an interconnected platform to its global 10k customers. While focusing on external growth — the business has grown nearly 40% since her arrival — Yun has also invested in internal progress, especially when it comes to Equinix's Diversity, Inclusion, and Belonging (DIB) goals.
"I know first-hand how hard it is, as an Asian and a woman, to be able to survive and excel at a workplace, and I'm proud of how Equinix has grown to be an amazing workplace where employees feel that they are safe, belong, and matter," says Yun.
That's not just her opinion. Glassdoor confirms this, having given the company a "best place to work" distinction in 2021, and a special award for best places to work for LGBTQ+ equality list by the Human Rights Campaign Foundation.
We were excited to learn more about Yun's strategies for empowering her team — including her belief that making room for failure is just as important as celebrating success.
The Intersection of Technological Innovation and People Management
Yun first heard about Equinix through a recruiter. Decades into her career in tech leadership, she was looking for a role where she could drive innovation in both technology and people management.
"After many rounds of discussion with our executives, I realized Equinix is a company that's full of potential. It was doing a lot of innovation on interconnected SaaS products and networking products, and I thought I could really help drive, from a culture and process perspective, the company's digital transformation journey," reflects Yun.
Her first order of business? Building a strategy for scaling product development. Yun had long worked at the intersection of engineering and people management, and she embraced the challenge to scale a talent strategy as well as changing the culture.
That resulted in clear growth — not just for Yun's career, as in promotions and new responsibilities, but also in what the company was able to do.
"Helping to cultivate a DevOps culture, move products to the Cloud for high reliability and availability, and build operational excellence for our customers is contributing to us fulfilling our purpose, which is to be the platform where the world comes together, enabling the innovations that enrich our work, life and planet," says Yun.
Diverse Ways of Measuring Impact
Yun doesn't manage her team by the balance sheet alone.
"Improving the bottom line, or operating more efficiently, is just as important as improving the top line, or driving more revenue and more customer adoption," she says. "Sometimes it's not about how we get new products and services out the door, but how we run things more efficiently."
For Equinix, says Yun, that includes committing to becoming carbon-neutral by 2030.
"We're a company that really touches life every day, from online shopping, to sending emails and streaming movies, to smart cars," says Yun. "We want to be doing that sustainably. For example, by using AI and machine learning to lower our power consumption and using green sources of energy."
Yun knows that to drive the most impact, Equinix needs a diverse team. She has partnered with other senior leaders and employee connection groups and started driving a more coherent DIB strategy across the company. She is excited to see the progress and wants to continue the effort in building a diverse and safe workplace for everyone — including by leading through her own example.
3 Key Ways to Empower Your Team
When Yun says that it's important to empower your team, she doesn't mean that you simply transfer the responsibility to your team and call it done. Here's what she does mean:
Embrace failure. "It's easy to say, 'Ah, empowerment. Here's the purpose, go drive impact.' But sometimes it's not all rosy," she says. "The road to empowerment can sometimes be a failure. How do you support your employees along the way? When they fail, you should not blame them. You should be there, on their side, to help them do a retrospective and learn from it."
Show trust via delegation. "Giving your team the opportunity to make their own decisions helps give them a purpose. It shows them they can make a difference. Accountability and ownership will help drive your team to have deeper engagement and commitments, and ultimately deliver results."
Tie individual responsibilities to company OKRs (Objectives, Key Results). "I always communicate to my team that every engineer and individual contributor's work will have an impact on the business, no matter how small that is," says Yun. For example, if an engineer is working on a new digital experience component for the customers, their work will contribute to some kind of business outcome such as, hours saved from many customer support calls or customer satisfaction score improvement, and that in turn drives operational efficiency and customer experience improvement for the whole business. "When employees realize their impact on the business, it elevates their motivation as well as their state of mind."
Looking to join an empowerment-first culture? Check out Equinix's open roles!
READ MORE AND DISCUSS
Show less
Loading...