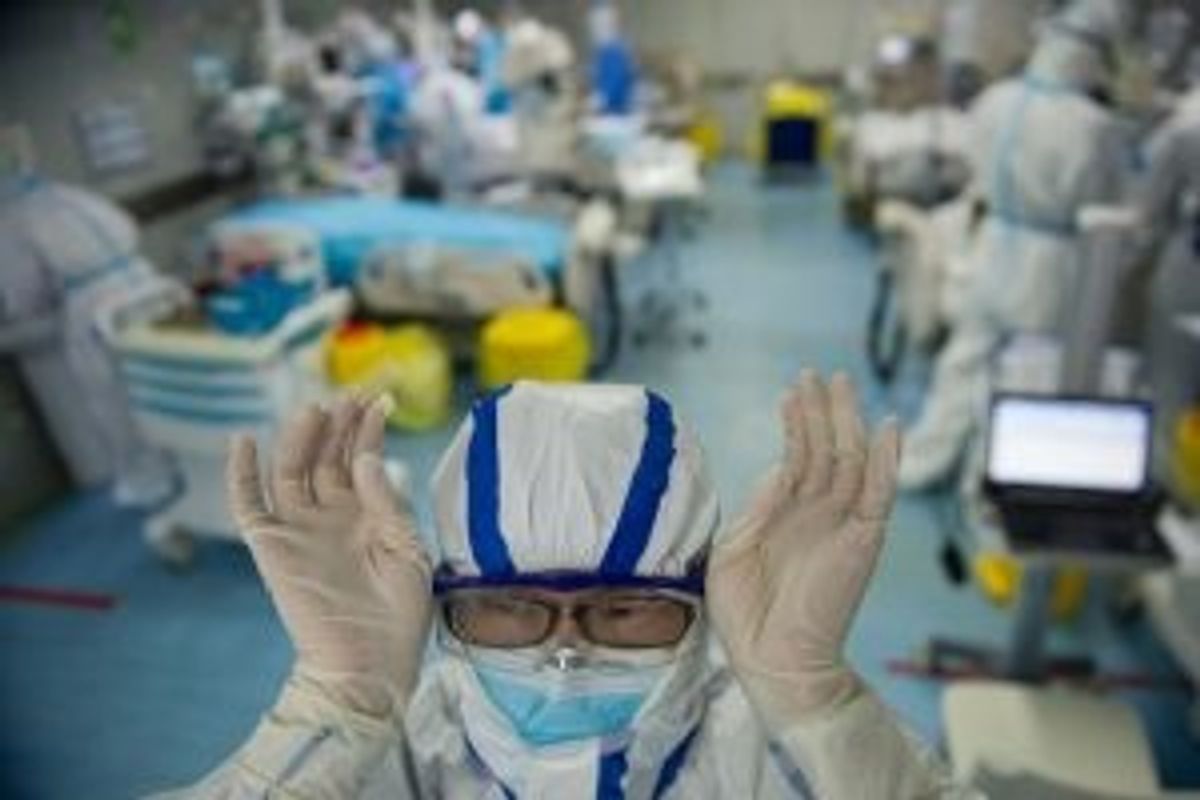 Thrive Global
Below is a Fortune article originally written by Arianna Huffington and Michelle A. Williams, and published on March 11, 2020. Arianna Huffington is the founder and CEO of Thrive Global. Go to Thrive Global's page on PowerToFly to see their open positions and learn more.
There's a reason that in-flight safety presentations always instruct us to secure our own oxygen masks before assisting fellow passengers. We can't help others effectively unless we first protect ourselves.
Nowhere is that notion more important than for the frontline public health workforce involved in the global COVID-19 response. Just like during the Ebola outbreak of 2014, these doctors, nurses, and community health workers are bearing a disproportionate burden of this epidemic, due to their constant contact with the virus, which is more contagious than the flu. To date, more than 100,000 have already contracted the virus, and delays in testing mean that many more have likely been exposed.
We're already seeing the tremendous toll—physical, mental, and emotional—that the coronavirus is taking on the world's public health workforce.
In China, more than 3,000 health care workers have been infected—and the death toll includes health workers who died not from the virus itself, but from cardiac arrest and other conditions caused by overwork and exhaustion. In the U.K., NHS contract workers live in fear that a quarantine could keep them from work for weeks on end—and without pay. And here in the U.S., a single patient who was denied a coronavirus test exposed dozens, if not hundreds, of UC Davis Medical Center staff to the disease, highlighting the dire consequences of having insufficient safety measures in place.
In response to the crisis, much emphasis has been placed on providing medical personnel with the right equipment to avoid contracting the disease—masks, gloves, gowns, goggles, and the like. These are essential precautions, of course. But we have to do more than ensure those on the front lines have the necessary protective gear. We also have to focus on maintaining their holistic well-being.
As more cases of the disease emerge here in the U.S. and around the world, we can expect the strain on health care personnel to get worse. Stockpiles of medical supplies will dwindle. The tide of hospital patients will rise and the shortage of test kits could grow. The flu will continue to muddle efforts to identify who has coronavirus and who doesn't. And the combination of long shifts, understaffing, and high stress could compromise the immune systems of health care workers and make them more vulnerable to the disease—and other illnesses—than they normally would be. An associated lack of sleep also threatens to weaken their immune system response.
The chaos of coronavirus underscores the challenge that public health workers face in prioritizing their own wellness in the face of limited resources, often brutal hours, and seemingly endless demands on their bandwidth. These issues are not unique to times of crisis, but a chronic and worsening pattern in our field.
And it's a pattern that can have devastating consequences—not just for the public health community but for that of the people they care for. We know that provider burnout is associated with an uptick in medical errors. And sick, exhausted health workers can lead to further staff shortages, longer hospital wait times, and poorer patient outcomes overall.
It's critical that hospitals and other health care organizations have the resources they need to put enough boots on the ground, so that individual workers can take breaks to recharge, get some sleep, and stay well. And emergency response training should be accompanied by overall wellness training, with an emphasis on healthy food, exercise, and stress management, so that staff can build the resilience—both physical and mental—that is necessary to weather the stress and endless demands during a health crisis.
In other words, we need to make sure public health workers can put on those proverbial oxygen masks first so they can go on to assist others.
The public health community is working diligently to mitigate the spread of coronavirus and alleviate some of the burden on health systems and workers. Researchers at the Harvard T.H. Chan School of Public Health are developing methodologies to better understand—and predict—the spread of the disease. And in the absence of readily available CDC test kits, scientists like Harvard Chan professors Marc Lipsitch and Michael Mina are working on their own coronavirus tests with the hope of screening patients more quickly.
Thrive Global is working with its corporate partners to both scale immunity-building preventive behaviors—like sleep, hydration, nutrition, and healthy mental habits—and help newly remote workers adjust to their new normal (with a special emphasis on focus and interpersonal connection). And we are developing programs to address the ongoing crisis of provider burnout and better care for health workers, not just during this epidemic, but over the long haul.
But all of us can help combat the spread by taking simple steps to protect our own health and boost our immune systems. By simply washing our hands regularly and vigorously, avoiding touching our faces, steering clear of anyone who is sick—and leaving the supply of surgical masks in place for health care personnel—we can significantly mitigate our own risk of illness and lessen the strain of those on the frontlines.
And finally, just like doctors and nurses, it's imperative that we prioritize well-being in our own lives—building healthy habits around sleep, movement, nutrition, and hydration that help us mitigate stress, avoid burnout, and truly recharge. Ultimately, these are the most important disease prevention steps all of us can take.
Arianna Huffington is founder and CEO of Thrive Global.
Michelle A. Williams is dean of the faculty at Harvard T.H. Chan School of Public Health.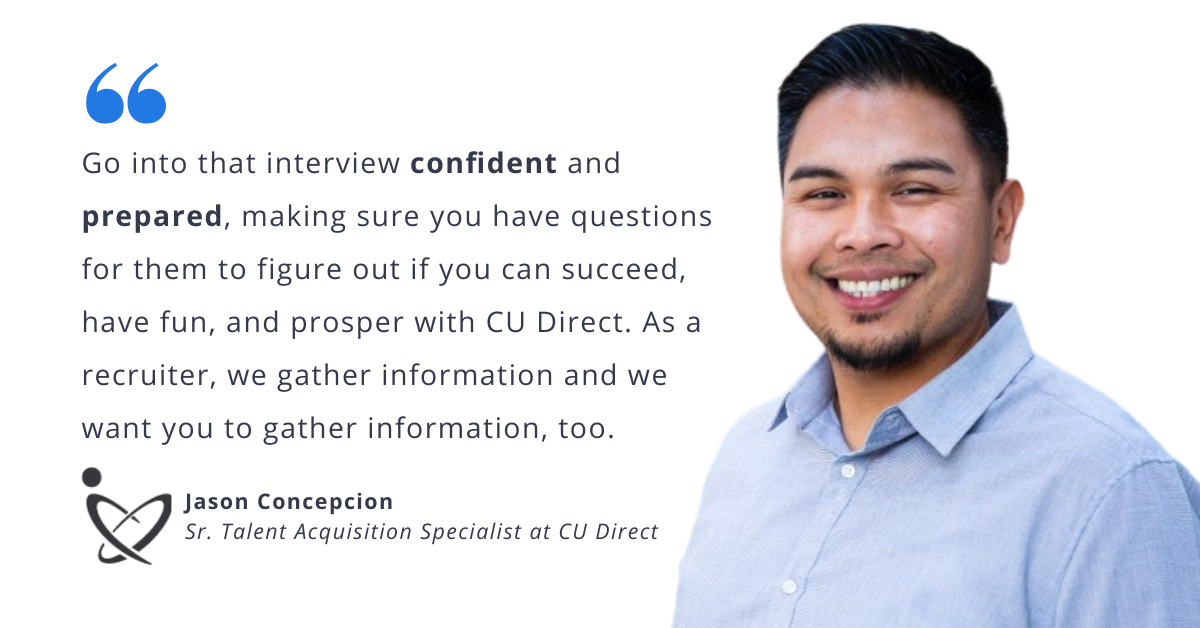 CU Direct
Jason Concepcion is a Sr. Talent Acquisition Specialist at CU Direct, a technology leader that delivers lending solutions to financial institutions, auto dealers, retailers, and medical providers nationwide. As a progressive company that looks for the best diverse talent, CU Direct prides themselves on seeking and taking care of their employees.
We sat down with Jason to learn about CU Direct's hiring process. Keep reading for his top 6 tips to put into practice when interviewing with CU Direct.
Tip # 1 Do Your Research
While it may seem obvious, learning about the company you're interviewing for is crucial. "Before the interview, do some research on CU Direct, our products and services, and even our subsidiary companies," says Jason. Doing the research will show the interviewer that you are highly interested and that "you did your due diligence in getting to know the company." Check out their About page to get to know CU Direct and its various projects.
Tip #2 Ask Questions
It's important to be transparent from the first point of contact with the company, which means asking questions to clarify and gain more information. Jason suggests, "when talking to the recruiter, ask questions. Go into that interview confident and prepared, making sure you have questions for them to figure out if you can succeed, have fun, and prosper with CU Direct. As a recruiter, we gather information and we want you to gather information, too."
Tip #3 Take Your Time
Pace yourself in the interview. Jason explains that "it's okay to pause, regroup, and answer questions. When asked about your experiences, taking your time will allow you to think of the situation, how you solved it, and what was the outcome."
Tip #4 Ask Yourself, 'What Do I Want to Do?'
Take inventory of what you have accomplished or learned in your professional trajectory so far. "We're not just looking for what you've done, but we are also looking for what you can do and what you want to do," says Jason. He believes that "those things are just as important as what you've done in the past. Your drive and determination will show us where you want to go and ideally, that will organically align with the positions we have here at our company."
Tip #5 Understand the Job Description
With your resume in hand, consider what experiences best align with the job description. "Valuable work experience can be found almost anywhere. It can come from your first job or it can come from your most recent job," Jason explains. Whatever small or short experience you have that matches the job description is worth mentioning and explaining, depending on the job you are applying for. Jason explains, "a good understanding of the job description you're going for, and related positions within the company will give you a greater insight as to what we're looking for and what you want to highlight or present in regards to this role."
Tip #6 Don't Be Afraid to Get Personal
One way to stand out in the interview process is to show that you'll be a good values fit, so intentionality throughout, and after, the interview can go a long way. Jason suggests sending a thank you email after the interview. "This will make sure that you stand out in front of thousands of applicants," he says. "Don't make it generic, tailor the message including details mentioned in the interview, this will show the person that you were completely engaged throughout the interview."
CU Direct's personal and careful recruitment process is a reflection of their fun and innovative atmosphere, their value of team members, and commitment to growth. They offer several benefits to their employees, such as a flexible working environment, paid time off, 401k match, college tuition reimbursement, and an exciting company culture. Because of this, they want to make sure people are treated with the same kindness and positivity from the start. As Jason reiterates: "We want to make sure you are prepared and ready for each step of this process, from interviewing, to asking questions, and to possibly onboard in the future," says Jason.
Are you interested to find out more about working at CU Direct? Check out their
openings
here!
READ MORE AND DISCUSS
Show less
Loading...