GET EMAIL UPDATES FROM POWERTOFLY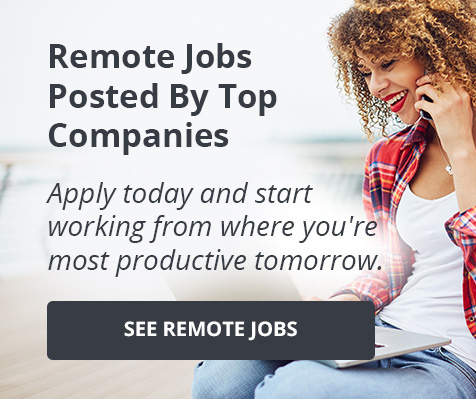 March 20, 2018
Remote Hiring
Why Hiring Remote is Key to Company Success
Embracing Next Gen Hiring
Study after study shows how millennials balk at the traditional 9-5 punch-in job that requires them to be in an office all day. Technology is on their side, enabling them to work remotely for a company who values output (no matter where it originates) over sitting in an office chair.
According to a study by FreshBooks, a cloud- based accounting company, the number of freelance and remote workers is set to triple by the year 2020.
Clearly it's time to embrace the remote hiring movement if you are looking to hire the future workforce.
Need more reasons?
Remote Hiring increases your candidate pool exponentially.
It allows you to tap into underrepresented people across all different industries. Our company's passion is helping companies hire women in fields where women are traditionally represented inadequately. By not allowing geography and timezone to dictate your hiring process, you're opening up your candidate search to include more people and drill down on the things that matter - like skills, work ethic and ambition. These are the key components to growing your business.
Hiring a remote team will lower turnover.
A study from the Center for American Progress found that turnover across all different salary levels cost a company 21 percent of that employee's annual salary, on average. It's even higher for highly skilled employees. Work-from-home jobs give people a sense of control over their work/life balance; a key benefit younger employees seek when applying for a job. According to the State of Remote Work report done by OwlLab, companies who encourage remote work experienced a 25 percent lower turnover than companies who did not support remote work. Check out Buffer, a fully remote company that boasts a 91% retention rate.
Working with a remote team increases productivity and decreases friction between co-workers.
According to a study done by the University of Illinois, they found teams that work from home and telecommute are better at staying on task and contributing to the team to create a positive work environment.
Simply put, remote work environments are becoming the norm and for good reason. It opens the talent pool you have to choose from. In fact, it's one of the top searched terms on PowerToFly. Hiring remotely increases profit by decreasing the expense of employee turnover and increases productivity of your team. So as a hiring manager, what is holding you back from hiring a remote team?
popular
Every year, PowerToFly creates a list of the best work-from-home companies. Now that over half of the U.S. workforce is remote, compiling that list was a bit more challenging.
This year, we prioritized selecting companies that are remote-friendly—meaning they have both remote and in-person roles—but they have made long-term commitments to hiring and supporting employees who choose to work from home; and we think they have the perks, values, and organizational framework to allow all employees to flourish in their careers, regardless of location.
Keep reading to see our top 15 work-from-home companies for 2022, along with a description of what they do, why we like them, and who they're looking for.
PowerToFly's Best Work-From-Home Companies 2022:
Don't see what you're looking for? Check out a fill list of 5,000+ open remote roles here!
READ MORE AND DISCUSS
Show less
Loading...