GET EMAIL UPDATES FROM POWERTOFLY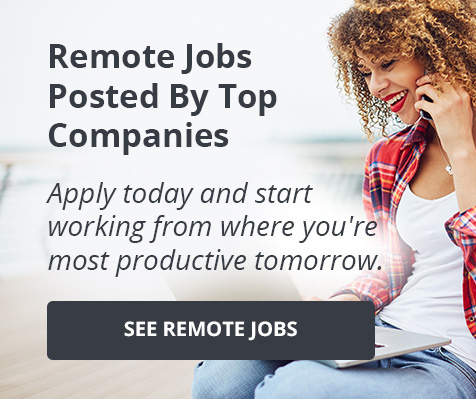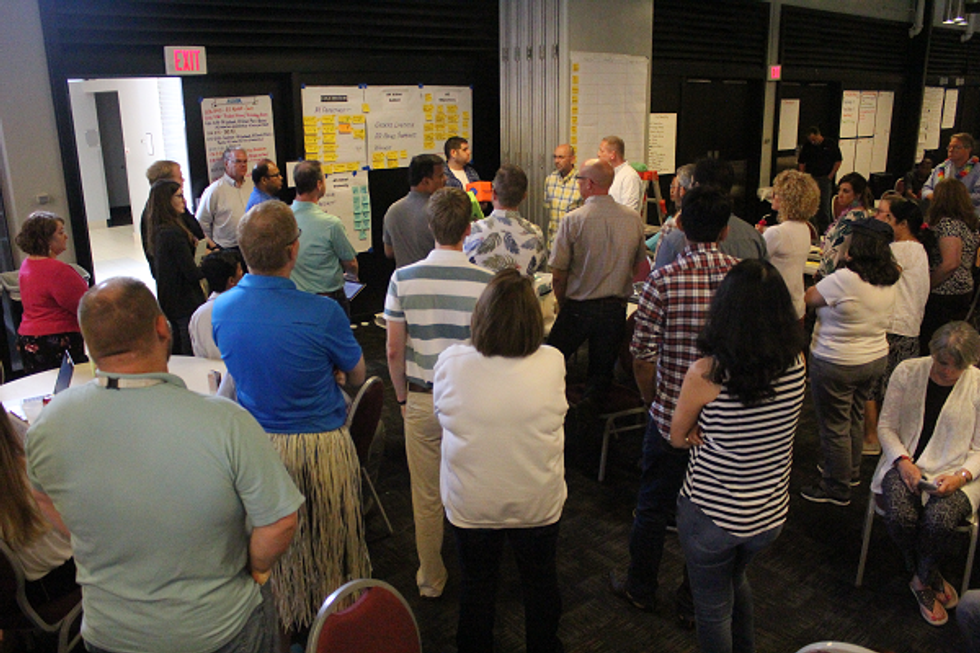 August 09, 2018
Homecare Homebase
Homecare Homebase's software engineers use a cutting-edge, collaborative process
They want you to join their team!
Below is an article originally written by PowerToFly Partner Homecare Homebase. Go to Homecare Homebase's page on PowerToFly to see their open positions and learn more.
Homecare Homebase (HCHB) provides a powerful Software as a Service (SaaS) & Platform as a Service (PaaS) solution for home health and hospice agencies to run their practice. With the company's proprietary software at their fingertips, practitioners can focus on what's most important: patient care. While the tools simplify and streamline every administrative task for health workers, the coordination that makes that innovation possible is anything but simple.
HCHB has grown steadily over the last 17 years through careful coordination among many teams of software engineers. Within the last year, the company has implemented cutting-edge collaborative processes known as the Scaled Agile Framework (SAFe), to efficiently build their software products.
---
Off-site planning
The company hosts six off-site planning events annually where all agile teams present their progress, discuss issues, align on goals, and determine next steps and team dependencies. It's crucial that teams identify any potential problems beforehand because one team's innovations can affect the work of many others.
"Prior to the event, the product team gets together and comes up with what they want to achieve in the next release, everybody then comes to this event to map out the next eight weeks," says Cheri O'Neil, Director of the company's Program Management Office.
During the event, each team points out ways to improve, and identifies where they must collaborate to produce seamless upgrades without breaking the work of other teams through their next development sprints.
"This has provided a great benefit to getting commitment while there's also less churn — less starting and stopping of work," says Sam High, company Chief Technology Officer. "Once you commit on this event, you're locked and loaded for the next eight weeks. Our product works in a very integrated fashion, so it takes a lot of joint planning between our mobile products, our back office products and our ancillary products."
The teams
Each of HCHB's agile teams has a colorful name. Some are functional descriptors and others are poetic or humorous, like Smartinis, Thunderous Mammals, and Nerf Herders.
Derwin White, a software engineer who's been with Homecare Homebase for about two and a half years, explains the name of his team, Clinically Clouded Madness: "We're facilitating interoperability through the cloud for the first time. We weren't sure how we were going to do it, so that's where the madness comes in."
Prior to his move to Homecare Homebase, White worked on internal systems for insurance and security companies. "Here, which is very hard to find in Louisville, we get to actually work on the product." It's a challenge, he says. Any problem with the software is a problem with the product itself, not an inconvenience behind the scenes. That's why SAFe methodologies, which identify problems before they happen and keep the work of 20 distinct teams in sync, have been so beneficial.
After each team presents its work, members huddle to identify any dependencies within the next development stages. Each interoperable function where dependencies lie is illustrated by connecting teams' noted tasks and projects with pieces of yarn across a 10-foot-tall board.
Over the course of the next eight weeks, as goals are met and potential problems are averted through careful collaboration, the post-it notes and the yarn connecting them are removed from the board.
Like planning a marathon race
Of the SAFe methodology, O'Neil says it is like planning a marathon race with various groups working in cooperation. "You have your course plan and your date, so then you need to get a team on the blocking of the roads. One group manages the starting line, and one handles the finish line. Another team handles water breaks. In the end, the runners enjoy a carefully-engineered and seamless experience."
It's the same idea at Homecare Homebase. The coordination that results from the SAFe planning event directly impacts the technology. As White explains it, "The quality of our product has definitely improved. You can see the benefits of the [SAFe] process."
At the root of all this work is the knowledge that the HCHB platform drastically improves the quality of care practitioners can deliver. With less time devoted to tasks like logging therapy goals, billing, scheduling, routing, and CMS compliance, there is more time for face-to-face interaction between patients and healthcare workers. In 2018, HCHB will have brought their mission of empowering exceptional care to over 500,000 patients daily. Through ever-improving methodologies and innovation, that number of lives they touch can only grow.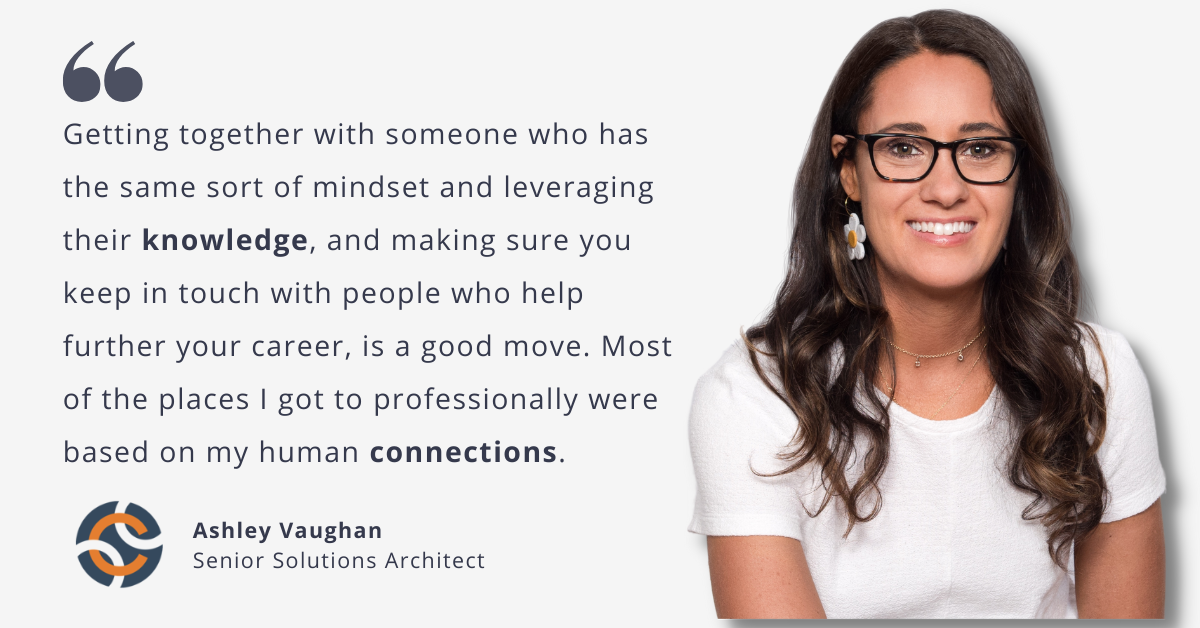 Chainalysis Inc.
How much money do criminals control today, and where is it?
These are some of the many questions that Ashley Vaughan, Senior Solutions Architect at blockchain data platform Chainalysis, spends her days working to answer.
"You learn more about a situation or problem by following the money than from any other resource or piece of information," she explains. "Money doesn't lie. People can lie in text messages or other means, but the path of the money leads you to what you're trying to accomplish."
Though Ashley always knew she wanted to work with computers, she found her way into roles in cybersecurity, and then specifically blockchain security, through networking and exposure — not by setting out to do so.
We sat down to talk about her career journey, as well as what advice she has for other women looking to make their mark in these burgeoning fields.
Resilience and Curiosity
Ashley doesn't often give up, and credits some of that attitude to an obsession with soccer as a kid.
"Playing sports makes you a more resilient person, I think. You learn failure and risk, which are very applicable to my job and my career path," she says.
That resiliency was a good thing, notes Ashley, because as a young girl, she wasn't always encouraged to pursue what she was most interested in: math and science. A teacher early on had told her that she wasn't good at math, and Ashley believed that narrative until high school.
"We really shouldn't put those ideas in children's minds, because it affects them for much longer than you might think," she says of the experience. "But I'm the kind of person that when someone tells me I can't do something, it makes me want to do it even more, and do it better."
Finding out in advanced high school math classes that she actually was good at math turned into choosing a computer engineering major when she got to college.
Graduating during a recession in 2010 meant Ashley didn't have the job market of her dreams, but after working in IT, she networked her way into a role in the cybersecurity department of a prominent DC law firm.
"They were getting hit left and right from social engineering and phishing attempts," says Ashley. "Due to the sensitive nature of the work they dealt with, I was exposed to the darker realities of the digital era, and I began to see a new side to the world—one of real significance to national security."
Specializing in Cybersecurity — and Finding a Home in the Private Sector
Inspired by what she was working on at the law firm, Ashley pursued a master's in cybersecurity with a focus on counterterrorism.
"I wanted to help protect our country," she explains. "I have a lot of family members who are former military, so that was a natural step for me."
That led to her taking a contract role specializing in offensive security at a government agency that frequently worked with Chainalysis. After working with Chainalysis folks onsite, she was sold and started pursuing a position with the company.
"I wanted to help make sense of blockchain data for a bigger purpose, like assisting in the continued threat of ransomware activity against American interests," she explains.
Although she credits her public sector work with providing a solid foundation in blockchain security, the private sector turned out to be a better fit for her.
"What I love about Chainalysis is that my colleagues are really happy people, and I've always felt welcome and not scared to ask questions," says Ashley. "In past jobs, where I was one of five women in a group of 150, I felt a lot of pressure. I didn't ever want to make a mistake. I felt as if I had to be a chameleon to match the social environment of my male counterparts."
Blockchains are all about democratizing data, and Ashley likes working with a team of people of all backgrounds to help support that mission. At Chainalysis, Ashley works with internal product and engineering to show customers how Chainalysis data can help them use complex blockchain solutions to solve data problems — and catch bad guys.
"Sometimes we're following a bad actor who's tied to child sex trafficking. Being part of a coordinated operation to put a stop to things like that is really fulfilling," she says.
3 Tips for Women Who Want to Find Their Place in Cybersecurity
For a long time, reflects Ashley, she just wanted to come into work, do her job, and feel supported, without feeling like she didn't fit in or was representing her entire gender. Fortunately, she found what she wanted — and she hopes other women will find that, too. They can start their search by:
Knowing they're not alone in having tough experiences. "Everyone has different definitions for how you're supposed to act or supposed to handle your emotions as a woman at work, and it's exhausting. It's like, 'This is just me.' I can't repeat enough how tiring that is," she says.
Prioritizing self-directed learning. Although Ashley completed a master's in cybersecurity, she emphasizes that there are many other routes into the industry, including self-study. Whether you get involved in programs like Girls Who Code or do self-paced learning through platforms like Udemy or Coursera, the important thing is that you pursue independent learning about topics that interest you, she says.
Creating and maintaining relationships. "Really talking to people is almost a lost art," says Ashley. "Getting together with someone who has the same sort of mindset and leveraging their knowledge, and making sure you keep in touch with people who help further your career, is a good move. Most of the places I got to professionally were based on my human connections."
Nowadays at Chainalysis, Ashley is no longer one of five women in the office, and is excited to start paying it forward so that more people with backgrounds like hers can pursue their own professional success.
"We tend to feel more comfortable talking to people who might have our same gender or educational background, and being open and vulnerable with them," she says. "Being a visible role model is really important to me."
Check out Chainalysis' open roles
here
!
READ MORE AND DISCUSS
Show less
Loading...