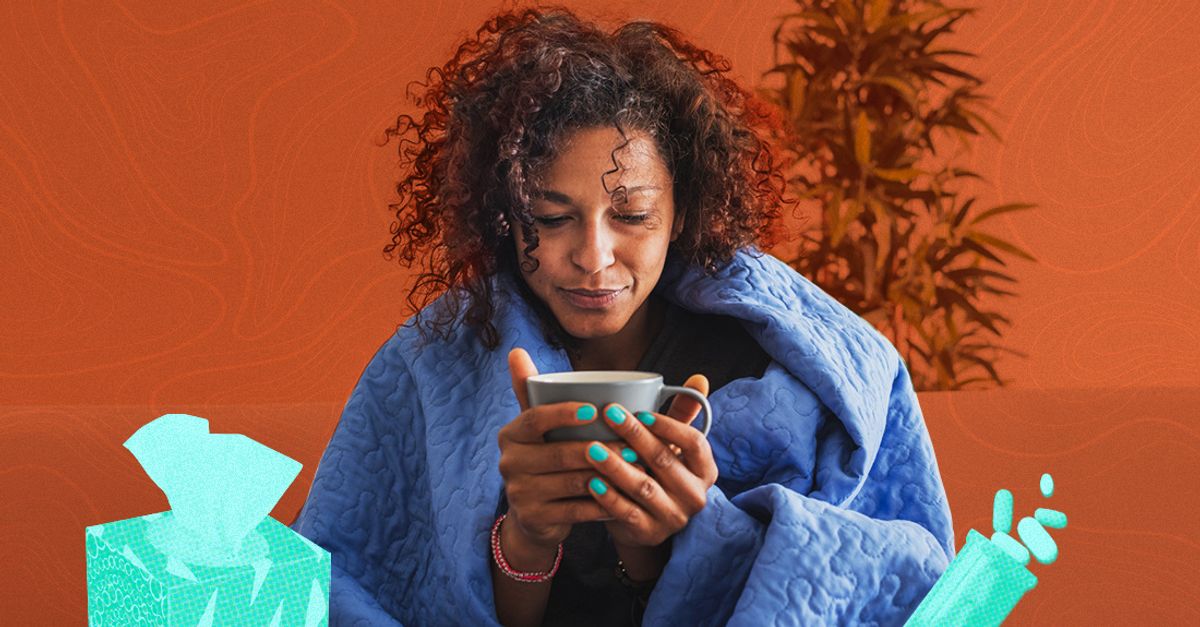 Career Growth and Advice
It goes without saying that at some point in your career, you'll come down with a cold or virus that will require you to stay home from work, drink excessive amounts of tea, and make good use of that gravity blanket you impulse-bought off of Amazon.

---
The hard part is deciding if you actually should make the call to your boss to let them know you won't be in, what to say, and how to say it. You know you won't nearly be your best self, and will run the risk of getting your coworkers sick, but you also don't want to look like you're slacking or leave anyone in a lurch.
At the end of the day, it is important to prioritize yourself and your health, while making sure you're taking the necessary steps to leave your employer and your teammates in the best position possible.
This is true even if you're a remote employee. Just because you can't pass your germs onto your coworkers doesn't mean you should try and be a work-hero when what your body really needs is rest and recovery.
So, how do you decide whether you should call in sick?
You know your body better than anyone, and ultimately only you can decide if you can work or not. That said, there are some basic questions to ask yourself when you're on the fence about whether that headache really warrants a day at home.
Are you contagious?
Do you have a fever?
Will time in bed help the problem?
Are you in need of immediate medical attention?
Will time on your feet/at work exacerbate the problem?
If you've answered yes to any of those questions, you should plan on spending the day at home. If you know you're contagious but feel good enough to work, request permission to work from home (more on that below). And if you already work from home, you're all set.
If you feel deep down like you're in too much pain and/or too tired to work, the best thing you can do for yourself and your company is to take a proper sick day. Get in bed with some soup and pain meds and rest up. (And make sure you see your doctor if you're not sure why you're sick!)
You're better off working when you can be more effective. In these more severe cases, whether you have the option to work from home or are a full-time remote employee, make sure you're clear with your boss that you're really too ill to work and won't be online (more on that below).
"Ok, I'm going to call in sick... how do I do it?"
Choose The Right Method of Communication and Do It ASAP
We can't predict when we'll get sick — after all, it's not entirely uncommon to go to bed feeling fine and wake up wondering if you got hit by a bus.
But even when illness comes on suddenly, try and decide as quickly as possible whether you can make it to work that day and let your boss/HR department know right away.
Make sure you follow whatever protocol your company has for calling in — and make sure you know said protocol. Nothing's worse than feeling like you've been hit by a boss and then panicking about who you need to tell that you won't be making it to work that day.
Larger companies will often have a hotline for you to call, whereas at smaller ones the expectation may be simply to text or Slack your boss.
If you don't already know, be sure to check whether the company requires/prefers to have documentation of your illness from your doctor upon your return. Yes, it's an absolute pain to drag yourself to the doctors when you've been puking all morning, but if you work at a company that wants to see formal documentation for everything, it may be in your best interest to suck it up and go.
Keep It Short And Be Clear On Your Availability
Once you've followed protocol, be sure to contact your boss explaining what's up and addressing your availability.
Your boss doesn't want to know all the details regarding your illness - they just want to know that you'll be out, why, and what your availability will be throughout the day. For both in office and remote employees, communicate when and if you'll be going to the doctors and that you'll be sparingly checking your email (if you can).
Again, be sure to get a doctors note if you can - even if it's not required of your company to submit one, it's always helpful to have the documentation should any questions arise later on. If you're extremely ill and will be completely off the grid (a.k.a sleeping all day), make sure you communicate that as well. This will help ensure that your team can be respectful of the time you need to recover and save you from any unnecessary requests/emails.
If you're contagious but otherwise capable of functioning and choosing to stay somewhat accessible through email or chat for questions or concerns, be sure to communicate that as well. Let your boss and team know what you'll be capable of doing from home, and what will have to wait (meetings, pitches, etc.).
Finally, if you're playing it "touch and go," be upfront with that. Maybe you've got a terrible headache that you think will pass in a few hours. Or you need to go to the doctor for a sprained ankle and will be able to work after that. Whatever the case, be sure to let everyone know up front that you won't be available until X time, at which point you will provide an update on your status and availability.
Be Clear On Important Information
In the event that you've got an important meeting or are approaching an important deadline, make sure all of those things are communicated to the right people (or at a minimum, let your boss know so they can communicate it on your behalf). Of course this is the last thing you want to do if you're really, really sick, but you'll feel better if you muster up the strength to delegate accordingly.
If you have any important presentations or meetings and there's simply no way you can present, talk to your boss ASAP to develop a contingency plan. Sure, it's not ideal, but that's what teamwork and problem solving are all about.
Follow Up
Once you're healthy and back into your normal work day schedule, the first thing you should do is check in with everyone you interact with regularly and see if they've got everything they need from you and if there are any details from your time away that you should know about. That way, your absence won't have any lasting effects on projects or tasks that need to be completed.
----
It's normal to feel guilty when calling in sick — especially if you work from home already — but just remember that it's not your fault you're feeling ill, and a good team will be ready to support you when you're not at your best. If you follow these tips, you'll show your company and your coworkers that you want the best for your team, even when you're sick.
Let them cover for you so you can focus on your #1 job for the day — recovery.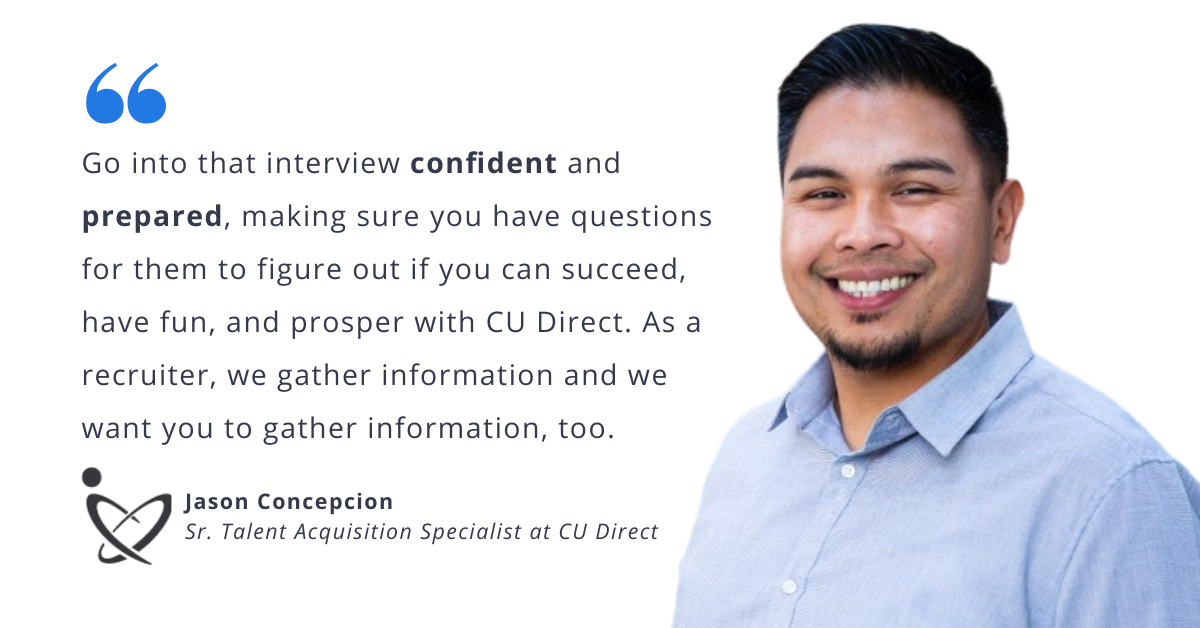 CU Direct
Jason Concepcion is a Sr. Talent Acquisition Specialist at CU Direct, a technology leader that delivers lending solutions to financial institutions, auto dealers, retailers, and medical providers nationwide. As a progressive company that looks for the best diverse talent, CU Direct prides themselves on seeking and taking care of their employees.
We sat down with Jason to learn about CU Direct's hiring process. Keep reading for his top 6 tips to put into practice when interviewing with CU Direct.
Tip # 1 Do Your Research
While it may seem obvious, learning about the company you're interviewing for is crucial. "Before the interview, do some research on CU Direct, our products and services, and even our subsidiary companies," says Jason. Doing the research will show the interviewer that you are highly interested and that "you did your due diligence in getting to know the company." Check out their About page to get to know CU Direct and its various projects.
Tip #2 Ask Questions
It's important to be transparent from the first point of contact with the company, which means asking questions to clarify and gain more information. Jason suggests, "when talking to the recruiter, ask questions. Go into that interview confident and prepared, making sure you have questions for them to figure out if you can succeed, have fun, and prosper with CU Direct. As a recruiter, we gather information and we want you to gather information, too."
Tip #3 Take Your Time
Pace yourself in the interview. Jason explains that "it's okay to pause, regroup, and answer questions. When asked about your experiences, taking your time will allow you to think of the situation, how you solved it, and what was the outcome."
Tip #4 Ask Yourself, 'What Do I Want to Do?'
Take inventory of what you have accomplished or learned in your professional trajectory so far. "We're not just looking for what you've done, but we are also looking for what you can do and what you want to do," says Jason. He believes that "those things are just as important as what you've done in the past. Your drive and determination will show us where you want to go and ideally, that will organically align with the positions we have here at our company."
Tip #5 Understand the Job Description
With your resume in hand, consider what experiences best align with the job description. "Valuable work experience can be found almost anywhere. It can come from your first job or it can come from your most recent job," Jason explains. Whatever small or short experience you have that matches the job description is worth mentioning and explaining, depending on the job you are applying for. Jason explains, "a good understanding of the job description you're going for, and related positions within the company will give you a greater insight as to what we're looking for and what you want to highlight or present in regards to this role."
Tip #6 Don't Be Afraid to Get Personal
One way to stand out in the interview process is to show that you'll be a good values fit, so intentionality throughout, and after, the interview can go a long way. Jason suggests sending a thank you email after the interview. "This will make sure that you stand out in front of thousands of applicants," he says. "Don't make it generic, tailor the message including details mentioned in the interview, this will show the person that you were completely engaged throughout the interview."
CU Direct's personal and careful recruitment process is a reflection of their fun and innovative atmosphere, their value of team members, and commitment to growth. They offer several benefits to their employees, such as a flexible working environment, paid time off, 401k match, college tuition reimbursement, and an exciting company culture. Because of this, they want to make sure people are treated with the same kindness and positivity from the start. As Jason reiterates: "We want to make sure you are prepared and ready for each step of this process, from interviewing, to asking questions, and to possibly onboard in the future," says Jason.
Are you interested to find out more about working at CU Direct? Check out their
openings
here!
READ MORE AND DISCUSS
Show less
Loading...