GET EMAIL UPDATES FROM POWERTOFLY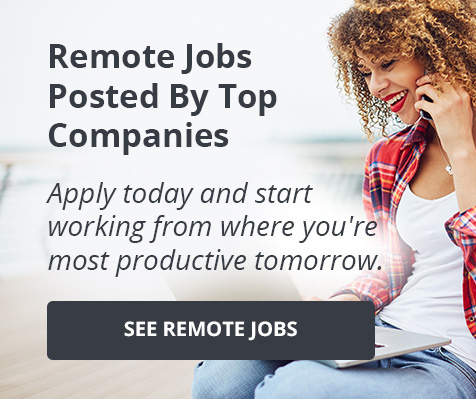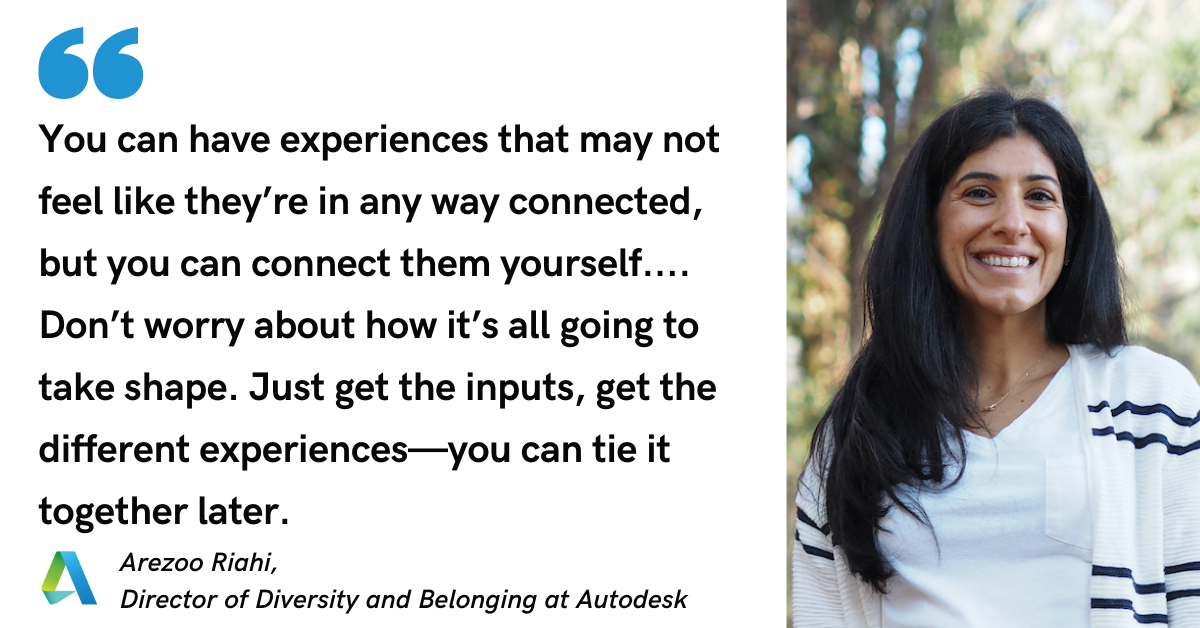 June 23, 2021
Autodesk
How Embracing What She Doesn't Know Led Autodesk's Arezoo Riahi to a Fulfilling Career in DEI
Arezoo Riahi isn't a big fan of the "fake it till you make it" approach. She'd rather ask for the help she needs and learn from it.
Autodesk's Director of Diversity and Belonging joined the design software company from the nonprofit world after a long career in connecting people from different cultures. While her work had been deeply rooted in DEI values, there were certain parts of the strategy-building aspects to her new role that she wasn't sure about.
"If you know it, show up like you know it. If you don't know it, you shouldn't fake it. And Autodesk didn't shame me for not knowing everything. They helped me, and the entire team, by providing the resources that we needed, bringing in outside expertise to help teach us when we were in new territory," says Arezoo, who has been at Autodesk for three years now, during which she's been promoted twice into her current role.
We sat down with Arezoo to hear more about her path into DEI work, what she thinks the future of that work must include, and what advice she has for women looking to build fulfilling careers, from knowing what you don't know and beyond.
---
Inspired to bring people together
Mocorro, France, Switzerland—though Arezoo grew up in the Chicago area, she didn't stick to just the U.S. when it came time to pursue her education. International internships and study opportunities confirmed the perspective she had growing up: people are more alike than they are different.
"My parents are immigrants from Iran, and I was born in the United States. I saw the benefit of having exposure to a different culture, a different language, different food and rituals, and I was fascinated by that," says Arezoo. It was spending a summer in Mocorro that really sparked her passion for equity, she adds. "I realized for the first time that while we have so many different experiences as individuals, our commonalities are actually much more prevalent."
Arezoo took that focus on bringing people together to the Institute of International Education, where she led the TechWomen program, partnering with different companies to bring 100 women from 23 countries to Silicon Valley for mentorship.
One of those companies was Autodesk. Long before they reached out to offer her a role to join their DEI team, Arezoo got an up-close look at how the company worked, and she was impressed. "I realized that there was a real magic about the people at [Autodesk]," she says. When she was offered the role, it was the people that made Arezoo excited to take it: "I felt like the work I was hoping to drive would stick."
Pursuing positive impact
In moving from the nonprofit to the corporate world to pursue a career in DEI, Arezoo was driven by a conviction that she could make just as big—if not even bigger—of an impact on equity and belonging in that setting.
"I knew that the impact corporations can make on their people and outside of their walls is significant," she says. "And the beauty of working in a corporate setting is that because we are revenue-generating, we're not relying on outside funding to make that impact. There's more agency in designing what that impact looks like."
Arezoo has made that impact across different DEI verticals, from mentorship to employee resource groups to analytics to communications. Along the way, she's picked up new skillsets and strengthened her capabilities as a leader in this space.
Right now, as Director, Arezoo's focus has come full circle, expanding Autodesk's DEI efforts on a global scale. "We're taking a closer look at all the countries we are located in," she says. "The word 'diversity' doesn't mean the same thing wherever you are, and we are looking towards an expanded global approach which would diversify representation and ensure a strong sense of belonging both within and outside the United States."
4 tips for building your career
Arezoo is excited about where she is in her career and what she's working on. She has a few pieces of advice for readers looking to find similar fulfillment:
1. Know what you don't know. As referenced earlier, Arezoo is comfortable admitting when she needs a bit of help. Instead of bluffing your way through, says Arezoo, asking for help can show that you're self-aware and ready to learn.
"You have to be willing to go where you might not know," she says. "In some companies it's like, well, you've got to know everything before you walk into that position. Not at Autodesk. They saw my skills, they saw my potential, and they continue to invest in me despite the fact that I haven't necessarily spent my entire career in the DEI space. That is really powerful when you're trying to grow your career."
2. Embrace a growth mindset. This means believing that you can change, and putting in the work to do so.
Arezoo uses the example of a failed relationship to explain what she means: "You can walk away from it and be like, 'Everything was that person's fault, and I couldn't handle it anymore, and I walked away.' But for me, it's also been about, 'What did I do wrong? What did I do to contribute to this relationship that didn't work?'"

In her personal life, when friends told Arezoo that people can't change and that that's why relationships end, she pushed back. "I refused to believe that. I think I can be better. In order to not have a failed relationship, there are things about me that I can do better or differently," she says.

The same goes for work: failure happens, and with that comes an opportunity to learn. "If you don't have a growth mindset, you will never do your best work. You will always be limited by yourself," she says.
3. Take control of your own progress. "A lot of times, people wait for things to fall in their lap," says Arezoo. "It's not worth it. Start thinking about where you want to be in five years, and recognize whether or not the path you're currently on is going to get you there."
In her own life, for example, that's meant speaking up when team changes would've left Arezoo with a job she wasn't excited by. By taking control and sharing what she wanted, Arezoo was able to land on a happy medium that worked for everyone. "You have to see yourself as a collaborator, particularly in things that are going to impact your own career," she says. She also suggests saying yes when you can - which will be even more challenging as we experience the social stressors of navigating a post-pandemic world - and being willing to try lots of new experiences.
4. Tell your own story in a way that serves you. Ready for a meta reflection? The way this profile is structured—focusing on Arezoo's background seeing value in diversity, following her as she realized she could make an even bigger impact in that space in the corporate world, and including advice for other people to find their own paths to fulfillment—comes from the way that Arezoo has learned to tie together her background into a cohesive story that resonates with employers.
"You can have experiences that may not feel like they're in any way connected, but you can connect them yourself," she says. "I started my career in international development. Then I started doing outreach and recruitment. Then I did information sessions, then selection panels. How are those things connected? Well, what I learned in international diplomacy about building mutual understanding is the foundation of my own philosophy related to diversity and belonging."
"You can have a defined path for a while," adds Arezoo, "but the rest of it is ambiguous. Don't worry about how it's all going to take shape. Just get the inputs, get the different experiences—you can tie it together later."
If you think your story would fit in well at Autodesk, check out their 500+ open roles and apply!


Related Articles Around the Web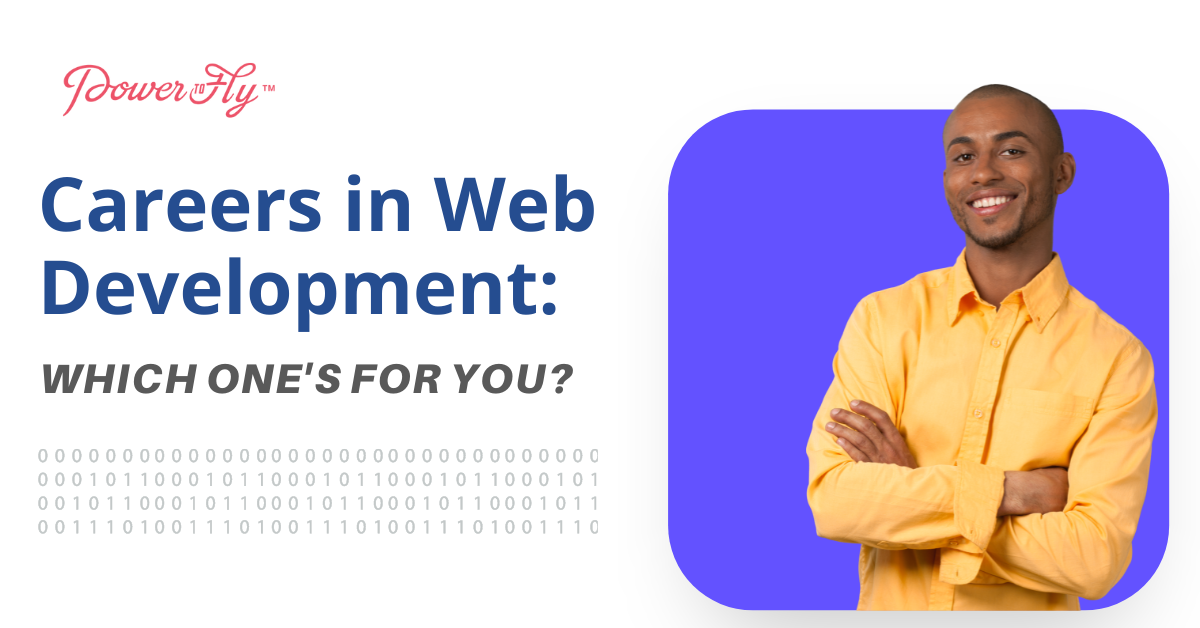 Upskilling and Development
We all have our favorite websites– the ones we frequent, bookmark, and recommend to others. You might even enjoy some website features so much that you've found yourself wondering why they aren't more popular. Or maybe you've experienced times where you were frustrated with a website and wished you could add features or even design your own!
If you've ever found yourself intrigued at the prospect of designing and developing your own websites, then a career as a web developer might be just for you!
As a web developer you would be responsible for coding, designing, optimizing, and maintaining websites. Today, there are over 1.7 billion websites in the world and, in turn, the demand for web developers is on the rise. In order to figure out what kind of web development work best suits you let's start with an introduction to the three main roles in web development that you can choose from.
The Three Types of Web Development Jobs
Front-End Web Development: The Creative Side
Think of front-end development as the décor of a house. The color scheme, furniture, manicured lawns, and overall aesthetic. In terms of a website, front-end development is laser-focused on the appearance of a website and its presentation on different devices. If you're considering a role in front-end development, it's important to learn programming languages such as HTML, CSS, and JavaScript. These three languages go hand-in-hand. HTML allows you to create user interface elements, CSS helps you with stylistic elements, and JavaScript allows you to incorporate online tools and connect your website to back-end functions.
In addition to programming skills, front-end developers need to be detail oriented, creative, willing to keep up with the latest trends in web development, cyber security conscious, and geared toward user-friendly designs. The median salary for a front-end developer can reach well into the $90,000 to $100,000 range.
Back-End Web Development: The Logical Counterpart
While a house can be beautifully decorated, it's incomplete without a solid foundation and efficient infrastructure. Similarly, a well-designed website depends on logical and functional code to power the features of that website. Back-end web development is code-heavy and focused on the specifics of how a website works. If you enjoy the analytical challenge of creating the behind-the-scenes code that powers a website, then back-end development is for you.
Since this role is more code-heavy, it's important that you learn numerous programming languages and understand algorithms and data structures. Some languages that are essential to back-end development are Ruby, Python, SQL, and JavaScript. Back-end developers also ensure that users can successfully retrieve and access data. This requires creating and using APIs (Application Programming Interfaces) which act as messengers that relay data related requests. Additionally, developing the code for the inner workings of a website also requires back-end developers to be conscious of the user interface features designed by front-end developers and to internally mitigate potential security risks. Due to the increased technical aspect of this position, back-end developers normally earn higher salaries than front-end developers. The average median salary for this role is around $118,000 per year.
Full-Stack Web Development: A Little Bit of Everything
A full-stack developer is essentially the Jack (or Jill)-of-all-trades in web development. Full-stack developers need to be knowledgeable about both front-end and back-end roles. This does not necessarily imply that you would need to be an expert in both roles, but you should fully understand the different applications and synergies they each imply. In order to work in this position, you will need to know the programming languages used by front-end and back-end developers. In addition to these languages, full-stack developers also specialize in databases, storage, HTTP, REST, and web architecture.
Full-stack developers are often required to act as liaisons between front-end and back-end developers. Full-stack developers need to be both problem solvers and great communicators. The end goal for a full-stack developer is to ensure that the user's experience is seamless, both on the front-end and on the back-end. In return, you can expect to earn a median salary of $100,000 – $115,000 a year for this role.
Taking the Next Step
Web development is both in-demand and lucrative! All three roles described above contribute to specific aspects of web development and the scope of each one can be customized to the industries and positions you feel best suit you. Regardless of which role you choose, all of them need a foundation in programming.
To gain the programming skills needed in each role, you can enroll in courses or learn independently. Coding bootcamps are a great way to boost your skillset quickly and efficiently.
Click here for some of our highly rated programming bootcamp options! Make sure to check out the discounts available to PowerToFly members.
READ MORE AND DISCUSS
Show less
Loading...