GET EMAIL UPDATES FROM POWERTOFLY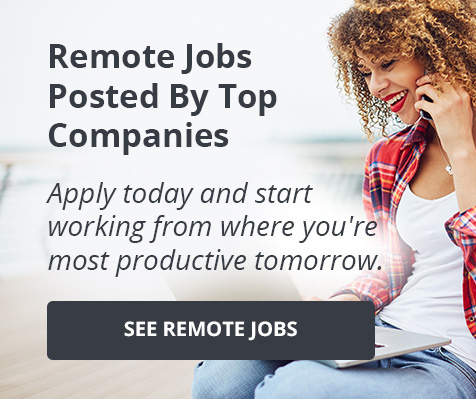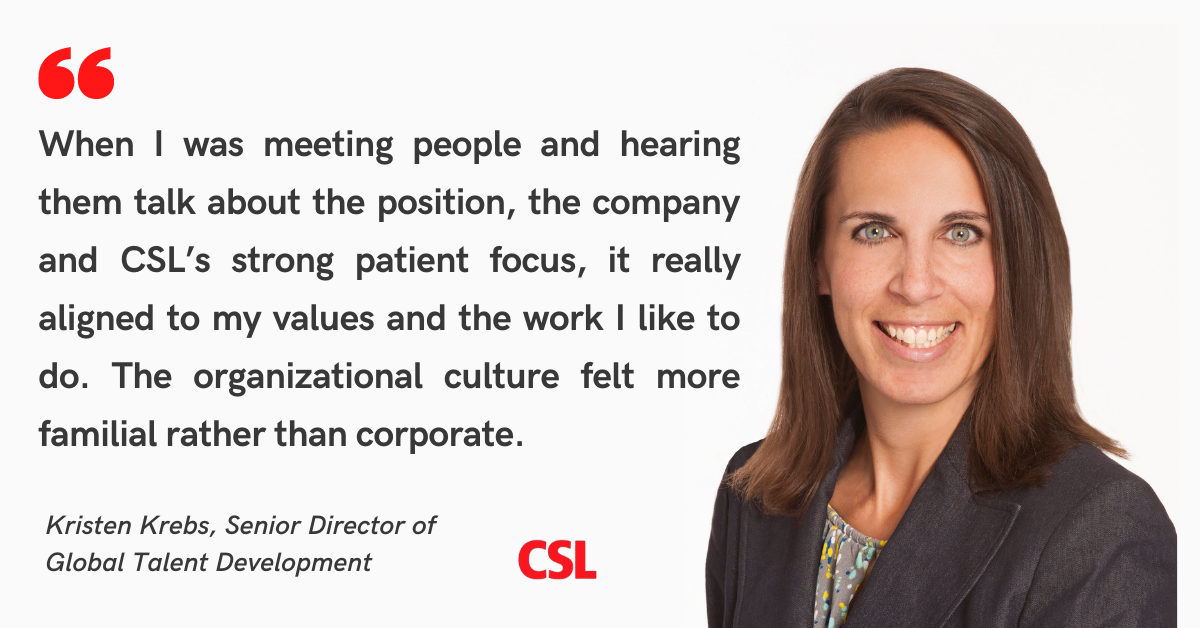 September 14, 2020
CSL
How CSL's Kristen Krebs Applies Her Psychology PhD at a Biotech Leader
If you had asked Kristen Krebs what her dream job was when she was studying for her PhD in Industrial/Organizational psychology at DePaul, she might not have known exactly what title to give, but she would've described a role within a thoughtful organization where she got to make people's work experiences more positive, build a team with talented people, and feel connected to an overall mission.
---
As it turns out, that's exactly what she's doing right now as the Senior Director of Global Talent Development at biotechnology company CSL Behring.

"It feels like a dream role in that it covers a broad range of the talent development areas I love and I get to work on a global scale," says Kristen, who didn't know much about CSL Behring when their recruiters reached out. But as she learned about CSL's commitment to saving lives and improving quality of life for people with serious rare diseases, as well as their HR group's ongoing transformation, she knew she had to accept their offer.
We sat down with Kristen to learn more about her career trajectory, how she got into Industrial/Organizational psychology in the first place, and what it's like working at CSL, including what's changed at work as the world adjusts to living in an extended pandemic.
Finding her passion academically and in the job market
Kristen's work in talent development would be meaningful even if she didn't have an incredibly personal connection to it—but she does.
Her dad worked on Wall Street during the 80s in a very stressful job, and Kristen connects his untimely death at the age of 47 with the demanding environment he faced at work. "I've always felt that the stress of his job had a lot to do with the tax paid on his heart," she says. "That was a critically defining moment in my life"—she was a sophomore in college at the time—"and I realized through that traumatic experience that if I could dedicate myself to increasing the satisfaction and reducing the stress people experience at work, that would probably be pretty meaningful and rewarding to me."
She majored in psychology during undergrad, and after taking a class in Industrial/Organizational psychology her senior year, Kristen realized she wanted to continue studying in that subset of the field and applied to grad school. "I/O focuses on human behavior at the individual, team, and organizational levels. That's everything from putting somebody through a hiring process and onboarding them, to motivating them and helping them improve their performance. At the team level, it involves all aspects of helping teams become high performing. At the organizational level, it focuses on areas such as company culture, organizational design and change management," she explains. "It's a super degree that trained me to think big picture and work at both the macro enterprise level and micro individual level. It's also a very versatile degree in that I could have gone into many different areas of the HR function – I just chose to specialize in Talent Management based on what I'm most passionate about."
As Kristen worked to finish her dissertation, she joined a consulting firm and worked with various clients on their management practices and employee engagement issues. She loved the diversity of problems and people she worked with, but over time the travel began wearing on her and she realized she didn't like not being able to see the long term effects of her projects. "I got sick of going into companies, making lots of recommendations and getting new things started, and then not getting to see how the changes and improvements actually played out in the company after the project was finished," she says.
Kristen knew she wanted to find an in-house role, but her particular area of consulting made it clear that she didn't want to work just anywhere. "I was doing employee engagement work so I really saw the underbelly of every organization I worked with. I knew all of their pluses and minuses. And there were really no clients that I would want to work for, except for one that stood out above all of the rest," she says.
She called that client, a joint venture pharmaceutical company that is now part of Takeda, to let them know that she was looking for a new role and asked if they had any positions she could apply for. As it turned out, they were just creating a new position focused on leadership development. Kristen went in for the interview, got it, and stayed at that company 8 years until she and her husband decided to move back to the east coast to be closer to family. She found a job leading leadership development at another pharmaceutical company and stayed for several years, taking on new roles that expanded her responsibilities globally into performance management, career development and succession planning. Although she loved the work, during that time the company was acquired and as the culture changed for the worse, she realized she needed to move on. That's right when CSL Behring came calling.
Directing global talent through a global pandemic
Kristen says that interviewing with CSL felt like she'd found a dream role that brought together many of the areas she is passionate about. "When I was meeting people and hearing them talk about the position, the company and CSL's strong patient focus, it really aligned to my values and the work I like to do. The organizational culture felt more familial rather than corporate," says Kristen.
The role itself, which involved leading an internal transition to create a global Talent Development team, was a perfect complement to Kristen's experience and ambition. "It was just a phenomenal opportunity to come into HR at a time when they were still building. I could really help shape what the talent development space would look like and create a global function for the organization," she says.
Kristen spent the first few years in her role shaping that transition, which officially went live in January 2020. She had just a few months to enjoy it before a whole new priority took over: preparing to transition CSL's workplace and their talent development programs into a completely virtual world.
"Our team sprang into action—we have a fantastic team across the globe who are highly collaborative and always willing to go the extra mile—and the way they handled everything when the pandemic hit was impressive," says Kristen. We quickly pulled together online resources and delivered virtual courses on timely topics such as working remotely, managing virtual teams, dealing with change and uncertainty, and emotional intelligence, to name a few.
We also needed to quickly convert existing training to virtual, which was relatively straightforward to redesign, she explains; they just had to figure out how to adjust their in-person programs to fit a virtual setting, and in fact had already started experimenting, pre-COVID, with ways to do that, in order to offer more scalable and flexible training opportunities and achieve better ROI. Previously, they had experienced a problem with participant cancellations when other work priorities came up that would often leave facilitators teaching to half empty classrooms. Now, explains Kristen, CSL facilitators in Switzerland, Germany, Australia, and across the U.S. offer trainings at various times for employees around the world. "This gives employees more class options to choose from and it's ultimately a better learning experience, because participants hear from each other and learn about different parts of the business, different cultures and different perspectives. It's also great for the facilitators to be exposed to that," says Kristen.
Kristen's team is also responsible for all of CSL's onboarding, but that wasn't as straightforward to transition to a virtual experience in some parts of the world, particularly in the first few days after everything shut down and the U.S. Department of Homeland Security hadn't revised the stipulations for how a new hire's legal documents needed to be handled in a virtual world. "That was a little trickier," says Kristen, smiling.
In the end, the U.S. stipulations were revised and Kristen's team was able to adapt to digital processes for now. As the return-to-office date continues to shift for CSL and many other companies, Kristen and her team have stayed agile, updating their training playbooks and creating plans for whatever future awaits.
"It's important to keep all of what's going on in perspective," says Kristen. "We will come out fine on the other side. We just have to stay focused and flexible."
If you're interested in learning more about CSL, visit their PowerToFly page here.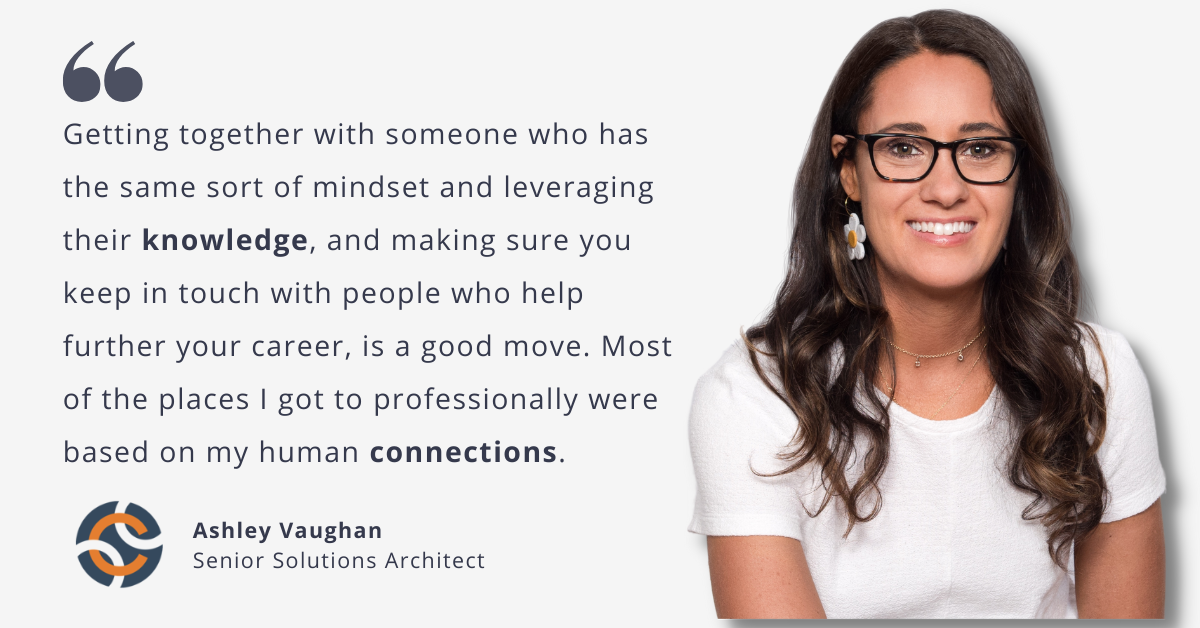 Chainalysis Inc.
How much money do criminals control today, and where is it?
These are some of the many questions that Ashley Vaughan, Senior Solutions Architect at blockchain data platform Chainalysis, spends her days working to answer.
"You learn more about a situation or problem by following the money than from any other resource or piece of information," she explains. "Money doesn't lie. People can lie in text messages or other means, but the path of the money leads you to what you're trying to accomplish."
Though Ashley always knew she wanted to work with computers, she found her way into roles in cybersecurity, and then specifically blockchain security, through networking and exposure — not by setting out to do so.
We sat down to talk about her career journey, as well as what advice she has for other women looking to make their mark in these burgeoning fields.
Resilience and Curiosity
Ashley doesn't often give up, and credits some of that attitude to an obsession with soccer as a kid.
"Playing sports makes you a more resilient person, I think. You learn failure and risk, which are very applicable to my job and my career path," she says.
That resiliency was a good thing, notes Ashley, because as a young girl, she wasn't always encouraged to pursue what she was most interested in: math and science. A teacher early on had told her that she wasn't good at math, and Ashley believed that narrative until high school.
"We really shouldn't put those ideas in children's minds, because it affects them for much longer than you might think," she says of the experience. "But I'm the kind of person that when someone tells me I can't do something, it makes me want to do it even more, and do it better."
Finding out in advanced high school math classes that she actually was good at math turned into choosing a computer engineering major when she got to college.
Graduating during a recession in 2010 meant Ashley didn't have the job market of her dreams, but after working in IT, she networked her way into a role in the cybersecurity department of a prominent DC law firm.
"They were getting hit left and right from social engineering and phishing attempts," says Ashley. "Due to the sensitive nature of the work they dealt with, I was exposed to the darker realities of the digital era, and I began to see a new side to the world—one of real significance to national security."
Specializing in Cybersecurity — and Finding a Home in the Private Sector
Inspired by what she was working on at the law firm, Ashley pursued a master's in cybersecurity with a focus on counterterrorism.
"I wanted to help protect our country," she explains. "I have a lot of family members who are former military, so that was a natural step for me."
That led to her taking a contract role specializing in offensive security at a government agency that frequently worked with Chainalysis. After working with Chainalysis folks onsite, she was sold and started pursuing a position with the company.
"I wanted to help make sense of blockchain data for a bigger purpose, like assisting in the continued threat of ransomware activity against American interests," she explains.
Although she credits her public sector work with providing a solid foundation in blockchain security, the private sector turned out to be a better fit for her.
"What I love about Chainalysis is that my colleagues are really happy people, and I've always felt welcome and not scared to ask questions," says Ashley. "In past jobs, where I was one of five women in a group of 150, I felt a lot of pressure. I didn't ever want to make a mistake. I felt as if I had to be a chameleon to match the social environment of my male counterparts."
Blockchains are all about democratizing data, and Ashley likes working with a team of people of all backgrounds to help support that mission. At Chainalysis, Ashley works with internal product and engineering to show customers how Chainalysis data can help them use complex blockchain solutions to solve data problems — and catch bad guys.
"Sometimes we're following a bad actor who's tied to child sex trafficking. Being part of a coordinated operation to put a stop to things like that is really fulfilling," she says.
3 Tips for Women Who Want to Find Their Place in Cybersecurity
For a long time, reflects Ashley, she just wanted to come into work, do her job, and feel supported, without feeling like she didn't fit in or was representing her entire gender. Fortunately, she found what she wanted — and she hopes other women will find that, too. They can start their search by:
Knowing they're not alone in having tough experiences. "Everyone has different definitions for how you're supposed to act or supposed to handle your emotions as a woman at work, and it's exhausting. It's like, 'This is just me.' I can't repeat enough how tiring that is," she says.
Prioritizing self-directed learning. Although Ashley completed a master's in cybersecurity, she emphasizes that there are many other routes into the industry, including self-study. Whether you get involved in programs like Girls Who Code or do self-paced learning through platforms like Udemy or Coursera, the important thing is that you pursue independent learning about topics that interest you, she says.
Creating and maintaining relationships. "Really talking to people is almost a lost art," says Ashley. "Getting together with someone who has the same sort of mindset and leveraging their knowledge, and making sure you keep in touch with people who help further your career, is a good move. Most of the places I got to professionally were based on my human connections."
Nowadays at Chainalysis, Ashley is no longer one of five women in the office, and is excited to start paying it forward so that more people with backgrounds like hers can pursue their own professional success.
"We tend to feel more comfortable talking to people who might have our same gender or educational background, and being open and vulnerable with them," she says. "Being a visible role model is really important to me."
Check out Chainalysis' open roles
here
!
READ MORE AND DISCUSS
Show less
Loading...