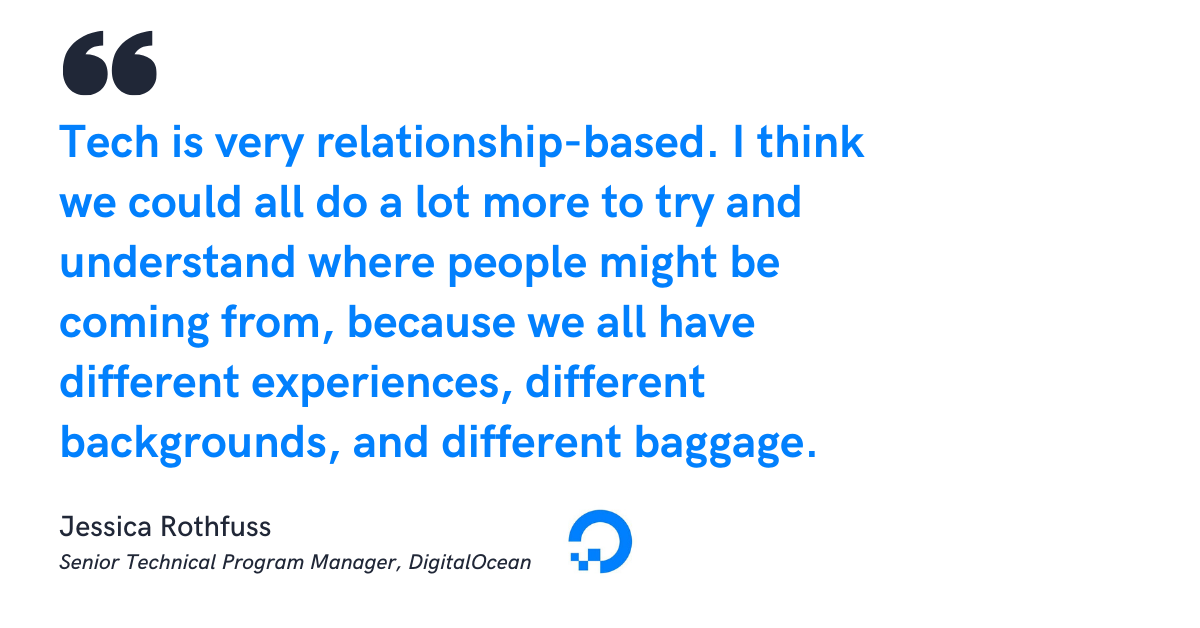 DigitalOcean
When Jessica Rothfuss started her first job out of college, she felt a little lost.
---
"I had no idea what was going on. I didn't grow up around corporate America and I didn't know the norms," Jessica explains, highlighting her discomfort with office conversation around childhood vacations (which her family couldn't afford) and having to navigate dress codes (when a friend told her khakis probably didn't cut it for client meetings).
With the help of some friends and informal mentors, Jessica expanded her comfort zone and figured out corporate life, developing the soft skills of persuasion and communication that she needed to navigate tough conversations. And now, decades into her career in tech and currently working as a Senior Technical Program Manager at DigitalOcean, the cloud infrastructure provider for developers, she's come full circle, serving as an informal mentor to other women in tech and a formal mentor, as of last week, to a woman at DigitalOcean.
We sat down to talk to Jessica—who was joined on-camera by her adorable senior rescue dog—about her career path, how she's giving back and helping other women navigate the world of corporate tech, and how DigitalOcean's remote-friendly approach to work has changed the way she sees her future.
Navigating a steep learning curve as a first-generation college student in tech
As a first-generation college student, Jessica's opportunity set was different from her peers' from the get-go. She studied chemistry and couldn't afford to take an unpaid internship in a lab—"summers were for making money to pay next semester's tuition," she remembers—so she kept her job doing technical support for AOL. Her early exposure to tech piqued her interest, and she ended up joining a startup after graduation, working her way up to being a project manager. Later, after teaching herself SQL and enjoying it, she tried her hand as a developer. She found the work "too isolating," so she transitioned into being a technical account manager and worked at a variety of firms, from small startups to big multinational corporations, until she found the Goldilocks fit at DigitalOcean.
Along the way, as she was exposed to a wide range of work cultures, people, and problems, she built up answers to the questions she'd had at the beginning, like "Which direction should I take my career?" and "How do I approach my boss?"
Jessica now counts her soft skills, like empathetic communication, as some of the most valuable things she brings to the table. Being an outsider at first—and a fairly invisible one, because as Jessica says, "People who come from a background of lower income might not be willing to out themselves; it's not something you kind of mosey in with and say, 'Hi, y'all, I'm a first generation college student'"—meant that she had to find her way into tech from the outside. Doing so has made her especially understanding of other people.
"Tech is very relationship-based," says Jessica. "I think we could all do a lot more to try and understand where people might be coming from, because we all have different experiences, different backgrounds, and different baggage."
Paying it forward by mentoring others
With help from friends and from managers who have since become friends, Jessica more than made up for any gaps she had in her first few years on the job, and now she's helping others.
It started with women reaching out and asking Jessica to help them navigate the various personalities and politics of work life, she says. "One woman came to me and said, 'I see you getting these folks to do stuff that I would never guess I could actually get them to do—can you help me figure out when and how to communicate with them?'" remembers Jessica. She did that for several more women, and has since been tapped to be a formal mentor through DigitalOcean's mentorship program.
When she's mentoring other women in tech, a lot of her advice focuses on navigating the situation from the other person's perspective. "As women, we've got to toe that line. We don't want to be called too aggressive, and we also can't be too meek," she notes.
"I try very hard to put myself in the shoes of the other person. We're in tech, and there's always conflict on some level, right? Something's always changing. Someone's resisting the change. There's always something going on, and there are a lot of strong personalities," says Jessica.
She coaches her mentees to learn how their coworkers and bosses think, and to try to approach problems from their perspective. "If you can put yourself in their shoes and understand why they might be feeling a little insecure or feeling like their job's in jeopardy or feeling like they're being snubbed or that they're being taken advantage of, you can figure out how to approach them," she says.
Five key pieces of advice for women in tech as they navigate their careers

We asked Jessica to distill some of the wisdom she shares with her mentees in order to share it with our readers. Here's what she had to say:
1. "Pay attention to everyone. If people are reaching out to you, you'll naturally figure out who you should be listening to over time, but it's always good to take in the information."
2. "Remember that you're going to stumble and you're going to misstep and that's okay."
3. "Some relationships can last for a really long time and serve you well beyond the current role you're in—try to be open to them. I grew up very much not trusting of people, and at some point you have to start trusting yourself to make those decisions."
4. "Find the people who are willing to help. They're always there. I have yet to enter a place where they're not, and I've entered some hostile places."
5. "And then when you're at that point, be the helper. Pay it forward and be the one to help the generation coming in after you because they're going to need it, too."
Creating the future she wants at DigitalOcean
Jessica has always taken an active role in planning her career. She accepted a job offer in order to work with a manager she knew she could learn from, even when that meant another cross-country move. She's said no to promotions that would cost her the work-life balance she's worked hard to establish. So when she was considering a job at DigitalOcean, she tried to see where it would fit in with her larger career and life goals.
She'd never worked for a remote-friendly company before, but loved that DigitalOcean's setup—with headquarters in New York and offices in places like Cambridge and San Francisco, and the option to work from home—would allow her to move back home to New Mexico to be closer to her mom, while still getting some face time in with the team during her trips back to California to see friends.
Coming up on her second year of working for DigitalOcean, she says it's one of the best decisions she's ever made. As a technical program manager, she manages cross-functional initiatives with lots of moving pieces, leaning on her strong communication skills to connect stakeholders between departments, document progress, and unstick problems along the way.
DigitalOcean's combination of meaningful work, positive culture, and remote-friendly policies have worked out for Jessica. "I don't know that I ever want to go back into an office, ever!" she says, laughing.
If DigitalOcean's culture and remote-friendly work policies sound intriguing, check out their open roles here.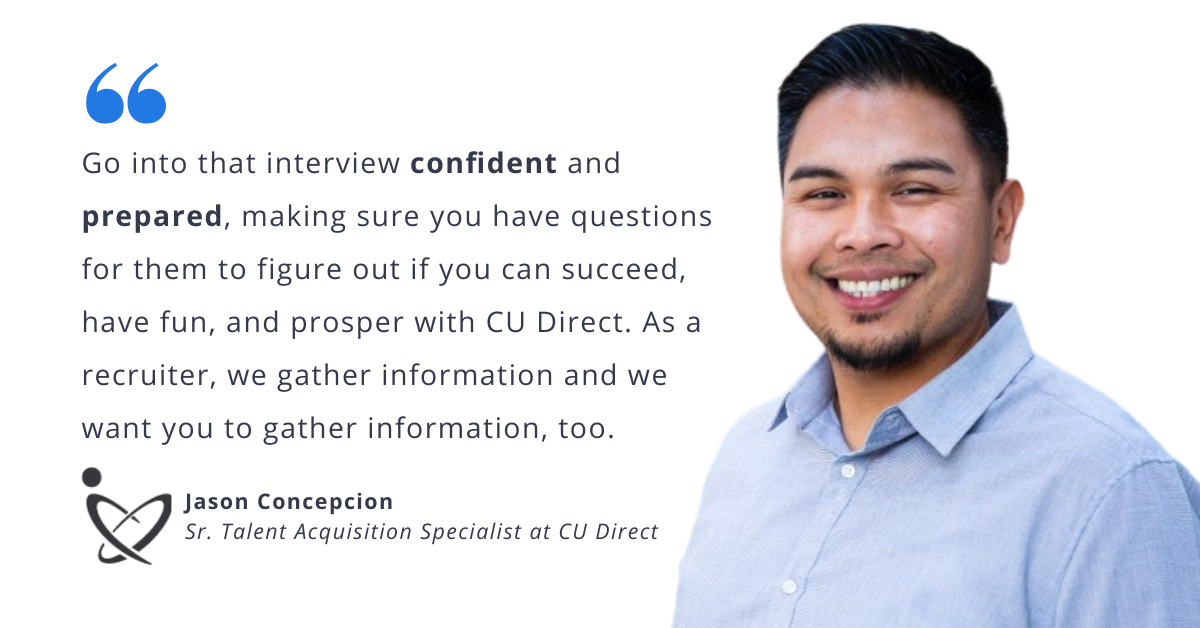 Hispanic/Latino/Latina/Latinx/Latine/Latin
Jason Concepcion is a Sr. Talent Acquisition Specialist at CU Direct, a technology leader that delivers lending solutions to financial institutions, auto dealers, retailers, and medical providers nationwide. As a progressive company that looks for the best diverse talent, CU Direct prides themselves on seeking and taking care of their employees.
We sat down with Jason to learn about CU Direct's hiring process. Keep reading for his top 6 tips to put into practice when interviewing with CU Direct.
Tip # 1 Do Your Research
While it may seem obvious, learning about the company you're interviewing for is crucial. "Before the interview, do some research on CU Direct, our products and services, and even our subsidiary companies," says Jason. Doing the research will show the interviewer that you are highly interested and that "you did your due diligence in getting to know the company." Check out their About page to get to know CU Direct and its various projects.
Tip #2 Ask Questions
It's important to be transparent from the first point of contact with the company, which means asking questions to clarify and gain more information. Jason suggests, "when talking to the recruiter, ask questions. Go into that interview confident and prepared, making sure you have questions for them to figure out if you can succeed, have fun, and prosper with CU Direct. As a recruiter, we gather information and we want you to gather information, too."
Tip #3 Take Your Time
Pace yourself in the interview. Jason explains that "it's okay to pause, regroup, and answer questions. When asked about your experiences, taking your time will allow you to think of the situation, how you solved it, and what was the outcome."
Tip #4 Ask Yourself, 'What Do I Want to Do?'
Take inventory of what you have accomplished or learned in your professional trajectory so far. "We're not just looking for what you've done, but we are also looking for what you can do and what you want to do," says Jason. He believes that "those things are just as important as what you've done in the past. Your drive and determination will show us where you want to go and ideally, that will organically align with the positions we have here at our company."
Tip #5 Understand the Job Description
With your resume in hand, consider what experiences best align with the job description. "Valuable work experience can be found almost anywhere. It can come from your first job or it can come from your most recent job," Jason explains. Whatever small or short experience you have that matches the job description is worth mentioning and explaining, depending on the job you are applying for. Jason explains, "a good understanding of the job description you're going for, and related positions within the company will give you a greater insight as to what we're looking for and what you want to highlight or present in regards to this role."
Tip #6 Don't Be Afraid to Get Personal
One way to stand out in the interview process is to show that you'll be a good values fit, so intentionality throughout, and after, the interview can go a long way. Jason suggests sending a thank you email after the interview. "This will make sure that you stand out in front of thousands of applicants," he says. "Don't make it generic, tailor the message including details mentioned in the interview, this will show the person that you were completely engaged throughout the interview."
CU Direct's personal and careful recruitment process is a reflection of their fun and innovative atmosphere, their value of team members, and commitment to growth. They offer several benefits to their employees, such as a flexible working environment, paid time off, 401k match, college tuition reimbursement, and an exciting company culture. Because of this, they want to make sure people are treated with the same kindness and positivity from the start. As Jason reiterates: "We want to make sure you are prepared and ready for each step of this process, from interviewing, to asking questions, and to possibly onboard in the future," says Jason.
Are you interested to find out more about working at CU Direct? Check out their
openings
here!
READ MORE AND DISCUSS
Show less
Loading...