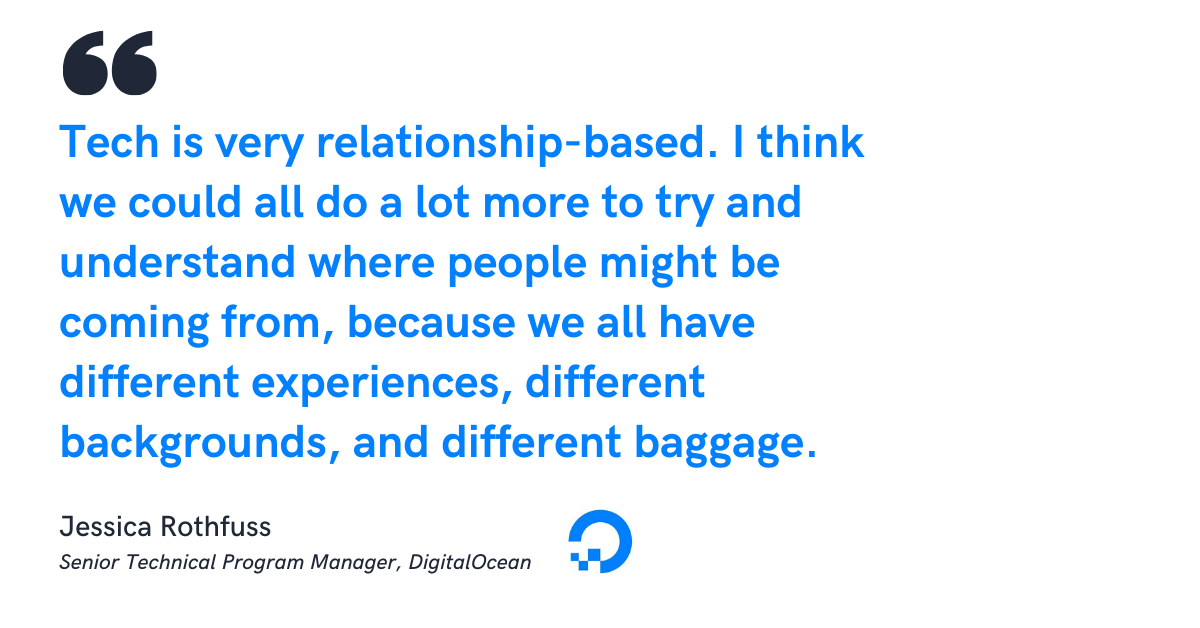 August 04, 2020
DigitalOcean
From Informal Mentee to Formal Mentor: How DigitalOcean's Jessica Rothfuss Is Paying It Forward
When Jessica Rothfuss started her first job out of college, she felt a little lost.
---
"I had no idea what was going on. I didn't grow up around corporate America and I didn't know the norms," Jessica explains, highlighting her discomfort with office conversation around childhood vacations (which her family couldn't afford) and having to navigate dress codes (when a friend told her khakis probably didn't cut it for client meetings).
With the help of some friends and informal mentors, Jessica expanded her comfort zone and figured out corporate life, developing the soft skills of persuasion and communication that she needed to navigate tough conversations. And now, decades into her career in tech and currently working as a Senior Technical Program Manager at DigitalOcean, the cloud infrastructure provider for developers, she's come full circle, serving as an informal mentor to other women in tech and a formal mentor, as of last week, to a woman at DigitalOcean.
We sat down to talk to Jessica—who was joined on-camera by her adorable senior rescue dog—about her career path, how she's giving back and helping other women navigate the world of corporate tech, and how DigitalOcean's remote-friendly approach to work has changed the way she sees her future.
Navigating a steep learning curve as a first-generation college student in tech
As a first-generation college student, Jessica's opportunity set was different from her peers' from the get-go. She studied chemistry and couldn't afford to take an unpaid internship in a lab—"summers were for making money to pay next semester's tuition," she remembers—so she kept her job doing technical support for AOL. Her early exposure to tech piqued her interest, and she ended up joining a startup after graduation, working her way up to being a project manager. Later, after teaching herself SQL and enjoying it, she tried her hand as a developer. She found the work "too isolating," so she transitioned into being a technical account manager and worked at a variety of firms, from small startups to big multinational corporations, until she found the Goldilocks fit at DigitalOcean.
Along the way, as she was exposed to a wide range of work cultures, people, and problems, she built up answers to the questions she'd had at the beginning, like "Which direction should I take my career?" and "How do I approach my boss?"
Jessica now counts her soft skills, like empathetic communication, as some of the most valuable things she brings to the table. Being an outsider at first—and a fairly invisible one, because as Jessica says, "People who come from a background of lower income might not be willing to out themselves; it's not something you kind of mosey in with and say, 'Hi, y'all, I'm a first generation college student'"—meant that she had to find her way into tech from the outside. Doing so has made her especially understanding of other people.
"Tech is very relationship-based," says Jessica. "I think we could all do a lot more to try and understand where people might be coming from, because we all have different experiences, different backgrounds, and different baggage."
Paying it forward by mentoring others
With help from friends and from managers who have since become friends, Jessica more than made up for any gaps she had in her first few years on the job, and now she's helping others.
It started with women reaching out and asking Jessica to help them navigate the various personalities and politics of work life, she says. "One woman came to me and said, 'I see you getting these folks to do stuff that I would never guess I could actually get them to do—can you help me figure out when and how to communicate with them?'" remembers Jessica. She did that for several more women, and has since been tapped to be a formal mentor through DigitalOcean's mentorship program.
When she's mentoring other women in tech, a lot of her advice focuses on navigating the situation from the other person's perspective. "As women, we've got to toe that line. We don't want to be called too aggressive, and we also can't be too meek," she notes.
"I try very hard to put myself in the shoes of the other person. We're in tech, and there's always conflict on some level, right? Something's always changing. Someone's resisting the change. There's always something going on, and there are a lot of strong personalities," says Jessica.
She coaches her mentees to learn how their coworkers and bosses think, and to try to approach problems from their perspective. "If you can put yourself in their shoes and understand why they might be feeling a little insecure or feeling like their job's in jeopardy or feeling like they're being snubbed or that they're being taken advantage of, you can figure out how to approach them," she says.
Five key pieces of advice for women in tech as they navigate their careers

We asked Jessica to distill some of the wisdom she shares with her mentees in order to share it with our readers. Here's what she had to say:
1. "Pay attention to everyone. If people are reaching out to you, you'll naturally figure out who you should be listening to over time, but it's always good to take in the information."
2. "Remember that you're going to stumble and you're going to misstep and that's okay."
3. "Some relationships can last for a really long time and serve you well beyond the current role you're in—try to be open to them. I grew up very much not trusting of people, and at some point you have to start trusting yourself to make those decisions."
4. "Find the people who are willing to help. They're always there. I have yet to enter a place where they're not, and I've entered some hostile places."
5. "And then when you're at that point, be the helper. Pay it forward and be the one to help the generation coming in after you because they're going to need it, too."
Creating the future she wants at DigitalOcean
Jessica has always taken an active role in planning her career. She accepted a job offer in order to work with a manager she knew she could learn from, even when that meant another cross-country move. She's said no to promotions that would cost her the work-life balance she's worked hard to establish. So when she was considering a job at DigitalOcean, she tried to see where it would fit in with her larger career and life goals.
She'd never worked for a remote-friendly company before, but loved that DigitalOcean's setup—with headquarters in New York and offices in places like Cambridge and San Francisco, and the option to work from home—would allow her to move back home to New Mexico to be closer to her mom, while still getting some face time in with the team during her trips back to California to see friends.
Coming up on her second year of working for DigitalOcean, she says it's one of the best decisions she's ever made. As a technical program manager, she manages cross-functional initiatives with lots of moving pieces, leaning on her strong communication skills to connect stakeholders between departments, document progress, and unstick problems along the way.
DigitalOcean's combination of meaningful work, positive culture, and remote-friendly policies have worked out for Jessica. "I don't know that I ever want to go back into an office, ever!" she says, laughing.
If DigitalOcean's culture and remote-friendly work policies sound intriguing, check out their open roles here.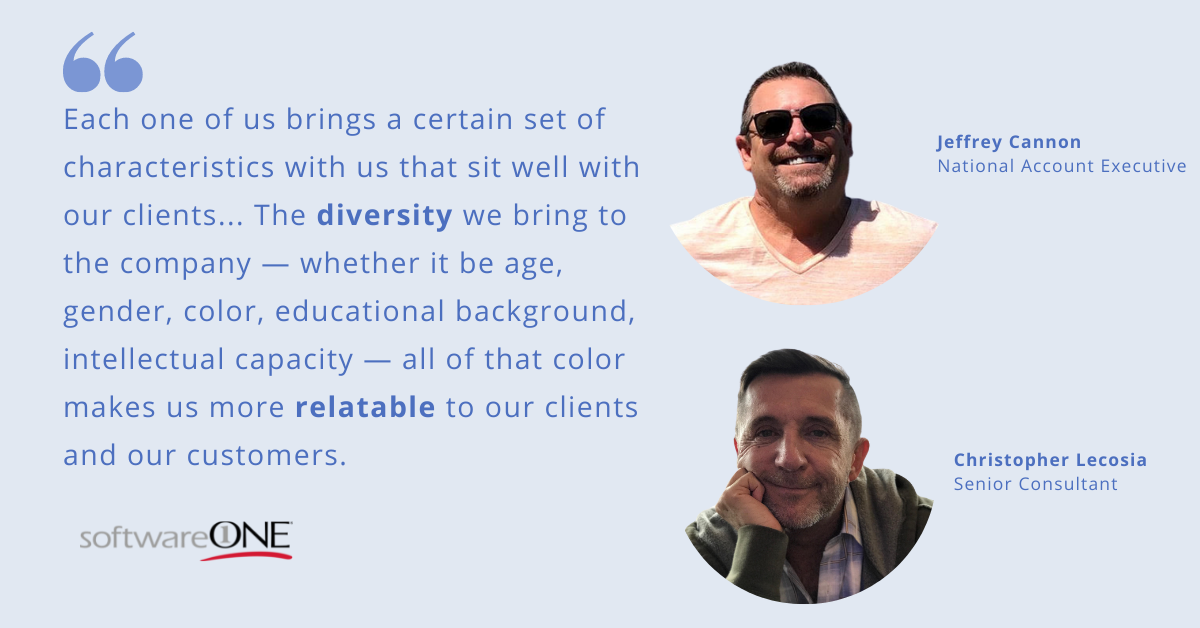 SoftwareONE
Insight from SoftwareONE's Jeff Cannon and Chris Lecosia
SoftwareONE's Jeff Cannon Business Development Executive US) and Christopher Lecosia (Senior Consultant) share a similar adventurous and brave spirit, which has led to a long trajectory of creative experiences for both of them. From taking care of two new puppies to backpacking across Europe — neither of them back down from a challenge.
As members of the LGBTQIA+ community, Jeff and Chris spent a large portion of their careers fighting for inclusive workplaces where they feel a sense of belonging, and opportunities to use their experiences to serve people, no matter what career stage they're in. And they've both recently found that in the global provider of end-to-end software and cloud technology solutions SoftwareONE.
We sat down with Jeff and Chris to hear their stories on how they navigated mid and late career changes and their journey to finding a company where they felt valued. Keep reading to the end for four major tips on how to successfully pivot careers.
The Journey to SoftwareONE
Jeff Cannon was born in Tacoma, Washington, but considers both Texas and Georgeia his home. After graduating from college with a bachelor's degree in English and History, "I wanted to go to graduate school for history," he explains. But upon arrival, he realized graduate school was not the right path for him, so he packed his backpack and set out for a trip through Europe instead.
This adventurous spirit led him back home to pursue exciting challenges, such as opening a hotel in Austin, working as a flight attendant in New York and Hawaii, and eventually pursuing a sales career at Dell. "I was an account executive for large university systems and large K-12 systems providing information technology to students to be able to further their education. It really fit in with my mantra around how important education is in society," Jeff explains."It's kind of my thing." But after nearly 20 years at the company, he decided to look for new opportunities. "I was tired of doing the same thing all the time." Enter SoftwareONE.
"This was an opportunity to do something completely different and take the information that I learned and use it to help build a practice that can accomplish some of the same things," Jeff explains. He joined the company as a Business Development Executive Executive where he works to build the company's education practice within the public sector in the United States.
SoftwareONE is a company where Jeff can thrive professionally and personally. He specifically cites the company to be people-first, which his coworker Christopher Lecosia agrees with. "SoftwareONE is a place where you can thrive as an employee, and where your creativity can flourish," says Chris.
SoftwareONE is a leading global provider of end-to-end software and cloud technology solutions, with headquarters in Switzerland. The company itself prioritizes people as their "greatest asset" and advocates for life-work harmony. Their company's core values are Employee Satisfaction, Customer Focused, Speed, Passionate, Integrity, Humble and Discipline, to name a few, and they ensure that they have "a welcoming – and constantly evolving – work environment for all", no matter the racial, ethnic, religious, sexual or other preferences.
Christopher works as Senior Consultant for SoftwareONE. He entered the field of IT in 1974. "Back then it was called data processing," he jokes. "But I kind of fell into IT consulting." He enrolled in college as an accounting major, but quickly realized that was not the path for him. "I drove into the parking lot of this college for the first day and I got very scared," explains Chris. "I turned around and went home and I found a job." And he was able to pursue jobs that allowed him room to change and grow with the market. He began as a systems programer and, progressively, he scaled to managerial data processing roles at multiple software companies, including IBM. He played a key role in leading and growing software asset management programs, directing support for configuration and asset management, and serving as a senior project manager for multiple teams in his previous companies.
His successful 40+ year-long career led to the start of a well-deserved retirement. "I turned 65 last October, and I thought, 'okay, I think I've had enough,' and I decided to retire in full." But his retirement was short-lived. "A few months before I retired, [my company] had put out an RFP to the street, which SoftwareONE responded to, and I'll never forget," says Chris. "I was hearing them respond to me and I thought, 'Wow, these people know what they're talking about. They're really sharp and I really believed in the value that they could bring.'" So when he was offered a position as a Senior Consultant, he didn't think twice about coming out of retirement. "In November, a recruiter from SoftwareONE called, and I started in January of 2022."
All-Around Authenticity
Changing jobs after working for a company long-term can be risky, especially later in your career. But both Jeff and Chris agree that the benefits of working at a company like SoftwareONE are well worth the risk. And for the first time, they've felt like they can show up as their full, authentic selves at work.
Jeff recalls past workplaces that, when push came to shove, "had an undercurrent of non-acceptance." This undercurrent brought many challenges, but he credits them for his confidence today. "I have no issues whatsoever showing up originally as myself. And at SoftwareONE, everybody's been really lovely." Even remotely, he finds ways to connect with his coworkers, and he feels like he can do so authentically.
Chris reiterates this in his own trajectory at SoftwareONE. "When I started, my Regional VP asked me for a bio. In my bio, I talked about my husband and my two dogs and how long we've been together. That got sent out to everybody in the organization. So when I onboarded, everybody already knew," he explains. "It was the first time in 65 years that, right from the get go, there was no pretense at all as to being something different than I am. And that's how I came out at SoftwareONE. It was good to do that. I feel truly authentic."
Advice for Mid-Career Pivoters
Both Jeff and Chris have successfully pivoted roles and companies later in their careers. They offer four tips to consider before making the jump to a new role or joining a new company.
1. Find a place that values service to the client. "Have the mindset of service," says Chris. " I'm a service oriented person and part of being of service is to share my experience, strengths, and hope with other people. Whether that's on a, social, spiritual, mental level, or on a professional technical level, this helps bring growth to you, and to the company you'll work for." Jeff shares that, "with this mindset, we see the challenges that customers face, so we're able to better articulate to customers what our value proposition is. We can help clients achieve their goals, and everything comes a lot more easily and naturally."
2. Believe in what you have to offer. Chris and Jeff share that aligning with the company's mission is another key aspect to consider before changing companies. "I never thought that anybody would want to hire me at 65 years old," Chris shares. "I had been in my former job where I saw many opportunities that I thought I was perfect for, in terms of advancement, but I wasn't given those opportunities because of my age. I started to feel dried up a little bit. When I got the offer at SoftwareONE, I felt I really wanted to come back, be of service, keep my brain sharp, and do something. I do believe I have something to offer to many clients, as well as colleagues. And that's what made me make the move."
3. Think of the experiences you bring to the table. Jeff shares how he transferred his knowledge to his new role. "I was able to take everything that I had learned about building an organization and bring it over to a company that needed that expertise specific to the United States. Being able to have the opportunity to do some of that background work and build on alliances has been, and continues to be, a great opportunity."
4. Find a workplace that prioritizes diversity. "Each one of us brings a certain set of characteristics with us that sit well with our clients," explains Chris. "The diversity we bring to the company — whether it be age, gender, color, educational background, intellectual capacity — all of that color makes us more relatable to our clients and our customers." This leads to the company's overall success.
SoftwareONE is constantly looking for dynamic employees like Chris and Jeff. Check out their company page to find out more about their roles!
READ MORE AND DISCUSS
Show less
Loading...