GET EMAIL UPDATES FROM POWERTOFLY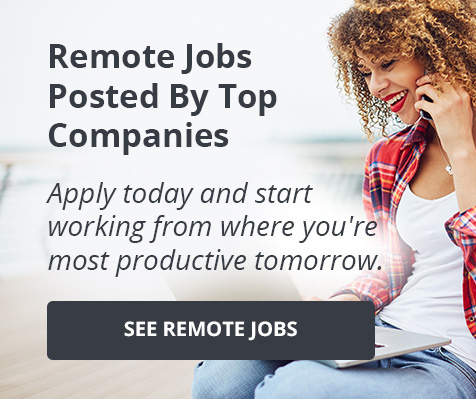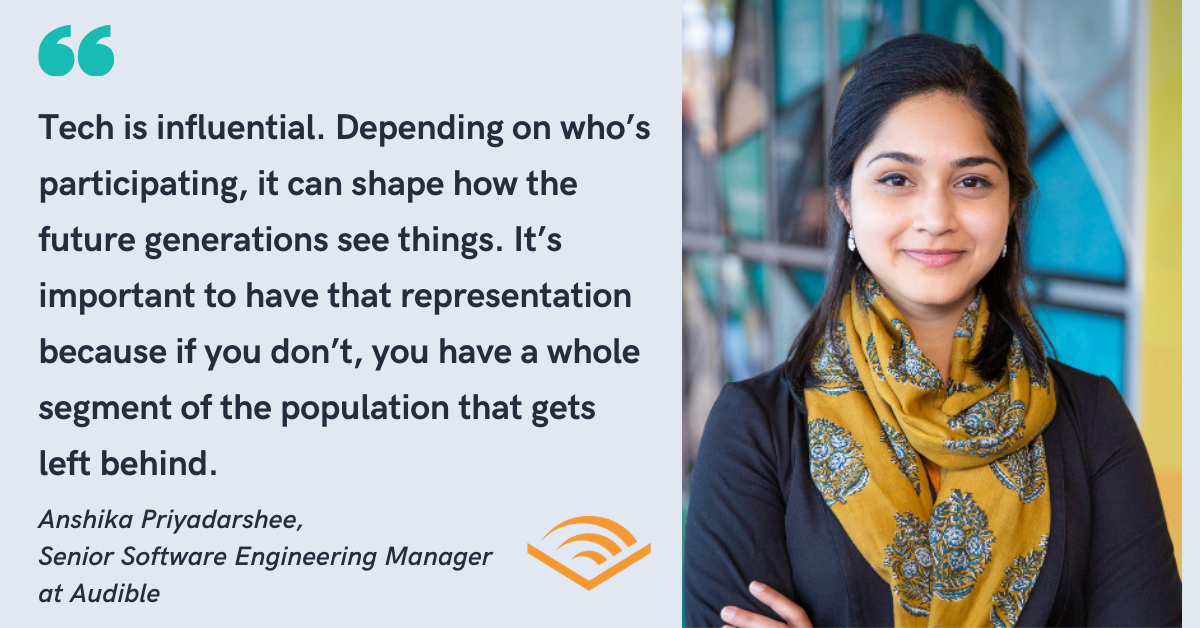 November 30, 2020
Audible
How Giving Back Helps Audible's Anshika Priyadarshee Push Her Industry Forward
Anshika Priyadarshee knows how to make anywhere feel like home. She grew up living in India, Kenya, and Canada before moving to New York for a job with Audible, where she now works as a Senior Software Engineering Manager.
---
"It's probably the longest I've spent in one place," says Anshika of the six years she's been living in the city and working from Audible's Newark headquarters. "It's been a nice way to get to know what is a pretty beautiful city."

Anshika started her career journey at Audible through their internship program, and she's long been an advocate of educational opportunities for women interested in engineering. At Audible, she participates in their Impact Group for Women in Tech and hosts field trips for organizations like Girls Who Code.
We sat down with Anshika to hear more about her work, why it's important for tech companies to reflect the diversity of their users, and how she works to make that possible.
Making tech for real people
As a software engineer, Anshika enjoys writing code that brings a new feature or product alive. But what she's come to love even more is the opportunity to see how her work impacts Audible users.
"A really big piece of fulfillment for me is seeing customer feedback," she says. "Recently, we launched a new type of product offering, something my team has been super involved in, and it was so exciting to go on Reddit and see the reactions of people who were really excited to use our product."
Anshika knows that in order to create products that work for everyone, tech workforces need to include people from different backgrounds and with different experiences. "Tech is influential. Depending on who's participating, it can shape how the future generations see things," she explains. "It's important to have that representation because if you don't, you have a whole segment of the population that gets left behind. You want to address the needs of each group," she says, highlighting how employee resource groups, called Impact Groups at Audible, such as Women in Tech, which she's a member of, as well as others like AudiblePRIDE, Unidos@Audible, Women@Audible, Moms@Audible, and the Black Employee Network provide vital perspective on Audible projects.
Bringing in the next generation
When Anshika first started her career, she had a preconception that computer science was something dry. "Once I got into it, I recognized there's actually so much more you can do with it. There's an element of creativity that wasn't necessarily conveyed," she says.
That's part of what inspired Anshika to get so involved with Audible Cares, her company's community giving efforts, and to lead specific projects through the Women in Tech Impact Group like field trips with Girls Who Code. "I'm hopefully changing the dialogue on what CS means to everyone else," she says.
As part of those community service initiatives, Anshika and other engineers at Audible mentor young women interested in tech, encourage their studies, provide advice, and give them a glimpse into different career paths. Anshika and her team participate in panels, where they talk about topics like building a spirit of resiliency, recognizing the power of failure, and building careers that work for them. "It's pretty impactful, especially meeting students who are a bit closer to making their decisions for which careers they want and being able to take part in their journey," says Anshika. They also host workshops for students to experience hands on code writing in a terminal while working from a set of prompts.
In pre-pandemic times, the field trips also included a tour of the Audible Studios where the magic happens. "It's pretty exciting for them to see how we actually go from book to voice experience," says Anshika, whose personal favorite listen is When Breath Becomes Air by Dr. Paul Kalanithi.
But despite the pandemic, Anshika continues to make connections with the next generation and encourage their dreams. "A different type of barrier has gone down because we don't need that physical presence, so it opens up the door for a lot of other people to participate," she says. She's hosted virtual workshops and partnered with college students as they consider careers in tech. "Ideally, [we'd] give everyone exposure to it," she says.
"Giving back is good for the future of tech," says Anshika, and it's also good for Audible as a company and its employee satisfaction and retention. She really appreciates how the opportunities she's had to participate in community involvement and community service have enhanced her career. "It's been a great way to meet people [at Audible] I wouldn't have normally connected with if I just stayed within the scope of my team," she says. "Whether it's meeting with principal engineers in Seattle to get their ideas on effective workshops or working with our executive sponsors to get input on our direction, it's been very impactful career-wise, and a different way of understanding how people learn and work at Audible."
Combining her engineering work with her community work has empowered Anshika to ensure that the future of tech is a diverse, representative, and inclusive one. If you're interested in doing the same, check out Audible's open roles here.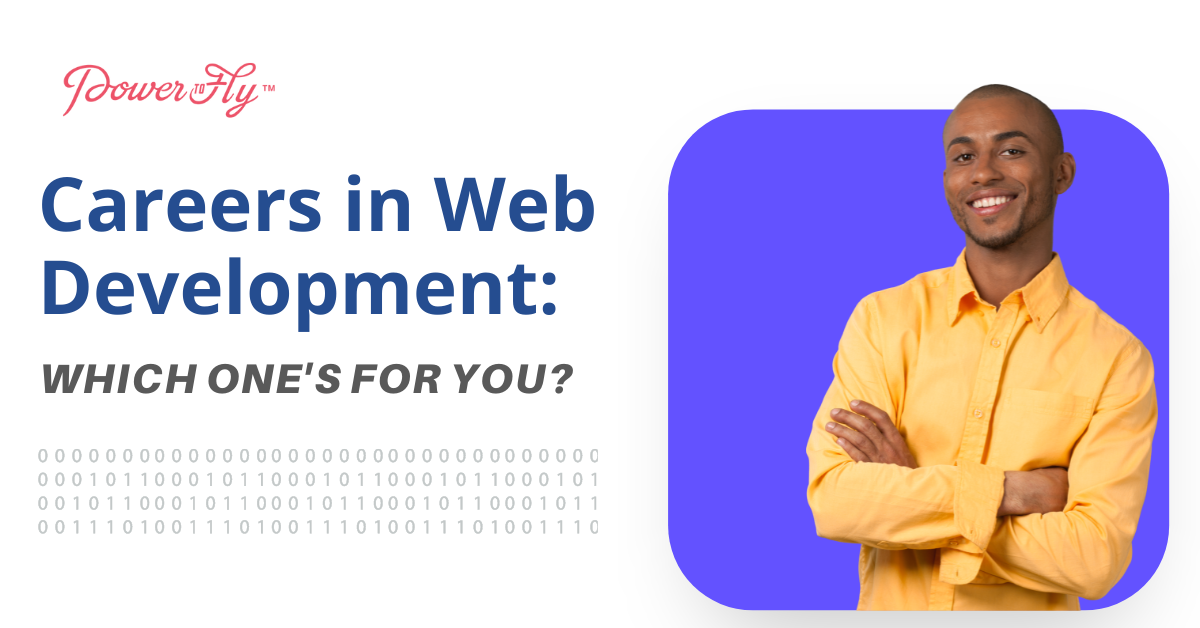 Upskilling and Development
We all have our favorite websites– the ones we frequent, bookmark, and recommend to others. You might even enjoy some website features so much that you've found yourself wondering why they aren't more popular. Or maybe you've experienced times where you were frustrated with a website and wished you could add features or even design your own!
If you've ever found yourself intrigued at the prospect of designing and developing your own websites, then a career as a web developer might be just for you!
As a web developer you would be responsible for coding, designing, optimizing, and maintaining websites. Today, there are over 1.7 billion websites in the world and, in turn, the demand for web developers is on the rise. In order to figure out what kind of web development work best suits you let's start with an introduction to the three main roles in web development that you can choose from.
The Three Types of Web Development Jobs
Front-End Web Development: The Creative Side
Think of front-end development as the décor of a house. The color scheme, furniture, manicured lawns, and overall aesthetic. In terms of a website, front-end development is laser-focused on the appearance of a website and its presentation on different devices. If you're considering a role in front-end development, it's important to learn programming languages such as HTML, CSS, and JavaScript. These three languages go hand-in-hand. HTML allows you to create user interface elements, CSS helps you with stylistic elements, and JavaScript allows you to incorporate online tools and connect your website to back-end functions.
In addition to programming skills, front-end developers need to be detail oriented, creative, willing to keep up with the latest trends in web development, cyber security conscious, and geared toward user-friendly designs. The median salary for a front-end developer can reach well into the $90,000 to $100,000 range.
Back-End Web Development: The Logical Counterpart
While a house can be beautifully decorated, it's incomplete without a solid foundation and efficient infrastructure. Similarly, a well-designed website depends on logical and functional code to power the features of that website. Back-end web development is code-heavy and focused on the specifics of how a website works. If you enjoy the analytical challenge of creating the behind-the-scenes code that powers a website, then back-end development is for you.
Since this role is more code-heavy, it's important that you learn numerous programming languages and understand algorithms and data structures. Some languages that are essential to back-end development are Ruby, Python, SQL, and JavaScript. Back-end developers also ensure that users can successfully retrieve and access data. This requires creating and using APIs (Application Programming Interfaces) which act as messengers that relay data related requests. Additionally, developing the code for the inner workings of a website also requires back-end developers to be conscious of the user interface features designed by front-end developers and to internally mitigate potential security risks. Due to the increased technical aspect of this position, back-end developers normally earn higher salaries than front-end developers. The average median salary for this role is around $118,000 per year.
Full-Stack Web Development: A Little Bit of Everything
A full-stack developer is essentially the Jack (or Jill)-of-all-trades in web development. Full-stack developers need to be knowledgeable about both front-end and back-end roles. This does not necessarily imply that you would need to be an expert in both roles, but you should fully understand the different applications and synergies they each imply. In order to work in this position, you will need to know the programming languages used by front-end and back-end developers. In addition to these languages, full-stack developers also specialize in databases, storage, HTTP, REST, and web architecture.
Full-stack developers are often required to act as liaisons between front-end and back-end developers. Full-stack developers need to be both problem solvers and great communicators. The end goal for a full-stack developer is to ensure that the user's experience is seamless, both on the front-end and on the back-end. In return, you can expect to earn a median salary of $100,000 – $115,000 a year for this role.
Taking the Next Step
Web development is both in-demand and lucrative! All three roles described above contribute to specific aspects of web development and the scope of each one can be customized to the industries and positions you feel best suit you. Regardless of which role you choose, all of them need a foundation in programming.
To gain the programming skills needed in each role, you can enroll in courses or learn independently. Coding bootcamps are a great way to boost your skillset quickly and efficiently.
Click here for some of our highly rated programming bootcamp options! Make sure to check out the discounts available to PowerToFly members.
READ MORE AND DISCUSS
Show less
Loading...