GET EMAIL UPDATES FROM POWERTOFLY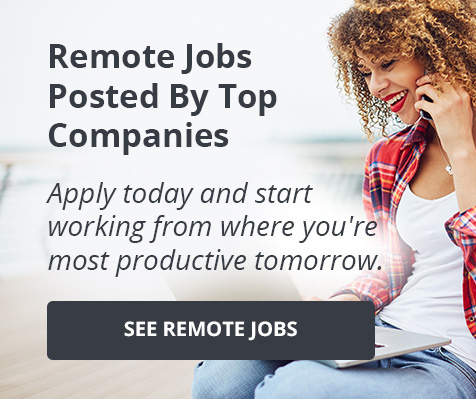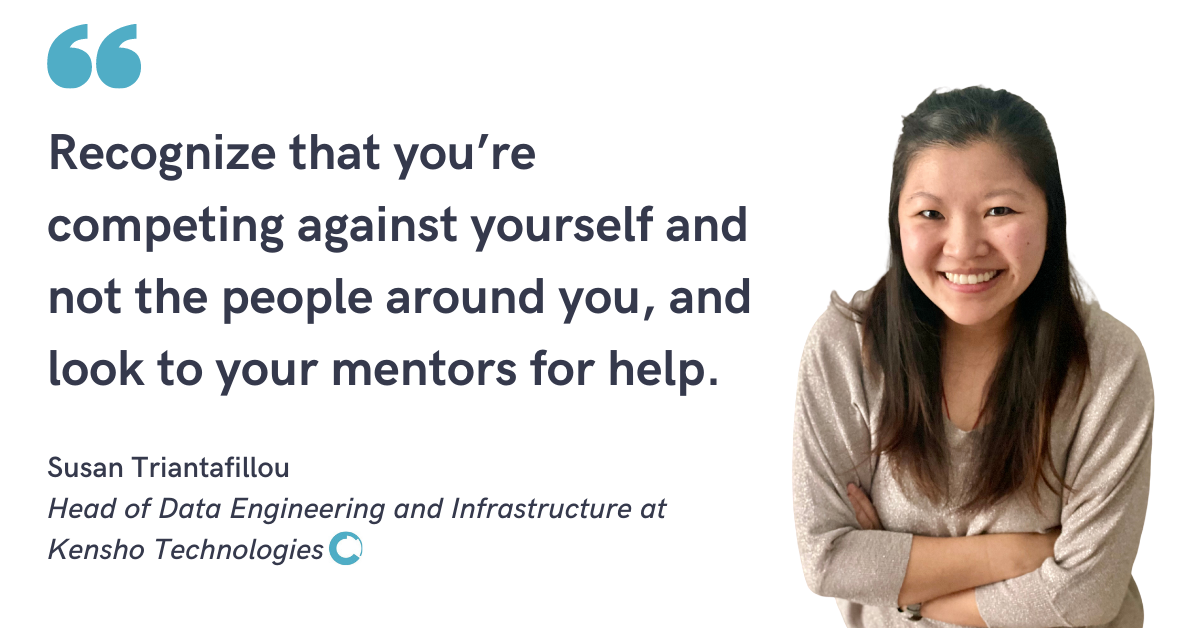 November 10, 2020
Kensho Technologies
"It's A Balancing Act": How This Head of Data Engineering Plays to Her Strengths as a Leader
Advice from Kensho's Susan Triantafillou on Leading Authentically & Advancing Your Career with a Growth Mindset
When Susan Triantafillou, Head of Data Engineering and Infrastructure at fintech company Kensho Technologies, finds herself contemplating whether or not a risk is worth taking, she always asks herself one question: "If I turn this down, will I look back on this moment five years from now and regret it?"
---
That was the question she asked herself in 2014 when faced, just one year into her career, with the opportunity to leave a very stable job as a software engineer and join data analysis startup Visallo as a founding member.
The answer was a resounding yes, so she quit her job to pursue the risks—and rewards—of startup life. Chief among them was the opportunity to test and grow her leadership skills. "As a software engineer, I was usually coding most of the time, but at Visallo, I had a much wider variety of responsibilities, including working with clients, contributing on the business side, and working with product development," Susan explains.
After nearly four years at Visallo, the company was acquired by Kensho, and Susan quickly took on even more significant leadership challenges; she advanced from an initial role as a software engineer to Head of Visallo Engineering, then to Head of Data Engineering and Infrastructure, all within two years.
We sat down with Susan to learn how her leadership style has changed and grown over time, how she identifies and leans into her strengths, and what advice she has for other women growing their careers.
Finding her own leadership style: balancing flexibility and a growth mindset
Susan's appetite for risk and new challenges has provided her with ample opportunities to test and develop her leadership style, finding an approach that is both effective and authentic to her.
"I've learned that it's a balancing act. I always want to be understanding, and I certainly want to be flexible whenever it's appropriate," says Susan. "I've learned to embrace those strengths especially while having hard conversations."
Overall, Susan's ability to put herself in her team members' shoes has served her well. When she became the Head of Data Engineering and Infrastructure at Kensho, she knew she needed to get to know the members of her new team. She began with asking lots of questions.
"I started with technical questions," she explains, "but I also asked them about their expectations of me. What everybody expects and needs from a leader is different, and understanding that up front was really helpful in structuring the role."
She recognized that her team needed two things: flexibility and a growth mindset. Both of those are core to Susan's leadership philosophy, so she was in a good position to make an impact.
"I want to help lay the foundation for success while giving people on the team the flexibility to use their unique skills to achieve our goals," says Susan. "Kensho really believes that an innovation mindset stems from embracing your mistakes and evolving from them. It's not a blame game."
That approach structures how Susan manages on a day-to-day basis, from how she encourages question-asking in group meetings to how she leads empathetic post-mortems focused on growing together. "I like to provide constructive criticism, because I think that that's how you help people grow," she says.
Susan stresses that she's able to provide that criticism because as a leader, she begins her interactions with a sense of mutual respect; she doesn't think that empathy and criticism are mutually exclusive, but rather, two key ingredients to helping others grow as much as possible. "I would say a lot of my leadership style probably stems from my ethnic background. In Taiwanese culture respect is embedded at the core. I respect my team's time, effort, dedication, and style to help achieve their goals. I respect their experience and their skills. It's a lot more efficient to gain their trust and respect, and then once everybody's on the same page, we can sprint rather than walk towards our goals."
3 key tips to advance your career as a woman in leadership
When Kensho acquired the company Susan was working for previously, she says that it was a smooth transition. "The team's flexibility and talent made it easy to get everybody up to speed very quickly," she remembers. "I have to credit Kensho's culture and values for that."
One of the things that Susan says she likes best about Kensho and its values is their focus on curiosity and learning. "We have 'knowledge days' where we don't work on our day-to-day jobs," she says. "You take that day to actually learn. And I think that's key for innovation, it's key in terms of employee growth, and it's key in terms for company growth as well."
That commitment to growth underlies three key pieces of advice that Susan would recommend for anyone looking to step up and manage bigger teams and departments:
1. Constantly be learning. That means approaching new problems and new areas with humility as you get up to speed, while trusting—and being confident—that you'll get there eventually. "My mind typically leaps to how I can do better next time, which is great for pushing myself to the next level, but not always great for building confidence, so I've been working on that," Susan explains.
2. Find mentors everywhere. "Understand that you can learn from anyone and everyone, regardless of their background or how much experience they have," says Susan. "Recognize that you're competing against yourself and not the people around you, and look to your mentors for help."
3. Embrace change and the unknown. Susan says that she owes her career to a willingness to take risks. "I left a stable job to go join a company without knowing if it would even exist in a year or two," she says. "You need to seize the opportunity when it's given to you."
If you're interested in working with Susan at Kensho, check out their open roles here.
Related Articles Around the Web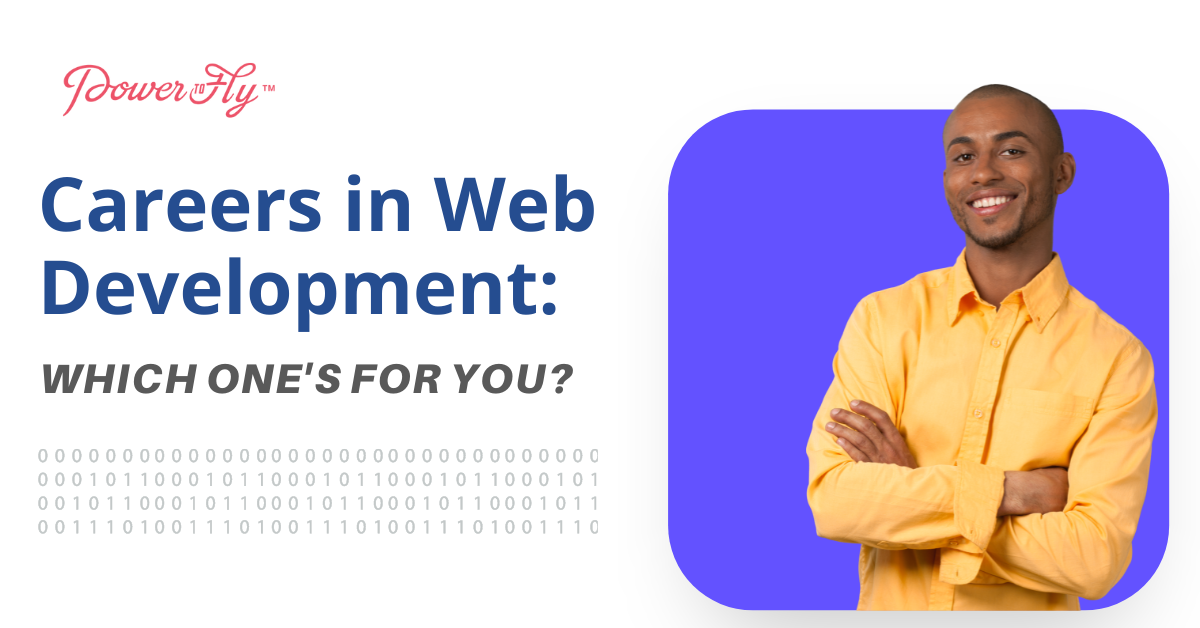 Upskilling and Development
We all have our favorite websites– the ones we frequent, bookmark, and recommend to others. You might even enjoy some website features so much that you've found yourself wondering why they aren't more popular. Or maybe you've experienced times where you were frustrated with a website and wished you could add features or even design your own!
If you've ever found yourself intrigued at the prospect of designing and developing your own websites, then a career as a web developer might be just for you!
As a web developer you would be responsible for coding, designing, optimizing, and maintaining websites. Today, there are over 1.7 billion websites in the world and, in turn, the demand for web developers is on the rise. In order to figure out what kind of web development work best suits you let's start with an introduction to the three main roles in web development that you can choose from.
The Three Types of Web Development Jobs
Front-End Web Development: The Creative Side
Think of front-end development as the décor of a house. The color scheme, furniture, manicured lawns, and overall aesthetic. In terms of a website, front-end development is laser-focused on the appearance of a website and its presentation on different devices. If you're considering a role in front-end development, it's important to learn programming languages such as HTML, CSS, and JavaScript. These three languages go hand-in-hand. HTML allows you to create user interface elements, CSS helps you with stylistic elements, and JavaScript allows you to incorporate online tools and connect your website to back-end functions.
In addition to programming skills, front-end developers need to be detail oriented, creative, willing to keep up with the latest trends in web development, cyber security conscious, and geared toward user-friendly designs. The median salary for a front-end developer can reach well into the $90,000 to $100,000 range.
Back-End Web Development: The Logical Counterpart
While a house can be beautifully decorated, it's incomplete without a solid foundation and efficient infrastructure. Similarly, a well-designed website depends on logical and functional code to power the features of that website. Back-end web development is code-heavy and focused on the specifics of how a website works. If you enjoy the analytical challenge of creating the behind-the-scenes code that powers a website, then back-end development is for you.
Since this role is more code-heavy, it's important that you learn numerous programming languages and understand algorithms and data structures. Some languages that are essential to back-end development are Ruby, Python, SQL, and JavaScript. Back-end developers also ensure that users can successfully retrieve and access data. This requires creating and using APIs (Application Programming Interfaces) which act as messengers that relay data related requests. Additionally, developing the code for the inner workings of a website also requires back-end developers to be conscious of the user interface features designed by front-end developers and to internally mitigate potential security risks. Due to the increased technical aspect of this position, back-end developers normally earn higher salaries than front-end developers. The average median salary for this role is around $118,000 per year.
Full-Stack Web Development: A Little Bit of Everything
A full-stack developer is essentially the Jack (or Jill)-of-all-trades in web development. Full-stack developers need to be knowledgeable about both front-end and back-end roles. This does not necessarily imply that you would need to be an expert in both roles, but you should fully understand the different applications and synergies they each imply. In order to work in this position, you will need to know the programming languages used by front-end and back-end developers. In addition to these languages, full-stack developers also specialize in databases, storage, HTTP, REST, and web architecture.
Full-stack developers are often required to act as liaisons between front-end and back-end developers. Full-stack developers need to be both problem solvers and great communicators. The end goal for a full-stack developer is to ensure that the user's experience is seamless, both on the front-end and on the back-end. In return, you can expect to earn a median salary of $100,000 – $115,000 a year for this role.
Taking the Next Step
Web development is both in-demand and lucrative! All three roles described above contribute to specific aspects of web development and the scope of each one can be customized to the industries and positions you feel best suit you. Regardless of which role you choose, all of them need a foundation in programming.
To gain the programming skills needed in each role, you can enroll in courses or learn independently. Coding bootcamps are a great way to boost your skillset quickly and efficiently.
Click here for some of our highly rated programming bootcamp options! Make sure to check out the discounts available to PowerToFly members.
READ MORE AND DISCUSS
Show less
Loading...