GET EMAIL UPDATES FROM POWERTOFLY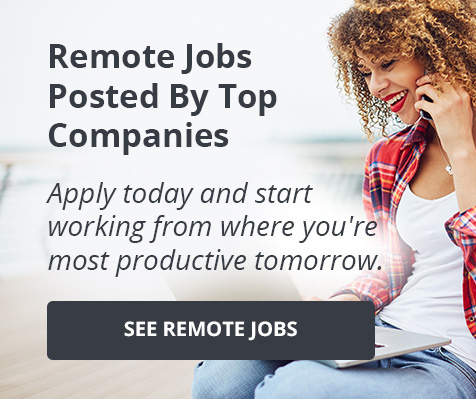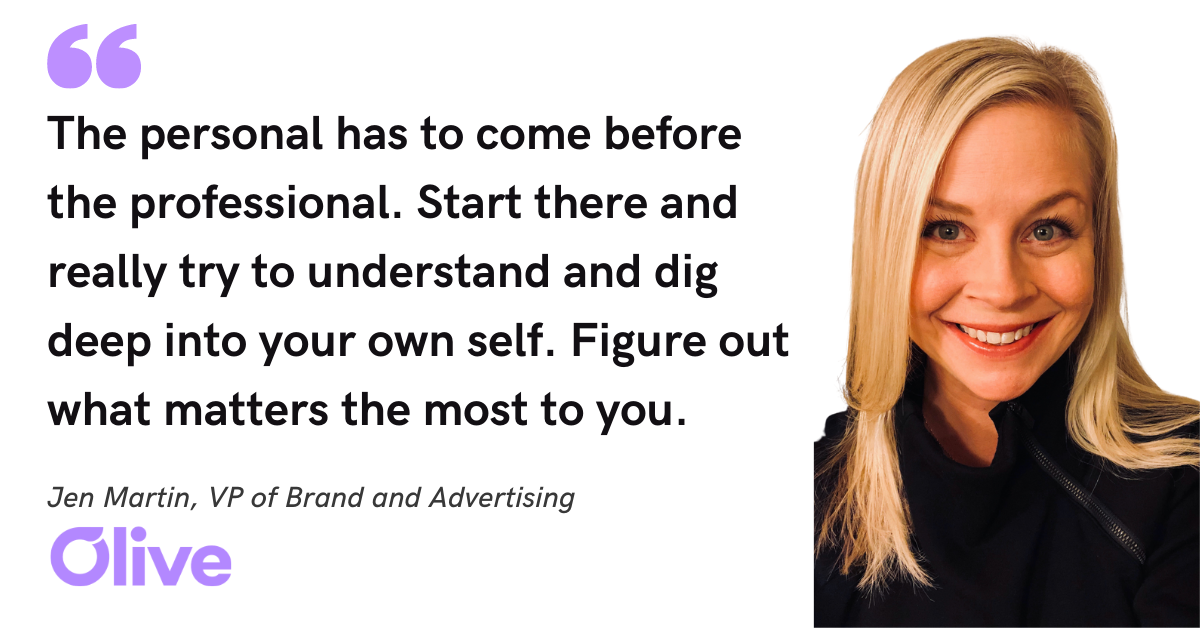 January 14, 2021
Olive
How This VP of Brand Marketing Found a Job at a Company with a Mission She Loves
One of Jennifer Martin's first jobs was working the front desk of the Renaissance Mayflower Hotel in Washington, DC, where she got very good at asking one question: "How can I help you?"
---
She credits her earnest, honest interest in the answer to that question with her career success. "I learned everything that I ever needed to know about customer service from working at the front desk of a hotel," explains Jen. "And I quickly learned that I needed to have that guest service lens on in my career. How can I help? What can I do? How can I partner with you? I think if you're more open, people come to you because they know you're open to learning, they know you're open to relationships. They know you're open to failure."
From hospitality to client service to agency to now being an in-house marketer, Jen's career has taken her around the country and through several industries, but the role she feels most excited about is the one she has now: VP of Brand and Advertising for AI healthcare startup Olive.
Not only is she working with a company whose mission aligns with her own—discovering hidden connections that make people's lives easier—but as a mom of a child with a rare genetic disorder, she knows just how important it is to find those connections within the healthcare industry, which is ripe for innovation.
How Olive can help patients
Jen's daughter Sarah has Rett Syndrome. "She's great and healthy and thriving and beautiful—and nonverbal and works really hard to do a lot of the things that come so easily to most of us," says Jen.
Caring for her daughter has given Jen an intimate look at all of the inefficiencies and failures of the American healthcare system. "I understand from a patient perspective how difficult it is to navigate all of it," she says. "The healthcare industry is hard to understand for many people: prior authorization, claims, insurance, appointments, rattling off for the 100th time that yes, she does have an allergy to penicillin...We have so much more to do to fix the system and streamline the patient experience."
Olive is a healthcare-specific artificial intelligence solution that can help hospitals optimize administrative workflows including processing invoices, managing registration, authorizing claims, and verifying benefits. "I want to make [my daughter's] life better," explains Jen. "This is an indirect way for me to do that. I can draw a parallel if I can make another parent's experience with a hospital be more streamlined."
Staying open to new possibilities
If you'd asked Jen as she began her career where she thought she'd end up, she probably wouldn't have answered with her current role or even industry. That's been true for most of the professional transitions she's made.
While working at the Hyatt early on in her career, she started a pilot program with what was then a little startup out of Las Vegas called Expedia. Their partnership began selling 10 rooms, then 40, and then turned into a new role for Jen at Hyatt's headquarters working on building out the hotel chain's ecommerce functionality to sell their rooms directly.
Then her hospitality background was appealing to an ad agency who needed an account director for their client, United Airlines, so Jen made the switch into agencies and marketing work. She and her husband then moved from Chicago to more family-friendly Columbus, where Jen got a job with a women-owned ad agency and took on other big projects, like launching Sherwin-Williams' ecommerce business.
But when IBM bought her agency and Jen realized she was on the fast track to becoming a partner, she had a wake-up call. She was at a training retreat for to-be partners that asked participants to think through their values, and Jen realized her current work wasn't aligned with what she cared about most. "[My coworker] and I spent a lot of time talking about what we wanted in life, and it was in those moments that I realized I wanted my work to matter," she says.
She left IBM and started at a smaller, more traditional ad agency, but it wasn't a good fit for Jen's ambitions. "I knew I wanted to find something that was rooted in technology, rooted in automation—which was a passion point for me at IBM—and rooted in creating better outcomes for humans," says Jen. She also knew she wanted to be on the client side of things. "I wanted to feel good about what I was building. At the agency, you don't get to own it. You have to just build it and walk away from it. And I'm at the point now where I would like to nurture a brand and see it grow and see it become something."
A friend told her to check out Olive. "I was drawn to Olive by her mission to drive innovation within healthcare, to affect patient outcomes. Olive has a vision for how to do it and the right team in place to make it happen," says Jen.
And now Jen is overseeing Olive's major branding campaigns in cities around the country, partnering with Olive's product and sales teams to get their message out, and finally feeling really connected to the work she spends all day doing.
She left us with a few tips for how you can find work that makes you feel the same way.
3 tips for finding a company whose mission you're aligned with
1. Write down your values. "The personal has to come before the professional. Start there and really try to understand and dig deep into your own self. Figure out what matters the most to you," says Jen, who offers an example: "I can tell you that in this moment, my family matters most to me, and my daughter is certainly a huge part of that."
2. Do your research. Jen notes that she didn't follow her own advice when she left IBM for another agency. "Find the leaders within whatever company you're evaluating and follow them on LinkedIn. See what they're saying, how they position themselves, how they position their company. Find multiple leaders to get a perspective that's more holistic," she says. She also recommends looking at hashtags that matter to you and seeing which companies use those in their posts. "Look to see how diverse the leadership is. Diversity drives much better thinking within an organization, much more well-rounded thinking."
3. Be yourself. "It manifests in different ways," says Jen, who notes that especially now, in extended work-from-home setups, it's important to be able to be your true self at work and feel like others are being authentic with you, too.
Learn more about Olive, their mission, and their open roles.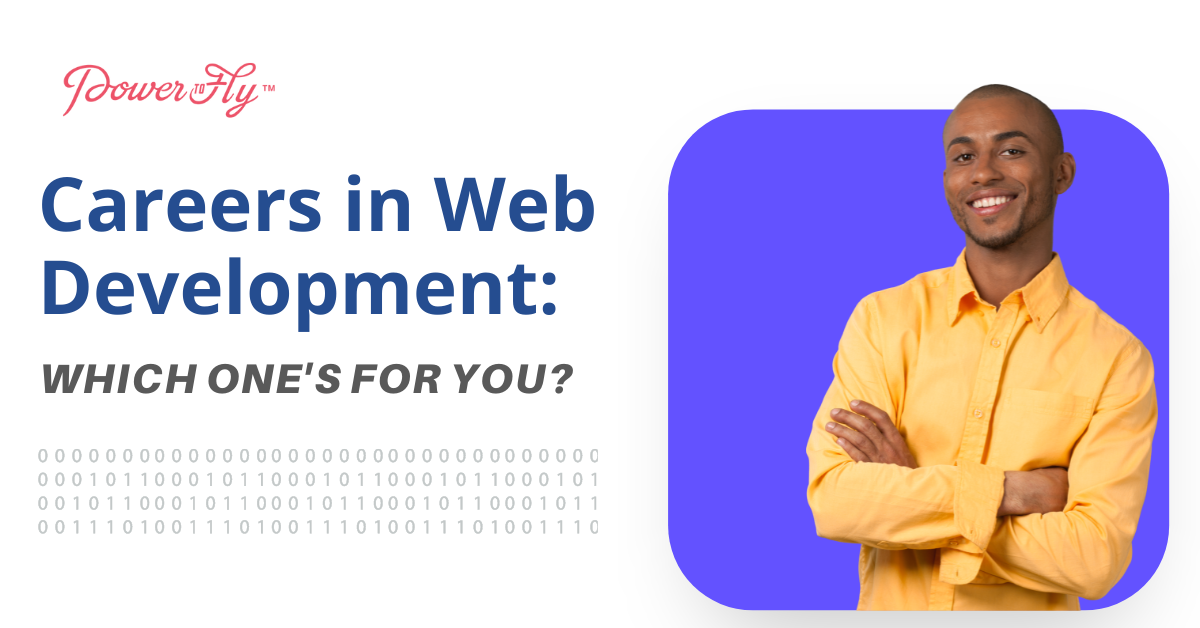 Upskilling and Development
We all have our favorite websites– the ones we frequent, bookmark, and recommend to others. You might even enjoy some website features so much that you've found yourself wondering why they aren't more popular. Or maybe you've experienced times where you were frustrated with a website and wished you could add features or even design your own!
If you've ever found yourself intrigued at the prospect of designing and developing your own websites, then a career as a web developer might be just for you!
As a web developer you would be responsible for coding, designing, optimizing, and maintaining websites. Today, there are over 1.7 billion websites in the world and, in turn, the demand for web developers is on the rise. In order to figure out what kind of web development work best suits you let's start with an introduction to the three main roles in web development that you can choose from.
The Three Types of Web Development Jobs
Front-End Web Development: The Creative Side
Think of front-end development as the décor of a house. The color scheme, furniture, manicured lawns, and overall aesthetic. In terms of a website, front-end development is laser-focused on the appearance of a website and its presentation on different devices. If you're considering a role in front-end development, it's important to learn programming languages such as HTML, CSS, and JavaScript. These three languages go hand-in-hand. HTML allows you to create user interface elements, CSS helps you with stylistic elements, and JavaScript allows you to incorporate online tools and connect your website to back-end functions.
In addition to programming skills, front-end developers need to be detail oriented, creative, willing to keep up with the latest trends in web development, cyber security conscious, and geared toward user-friendly designs. The median salary for a front-end developer can reach well into the $90,000 to $100,000 range.
Back-End Web Development: The Logical Counterpart
While a house can be beautifully decorated, it's incomplete without a solid foundation and efficient infrastructure. Similarly, a well-designed website depends on logical and functional code to power the features of that website. Back-end web development is code-heavy and focused on the specifics of how a website works. If you enjoy the analytical challenge of creating the behind-the-scenes code that powers a website, then back-end development is for you.
Since this role is more code-heavy, it's important that you learn numerous programming languages and understand algorithms and data structures. Some languages that are essential to back-end development are Ruby, Python, SQL, and JavaScript. Back-end developers also ensure that users can successfully retrieve and access data. This requires creating and using APIs (Application Programming Interfaces) which act as messengers that relay data related requests. Additionally, developing the code for the inner workings of a website also requires back-end developers to be conscious of the user interface features designed by front-end developers and to internally mitigate potential security risks. Due to the increased technical aspect of this position, back-end developers normally earn higher salaries than front-end developers. The average median salary for this role is around $118,000 per year.
Full-Stack Web Development: A Little Bit of Everything
A full-stack developer is essentially the Jack (or Jill)-of-all-trades in web development. Full-stack developers need to be knowledgeable about both front-end and back-end roles. This does not necessarily imply that you would need to be an expert in both roles, but you should fully understand the different applications and synergies they each imply. In order to work in this position, you will need to know the programming languages used by front-end and back-end developers. In addition to these languages, full-stack developers also specialize in databases, storage, HTTP, REST, and web architecture.
Full-stack developers are often required to act as liaisons between front-end and back-end developers. Full-stack developers need to be both problem solvers and great communicators. The end goal for a full-stack developer is to ensure that the user's experience is seamless, both on the front-end and on the back-end. In return, you can expect to earn a median salary of $100,000 – $115,000 a year for this role.
Taking the Next Step
Web development is both in-demand and lucrative! All three roles described above contribute to specific aspects of web development and the scope of each one can be customized to the industries and positions you feel best suit you. Regardless of which role you choose, all of them need a foundation in programming.
To gain the programming skills needed in each role, you can enroll in courses or learn independently. Coding bootcamps are a great way to boost your skillset quickly and efficiently.
Click here for some of our highly rated programming bootcamp options! Make sure to check out the discounts available to PowerToFly members.
READ MORE AND DISCUSS
Show less
Loading...