GET EMAIL UPDATES FROM POWERTOFLY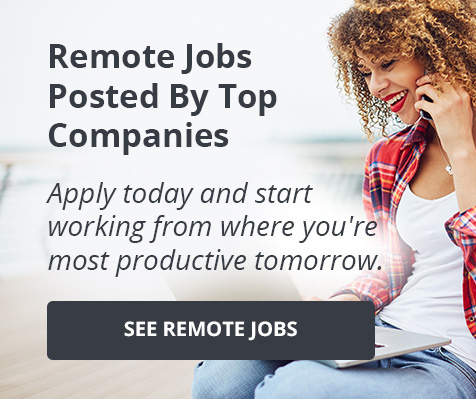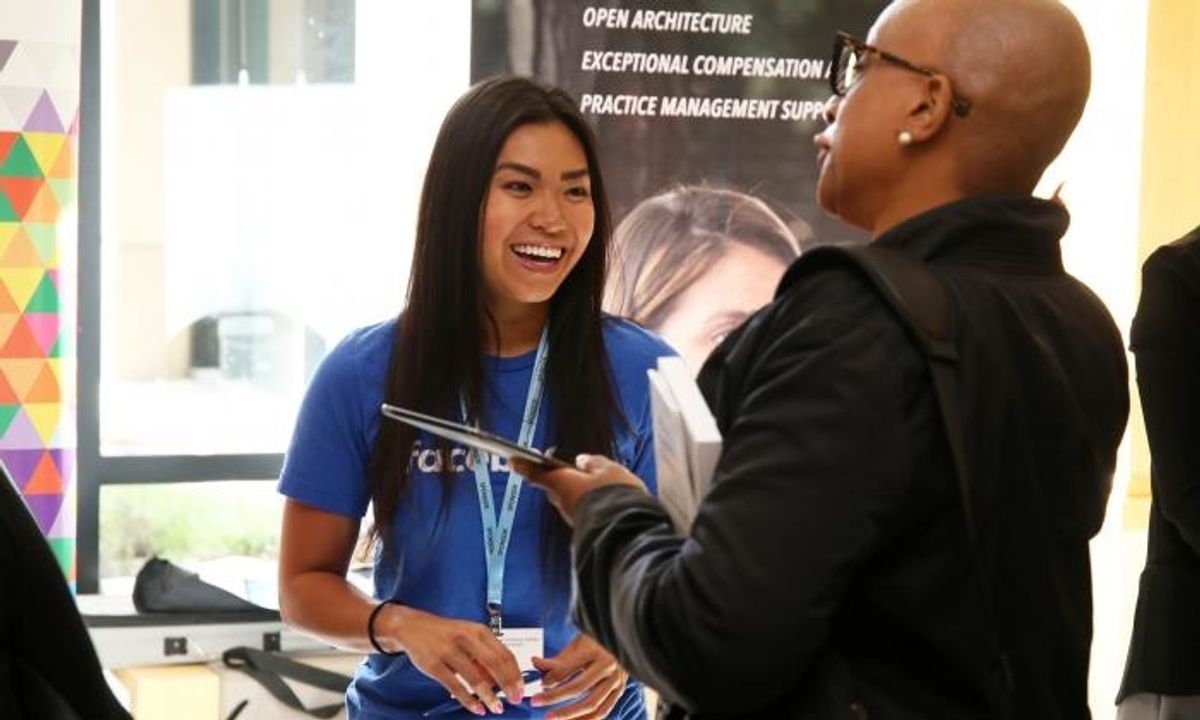 November 09, 2018
Career and Interview Tips
How The​ 'Tell Me About Yourself' Question Can Set You Apart
By Carroll Welch - Originally posted on iRelaunch

No matter how it's worded or where you hear it, if you're relaunching, you'll be asked by someone to tell about yourself. It may be at a barbecue, an informational interview, a college reunion, a screening interview or a conference. Depending on the context, this question could be asked as:
What should I know about you?
What's your background?
How can I help you today?
Do you work outside the home?
Tell me in your own words, who is [your name]?
Tell me about yourself.
Whether formally or casually asked, 'Tell me about yourself' is an opportunity. When you have an articulate, confidently delivered response that takes into account what the listener wants to know, you can distinguish yourself and make a positive impression.
Here are three points to help you prepare. (For convenience sake, all forms of Tell Me About Yourself will be referred to as TMAY.)
1. Prepare. Don't wing this. Your response to TMAY is an important part of how you market yourself, just as your resume and Linked In profile are. It's hard to come up with a good response to this deceptively difficult question on the fly. By preparing bullet points in advance that you've committed to memory and can tweak and integrate into conversations as appropriate, you'll be ready.
2. Consider Your Audience. What a prospective employer wants to know about you is not the same as what your best friend's spouse wants to know at the neighborhood holiday party. Don't reflexively tell the person what you want to tell them. Instead, think about what they might want to know and make it part of your response.
Strengths. For job interviews, make sure that the beginning of your response includes 2-3 key features about you that would be compelling to that employer. Here's an example:
Q. Tell me about yourself.
A. I'm a career relauncher and project manager with 10 years of experience in pharmaceutical marketing. I've always loved project management work because I can use my excellent organizational and technological skills to make sure that all the moving parts of a project sync. During my 7 year career break, I became a trustee for my local public library and chaired our technology committee so I've been able to continue to use and hone those skills. Also, I was a four year DI college athlete, and when I worked at Rose & Whitney as a project manager, I was consistently recognized for my strong team orientation, and how I coordinated and communicated well with all team members, regardless of seniority.
Relauncher Status. It may be okay in some circumstances to explain that you're exploring, researching or considering more than one relaunch career path. Usually, this will likely be in a social or casual situation or in informational interviews, but not in job interviews. An example of how to explain your 'undecided' status as part of a TMAY response to a networking or social contact who might be able to help you is:
I'm a relauncher and before my 10 year career break, I practiced as a health law attorney at a large law firm for 5 years. I'm planning to return to work as a practicing attorney. I'm currently exploring either a path to a hospital legal department position or practicing elder law at a small firm. I've always been interested in health care and was pre-med in college. I became interested in elder law when I helped my parents navigate some challenging long term care, Medicare and estate planning issues.
No Chronologies. Your response to TMAY should never be a chronological story that starts with where you were born or what you did after grad school. Instead, it should highlight who you are now and what your strengths, 'value adds' and/or career relaunch plans are.
Mind the Time. Your TMAY response should be between 30 seconds and 90 seconds long -- at the most. You'll lose your listener's interest and attention after that.
Fluid Not Static. Your TMAY response will change over time, as your goals and targets do. Check in on your TMAY response periodically to be sure that it's still doing the job of conveying an accurate picture of you.
3. Practice Delivering with Confidence. Your listener in some cases may remember how you delivered your TMAY response more than what you've actually said! Practice with a friend, in front of a mirror and/or with the recording feature on your phone. If you're not feeling particularly confident about your TMAY response at first, pretend! With repeated delivery, you'll get better.
Many job searchers and relaunchers flounder when asked to tell about themselves. By nailing this question and making it a positive part of how you market yourself, you'll become more memorable and compelling as a relaunch candidate.
This article originally appeared on the iRelaunch blog. iRelaunch is the pioneering company in the career re-entry space with a global community of over 65,000 individuals who are in all stages of returning to work after a career break. We also work directly with more than 55 blue chip companies to create career re-entry programs. Sign up to learn more about how we can help you return to a rewarding career.
From Your Site Articles
Related Articles Around the Web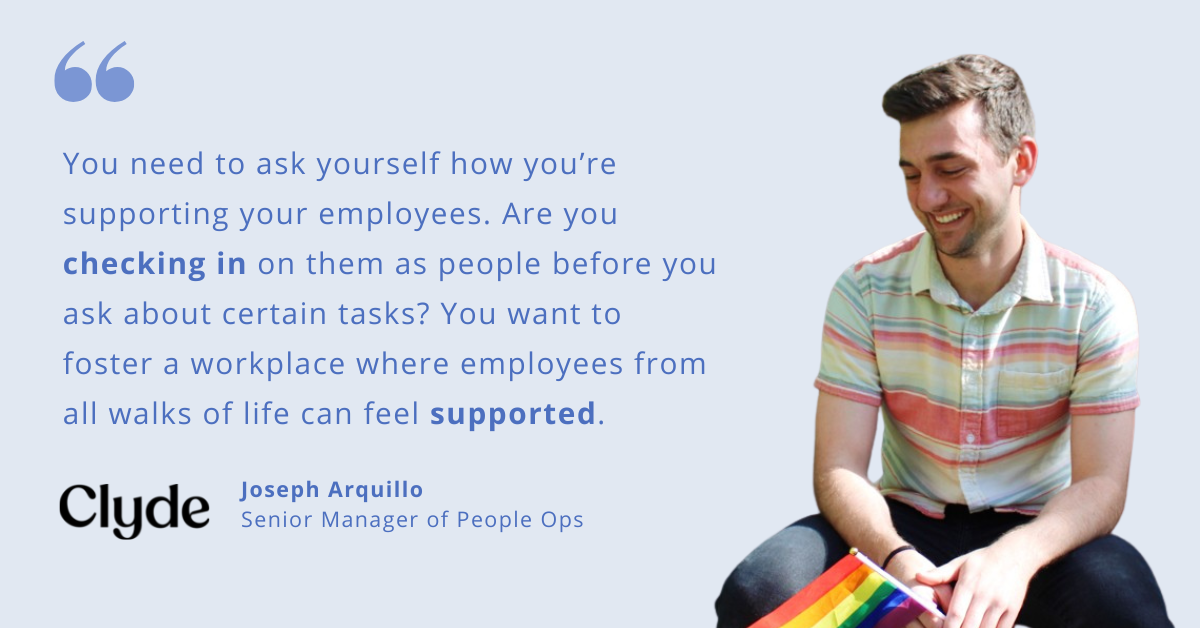 Clyde
Joseph Arquillo doesn't work in Human Resources — he works in People Operations. And the distinction matters.
"It was named 'human resources' because it saw humans as resources, utilized for certain tasks or behaviors. But that's not really what it's about," says Joseph, who is a Senior Manager of People Ops at Clyde.
"Calling it 'people ops' adds back what you lose with 'HR.' My philosophy is that I am there to support you. I am there to work with you, empower you, and enable you so you can be your best self."
For Joseph, a key element of helping employees become their best selves is making sure that the workplace, whether in-person or virtual, is an inclusive space for all. That doesn't happen by accident — it requires a dedicated DEIB strategy and leaders who are committed to asking hard questions of themselves and others.
We sat down with Joseph to hear more about his professional journey, and the practices of leaders who create environments where everyone feels included.
More Than Just a Number
As a college freshman, Joseph planned on sticking with liberal arts when it came to choosing a major. But then he took a class in Boston College's School of Education, and loved its holistic approach to applied psychology.
This inspired him to switch his major to psychology and human development, and select minors in political science, and management and leadership, where he enjoyed learning about organizational psychology.
After graduation, he explored the consulting space to put theory into practice, but found out during an internship at a multinational consulting firm that finance or accounting weren't the places he wanted to build his career.
"Since Big Four companies have 250,000 employees, you become just a number," he says of the experience. "It wasn't my cup of tea. Too corporatized."
That kicked off Joseph's interest in startups.
"It's always fun to get in the weeds! One thing that's very interesting to me is a challenge," he says. "When you're helping a company like Clyde grow and scale, joining when they're at a Series B and helping them get to the next level, you really get to focus on the interaction between people, process, and product," explains Joseph. "You need to hire the right people to work towards increasing efficiencies in all areas, but also make sure that we're enabling them to create a strong product."
6 Keys To Building Inclusive Spaces as a Leader
Across the different industries and companies that Joseph has worked in, he's identified the behaviors that create truly inclusive environments — as well as those that discourage them.
Here's what he's seen:
First, recognize your own privilege. "If you're a man, you have privilege, even if you're a gay male. If you are a white woman, you have racial privilege. It's really important that you're cognizant while you interact with somebody how they might interpret the interaction based on your identity."
Leaders should always speak last. This is important always, but especially in in-person spaces, where it might seem even more nerve-wracking to speak up in a crowd, says Joseph. "You want to make sure you're creating that space for employees who aren't as senior to feel comfortable voicing their thoughts."
And, leaders should use check-ins liberally. "You need to ask yourself how you're supporting your employees. Are you checking in on them as people before you ask about certain tasks? You want to foster a workplace where employees from all walks of life can feel supported," he says.
DEIB isn't just about adding new initiatives — sometimes it's about removing barriers. "You need to remove unnecessary bias," explains Joseph. "That can mean making sure you have appropriate policies and practices that don't hinder people depending on who they are or where they live."
Maximizing participation requires planning with a diversity lens. Joseph has helped the Clyde team gather together and bond as a group. Along the way, he's been careful to consider physical and psychological safety for everyone involved. "For instance, if you're doing an event, do you have someone who's not drinking? Have you set up the environment for people who might have a physical disability, or carefully planned the flow of activities for people who might be neurodivergent?"
Saying you want to be better isn't enough — articulate actions you will take. "Pride is a great example," explains Joseph. "Yes, June is a time to celebrate. But it's also a time to march. And beyond that, how do you show up and celebrate with the LGBTQIA+ community throughout the year?"
Embracing the Unknown
If you visit Joseph's LinkedIn profile, you'll see his personal motto: "Without challenge, change, and a bunch of unknowns, it's no fun."
That belief has led him to study what he's passionate about, to take on new and exciting roles at growing startups, and now, at Clyde, to help formalize what world-class people operations looks like at a fast-growing company.
"I view myself as a connector that really empowers people, challenges teams, and helps drive us towards what I consider to be an improved future," he says. "I feel like it's my responsibility to be the chief advocate for each of our employees, and remove any barriers in the way of their growth."
Want to learn more about what opportunities Clyde offers? Check out their open roles!
READ MORE AND DISCUSS
Show less
Loading...