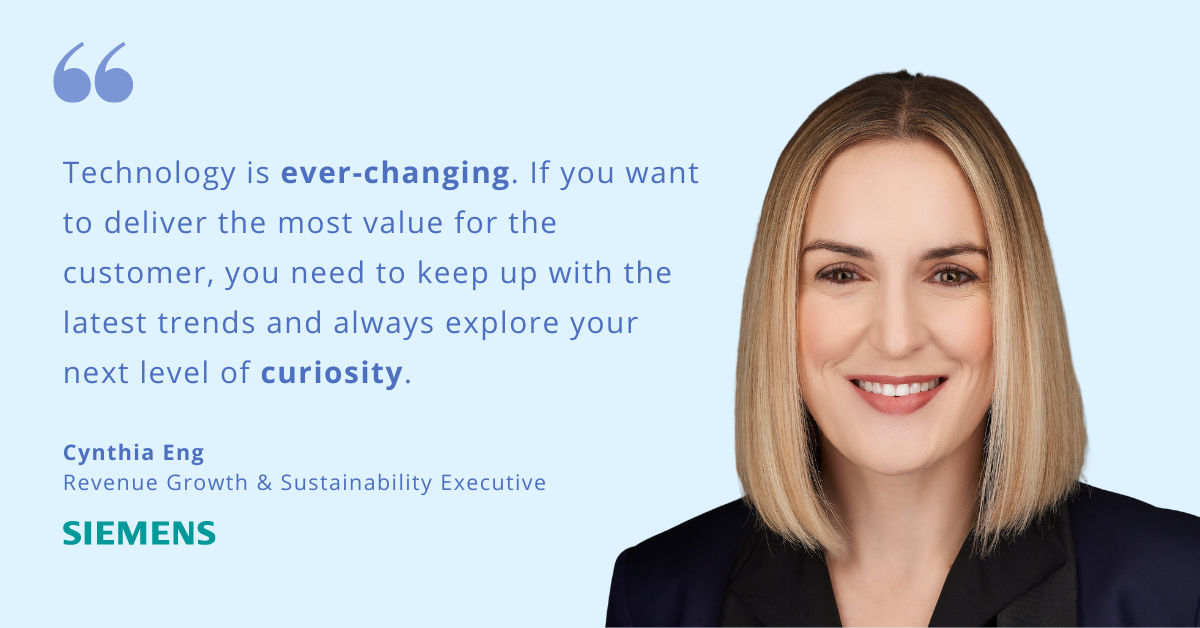 Siemens
Cynthia Eng trusts the science.
"Siemens was the first major industrial company to commit to becoming carbon neutral. In June, 2021, after achieving a 54% reduction in emissions, we announced an acceleration of our efforts and raised the bar to achieve Net-Zero operations by 2030, in line with Science Based Targets (SBTi). We must limit global temperature rise to 1.5 degrees Celsius, thus we can't continue doing business as we did in the past. It's not a debate about global warming. There's science, and then there are politics and emotion. The science enables us to remain objective," says the Revenue Growth and Sustainability Executive at multinational technology and energy company Siemens.
A main part of Cynthia's job is recognizing that there's no one right answer for how Siemens should look out for both its stakeholders and the environment. Instead, she approaches questions of both profitability and sustainable innovation with data.
"My role is to bridge the gap between corporate goals and my regional business," she says. "Long term, we need to transition the way we generate energy; short term, we need to reduce the demand on the grid. And that's where data comes into play: how do we leverage various data points to make smarter decisions, or stimulate sustainable business using artificial intelligence and machine learning?"
We sat down with Cynthia to learn more about how her background and interest in sustainability led her to this role, as well as what advice she has for others looking to enter the field.
"Math Always Came Easy"
Cynthia grew up in a family of five sisters. With a father with a degree in math and a mother with a degree in chemistry, they would've had plenty of help with their STEM homework, if they needed it.
"Numbers just make sense to me. Math always came easy," says Cynthia. "There's no gray area when it comes to numbers — though the more I learn about corporate and managerial Finance, I see that how a message is delivered matters."
A lifelong student, Cynthia is currently finishing her MBA with a focus on strategy and sustainability, with a courseload that's heavy on corporate sustainability and managing global sustainable energy transitions. The last time she felt that kind of in-classroom passion for learning was when she went through Auburn's undergraduate engineering program. This was when she found out that mechanical engineering combined her love for physics and math.
"It felt like it would always be a challenge. I didn't want to be in a career where I would be on a computer all day, or where it'd be repetitive on a daily basis," says Cynthia. "I wanted opportunities to be out from behind the desk."
That said, Cynthia knew she also wanted to pursue a career that would allow her to contribute to the sustainability movement that was just taking off.
"When I was an undergrad, people didn't really know what sustainability was, and it certainly didn't have the same meaning or connotation it does now," she says. "Then I took a graduate-level sustainability course and realized I could have a career there."
After taking that course, Cynthia was invited to an interview weekend for a multinational digital automation and energy management company, where she landed her first job in the field.
"It was curiosity that led me to finding sustainability as a career, combining my technical background and passions."
Finding Siemens
At a previous job, one of Cynthia's major clients was the federal government. After experiencing her second or third government shutdown and subsequent furlough, she was ready to find something more stable.
"I held Siemens in really high regard. Siemens has a nearly 200-year history and is an industry leader, and I aligned with the stance they took around sustainability in the built environment," says Cynthia. "I just felt like, if I could just get my foot in the door, I'll move anywhere to work for Siemens."
Getting her foot in the door wasn't too hard — Cynthia reached out and landed an interview. But then she had to prove to the hiring managers that she belonged.
"I'll never forget the conversation I had with one of the people on my interview panel," she says. "They said, 'If you're not comfortable with changes, Siemens may not be the place for you. Because even though we're a large firm, we're always trying to evolve, grow, improve, and innovate, so you have to be open to growth.'"
Cynthia knew that lined up completely with the values she'd had and cultivated since childhood. And her interview panel saw it, too. She joined the company in 2012 and has been there for the decade since, working across cross-functional teams and positions, but always with one main goal: evolving corporate social responsibility and helping executives make better decisions for the future of Siemens and the planet.
3 Tips for Building a Career in Sustainability
The sustainability industry has exploded in the last seven years, with a 38% growth in jobs. If you'd like to be part of that growth, Cynthia has some tips to keep in mind:
Hone your communications skills. If you work in sustainability, you need to be able to interface with people from a wide array of backgrounds, she says. "From energy engineers to executives, you can add incremental value when you listen and understand their mission and the different sets of problems people need to solve."
Stay curious. "Technology is ever-changing. If you want to deliver the most value for the customer, you need to keep up with the latest trends and always explore your next level of curiosity," she says. That means both formal and informal schooling; while graduate-level degrees are great, there are numerous ways to stay up-to-date, like conferences, independent learning, and certificates.
Network, network, network. "I used to tag along with my dad to events by the Society of Automotive Engineers," remembers Cynthia. "I learned that it's not about who you know, but how you build relationships. I'm not afraid to reach out to someone, and I love to hear from people who want to learn about what I do and how I got here. Be fearless — find what interests you, and ask someone in that field for help," she adds.
To learn more about opportunities at Siemens, check out their open roles!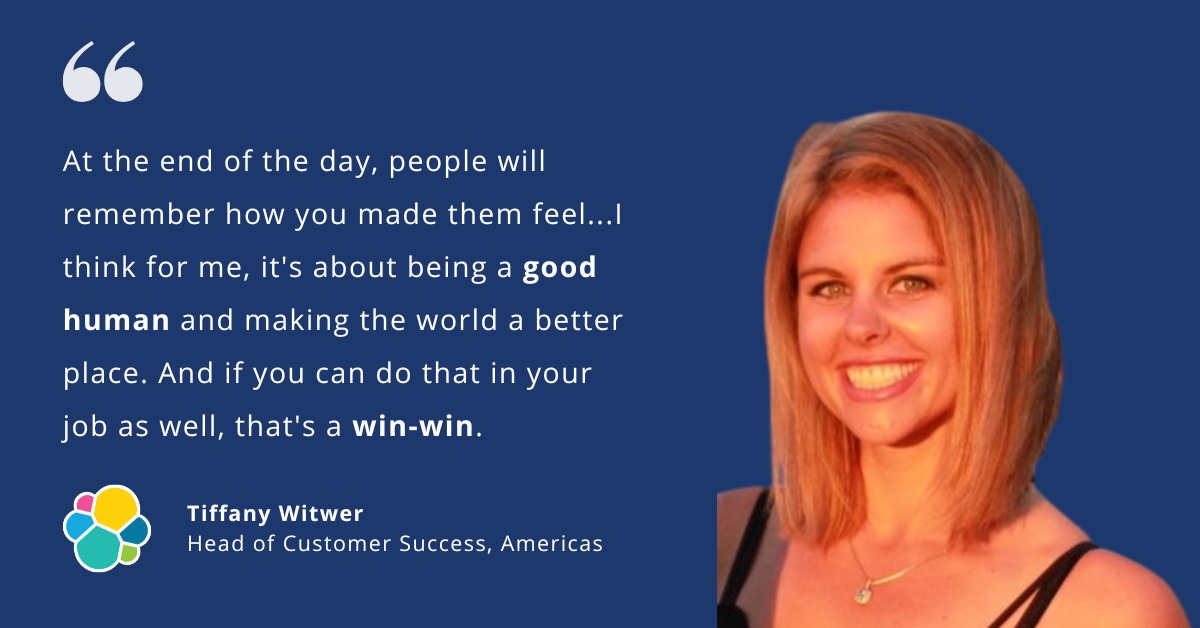 Elastic
Tiffany Witwer from Elastic is a proud mom of three.
"I enjoy being a parent because it teaches me patience and it gives me a different perspective," she shares. "It allows me to be more present, laugh more, and appreciate the small things."
In between her duties as a mom, she keeps herself mentally and physically healthy by running, biking, swimming, or doing yoga — all activities that help her start the day with gratitude. "It gives me the right perspective and attitude to go into the day," she says.
With an overall positive outlook on life, Tiffany brings that same energy to her customers at work as the Head of Customer Service for Elastic.
We sat down with Tiffany, who shared with us her career journey from civil engineering to customer service. Keep reading to learn top tips for creating happy customers.
Starting a Career in Engineering
Tiffany pursued an undergraduate degree in biological engineering.
"I was always really good at math and science, especially chemistry. And I love being outside in nature and learning about it," she shares.
It was a college professor's research on stormwater runoff that motivated her to pursue her master's degree in biological and civil engineering. "I liked his energy and attitude toward learning. It was contagious," she describes.
While working alongside this professor at North Carolina State University, she presented her work at a conference that helped lay the groundwork for her career. "I met a man who liked my presentation," she says, "and was hiring a civil engineer for a consulting company."
Taking on this new opportunity, she moved to New York City where she discovered her love of being surrounded by diverse people and cultures, in addition to her new job.
"I enjoyed doing the design work and meeting the customers," she explains. "I was always the one on the proposals, winning the design work, and building relationships with customers."
While emerging in the complex realm of storm waste engineering, Tiffany saw how the world was progressing and thought that knowing software and technology would be beneficial.
"So I learned to code, networked, and got a job at a business analytics and software company as a pre-sales systems engineer," Tiffany says.
Pivoting into a Customer Success Role
As she dedicated more time to customers, her interest in working with them soon began to increase. "What I loved most was that I was using my mind to solve problems, but I also got to interface with customers. I got to meet customers and hear what they were doing and hear how we could help them."
Tiffany spent 10 years in pre-sales engineering and sales. She then took a job in a different company where she helped build out their advisory services business.
It was there that she built a successful team with coworkers who would lead her to her position at Elastic.
Elastic is the leading platform for search-powered solutions. They help enhance customer and employee search experiences, keep mission-critical applications running smoothly, and protect against cyber threats.
As the Head of Customer Service, Tiffany is responsible for making sure customers are getting the most value out of their software. "It's not only about how customers are using the technology," she explains. "It's, 'how is a customer's experience with Elastic? Are we meeting their need for technology?' And, 'are we meeting their needs from a support and empathy standpoint?'"
In order to meet her customers' complex needs, she emphasizes how crucial communication is.
The Importance of Communication in Customer Success
Quality communication is a skill that can often be undervalued. "I think people underestimate how much time is needed for clear communication," she points out. "Just because you put a message out there, it doesn't mean it's clearly understood. You need to think through how people are going to respond to the information."
With the complexities of communication, Tiffany relies on setting clear intentions when communicating in meetings. "I always ask at the beginning, 'what is your goal for this meeting and what does success look like for you?'" she explains.
Communicating clearly what success looks like for both parties allows for a better outcome. "I think for communications, it's making a lot of time and clearly defining what you want to get out of the interaction."
Advice for Clear Communication with Customers
Tiffany's career journey has been a mixture of understanding technology and building relationships with people — learning how to explain the technology to customers and problem solve in an empathic way. This has led to overall customer success. To create clear communication, Tiffany offers this advice.
Be empathetic and listen to your customers: "If you think about it, you've been trained in your technology, you know it inside and out," she explains. "But when you meet with a customer, the technology may only be a small part of their job." Taking this perspective can help you to communicate with more empathy. "It's understanding people's vantage point and then using that to communicate to them."
Defining success and clearly communicating it: "I'm a strong believer in getting on calls and confirming the goals and what people want to get out of the call," Tiffany shares. "This way, you know, you are aligned on what success is no matter what type of call."
Be genuine: "At the end of the day, people will remember how you made them feel," she shares. "I think for me, it's about being a good human and making the world a better place. And if you can do that in your job as well, that's a win-win."
Get to know people: "Getting to know people, their perspectives, and growing with them is what has led me to customer success and to where I am in my career," Tiffany advises.
If you're looking to build valuable work relationships alongside your career, check out the openings at
Elastic
!
READ MORE AND DISCUSS
Show less
Loading...