GET EMAIL UPDATES FROM POWERTOFLY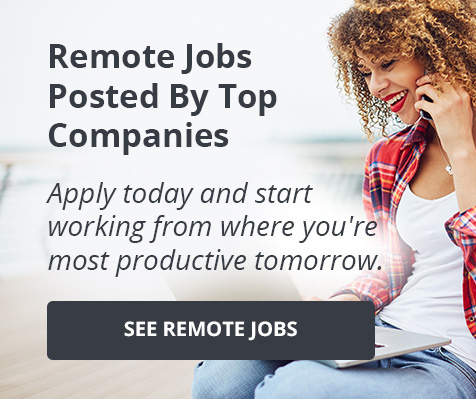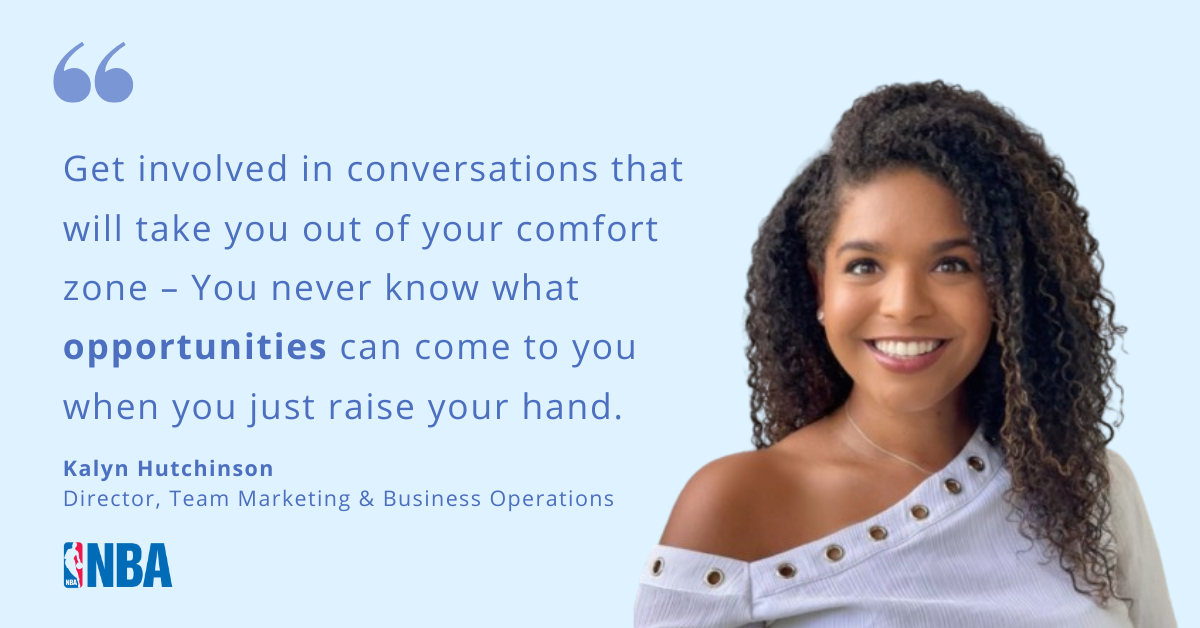 Nba
Kalyn Hutchinson of the National Basketball Association is a big movie fan.
"I love a good rom-com, but I'm also a big Marvel person," says Kalyn, who doesn't miss a chance to watch the latest in The Avengers series. "As soon as a new Marvel movie comes out, I'm in line trying to buy tickets."
When she is not watching the big screen, Kalyn takes The Avengers' team-focused approach to her work at the NBA or is making an impact within her community.
"I do a lot of volunteer work around homelessness, domestic violence, and child abuse," says Kalyn. "I'm involved in passion programs across my home city of Chicago and here in my current home city of New York."
Her desire to give back to the community parallels the work she does at the NBA. As a Director of Team Marketing and Business Operations and the co-chair of Dream in Color (the NBA's Black Employee Resource Group), Kalyn makes it a point to make an impact both on and off the court. We sat down with her to learn about her career journey and tips for creating a well-rounded career.
Turning 2 Passions into a Career
For Kalyn, basketball is more than just a sport.
"I played basketball my whole life," recalls Kalyn. "It is a huge part of my family. Growing up, everything we did was centered around the sport."
Pursuing a sports-related career was always in the back of her mind, but when Kalyn went to the University of Illinois in Champaign, another career option surfaced.
"I thought I wanted to be a creative writer," says Kalyn, who graduated with a degree in Communications. Luckily, there was a route for her that could combine her passions for sports and writing.
"I thought, 'Why not sports public relations?'," says Kalyn. "I could put my passions together and bridge the gap there."
With her new career objective in mind, Kalyn started working in the men's basketball office for the Fighting Illini to gain exposure in the sports business field, and after that started looking for opportunities in professional sports.
"During my senior year of college, I came across an internship with the Chicago Bulls. It was a PR and Marketing position with the Bulls/Sox Training Academy," recalls Kalyn about her 10-month long experience which set her on her course in professional sports.
However, the ever-changing demands of the sports industry meant making some overwhelming changes.
"Sports public relations is incredibly competitive, especially when you're not ready to move around and go to a new city," Kalyn elaborates. "And, at that time, I just knew that Chicago was where I wanted to be."
So instead of taking a step backward, she pivoted into a new field within the industry.
"Someone suggested the inside sales program with the Chicago Bulls." says Kalyn about her next career decision. '''You're a great writer. You are a great communicator. Why not try sales?' And that is exactly what I did."
Pivoting from PR to Sales
Pivoting into sales helped Kalyn better utilize the talents and skills she had acquired throughout her career.
"I think oftentimes we get set in stone only wanting to do one thing, but we all possess such unique talents and ideas that we can bring to any position," Kalyn advises.
Because of her flexibility, she continued to step outside of her comfort zone, which included the risky step of joining the Chicago Bulls' G League affiliate, the Windy City Bulls.
"Not many people raised their hands to join the G League," she shares. "I was often asked, 'Why would you leave the Bulls to go to the minor leagues?'"
But for Kalyn, career growth was at the front of her mind, so putting herself in a position where she knew she could learn more and be invested in the business proved to be the right move. Stepping into her new role with the G League helped her to gain leadership skills. With a small team of around 10 people, Kalyn noticed a need to add more diversity to the company.
"There weren't that many women when we first started the team," Kalyn shares. "I was the only woman on staff, and I made it my priority to hire more women."
Since then, equity and inclusion have been a top priority in Kalyn's career — a shared interest of her current employer, the NBA.
Taking Her Shot at the NBA
Kalyn's leadership skills and work with the G League in Chicago caught the attention of a mentor, Justin Gurney, Executive Vice President of Partner Success at FEVO.
"He thought I was doing a great job building Windy City's brand and shared that there was an opening within team marketing and business operations, and that I'd be a great fit," she shares.
After careful consideration, Kalyn accepted the position and made the move to New York to work for the NBA as part of its Team Marketing & Business Operations team under the direction of the highly-respected President of Team Marketing & Business Operations and Chief Innovation Officer Amy Brooks. A bulk of Kalyn's work involves being the liaison between sports teams and the league business.
"The NBA is the brand and teams are its entity," explains Kalyn "We serve as a consulting group where we bridge the gap between NBA business and the teams."
Her work also focuses on bringing in new fans.
"Some people may not be huge basketball fans, but we organize activations in arenas that might entice those individuals to come out to a game in the future," says Kalyn. "My goal is to create best practices around bringing fans into our facilities."
Working at the NBA has also provided Kalyn with a more diverse workspace.
"Right now, about 43 percent of our professionals at the NBA are women, that's the highest it's been in decades," says Kalyn.
Making an Impact with Dream in Color
Diversity and inclusion are big parts of the NBA's mission, which is why programs, such as Dream in Color, exist. Dream in Color celebrates and promotes the diverse talents of the NBA's Black employees through professional development initiatives and community service.
Kalyn was introduced to this group shortly after joining the League Office.
"I don't have any family in New York and didn't have a lot of friends on the east coast," she says. "Another mentor of mine, Mike Taylor [Associate Vice President at the NBA], suggested joining Dream in Color for the social aspect. It was my saving grace. Dream in Color was an opportunity for me to go to social events, but also network and have career discussions. It was an excellent way for me to get to know folks."
Beyond networking, Dream in Color supports social issues both in and outside of the company.
"All the societal issues that we face, Dream in Color taps into a lot of that," Kalyn explains. "I knew I wanted to be involved and make change across sports, which is what motivated me to become the co-chair of Dream in Color for the last two years."
And within that time, she has seen the organization expand and include ERGs focused on other groups of people.
"We have lots of different ERGs — there's NBA Pride, our Women's Network, Young Professionals," she elaborates. "For every demographic you can think of, we really are trying to create safe spaces for people and help them advance."
Advice on Creating a Well-Rounded Career
Kalyn has a passion for creating positive change both inside and outside of her work. For those looking to create a more rounded and expansive career, Kalyn offers this advice.
Give yourself grace. "Stretch yourself, but not too much. It is good to get involved in different initiatives, but don't forget to take care of yourself. Women are superheroes. It is important to give yourself some grace."
Volunteer in spaces you're curious about. "It doesn't mean that you have to take a full-time position or that you have to do something as a side hustle," Kalyn states. She recommends dabbling in different spaces and getting involved in conversations that will get you out of your comfort zone. "You never know what opportunities can come to you when you just raise your hand."
Allow yourself room to grow. "There's so much that we can explore and do. Try to tap into things that you don't normally do."
If you're looking to grow in company that believes in supporting its employees, both personally and professionally, check out the
open positions at the NBA.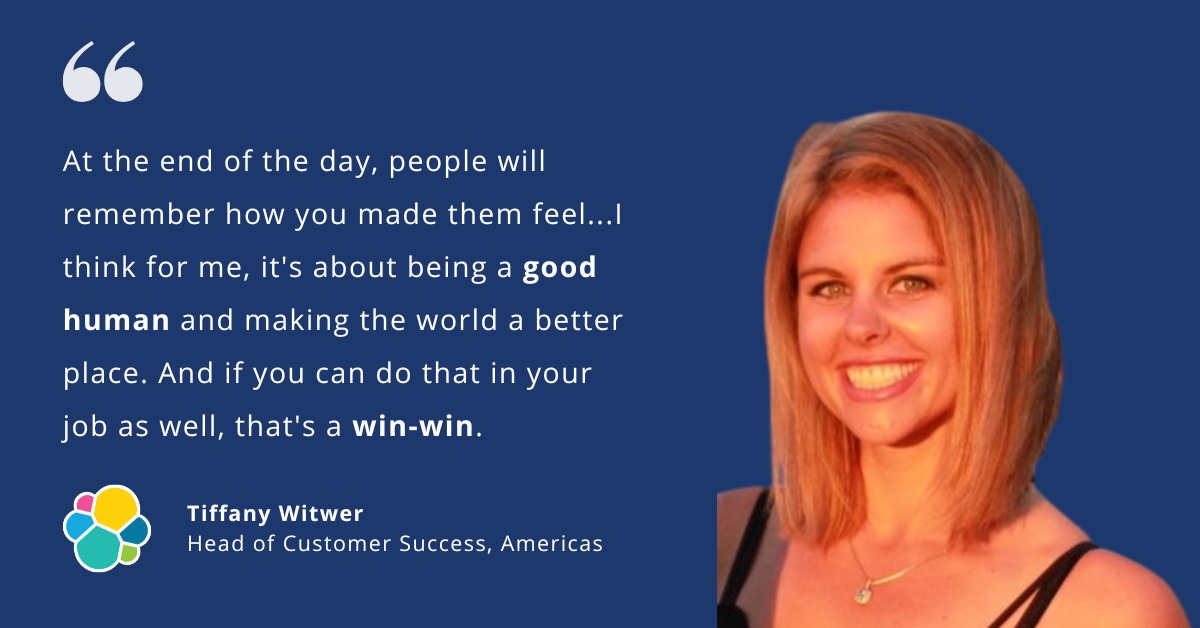 Elastic
Tiffany Witwer from Elastic is a proud mom of three.
"I enjoy being a parent because it teaches me patience and it gives me a different perspective," she shares. "It allows me to be more present, laugh more, and appreciate the small things."
In between her duties as a mom, she keeps herself mentally and physically healthy by running, biking, swimming, or doing yoga — all activities that help her start the day with gratitude. "It gives me the right perspective and attitude to go into the day," she says.
With an overall positive outlook on life, Tiffany brings that same energy to her customers at work as the Head of Customer Service for Elastic.
We sat down with Tiffany, who shared with us her career journey from civil engineering to customer service. Keep reading to learn top tips for creating happy customers.
Starting a Career in Engineering
Tiffany pursued an undergraduate degree in biological engineering.
"I was always really good at math and science, especially chemistry. And I love being outside in nature and learning about it," she shares.
It was a college professor's research on stormwater runoff that motivated her to pursue her master's degree in biological and civil engineering. "I liked his energy and attitude toward learning. It was contagious," she describes.
While working alongside this professor at North Carolina State University, she presented her work at a conference that helped lay the groundwork for her career. "I met a man who liked my presentation," she says, "and was hiring a civil engineer for a consulting company."
Taking on this new opportunity, she moved to New York City where she discovered her love of being surrounded by diverse people and cultures, in addition to her new job.
"I enjoyed doing the design work and meeting the customers," she explains. "I was always the one on the proposals, winning the design work, and building relationships with customers."
While emerging in the complex realm of storm waste engineering, Tiffany saw how the world was progressing and thought that knowing software and technology would be beneficial.
"So I learned to code, networked, and got a job at a business analytics and software company as a pre-sales systems engineer," Tiffany says.
Pivoting into a Customer Success Role
As she dedicated more time to customers, her interest in working with them soon began to increase. "What I loved most was that I was using my mind to solve problems, but I also got to interface with customers. I got to meet customers and hear what they were doing and hear how we could help them."
Tiffany spent 10 years in pre-sales engineering and sales. She then took a job in a different company where she helped build out their advisory services business.
It was there that she built a successful team with coworkers who would lead her to her position at Elastic.
Elastic is the leading platform for search-powered solutions. They help enhance customer and employee search experiences, keep mission-critical applications running smoothly, and protect against cyber threats.
As the Head of Customer Service, Tiffany is responsible for making sure customers are getting the most value out of their software. "It's not only about how customers are using the technology," she explains. "It's, 'how is a customer's experience with Elastic? Are we meeting their need for technology?' And, 'are we meeting their needs from a support and empathy standpoint?'"
In order to meet her customers' complex needs, she emphasizes how crucial communication is.
The Importance of Communication in Customer Success
Quality communication is a skill that can often be undervalued. "I think people underestimate how much time is needed for clear communication," she points out. "Just because you put a message out there, it doesn't mean it's clearly understood. You need to think through how people are going to respond to the information."
With the complexities of communication, Tiffany relies on setting clear intentions when communicating in meetings. "I always ask at the beginning, 'what is your goal for this meeting and what does success look like for you?'" she explains.
Communicating clearly what success looks like for both parties allows for a better outcome. "I think for communications, it's making a lot of time and clearly defining what you want to get out of the interaction."
Advice for Clear Communication with Customers
Tiffany's career journey has been a mixture of understanding technology and building relationships with people — learning how to explain the technology to customers and problem solve in an empathic way. This has led to overall customer success. To create clear communication, Tiffany offers this advice.
Be empathetic and listen to your customers: "If you think about it, you've been trained in your technology, you know it inside and out," she explains. "But when you meet with a customer, the technology may only be a small part of their job." Taking this perspective can help you to communicate with more empathy. "It's understanding people's vantage point and then using that to communicate to them."
Defining success and clearly communicating it: "I'm a strong believer in getting on calls and confirming the goals and what people want to get out of the call," Tiffany shares. "This way, you know, you are aligned on what success is no matter what type of call."
Be genuine: "At the end of the day, people will remember how you made them feel," she shares. "I think for me, it's about being a good human and making the world a better place. And if you can do that in your job as well, that's a win-win."
Get to know people: "Getting to know people, their perspectives, and growing with them is what has led me to customer success and to where I am in my career," Tiffany advises.
If you're looking to build valuable work relationships alongside your career, check out the openings at
Elastic
!
READ MORE AND DISCUSS
Show less
Loading...