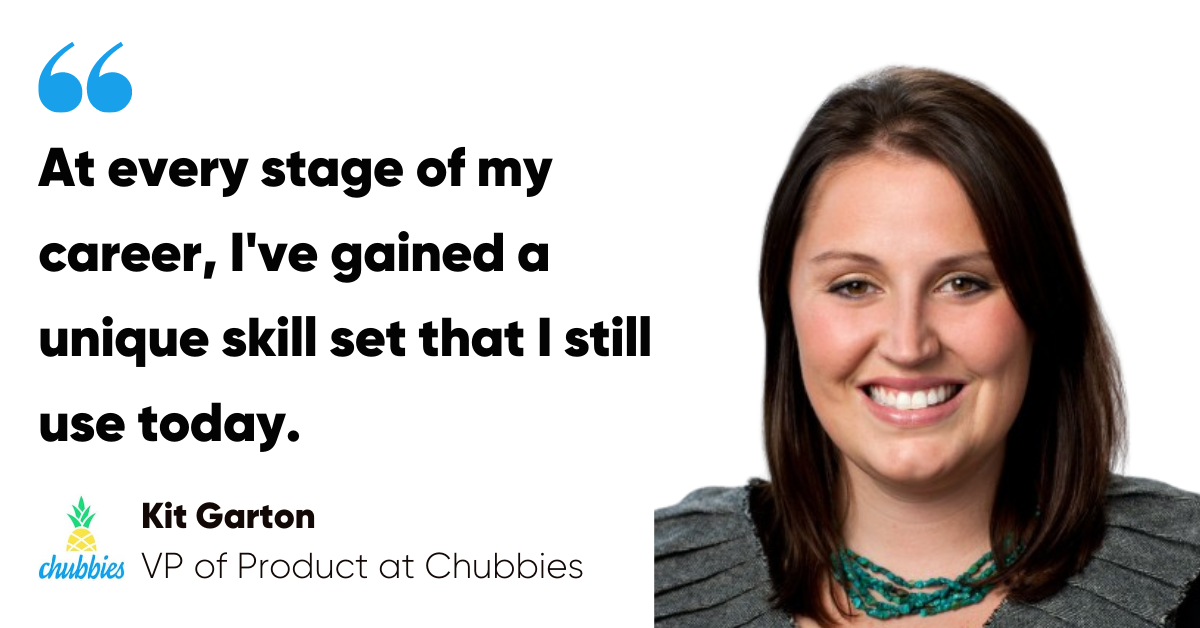 Chubbies
Bringing people together around the table is one of Kit Garton's favorite ways to spend time.

"Meals are a really special time for connections," she explains. "Cooking, eating, trying new restaurants or new cuisines—sharing a meal is my favorite way to get to know someone."
---
The VP of Product at apparel company Chubbies says she especially likes the way that breaking bread together gives people from different backgrounds a common space to connect and share stories.
She has a penchant for making the most of an interdisciplinary approach. When studying at Stanford, she started off on a pre-med track before Intro to Human Anatomy derailed her. "It completely ended my aspiration! I could not hang," says Kit, laughing. She switched to human biology, which she explains "sits at the intersection of biology, psychology, and sociology," and studied decision-making and development.
Years later, her interdisciplinary background would find her perfectly suited to lead the product team at a weekend-obsessed brand known for perfecting shorts.
Read on for Kit's insight about switching functional areas, making the most of a diverse team with different identities, and building the exact career you want.
Service-Driven Marketing
Kit's path to product leadership wasn't a typical one.
Technically, Kit's first full-time job after college did deal with products, but specifically the kind you might see in the grocery store: she worked for a PR agency on consumer packaged goods accounts.
Planning events, creating marketing moments, and running campaigns taught Kit a lot, she says, including that she loved thinking about her work with the end consumer in mind. "I'm a people person, and I love making people happy," she says. "I started to see marketing as a way to connect consumers to something that might bring them joy or help them."
She also loved how quantifiable the work was. "I am someone whose performance is pretty driven from data and analytics," she says of her affinity for chasing metrics and using data to inform her next campaign.
But being spread across four or five accounts made Kit feel like she couldn't channel her creativity in the most effective way, so she started looking for a singular brand vision she could get behind.
Enter Chubbies.
She'd gone to college with the founders and had followed the brand since its launch. "No one at that time was creating clothes for young men, no one was marketing towards that," she says. "I thought that was unique and cool, but it never occurred to me that they would be hiring."
She checked, and they were: a role in PR and events. She applied, got an offer, and took a major leap to join them.
Kit was sure about the brand itself. "They were all about the weekend, and it felt like a fun and unique story I could tell really easily," she says.
But she wasn't so sure about the career change. "I was leaving a pretty established corporate job that had 401ks and management trainings," remembers Kit. "And when I started at Chubbies, I was reading over the job offer and said, 'I didn't notice a section about healthcare.' And they were like, 'We don't have healthcare, but we do provide lunch and Clif bars.'"
She had a bit of runway left on her parents' insurance, though, and decided to make the most of a big marketing role at a new startup. Her first few months were spent working at her desk for seven hours a day, then heading down to the warehouse to pack boxes for an hour or two.
"We were growing so fast, and we were so new, that we had hard times guessing when the demand for our shipments would arrive," explains Kit. She'd go home with hands stained blue from the boxes, and show up the next day to start again.
A Three-Point Approach to Switching Functional Areas
Kit started in a pure PR role, but she didn't stay there. She wanted to stretch her skill set by applying it to product marketing campaigns, so she asked to take on the project management of Chubbies' Black Friday and Cyber Monday promotions.
That's her first lesson for anyone else looking to do the same: 1) Ask to take on what you're interested in.
Her boss said yes, and those campaigns went well. The cross-departmental coordination required to align departments and vendors on a common goal excited Kit, and when Chubbies' email manager said he was planning to leave the company, Kit stepped in to cover the role and help in searching for a full-time replacement.
After interviewing several candidates, Kit thought she could be that full-time replacement, and asked to take on emails full-time. Once again, she got a yes, leading to her second lesson: 2) Don't be afraid to grow your scope.
Kit became the senior marketing manager of earned media, which had her managing Chubbies' influencer program, retention, and email marketing. She had no formal education in those fields, but was able to take on those new tasks by soaking up everything from those around her and embracing self-study.
Then came lesson three: 3) Be excellent and opportunities will follow.
Chubbies' founders saw what Kit was doing with email marketing and asked if she'd apply her then-trademark customer-focused, data-driven approach to the product team as the director of merchandise planning. She said yes.
"I didn't hesitate. Fashion has always been a secret passion of mine," she says.
Her current role as VP of product came after a successful stint in merchandising, and it has her overseeing design and digital merchandising, from setting the strategy to managing a team of about 15 people across three departments.
Thinking About Identity in Product
When she was a marketer, it was natural to use diverse models to showcase products and inclusivity.. But now that she's in charge of figuring out the future of Chubbies' signature shorts (and other apparel and products), Kit has started to think about how she can stay focused on all of Chubbies' different customers.
She used to wonder if she was missing out on something by being a woman working on a clothing brand worn primarily by men. Then she learned to see it as a strength. "A mentor told me it was actually a huge positive, because the decisions that I make are not because of how I feel about something—it's all because of data," she says.
What she's learned lately is that there are multiple places that valuable data comes from. It turns out that a lot of women and nonbinary people wear Chubbies' shorts, says Kit. Kit regularly solicits feedback from a diverse range of buyers so that she can better understand the why behind their purchasing decisions and make sure that Chubbies' products keep evolving to meet their needs.
"Even though we're so much bigger, I still get to have personal interactions all the time," she says. "Our customer base is just as passionate today as they were nine years ago [when I joined]. They're almost more surprised now when they hear from me, like, 'Wait, you're a real person?' And I'll be like, 'Yeah, we could set up a Zoom and you could give me this feedback while seeing my face!'"
Something from Everything
Reflecting on her career, Kit sees her path from PR to marketing to product as a feature, not a bug. "At every stage of my career, I've gained a unique skill set that I still use today," she explains.
From event production, she learned how to deliver during crunch times and manage people. When running email campaigns, she figured out how to collaborate cross-functionally and always assume positive intent. From the shift to product, she learned about the importance of data analysis and understanding the customer perspective.
She can go all the way back to her first jobs and do the same thing. "I'm a confident public speaker because I worked as a campus tour guide in college," she says. Reflecting on her time as a waitress, working to create the dining experiences she so enjoys today, she adds: "I developed people and time management skills there."
"Every job is worthy and has a transferable and valuable skill set," says Kit. "Opportunity is out there, but you can't just sit back and wait for it—many times you have to create it for yourself."
Want to create your next opportunity at Chubbies? Check out their open roles!
Related Articles Around the Web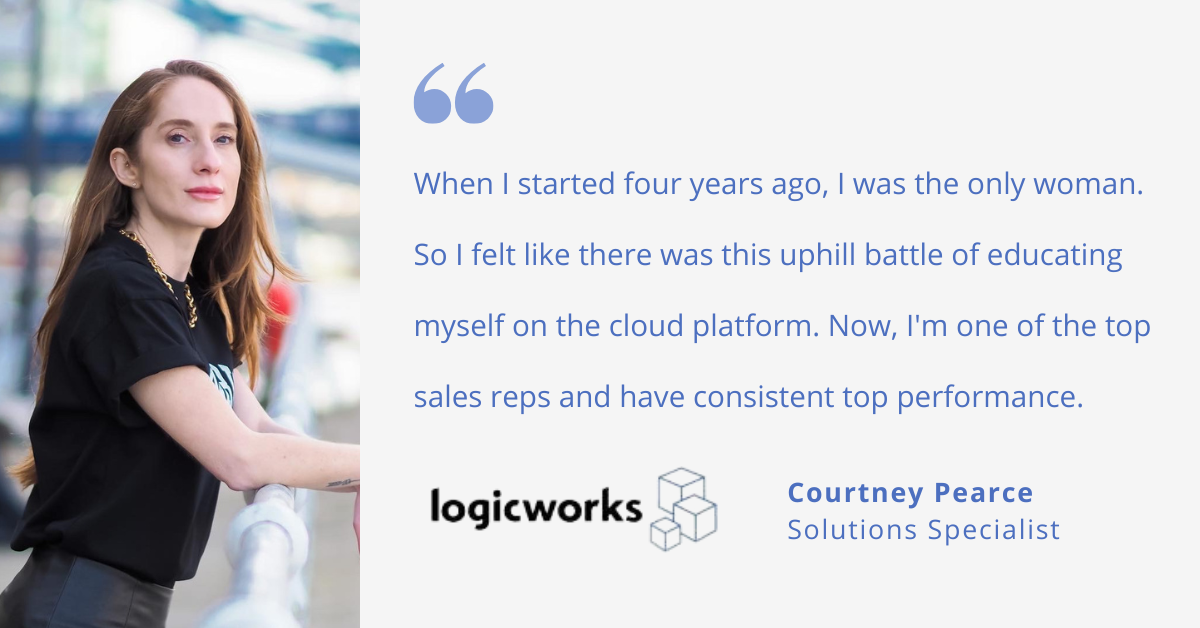 Logicworks
Courtney Pearce's background isn't one you'd expect to find in a tech sales position. But as a motivated self-starter, it makes all the sense in the world that she's been so successful in her role as Solutions Specialist at Logicworks.
If you ask her what she's most proud of about her time so far at Logicworks, she'll say her growth over the last four years.
"Even though I came from a technology company that was selling software, selling infrastructure and infrastructure managed services is very different. There was a learning curve. And when I started four years ago, I was the only woman. So I felt like there was this uphill battle of educating myself on the cloud platform. Now, I'm one of the top sales reps and have consistent top performance. So I'm most proud of my growth over the last four years."
Courtney has a lot of wisdom to impart to those interested in taking on the sales side of tech. We sat down with her to learn more about how she broke into the tech world by utilizing her retail experience.
An Unexpected Path Into Sales
Courtney started college as an Orthodontics major but eventually realized that science wasn't her calling.
"Although I'm a great student, science and math were difficult subjects for me," she admits. "I ended up taking a random textile and clothing elective and it was my favorite class."
She enjoyed the breadth of the program and decided to become a Textiles and Clothing major.
"You got the opportunity to learn the sociology behind why people wear clothes, the chemistry behind dying, how to make fabric, then creating a line from start to finish and marketing that to the class," she shares.
Although fascinated by the program, her career journey didn't lead her to the fashion industry but rather to an adjacent career in retail.
"I ended up accepting a leadership position for a big box department store," she says. "At 23 years old, I ran a 35 million dollar store. It was a great experience and I learned a lot."
After two years of working in retail for various name brands, she found her way into a tech company through a recruitment role.
Breaking Into the Tech World
While Courtney was working at a recruiting firm, she was approached by a security tech company with a position as a technical recruiter. She was interested in the role and applied, but didn't get an immediate response.
"I didn't hear back, but continued to follow up," she recounts. "One night, I got a phone call that said, 'You're not a good fit for the technical recruiter role, but we have this new group that we're building out called business development and they're working directly with sales. Based on your experience and the fact that you're willing to follow up, we think you'd be a great fit'."
At the time Courtney knew nothing about the tech space but that didn't stop her from interviewing for the position.
"I spent an entire week browsing the website, watching all their product marketing videos, and tried to wrap my head around what this security company did," she explains.
During the interview, she blew them away with her knowledge of the company.
"I gave my five-minute spiel and I think that impressed them," Courtney shares. "I had taken the time to research the company, and not having had a tech background, I tried to comprehend what they do."
Hired as a business development rep, she had the opportunity to build the team from the ground up.
Reaching New Heights at Logicworks
Courtney continued to rise in the ranks, but she eventually felt that she had hit a plateau. With a desire to try out something new, she looked to Logicworks who offered her the career advancement she was looking for.
"I had reached my potential with my previous employer. There wasn't anything new for me to learn. I wanted to figure out what was next in my career. There was an opening at Logicworks for a Solution Specialist to be based in Boston. That was enticing for me."
When Courtney moved to Logicworks she was able to explore job autonomy.
"It gave me the opportunity to move into a territory that I'd been working in for many years, but also run that territory like my own business," she explains. "There was nobody else working within that space, and I could create the process that I wanted to."
Now at Logicworks, she experiences the constant changes of a cloud system.
"I'm constantly learning," she shares. "We're constantly evolving our services, what products we're providing, and how our services are integrated as the cloud is maturing. It keeps me interested every single day."
Now as a sales lead, Courtney focuses on building relationships with current and potential clients.
Coincidentally, the relationship-building skills that Courtney uses on a daily basis come from her experience in retail.
"I think coming from retail, you have to be able to talk to anyone," she says. "You're getting a lot of different customer personalities, so it allows me to be comfortable talking to strangers, which I think is key in sales."
Along with sales experience, Courtney's internal drive has been key in propelling her forward.
"Being a self-starter and watching YouTube videos on what the cloud is, what AWS is, and taking that time on my own to learn and absorb as much as I can are, at the end of the day, the kinds of things that you can prepare you to enter the tech space," she explains.
Ultimately, it was the skills she learned in retail and her self-taught understanding of tech that have led to her success.
Advice for Entering the Tech World Through Sales
If you're looking to enter the tech world from a sales angle, Courtney offers this advice:
Find companies that resonate with your values. "Whether you like their product and think that product is solving a pain point in the marketplace, or you align with the company's values, work for a company whose mission you support," Courtney advises.
Be pleasantly persistent. "The biggest thing that helped me was when I reached out and nobody responded, and then I followed up and nobody responded, and then I followed up again and they called me. Being pleasantly persistent shows that you're interested and invested in the organization," she explains.
Do your research. "Take the time to figure out what the company does and what they are all about. Educate yourself above and beyond the basic training material to ensure that you have the right knowledge base to be successful in the role."
If you are looking to grow within the tech space, check out
these open positions at Logicworks
.
READ MORE AND DISCUSS
Show less
Loading...