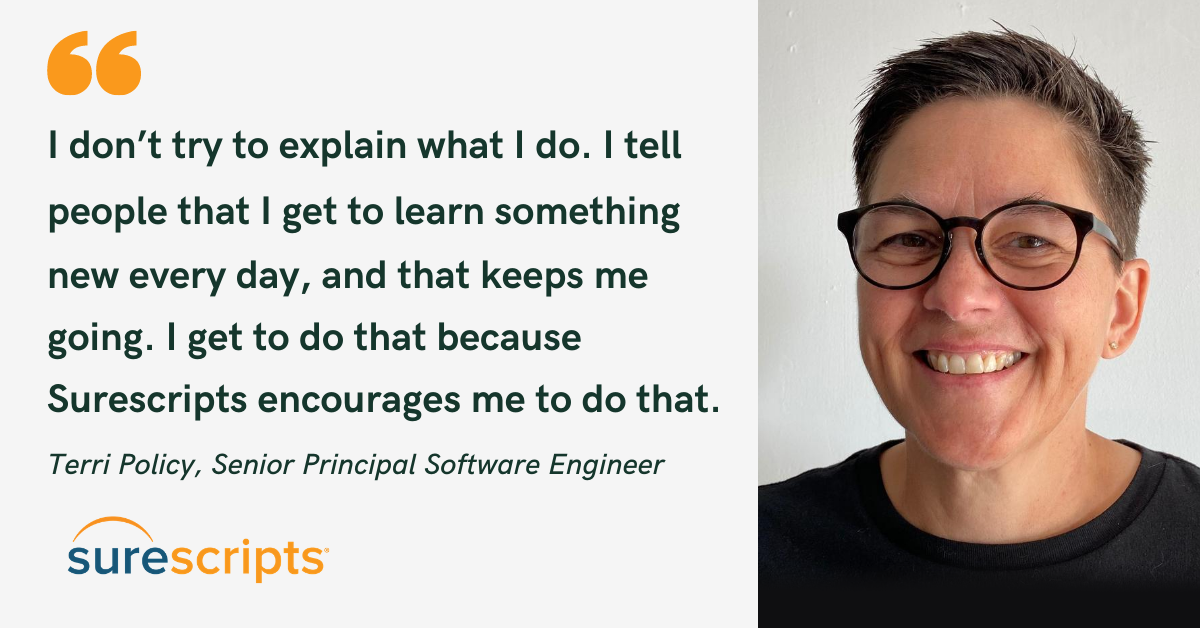 Surescripts LLC
A Conversation with Surescripts' Terri Policy
If evening is rolling around and Terri Policy hasn't yet met her step goal, her Apple Watch dings at her. "I get this little cheering on at the end of the day saying to me, 'You can still do it!' And I think, of course I can still do it. I don't need those little pats on the back to meet my goals, particularly when it is something that is important to me," says Terri.
---
Terri is intrinsically motivated, as you may have figured out, which means she does the things she does without needing or expecting external rewards or validation—not even from Siri.
Terri is a Senior Principal Software Engineer at Surescripts, an organization that has been building a health information network designed to increase safety, lower costs, and improve quality since 2001. She has worked there for the last ten years. And while Terri likes the fact that she gets paid to work there, her salary isn't the thing that gets her out of bed in the morning. It's her passion for software development and diving into code that does that.
We sat down with Terri to talk about how to identify your passion, what intrinsic motivation at work looks like over time, and how Surescripts has fostered an environment of constant learning and curiosity that enables employees to have long careers full of personal and professional evolution.
First, work to identify your passion
In high school, Terri was fortunate that her math teacher acquired a hard to come by and cutting-edge Digital Equipment Corporation computer. Her teacher offered a computer science course which was also unique to that time in technology advancement. She jumped at the chance to sign up for the course. And there has been no looking back for her since.
"It was like a light bulb. I never wanted to do anything else," says Terri, who majored in computer science in college. "I've been incredibly fortunate to have found jobs throughout my career where I get to do heads down software development."
While Terri figured out what kind of work she loved pretty early on, that doesn't mean that every job she ever did was perfect for her. When she had jobs that didn't quite click with her interests, Terri went out and found something that did, and she thinks her approach may work for people struggling to connect with their work. "At one organization, when I realized that [my job] wasn't in my wheelhouse, I looked around and found a group of people that were doing something way more interesting," says Terri, "and I contacted the tech lead directly and let them know that I was really interested in the work that they were doing and inquired about their job openings. I made the connection and was hired to join the team. Sometimes going directly to the hiring manager works, sometimes it doesn't but I was lucky that it worked in this case.
She encourages other women looking for their passion to be equally relentless in seeking it out. "Nobody's going to come and yank you out of your seat and say, 'This is really where you should be' because nobody else really knows what you want to do – only you do. You have to do it yourself. You have to find your own path," she says.
Understand that intrinsic motivation at work is what leads to a long, meaningful career
Terri's passion for software development and opportunities to do the kind of work she is interested in is what has kept her excited to keep showing up to work for the last ten years at Surescripts.
Not everyone has that intrinsic motivation, she notes. This can lead to lots of jumping around over the course of a career, seeking a perfect set of external rewards, like salary and recognition, that may not exist or be fulfilling long term. "There can be a perception that if you want to rise, you can't stay anywhere more than maybe two or three years. And I do not hold that view. For me I find it to be a shortsighted view of a long-term career," says Terri. "There's value in getting experiences at multiple places, but there's also a great deal of value in staying put."
"If all that motivates you is something outside of you, you may always be chasing the next thing because it is generally a fleeting moment, that sense of reward," she adds. She encourages others to find an employer that has a purpose that speaks to you and people that you can relate with. Ask questions when interviewing about internal job movement. Money and title can be important, but it isn't everything.
Make sure you're in an environment that celebrates continuous learning
Terri and her wife have two daughters, and their neighbors have a daughter who is the same age as their eldest and is often at their house. One day, the neighbor's daughter asked Terri what she did for work.
"I didn't try to explain what I do. What I said was that I get to learn something new every day, and that keeps me going," remembers Terri. "I get to do that because Surescripts encourages me to do that." This point is what I value and wanted to convey to this child.
Surescripts gives employees the freedom and resources to identify new areas of study and to dive into them, including by sponsoring employees to go to tech conferences every other year and giving every staff member a Pluralsight license to pursue training programs of interest to them.
"We build large-scale software, and it's complex," says Terri. "It keeps you thinking, it keeps you sharp, and gives you the ability to continue to do deep dives into the technology. That, combined with the ability to learn something new every day and the encouragement I get from the company to constantly learn, those are the things that have kept me at Surescripts."
She encourages junior engineers to find their own intrinsic motivation at work by fostering their sense of curiosity and always being willing to learn. "If you're new, either to a company or your profession, you don't even know what you don't know," she says. Take notes as you are learning, show initiative, go above and beyond. You may end up excelling in your new role or finding that you have passion for another. Another important piece of advice to remember while going through your career, is that "it isn't all about being right. It's about cooperating and being respectful and realizing that other people come at their thought processes from different experiences, origins and perspectives." These perspectives are what brings about awesome ideas and the best products.
It may take some time to find what you love but listen to your inner voice and follow it. Don't be afraid to go after what you want. Ask questions. Show your interest. Provide value to your employer and continually learn no matter what stage of your career you are in. Do your best to take personal ownership for your career but also build relationships along the way so you can find mentors and people who will help advocate for you. This approach has served me well.
If you're interested in working at Surescripts, check out their open roles here.
From Your Site Articles
Related Articles Around the Web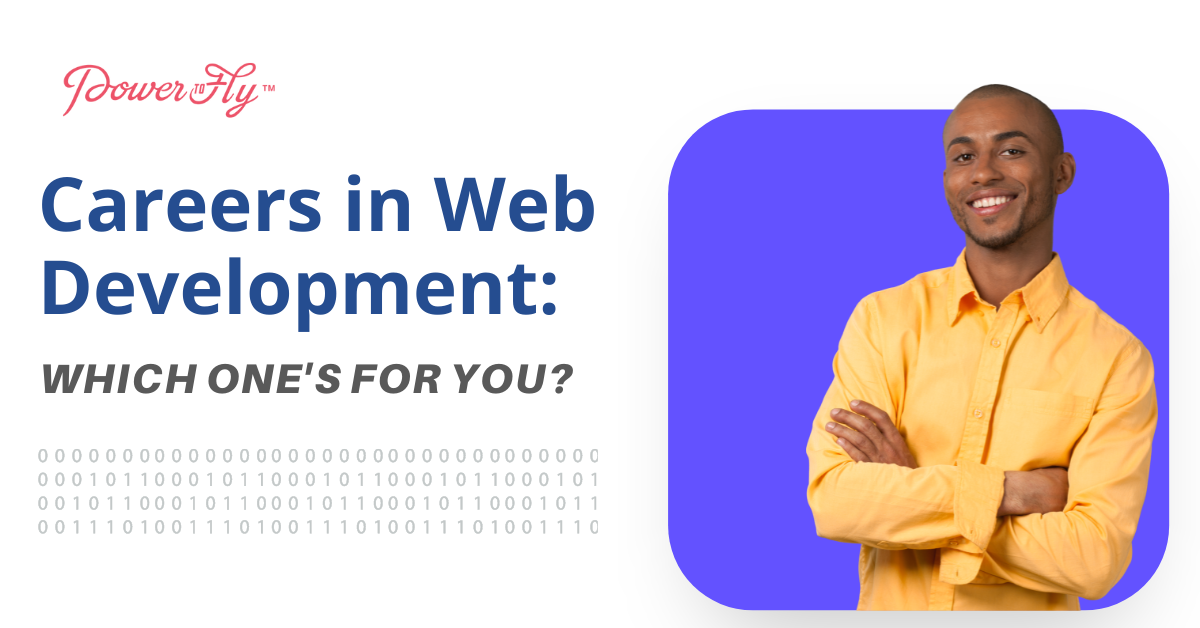 Upskilling and Development
We all have our favorite websites– the ones we frequent, bookmark, and recommend to others. You might even enjoy some website features so much that you've found yourself wondering why they aren't more popular. Or maybe you've experienced times where you were frustrated with a website and wished you could add features or even design your own!
If you've ever found yourself intrigued at the prospect of designing and developing your own websites, then a career as a web developer might be just for you!
As a web developer you would be responsible for coding, designing, optimizing, and maintaining websites. Today, there are over 1.7 billion websites in the world and, in turn, the demand for web developers is on the rise. In order to figure out what kind of web development work best suits you let's start with an introduction to the three main roles in web development that you can choose from.
The Three Types of Web Development Jobs
Front-End Web Development: The Creative Side
Think of front-end development as the décor of a house. The color scheme, furniture, manicured lawns, and overall aesthetic. In terms of a website, front-end development is laser-focused on the appearance of a website and its presentation on different devices. If you're considering a role in front-end development, it's important to learn programming languages such as HTML, CSS, and JavaScript. These three languages go hand-in-hand. HTML allows you to create user interface elements, CSS helps you with stylistic elements, and JavaScript allows you to incorporate online tools and connect your website to back-end functions.
In addition to programming skills, front-end developers need to be detail oriented, creative, willing to keep up with the latest trends in web development, cyber security conscious, and geared toward user-friendly designs. The median salary for a front-end developer can reach well into the $90,000 to $100,000 range.
Back-End Web Development: The Logical Counterpart
While a house can be beautifully decorated, it's incomplete without a solid foundation and efficient infrastructure. Similarly, a well-designed website depends on logical and functional code to power the features of that website. Back-end web development is code-heavy and focused on the specifics of how a website works. If you enjoy the analytical challenge of creating the behind-the-scenes code that powers a website, then back-end development is for you.
Since this role is more code-heavy, it's important that you learn numerous programming languages and understand algorithms and data structures. Some languages that are essential to back-end development are Ruby, Python, SQL, and JavaScript. Back-end developers also ensure that users can successfully retrieve and access data. This requires creating and using APIs (Application Programming Interfaces) which act as messengers that relay data related requests. Additionally, developing the code for the inner workings of a website also requires back-end developers to be conscious of the user interface features designed by front-end developers and to internally mitigate potential security risks. Due to the increased technical aspect of this position, back-end developers normally earn higher salaries than front-end developers. The average median salary for this role is around $118,000 per year.
Full-Stack Web Development: A Little Bit of Everything
A full-stack developer is essentially the Jack (or Jill)-of-all-trades in web development. Full-stack developers need to be knowledgeable about both front-end and back-end roles. This does not necessarily imply that you would need to be an expert in both roles, but you should fully understand the different applications and synergies they each imply. In order to work in this position, you will need to know the programming languages used by front-end and back-end developers. In addition to these languages, full-stack developers also specialize in databases, storage, HTTP, REST, and web architecture.
Full-stack developers are often required to act as liaisons between front-end and back-end developers. Full-stack developers need to be both problem solvers and great communicators. The end goal for a full-stack developer is to ensure that the user's experience is seamless, both on the front-end and on the back-end. In return, you can expect to earn a median salary of $100,000 – $115,000 a year for this role.
Taking the Next Step
Web development is both in-demand and lucrative! All three roles described above contribute to specific aspects of web development and the scope of each one can be customized to the industries and positions you feel best suit you. Regardless of which role you choose, all of them need a foundation in programming.
To gain the programming skills needed in each role, you can enroll in courses or learn independently. Coding bootcamps are a great way to boost your skillset quickly and efficiently.
Click here for some of our highly rated programming bootcamp options! Make sure to check out the discounts available to PowerToFly members.
READ MORE AND DISCUSS
Show less
Loading...