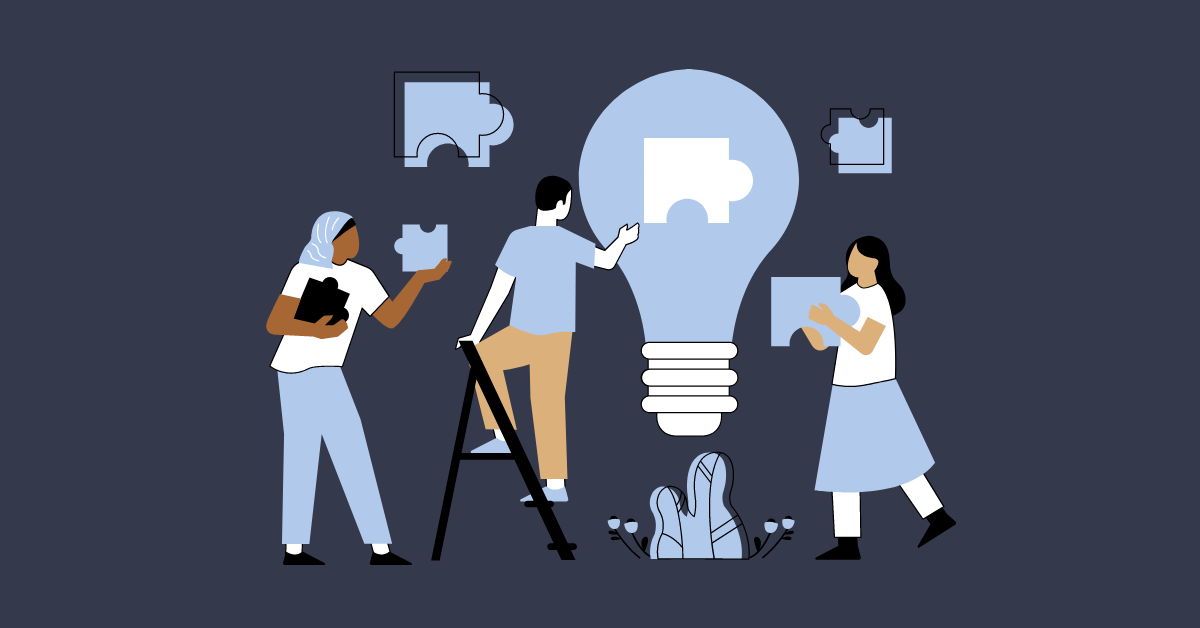 Landing a New Job
It's almost become cliche by this point — you need a job to get experience, but you can't get a job without experience. I discovered that first-hand myself this year as I was wrapping up my freshman year of college. I struggled to find an internship because of my limited coursework and experience in my fields of interest — computer science.
Even though I successfully leveraged my transferable skills such as leadership and problem solving to land a marketing internship at PowerToFly this summer, not all of my friends have been so lucky.
My friend Annabel French also just finished her freshman year of college, and was having difficulty figuring out how to get an internship with no experience.
Annabel has been interested in engineering ever since she started spending time in her father's office as a kid. She would watch his colleagues go back and forth as they designed models of wheelchairs that could be used in cities. Often, she felt an urge to interrupt and express her opinion. She loved the problem-solving process of her father's job as an engineer.
She wanted to get an internship in engineering this summer, but didn't think she was qualified because she has, in her words, "no relevant experience." To earn money growing up, Annabel raked neighbors' leaves in the fall, shoveled snow in the winter, and mowed lawns in the spring. She also spent time working at a restaurant. These jobs taught her a lot about responsibility, teamwork, and communication, but she's convinced they won't help her achieve her goal of trying out engineering. Not so fast, Annabel.
So how can she get an internship with no experience?
Read on for five key steps that Annabel – and you! – can follow to land your dream internship with no experience.
Key One: Think about what interests you.
Annabel has always loved her logic classes, so she wants to find an internship that exercises the same parts of her brain. Even though she hasn't completed the coursework needed to become an engineer, she can still apply for jobs that are focused on problem solving, such as a worker at an IT help desk, events planner, or operations assistant.
To identify what internships might interest you, consider the following:
Which classes do you like most at school?
What would you like to learn more about?
What are things you can't stand?
What companies intrigue you?
Exercise: You can set a timer for 2 minutes and make a T chart with companies you would and wouldn't like to work for. Categorize each company you think of on one side of the chart or the other. Afterwards, review the chart. What do the companies you would like to work for have in common? What about those you wouldn't?
Key Two: Build a strong resume.
Identifying and amplifying transferable skills is an essential part of getting an internship with no experience. Annabel worked as a hostess at a restaurant, so on her resume she chose to highlight her leadership skills that would be beneficial as an engineer.
Consider this if you have ever worked as a:
"Successfully arranged private parties to give members exceptional experiences"
"Designed creative games for the children to have fun while learning"
Exercise: Both these examples follow the APR (Action, Project, Result)
Action: Arranged
Project: Private Parties
Result: to give members exceptional experiences
Think of a list of relevant action words and give the APR solution a try!
Key Three: Network!
Annabel told EVERYONE she knew that she was looking for work. She spoke to her neighbors from the dog park, told her parents' friends, and mentioned it to professors and classmates. In addition to that, asking to shadow people is a great way to understand what it's like to work in a certain field, and most people are more than happy to talk about their work. Annabel could, for instance, ask her dad's colleagues if she can work alongside them for a day.
To recap, here are three effective ways to network:
Tell teachers, friends, your parents' friends, your neighbors, etc., that you're looking for work
Post on LinkedIn
Ask to shadow
Exercise: Create and practice a 30-second elevator pitch that you would say to other people to help them understand who you are, what you like doing, how you do it, and how the results of your work make you unique. Don't undersell yourself!
Key Four: Apply.
After networking, Annabel heard about a job in a furniture showroom from a family member and decided to apply. Though the application said "Cover Letter Optional," she decided to write one to elaborate on the skills highlighted on her resume and demonstrate why she would be a great addition to their team. This also gave her a leg up from the other applicants who did not write one.
Key Five: Practice for the interview.
Once Annabel got an offer for an interview, she prepared by practicing questions with her friends. While answering questions, it is important to use specifics and provide interviewers with detailed situations that you dealt with. You can use the STAR method to assist you with this. Remember that though you are new to the workforce, employers wouldn't have invited you to the interview if they didn't think you could potentially be good for the job. That said, be confident!
After the interview, always remember to send a thank you note, and you can even highlight specific parts of the conversation that stuck with you.
Though Annabel had no experience in the workforce, going through the five steps for how to get an internship with no experience helped her get one at the furniture showroom. If you are still struggling with how to get an internship with no experience, you can explore great resources that PowerToFly offers, like the Early Career Connections September Summit or a Virtual Job Fair.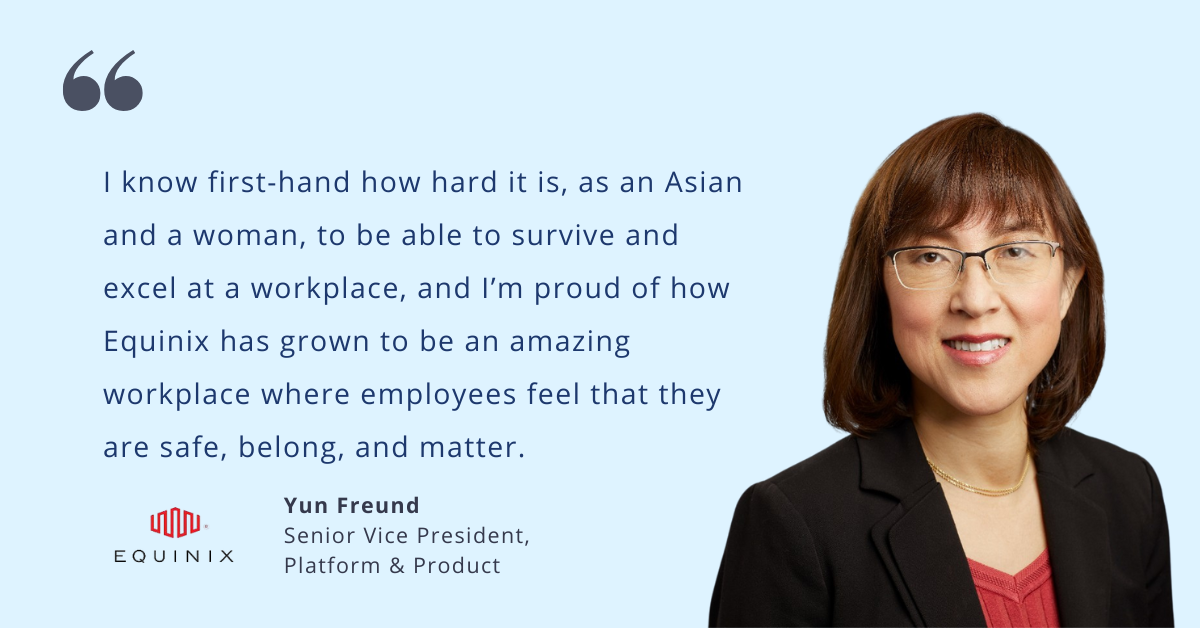 Equinix
Yun Freund considers her background to form the "typical immigrant story" — but sitting down with the SVP of Platform and Product at Equinix, it's clear she's made it her own.
"I came to the United States about 30 years ago with $80 in my pocket. I earned a CS degree from a Beijing university when computer science was new. I was good at math, so that's what I studied," explains Yun.
Fast forward a few decades, and Yun is now running one of the largest organizations at Equinix, a Fortune 500 digital infrastructure company focused on providing an interconnected platform to its global 10k customers. While focusing on external growth — the business has grown nearly 40% since her arrival — Yun has also invested in internal progress, especially when it comes to Equinix's Diversity, Inclusion, and Belonging (DIB) goals.
"I know first-hand how hard it is, as an Asian and a woman, to be able to survive and excel at a workplace, and I'm proud of how Equinix has grown to be an amazing workplace where employees feel that they are safe, belong, and matter," says Yun.
That's not just her opinion. Glassdoor confirms this, having given the company a "best place to work" distinction in 2021, and a special award for best places to work for LGBTQ+ equality list by the Human Rights Campaign Foundation.
We were excited to learn more about Yun's strategies for empowering her team — including her belief that making room for failure is just as important as celebrating success.
The Intersection of Technological Innovation and People Management
Yun first heard about Equinix through a recruiter. Decades into her career in tech leadership, she was looking for a role where she could drive innovation in both technology and people management.
"After many rounds of discussion with our executives, I realized Equinix is a company that's full of potential. It was doing a lot of innovation on interconnected SaaS products and networking products, and I thought I could really help drive, from a culture and process perspective, the company's digital transformation journey," reflects Yun.
Her first order of business? Building a strategy for scaling product development. Yun had long worked at the intersection of engineering and people management, and she embraced the challenge to scale a talent strategy as well as changing the culture.
That resulted in clear growth — not just for Yun's career, as in promotions and new responsibilities, but also in what the company was able to do.
"Helping to cultivate a DevOps culture, move products to the Cloud for high reliability and availability, and build operational excellence for our customers is contributing to us fulfilling our purpose, which is to be the platform where the world comes together, enabling the innovations that enrich our work, life and planet," says Yun.
Diverse Ways of Measuring Impact
Yun doesn't manage her team by the balance sheet alone.
"Improving the bottom line, or operating more efficiently, is just as important as improving the top line, or driving more revenue and more customer adoption," she says. "Sometimes it's not about how we get new products and services out the door, but how we run things more efficiently."
For Equinix, says Yun, that includes committing to becoming carbon-neutral by 2030.
"We're a company that really touches life every day, from online shopping, to sending emails and streaming movies, to smart cars," says Yun. "We want to be doing that sustainably. For example, by using AI and machine learning to lower our power consumption and using green sources of energy."
Yun knows that to drive the most impact, Equinix needs a diverse team. She has partnered with other senior leaders and employee connection groups and started driving a more coherent DIB strategy across the company. She is excited to see the progress and wants to continue the effort in building a diverse and safe workplace for everyone — including by leading through her own example.
3 Key Ways to Empower Your Team
When Yun says that it's important to empower your team, she doesn't mean that you simply transfer the responsibility to your team and call it done. Here's what she does mean:
Embrace failure. "It's easy to say, 'Ah, empowerment. Here's the purpose, go drive impact.' But sometimes it's not all rosy," she says. "The road to empowerment can sometimes be a failure. How do you support your employees along the way? When they fail, you should not blame them. You should be there, on their side, to help them do a retrospective and learn from it."
Show trust via delegation. "Giving your team the opportunity to make their own decisions helps give them a purpose. It shows them they can make a difference. Accountability and ownership will help drive your team to have deeper engagement and commitments, and ultimately deliver results."
Tie individual responsibilities to company OKRs (Objectives, Key Results). "I always communicate to my team that every engineer and individual contributor's work will have an impact on the business, no matter how small that is," says Yun. For example, if an engineer is working on a new digital experience component for the customers, their work will contribute to some kind of business outcome such as, hours saved from many customer support calls or customer satisfaction score improvement, and that in turn drives operational efficiency and customer experience improvement for the whole business. "When employees realize their impact on the business, it elevates their motivation as well as their state of mind."
Looking to join an empowerment-first culture? Check out Equinix's open roles!
READ MORE AND DISCUSS
Show less
Loading...