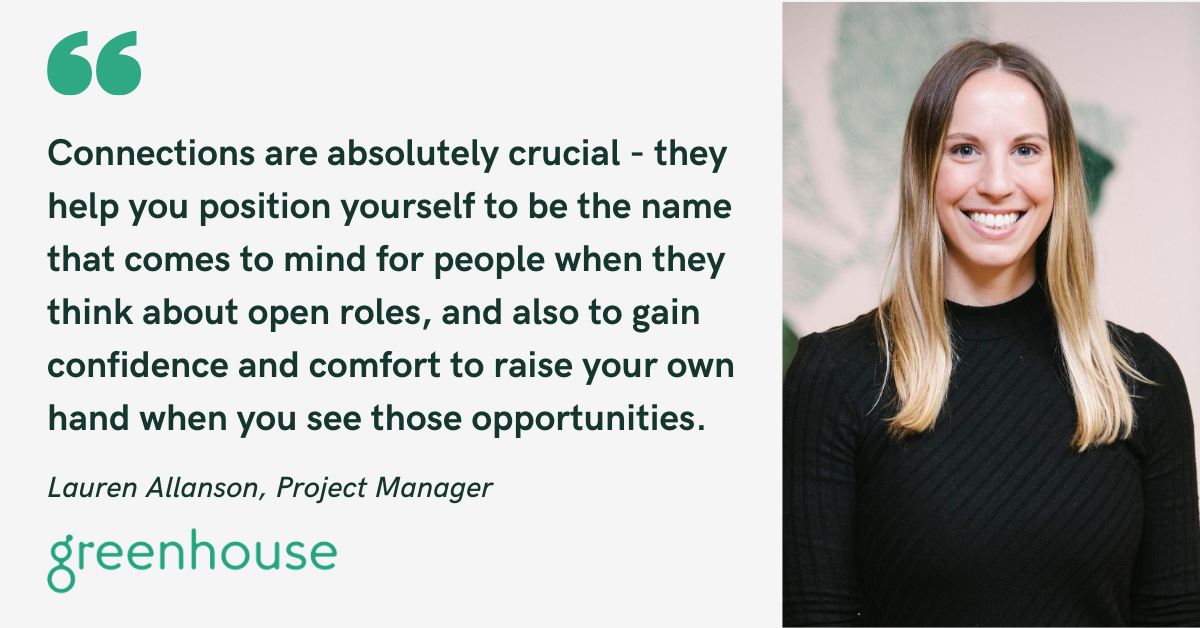 Greenhouse Software
Lauren Allanson has had three jobs in five years and hasn't had to move offices once.

That's because all of her recent career changes have been at Greenhouse, the hiring software company, headquartered in New York. Lauren began working there as a recruiter, then moved into product management before becoming a project manager.
---
We sat down with Lauren, who's now working remotely from her home state of California to discuss her career path, how Greenhouse supports her growth and what insights others can learn from her experience.
Finding her own path
Lauren first joined Greenhouse as a technical recruiter. While hiring for these roles, she interviewed hundreds of engineers, collaborated with engineering leaders and grew a deep understanding of the Greenhouse mission of helping companies become great at hiring.
After two years in recruiting, her firsthand experience with the Greenhouse product and deep understanding of recruiters and other individuals who use it made her a great candidate for a newly-opened role on the product team. Lauren had spoken to her manager about her goal to become more aligned with the technical side of the products at Greenhouse. Soon after, her manager and some of the engineering leaders she worked with recommended that Lauren consider the role. "It's so important to let your managers and other potential mentors know about your interests and skills," says Lauren. "They saw that role and thought that I would be good at it – and I might not have made that connection myself."
The learning curve in her new role wasn't always easy, but Lauren was up for the challenge. "It meant being really curious, asking lots of questions and accepting that I was not going to be an expert right off the bat," says Lauren. "It was OK that I needed to lean on other people for support while I learned the role."
Lauren soon hit her stride. As a product manager, she enjoyed partnering with a variety of internal teams and stakeholders to evolve the Greenhouse line of products. "You have to be a generalist—you're working with engineers and designers, talking with salespeople and customer success and support, as well as interfacing with your legal team to determine what impact regulations have on product build-out and interacting with customers to understand their goals and feedback," she says.
After three years in the role, Lauren realized that while she loved improving products and working with different teams, she was ready to develop skills outside of product management.
"I really enjoy organizing, planning, and executing processes, so some of the more ambiguous parts of the product role – like prioritizing feedback and turning it into a product strategy – while they were challenging and rewarding, ultimately weren't for me," says Lauren. "I was ready to dive deeper into project management and become closer to the end result."
Lauren began to take on more internal projects, serving as a project manager with the support and encouragement of some of the engineering leaders who got her into product initially. "I really loved it. I knew from that point on that I wanted to do more formal project management in the next step of my career.". Following her passion, Lauren worked to create connections internally and network with other teams to find a role that would fit what she was looking for. In the spring of 2020, Lauren found her current role as a project manager, helping Greenhouse enterprise customers implement their software and services.
"Greenhouse is very supportive of their employees' career development," says Lauren. "Both managers and employees are encouraged to discuss our goals openly and feel empowered by our culture of growth."
How to develop your career within your organization
We asked Lauren her top five tips when charting an internal growth path at your own company. Here's what she shared:
1. Network internally
"Internal connections are absolutely crucial," says Lauren. "They help you position yourself for open roles or projects, as well as help you gain the confidence to raise your hand when you see new opportunities arise." Start by volunteering for side projects in different departments and reaching out to people whose job titles interest you for a coffee chat.
She also recommends joining any groups you feel identified with where you can contribute. For example, Lauren is on the leadership team of Greenhouse's employee resource group (ERG) focused on women at work, the Greenhouse onboarding "buddy" program and the culture add interviewer team.
2. Learn how to be a good mentor and mentee
Lauren works with two organizations focused on mentorship: Minds Matter, an education nonprofit that works with low-income high school students to prepare them for college success and Built by Girls, an organization that provides female identifying and non-binary students with the support they need to make their first career move into the tech industry.
Being a mentor has taught Lauren how to be a better mentee – and helped her realize these relationships can evolve over time. "I mentored a woman three years ago when she was a senior in college and now she's a project manager who has more experience in the role than I do. She's been a huge help to me in my new role!" says Lauren. "Find those people at your organization who you can partner with as a mentor or mentee, because these relationships are also an investment in your future."
3. Invest in self-reflection
"I often check in with myself to acknowledge what I like doing within my role, what parts of the role don't resonate with me and recognize when I feel the most happy and successful," says Lauren. She recommends reflecting each month or quarter to evaluate your wins and accomplishments, areas for improvement and goals or skills you'd like to develop.
By deeply understanding her own motivations and what felt right for her, she was able to pivot towards a role that fulfilled more of her interests and strengths.
4. Create your own career ladder
"Ideally, your manager has thought about a career ladder for your position. But it's always a good idea to do your own research and think about your career path for your role as well," says Lauren. She recommends researching online to find career ladders, or developing a plan to progress into a role to ever-increasing responsibilities and salaries, for jobs you're interested in. "I identify the most important skills and then self-evaluate against them to understand where I need to gain more experience," she says. She also looks at job descriptions at other companies to gain a deeper understanding of requirements to succeed in that same role or at her own company.
5. Above all, be your own best advocate
Great managers play a big role in supporting your career development, but no one will play a bigger role in your own success and growth than you do. As you discover what you're interested in, make sure your mentors, managers and peers know what those interests are – and always advocate for yourself.
"Learn more about the team you're interested in within your company," says Lauren. "What kinds of events or programming do they do? Do they write blog posts? Do they have Slack channels? Get more ingrained in their culture in order to understand what those teams do and how you could add value," says Lauren, who has attended engineering lunch-and-learns even when they were "way over her head" in order to show that she's interested in wanting to partner with them.
When it comes to growing within your company, always follow your passion
It might seem daunting to follow a new career path within your company when so much of the groundwork is now remote, but that doesn't mean you should give up.
"All of these things can be done virtually," says Lauren. "Continue to raise your hand, show up, make yourself heard and help wherever possible to create new opportunities for yourself."
If you're interested in learning more about working at Greenhouse, view all open roles on the PowerToFly hub.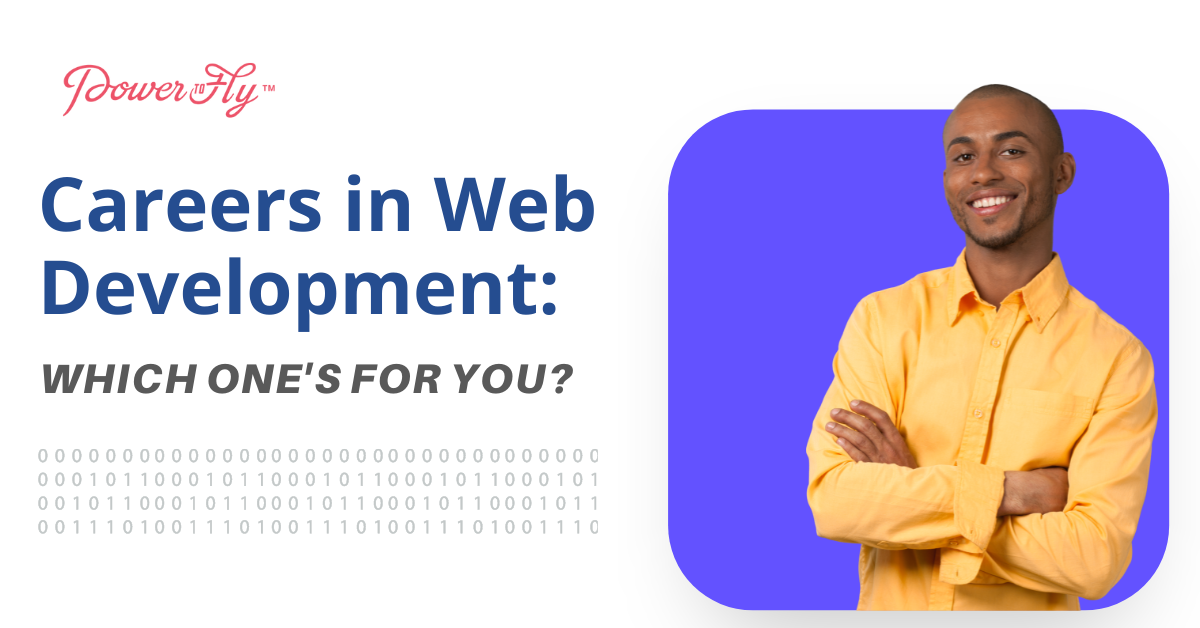 Upskilling and Development
We all have our favorite websites– the ones we frequent, bookmark, and recommend to others. You might even enjoy some website features so much that you've found yourself wondering why they aren't more popular. Or maybe you've experienced times where you were frustrated with a website and wished you could add features or even design your own!
If you've ever found yourself intrigued at the prospect of designing and developing your own websites, then a career as a web developer might be just for you!
As a web developer you would be responsible for coding, designing, optimizing, and maintaining websites. Today, there are over 1.7 billion websites in the world and, in turn, the demand for web developers is on the rise. In order to figure out what kind of web development work best suits you let's start with an introduction to the three main roles in web development that you can choose from.
The Three Types of Web Development Jobs
Front-End Web Development: The Creative Side
Think of front-end development as the décor of a house. The color scheme, furniture, manicured lawns, and overall aesthetic. In terms of a website, front-end development is laser-focused on the appearance of a website and its presentation on different devices. If you're considering a role in front-end development, it's important to learn programming languages such as HTML, CSS, and JavaScript. These three languages go hand-in-hand. HTML allows you to create user interface elements, CSS helps you with stylistic elements, and JavaScript allows you to incorporate online tools and connect your website to back-end functions.
In addition to programming skills, front-end developers need to be detail oriented, creative, willing to keep up with the latest trends in web development, cyber security conscious, and geared toward user-friendly designs. The median salary for a front-end developer can reach well into the $90,000 to $100,000 range.
Back-End Web Development: The Logical Counterpart
While a house can be beautifully decorated, it's incomplete without a solid foundation and efficient infrastructure. Similarly, a well-designed website depends on logical and functional code to power the features of that website. Back-end web development is code-heavy and focused on the specifics of how a website works. If you enjoy the analytical challenge of creating the behind-the-scenes code that powers a website, then back-end development is for you.
Since this role is more code-heavy, it's important that you learn numerous programming languages and understand algorithms and data structures. Some languages that are essential to back-end development are Ruby, Python, SQL, and JavaScript. Back-end developers also ensure that users can successfully retrieve and access data. This requires creating and using APIs (Application Programming Interfaces) which act as messengers that relay data related requests. Additionally, developing the code for the inner workings of a website also requires back-end developers to be conscious of the user interface features designed by front-end developers and to internally mitigate potential security risks. Due to the increased technical aspect of this position, back-end developers normally earn higher salaries than front-end developers. The average median salary for this role is around $118,000 per year.
Full-Stack Web Development: A Little Bit of Everything
A full-stack developer is essentially the Jack (or Jill)-of-all-trades in web development. Full-stack developers need to be knowledgeable about both front-end and back-end roles. This does not necessarily imply that you would need to be an expert in both roles, but you should fully understand the different applications and synergies they each imply. In order to work in this position, you will need to know the programming languages used by front-end and back-end developers. In addition to these languages, full-stack developers also specialize in databases, storage, HTTP, REST, and web architecture.
Full-stack developers are often required to act as liaisons between front-end and back-end developers. Full-stack developers need to be both problem solvers and great communicators. The end goal for a full-stack developer is to ensure that the user's experience is seamless, both on the front-end and on the back-end. In return, you can expect to earn a median salary of $100,000 – $115,000 a year for this role.
Taking the Next Step
Web development is both in-demand and lucrative! All three roles described above contribute to specific aspects of web development and the scope of each one can be customized to the industries and positions you feel best suit you. Regardless of which role you choose, all of them need a foundation in programming.
To gain the programming skills needed in each role, you can enroll in courses or learn independently. Coding bootcamps are a great way to boost your skillset quickly and efficiently.
Click here for some of our highly rated programming bootcamp options! Make sure to check out the discounts available to PowerToFly members.
READ MORE AND DISCUSS
Show less
Loading...