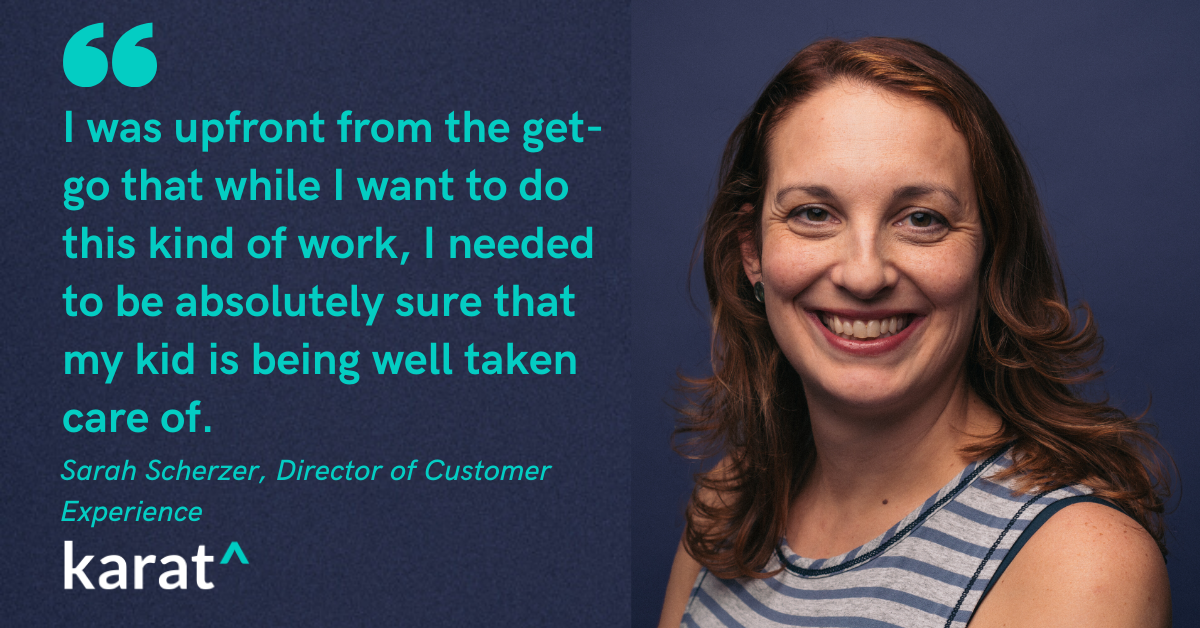 Karat
A Conversation with Karat's Sarah Scherzer
Five years ago, Sarah Scherzer saw a job posting on her neighborhood's mom-and-dad site and applied. Now she's Director of Customer Experience at Karat, where her role as a mother has always been a part of her story.
---
Listed between postings for car seats for sale and lost scarves, the post Sarah found was advertising a part-time job at a startup called Karat. She'd worked in the theater industry previously, but her position had ended, and she needed a part-time job that would allow her son to keep his much-coveted three-day-a-week Seattle daycare spot. The timing was perfect.
There were four people at the company when she started interviewing. Though she hadn't worked in tech or with engineers before, Sarah explains that her "operationally-minded" approach and her skills as a people person, both honed during her theater job in artist relations, applied well to Karat's needs. The company's mission—to make hiring and interviewing better and fairer—appealed to her. She was hired as employee number five.
Scaling with a startup—and a family
Sarah's 20-hour job started as just that; she worked only on the days her son was in daycare.
But as the company grew, Sarah's responsibilities did, too. The need to operationalize things was pivotal, so Sarah quickly ramped up to effectively scale key parts of the business while the founders focused on Series A funding. "20 hours turned into 40…. I was made full-time pretty quickly," says Sarah.
Her path to leading a team happened naturally. "Growing into my role was fairly organic. I just kept learning more and more and more and figuring things out as I went," says Sarah. "In a startup environment, everyone's wearing so many hats. I was used to doing that in the theater world, too, where everyone kind of does everything, and I think that really benefited me in the workplace. I felt like I wasn't stifled and could try something, fail, and pick it up and try again."
She was excited by the opportunity to grow her skills and her career. "My direct manager is Jeff Spector, one of the founders at Karat, and he has always made sure I'm constantly growing and developing," says Sarah.
But she also wanted to be around for her children. "I was upfront from the get-go that while I want to do this kind of work, I needed to be absolutely sure that my kid is being well taken care of."
Sarah's commitment to her family was understood by both Karat founders, who have children and families of their own. From the beginning of her time at Karat, it was clear to Sarah that family values weren't just a talking point on the company website. "For instance, our other co-founder, Mohit Bhende, intentionally puts a 'do not disturb' block on his calendar from 8 to 9 a.m., because that's when he reads with his child. They're very intentional about how they prioritize their family."
Sarah knew Karat would be a good long-term opportunity for her because of the flexibility when it came to family and parenting — even when she didn't quite know how that flexibility would play out. (And that same flexibility has been a godsend now as she's had to adjust to working from home AND parenting AND schooling two young children in the midst of COVID-19).
How to Handle Going on and Returning From Maternity Leave in a Startup Environment
When Sarah became pregnant with her second child, Karat hadn't yet finalized a formal leave policy — they hadn't needed one before. So she and the co-founders created the policy together, and she gave feedback as to how it worked as she went through it.
They settled on 12 weeks of 100% paid leave that can be taken at any time over the first six months. That allows some parents to come back to work part-time earlier on, if they like, or to take the whole chunk of time off at once.
Sarah and her boss talked through all the logistical aspects of her transition, too. How in-touch did she want to be with the team? Would she get text messages? Slack access? Sarah decided she didn't want any of that—she wanted to be fully present with her growing family.
When it was time for her to return to work, her team helped ease the transition — they'd set up a spreadsheet with high-level weekly summaries of what she missed so that when she came back, she was able to get up to speed quickly.
And now, whenever someone goes on leave, a similar meeting happens, wherein the person leaving is asked what they need to succeed both during leave and during their transition back.
In Sarah's case, she took some time off, then came back three days a week and ramped back up to full-time over a few months. "That level of flexibility let me guard against not knowing what could happen. What if I had to have a c-section or if my son had to spend time in the NICU? And of course, there's always daycare snafoos, napping issues, and sickness," she says of the benefits of the flex policy.
"When it was time, I was definitely ready to come back again. I needed to just put on shoes and talk to people, talk to adults. I needed that for my sanity," says Sarah, laughing, of her transition back. Though she was excited to be in the workplace, she got back and realized that her role would need to change a little.
She was definitely still needed; her team had even come up with a list of things they were struggling with that they needed her to unblock. But they'd also taken on a lot of her responsibilities while she was gone—which Sarah saw as a success, not as a threat to her job stability. "It wasn't that I came back and was like, 'Oh no, what do I do?' There's always something to do. But a lot of the things I had been doing, they were covering, and it had been pretty successful," she says. Her duties evolved, and now she realizes that "a role can change in a really positive way."
Advice to parents and startups navigating maternity leave and "returnity"
Thanks to her own experiences taking maternity leave, and her conversations with other Karat employees who've now done the same, she's got some good advice for working parents at all stages of the leave process, especially those at startups.
When interviewing:
Find out the company's leave policy and general environment towards family. "You can ask what percentage of other employees have kids or families or if there are family gatherings where you're encouraged to meet and greet each others' families," says Sarah.
Before going on leave:
Don't be afraid to share your needs with your bosses. As the first employee to take parental leave at Karat, Sarah knew she'd have to have a conversation with her bosses — it ended up going even better than she'd expected and leading to an empowering experience in which she was able to advocate for her own needs and have a direct impact on the formal policy that was ultimately created. For those working at startups, she says, "it's important that people who are going on maternity leave know they can be empowered to create it for themselves."
Set yourself up for success. Sarah suggests: "Think about what you want while you're offline. Is it the spreadsheet, is it a weekly checklist, is it total offline status? Make sure that you've got those open lines of communication."
How to handle going back to work after maternity leave:
Find your own pace to transition back. "I was overwhelmed in the beginning; I had to get over the hurdle about learning about everything that had changed. In the beginning, I was scheduling meetings back to back and had a hard time figuring out when I could pump. [Then] I realized that I could just put on my calendar when I was pumping," says Sarah. "Overall, be patient, with other people and with yourself."
Don't set super-high expectations about a perfect work-life balance. "Balance is a myth, honestly," says Sarah, who remembers that sometimes you'll need to prioritize family and sometimes, work. As you learn how and where to invest your energy, Sarah recommends asking yourself, "What's the worst that can happen?" and realizing that things will be okay, even if you don't get to everything.
Recognize the new skills you're bringing to work. Sarah remembers that after coming back from leave, her "bullshit meter was really a lot lower because you just don't have time to deal with it." She says, "There are so many amazing skills that a mother brings to the table at any workplace that are so undervalued, especially folks wanting to get back into the workplace after taking time off to take care of their family. Those are some of the best, most amazing skills: time management, organization, focus."
That being said, don't bite off more than you can chew. Focusing on work doesn't always mean taking on a ton of new responsibilities. In her first year back after her second son was born, Sarah knew she needed to focus on him. "I never felt like I wanted to step back from what I was doing, but I don't think I could do any more than I already was," she says. She talked to her boss about when she'd be ready for a promotion, and they both agreed to pause her responsibility set growth until she was ready for it.
Allow yourself to have moments for you. "It doesn't just have to be work home, work, home," explains Sarah. "You can go and maybe leave work an hour early to go have a cup of coffee by yourself and sit and you read a newspaper. It can be as simple as that. I think that taking micro moments just for you can really help with transition going from work back to home and vice versa."
To learn more about Karat, check out their open positions or reach out to Sarah in the comments!
Pax8
💎 How to build trust in your team? Watch the video to the end to find out!
📼 How should you work to build trust in your team? Play this video to get three top tips that will help you. You'll hear from Veronica Setzke, Senior Director of People Ops at Pax8, who shares tips and tricks she learned through years of coaching.
📼 How to build trust with peers in your team? Tip #1: Relationships. There's no better way to start forming relationships than having regular one-on-ones. It doesn't have to just be with your supervisor. It can be with your coworkers. It can be with those people that you collaborate regularly with. And it's really important in these one-on-ones that we're spending time listening. Take the time to be present and listen. Also, spend time together not working. Have lunch together. Go for coffee. Take a five-minute walk around the building and just have a conversation. Relations are a key element to trust!
📼 How to build trust? Open yourself in your team Tip #2: Vulnerability. Allow yourself to be vulnerable. Ask for feedback, whether it's feedback about a project, a process, or even maybe a leadership behavior that you're trying to master. This allows those on your team and those around you to see you as willing to be vulnerable. Trust and vulnerability go hand in hand. It doesn't mean that you're weak, but rather that you're open. It allows your team to understand that it's a safe place for them to also be vulnerable.
How To Share To Build Trust In Your Team - Tip #3: Clear Is Kind
Keep the team informed and say as much as you can about what you know. There are times that we hold information that could be shared. We could share that information that impacts others' work and have them have the opportunity to use that to do better. If you've learned something that could help your colleague make a better decision, share that! Try to ensure that your communication with others is clear. When you make the effort to be clear about your intentions, your work, and your roadblocks, it opens others up to do the same.
📨 Are you interested in joining Pax8? They have open positions! To learn more, click here.
Get to Know Veronica Setzke
She works as a People professional because she sincerely believes that people want to be excellent, and it is her role to help move the obstacles to their achieving success. She believes the employees deserve a culture that values their work and will respond to such a culture by creating amazing results. If you are interested in a career at Pax8, you can connect with Veronica on LinkedIn. Don't forget to mention this video!
More About Pax8
The company simplifies the way organizations buy, sell, and manage cloud solutions, empowering its partners to achieve more with cloud technology. At Pax8, they know that they are only as great as their people. They realize that every individual has unique personal and professional aspirations, which is why they strive to offer a complete and competitive Total Rewards offering for their members and family.
READ MORE AND DISCUSS
Show less
Loading...