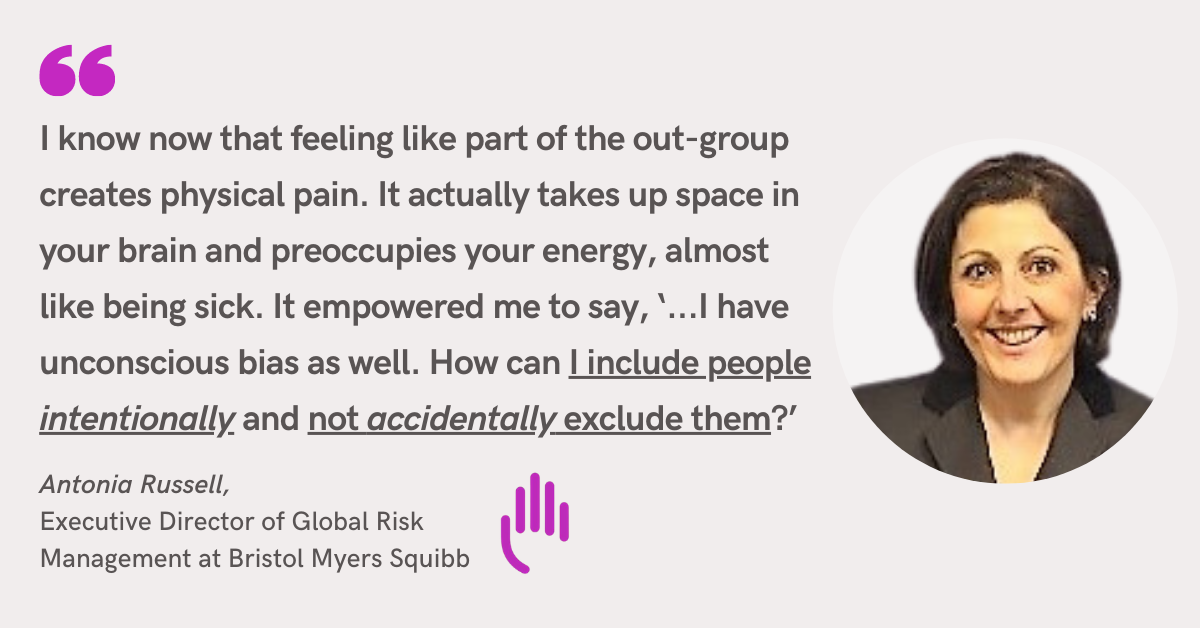 Bristol Myers Squibb
Advice from Bristol Myers Squibb Executive Director Antonia Russell
If you ask Antonia Russell to pinpoint where exactly she gets her determination from, she'd probably credit her grandparents, who emigrated to the U.S. with a sixth-grade education and built successful lives for themselves, and her father, who encouraged his three daughters to be independent and not feel boxed in by society's expectations for women.
---
Antonia internalized her father's advice at an early age, opting to study computer science in high school instead of the secretarial classes the school expected female students to take. She fell in love with computers and went on to study computer science and mathematics at Rutgers, where she also played D1 tennis. She then went on to earn an advanced degree in Engineering at Lehigh University. As she started her career, she continued to defy expectations, pushing back against the common assumption at the time that women would leave the workforce after getting married.
Now the Executive Director of Global Risk Management for biopharmaceutical company Bristol Myers Squibb, Antonia sat down with us to talk about what it's like being a member of an out-group at work, how sheer individual determination isn't enough to create truly inclusive workplaces, and what leaders can do to make everyone feel welcome.
Odd one out
The terminology of in-groups and out-groups comes from social psychology and refers to people's tendency to gather with others who seem like them (and to leave out others who don't). That us-versus-them dynamic can be extremely harmful (in the case of white supremacists) or relatively benign (in the case of rival football fans on game day). At work, women, Black people, LBTQ+ individuals, and others are often part of out-groups, and even if their peers and managers aren't actively aware of treating them any differently, they often have very different work experiences from those in the in-group.
Antonia's used to that feeling. She says that as the only woman in her computer science program at Rutgers, she learned to focus on her work and not on the fact that no one in her classes looked like her. "I was always a bit competitive, so I said, 'Wait, I can do this,'" she says.
As she entered the workforce, she kept noticing that nagging feeling of not belonging. It would come up in small ways, like an early manager sitting her down and earnestly telling her, "'If you want to advance as a senior leader here, you need to think about dressing differently.' I looked at him and he was dressed the exact same way I was dressed," remembers Antonia.
That pervasive exclusion led Antonia to not tell anyone at work she was pregnant until she was well past the six-month mark. "I was afraid of what was going to happen," she says. "That's not a reflection on the company. It's just a reflection on the time."
Even so, that constant stress took a toll. "I know now that feeling like part of the out-group creates physical pain. It actually takes up space in your brain and preoccupies your energy, almost like being sick," says Antonia, referencing neuroscience research like this recent Science article.
As Antonia moved up in her career and started taking on bigger and bigger management roles, she dug into the science around inclusion and in-groups and out-groups. It helped her make sense of what she'd experienced throughout her career—and it also helped her determine what kind of leader she wanted to be. "It validated all these years of how I was actually feeling, and that validation was a breakthrough," she says. "It empowered me to say, 'Okay, well, I have unconscious bias as well. How can I include people intentionally and not accidentally exclude them?' It made me more compassionate and understanding of others."
Finding her fit
A lot of Antonia's work to feel more included and be a more inclusive leader was self-directed. She combed through the NeuroLeadership Institute's materials and decided to start putting herself forward for opportunities and proactively asking to network with in-group members.
But she still wanted to be working at an organization that made that work easier and expected it of all its leaders, not just the ones who self-selected into it. "The turning point for me was when I joined BMS," explains Antonia of finding a culture that systematically worked to include everyone. "I really saw the commitment, the investment, the talk and the walk of being able to be our authentic selves and helping others along in the journey."
She cites BMS's social justice programs and ongoing trainings for managers and staff as examples of that. "Starting the conversation creates an environment where it's safe to express opinions and experiences, with a framework that's constructive," she says.
For Antonia, BMS's open and encouraging culture has transferred to remote work, too. She notes that senior leaders have all changed their profile pictures to be more casual and more representative of their current day-to-days—like showing off their beard-in-progress or not appearing perfectly coiffed—and that expectations are that everyone shows up however best works for them.
"In fact, I wore this to a meeting the other day," says Antonia, gesturing at her top, "and it's just an orange sweater. Somebody joked to me, 'Why are you so dressed up?'" Antonia laughs, then continues: "It's really substance over form. It's a healthy environment where people can thrive."
What individuals and leaders can do to promote inclusion at work
As an executive director, Antonia oversees several BMS teams. She knows there are certain things individual employees can do to advocate for themselves at work.
Here are her top tips for PowerToFly readers who are individual contributors:
1) "Recognize if you're missing information or relationships to do your job." If you're not invited into those conversations, lean in through your job responsibilities and ask." Antonia gives the example of taking on a new responsibility recently of overseeing BMS's digital therapeutics delivery and proactively asking if she could join that team's weekly forum to get up to speed. "I could've sat back and said, 'Well, nobody's invited me.' Don't act like a victim," she says.
2) "Have an honest conversation with yourself about the environments you feel safe in and the ones you don't. If you feel like you aren't being recognized, like you're falling behind, or like you're being bypassed for opportunities, that's an indicator that this may not be the right environment for you. Have a conversation with your boss or HR and see if you can turn it around."
3) "If over time you continue to experience the same toxic feeling, it's time for a change." Antonia calls this "leaning to the side" as opposed to "leaning in": "Recognize you're being wronged and say, 'Okay, I'm going to let that go, and I'm going to put my energy in a situation that is more amenable to how I can thrive.'" She recommends looking for a new role within your company or, if you think that's not far enough away from the toxic behavior, at a new organization.
But as vital as those tips are for individual employees to enact, Antonia knows that the real responsibility—and real opportunity—for creating safe and inclusive workplaces falls to managers and other leaders.
Here's what she recommends those leaders do:
1) "Educate yourself on inclusive habits." She cites the problems associated with certain boys'-club ways of thinking about building relationships work, whether that's doing team building in a way influenced by unconscious biases (like not inviting women to after-work drinks) or expecting everyone else to engage in the same way that you do (such as being an extrovert who loves big brainstorming sessions). Start by signing up for anti-bias training if your work offers it, or advocating for it if it doesn't.
2) "Lift up every voice without making them feel uncomfortable." For Antonia, that's meant providing various avenues for employees to present work to her, from scheduling one-on-one meetings to giving ample notice before expecting a team presentation.
3) "Understand that 'We need to get this done by Friday' doesn't work for everybody." Instead, try experimenting with flexible working hours or deadlines. "Create a safe environment where [individuals] are aware that you want to listen. Be patient to work through situations and come up with solutions," she says.
If you're interested in learning more about BMS or seeing their open roles, visit their PowerToFly employer profile.
Related Articles Around the Web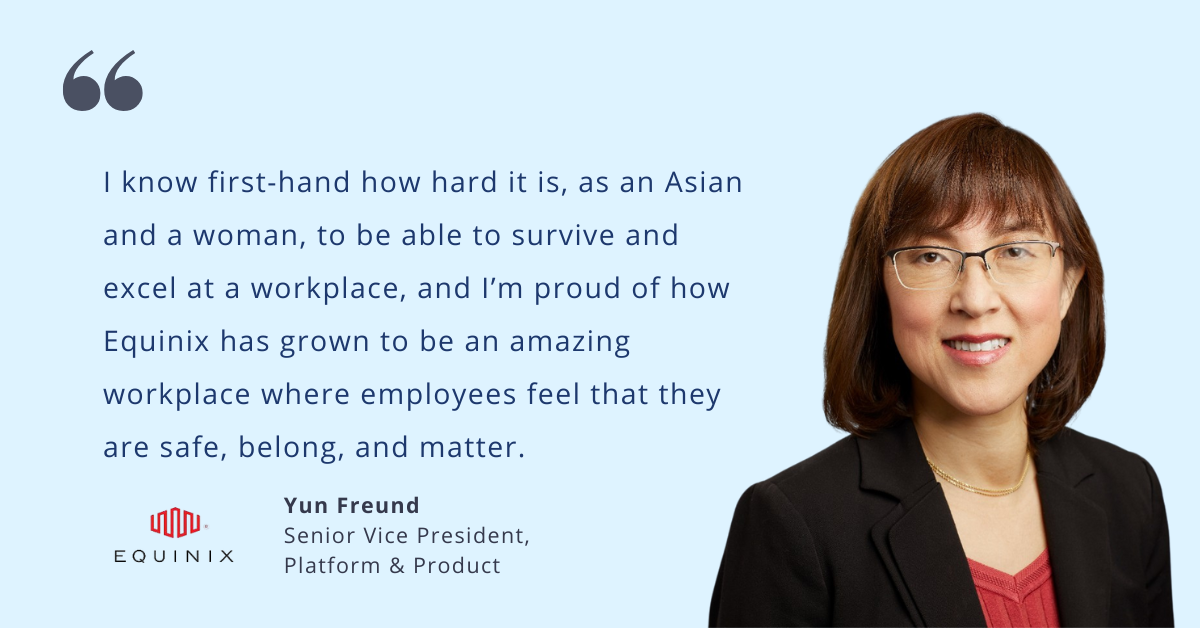 Equinix
Yun Freund considers her background to form the "typical immigrant story" — but sitting down with the SVP of Platform and Product at Equinix, it's clear she's made it her own.
"I came to the United States about 30 years ago with $80 in my pocket. I earned a CS degree from a Beijing university when computer science was new. I was good at math, so that's what I studied," explains Yun.
Fast forward a few decades, and Yun is now running one of the largest organizations at Equinix, a Fortune 500 digital infrastructure company focused on providing an interconnected platform to its global 10k customers. While focusing on external growth — the business has grown nearly 40% since her arrival — Yun has also invested in internal progress, especially when it comes to Equinix's Diversity, Inclusion, and Belonging (DIB) goals.
"I know first-hand how hard it is, as an Asian and a woman, to be able to survive and excel at a workplace, and I'm proud of how Equinix has grown to be an amazing workplace where employees feel that they are safe, belong, and matter," says Yun.
That's not just her opinion. Glassdoor confirms this, having given the company a "best place to work" distinction in 2021, and a special award for best places to work for LGBTQ+ equality list by the Human Rights Campaign Foundation.
We were excited to learn more about Yun's strategies for empowering her team — including her belief that making room for failure is just as important as celebrating success.
The Intersection of Technological Innovation and People Management
Yun first heard about Equinix through a recruiter. Decades into her career in tech leadership, she was looking for a role where she could drive innovation in both technology and people management.
"After many rounds of discussion with our executives, I realized Equinix is a company that's full of potential. It was doing a lot of innovation on interconnected SaaS products and networking products, and I thought I could really help drive, from a culture and process perspective, the company's digital transformation journey," reflects Yun.
Her first order of business? Building a strategy for scaling product development. Yun had long worked at the intersection of engineering and people management, and she embraced the challenge to scale a talent strategy as well as changing the culture.
That resulted in clear growth — not just for Yun's career, as in promotions and new responsibilities, but also in what the company was able to do.
"Helping to cultivate a DevOps culture, move products to the Cloud for high reliability and availability, and build operational excellence for our customers is contributing to us fulfilling our purpose, which is to be the platform where the world comes together, enabling the innovations that enrich our work, life and planet," says Yun.
Diverse Ways of Measuring Impact
Yun doesn't manage her team by the balance sheet alone.
"Improving the bottom line, or operating more efficiently, is just as important as improving the top line, or driving more revenue and more customer adoption," she says. "Sometimes it's not about how we get new products and services out the door, but how we run things more efficiently."
For Equinix, says Yun, that includes committing to becoming carbon-neutral by 2030.
"We're a company that really touches life every day, from online shopping, to sending emails and streaming movies, to smart cars," says Yun. "We want to be doing that sustainably. For example, by using AI and machine learning to lower our power consumption and using green sources of energy."
Yun knows that to drive the most impact, Equinix needs a diverse team. She has partnered with other senior leaders and employee connection groups and started driving a more coherent DIB strategy across the company. She is excited to see the progress and wants to continue the effort in building a diverse and safe workplace for everyone — including by leading through her own example.
3 Key Ways to Empower Your Team
When Yun says that it's important to empower your team, she doesn't mean that you simply transfer the responsibility to your team and call it done. Here's what she does mean:
Embrace failure. "It's easy to say, 'Ah, empowerment. Here's the purpose, go drive impact.' But sometimes it's not all rosy," she says. "The road to empowerment can sometimes be a failure. How do you support your employees along the way? When they fail, you should not blame them. You should be there, on their side, to help them do a retrospective and learn from it."
Show trust via delegation. "Giving your team the opportunity to make their own decisions helps give them a purpose. It shows them they can make a difference. Accountability and ownership will help drive your team to have deeper engagement and commitments, and ultimately deliver results."
Tie individual responsibilities to company OKRs (Objectives, Key Results). "I always communicate to my team that every engineer and individual contributor's work will have an impact on the business, no matter how small that is," says Yun. For example, if an engineer is working on a new digital experience component for the customers, their work will contribute to some kind of business outcome such as, hours saved from many customer support calls or customer satisfaction score improvement, and that in turn drives operational efficiency and customer experience improvement for the whole business. "When employees realize their impact on the business, it elevates their motivation as well as their state of mind."
Looking to join an empowerment-first culture? Check out Equinix's open roles!
READ MORE AND DISCUSS
Show less
Loading...