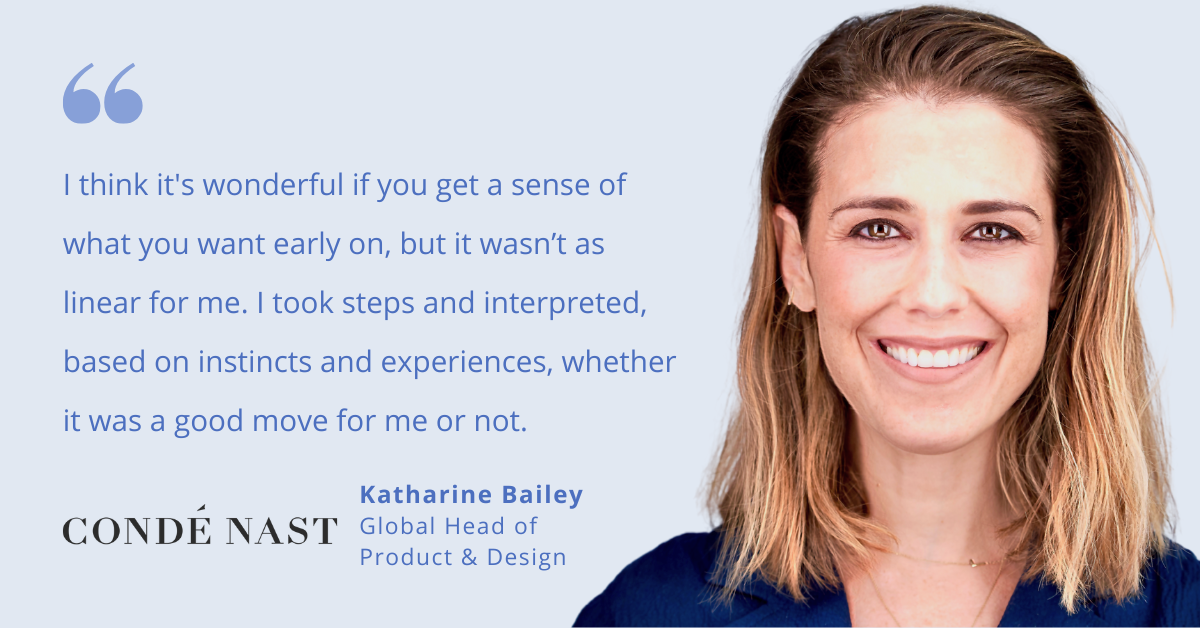 Condé Nast
Katharine Bailey's media career started quite literally with a newspaper. "I ended up applying to jobs I found in the newspaper, circling them like in the movies from the eighties," she recounts.
From these printed ads to major media networks to her current role as Global Head of Product & Design at Condé Nast, Katharine Bailey's nearly two decades of experience in the media industry offers a trove of advice. She has seen with her own eyes how the industry has evolved along with ever-changing technology and times.
We sat down with Katharine to hear her story and how she leads her teams through this uncertain economy and pandemic.
Twists and Turns
After landing her first gig at a network, her whirlwind media career began and Katharine never looked back.
"During my first few years, I went from corporate communications to creative marketing to working in digital when it was brand new," she explains. "So, I saw the '.com' madness, worked as a web producer, which is effectively what they used to call product, and worked on all kinds of interesting on-air and off-air campaigns, and was part of emerging business teams where you felt like you were in a startup within a broader company."
At this time, the importance of keeping up with technological innovation was becoming increasingly evident. Katharine recounts how she was involved in the digitalization process at one major network.
"The CIO I was working with at this network was really impactful in bringing technology solutions to a company like that, that hadn't thought of engineering or technology solutions first. He actually asked me to join the engineering team, but I didn't know anything about servers or writing code. So, he offered to send me to school."
Katharine ended up doing a program at Columbia where she learned to think like an engineer in how they approach problems while also gaining coding experience that she could then apply to managing software developers working on ad tech solutions.
This experience also taught her an important lesson about working and leading across teams.
"What I found working between the business and the engineers was the importance of trying to figure out what it is that we're ultimately trying to accomplish. What does success look like? And being able to effectively translate that into a team that's creating workable code and all of the experiences you learn along the way was really impactful for me."
Katharine continued to jump between roles at various renowned networks, a true jack-of-all-trades who has seen it all from the data warehouses of ad tech to launching local language sites in Asia and Europe.
Finding Your Passion and Making Moves
Sometimes life reveals a truth at pivotal moments. For Katharine, it was when she became a mother.
"When I had my daughter," she recalls. "I had this overwhelming sense of clarity that what I wanted to hone in on and was passionate about was ultimately product."
Katharine was lucky enough to have been at a company that allowed her to move within the ranks and could focus again on this passion.
Reflecting on her transitions within and between companies, she leaves us with this bit of advice about not staying in a place for too long.
"Media is funny in that it is really impatient," she shares. "I think sometimes when you stay in a role, you can really be a dog with a bone about it, thinking 'I'm going to keep trying to get this done. I'm going to keep pushing the boulder up the hill.' In retrospect, there are positions that I should have left earlier."
When it comes to deciding her career moves, Katharine has leaned into the idea of constant interpretation, instead of having a master plan.
"I think it's wonderful if you get a sense of what you want early on," she shares, "but it wasn't as linear for me. I took steps and interpreted, based on instincts and experiences, whether it was a good move for me or not."
She advises continuously asking yourself, "How do you do well at the things you actually feel strongly about?" This question will help define what obligations you commit to with work and family.
Thanks to her many moves from product to engineering to editorial, she has led media companies through important initiatives that responded to changing technologies and times. She has developed subscription products in partnership with big tech companies, defined content and brand cohesiveness, and developed new monetization ideas.
Now at Condé Nast, a global media company with more than 1 billion consumers worldwide, Katharine appreciates the variety of creative projects she's involved in.
As Global Head of Product & Design, Katharine manages a team of over 130 people who work in digital product and design worldwide. She's been able to use her vast and multifaceted media experiences to further optimize her teams' work processes and establish frameworks to help the company meet its goals.
With a passion for good journalism, she believes Condé Nast is setting smarter digital footprints throughout the world with their extensive portfolio, which includes major media brands such as Vogue, Vanity Fair, The New Yorker, Condé Nast Traveler, among others.
Leading Through Uncertain Times
Katharine reflects on the changes that Condé Nast has experienced due to the pandemic, as well as the current challenges caused by our uncertain economy.
One of the benefits she receives at the company is the hybrid-work model, which allows her to spend more time with her kids.
"I now get to have important windows into their lives which I didn't before the pandemic, and it's really wonderful," she smiles. "Companies are realizing that the world has changed and so have employees' expectations."
Katharine's vision for her work is to continuously improve and optimize the process of her cross-functional teams with the collaboration of others. Katharine uses OKRs (objectives and key results), which give solid frameworks for her teams. She emphasizes creating "a well-structured problem", or in other words, a problem with an objective and success criteria attached. She gives space for people to figure out the problem and organize themselves to better deliver.
One of her greatest challenges now is figuring out how to manage a globally distributed organization effectively, prioritizing user experience while still retaining customers, and growing the company on a global scale.
7 Tips for Leading in Uncertain Times:
Having lived through the ups and downs of the 'dot-com' craze and evolving technology, Katharine Bailey has the experience to lead through the current pandemic and coming recession.
She leaves us with these 7 tips for leading through uncertain times.
Offer solutions to problems. "Whenever you identify a problem to someone, especially above you in a position of leadership, always come up with a solution as well. One of the toughest things about being in a position of leadership is when people just come to you with problems all day. And I think the people who really stand out are the people who actually have thought through an angle or a solution, even if partial."
Never underestimate the importance of kindness. "Kindness is probably one of the more underrated things in corporate culture and there's something about kindness that really brings in an element of humanity that I think is really lovely. Years ago, it used to be very much that you would check your personality at the door when you would come into these corporate cultures. And I think it's become more and more acceptable that you actually bring your full self. I think with that should come a level of humanity and kindness."
It's okay to take a break in your career. "When you're moving up the proverbial ladder, you can get into a hamster wheel dynamic. And, sometimes you lose sight of what's really going on with you and what you really want to do. In my mind taking a break in some way, however long it is, or in whatever way, it could be moving into a lateral role, it could be taking a course. It could even be opting out of the workforce for a bit if you can afford it. I think those are really important to take a breath."
Cross-functional collaboration is key. "So much of the work that I do is predicated on that being successful. It is a constant evolution. The process in many ways is just as important as the final product. Be relentless about continuing to optimize the process, but don't browbeat if you don't have the final solution yet, because it's going to take time. As long as you're bringing people along for the ride and making them part of the solution, then I think you're in a good place."
Understand the moment. "There's always a time and place for feedback. It's important to not give the feedback too quickly, rather read the room and know when is the right time to give the feedback and how to do so."
Bring people along into the decision-making. "As a leader, I can't go into a room and come up with something and assume everyone's going to adopt it. You have to bring people along for the ride. You're also going to get your best ideas by involving some of those people in smart ways."
Humanize the workplace. "If there is any time to really think about people as full human beings, it is now. And if the pandemic taught us anything, it's that the bar's been raised in terms of seeing the humanity of people and really respecting that."
Condé Nast is hiring! If you want to find out more about their roles,
click here
.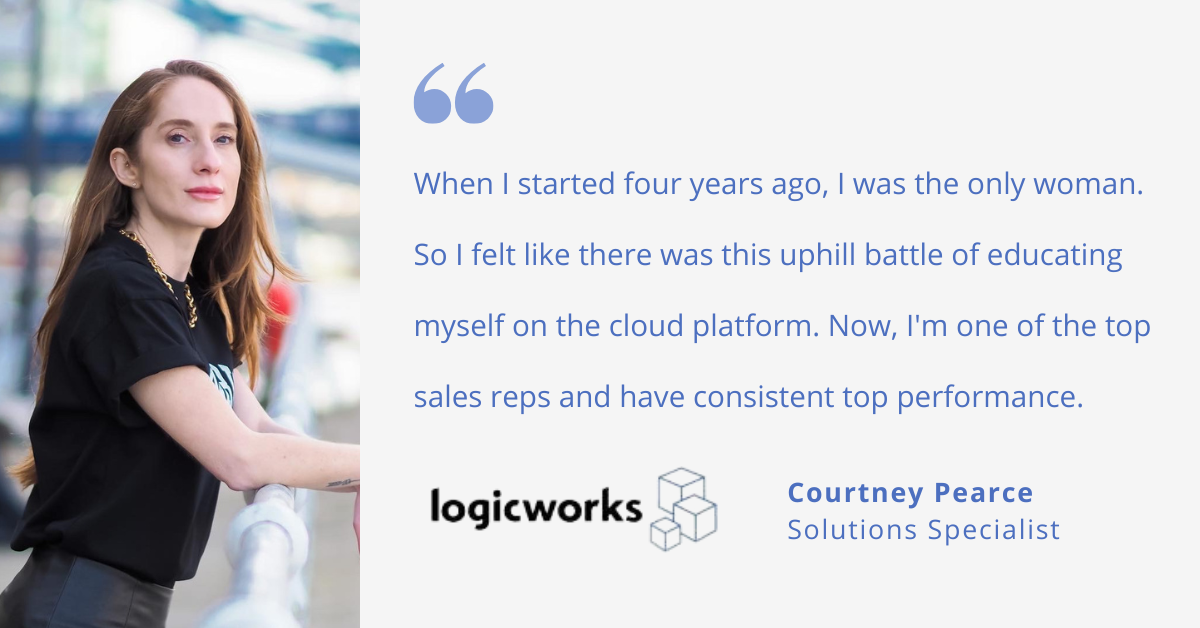 Logicworks
Courtney Pearce's background isn't one you'd expect to find in a tech sales position. But as a motivated self-starter, it makes all the sense in the world that she's been so successful in her role as Solutions Specialist at Logicworks.
If you ask her what she's most proud of about her time so far at Logicworks, she'll say her growth over the last four years.
"Even though I came from a technology company that was selling software, selling infrastructure and infrastructure managed services is very different. There was a learning curve. And when I started four years ago, I was the only woman. So I felt like there was this uphill battle of educating myself on the cloud platform. Now, I'm one of the top sales reps and have consistent top performance. So I'm most proud of my growth over the last four years."
Courtney has a lot of wisdom to impart to those interested in taking on the sales side of tech. We sat down with her to learn more about how she broke into the tech world by utilizing her retail experience.
An Unexpected Path Into Sales
Courtney started college as an Orthodontics major but eventually realized that science wasn't her calling.
"Although I'm a great student, science and math were difficult subjects for me," she admits. "I ended up taking a random textile and clothing elective and it was my favorite class."
She enjoyed the breadth of the program and decided to become a Textiles and Clothing major.
"You got the opportunity to learn the sociology behind why people wear clothes, the chemistry behind dying, how to make fabric, then creating a line from start to finish and marketing that to the class," she shares.
Although fascinated by the program, her career journey didn't lead her to the fashion industry but rather to an adjacent career in retail.
"I ended up accepting a leadership position for a big box department store," she says. "At 23 years old, I ran a 35 million dollar store. It was a great experience and I learned a lot."
After two years of working in retail for various name brands, she found her way into a tech company through a recruitment role.
Breaking Into the Tech World
While Courtney was working at a recruiting firm, she was approached by a security tech company with a position as a technical recruiter. She was interested in the role and applied, but didn't get an immediate response.
"I didn't hear back, but continued to follow up," she recounts. "One night, I got a phone call that said, 'You're not a good fit for the technical recruiter role, but we have this new group that we're building out called business development and they're working directly with sales. Based on your experience and the fact that you're willing to follow up, we think you'd be a great fit'."
At the time Courtney knew nothing about the tech space but that didn't stop her from interviewing for the position.
"I spent an entire week browsing the website, watching all their product marketing videos, and tried to wrap my head around what this security company did," she explains.
During the interview, she blew them away with her knowledge of the company.
"I gave my five-minute spiel and I think that impressed them," Courtney shares. "I had taken the time to research the company, and not having had a tech background, I tried to comprehend what they do."
Hired as a business development rep, she had the opportunity to build the team from the ground up.
Reaching New Heights at Logicworks
Courtney continued to rise in the ranks, but she eventually felt that she had hit a plateau. With a desire to try out something new, she looked to Logicworks who offered her the career advancement she was looking for.
"I had reached my potential with my previous employer. There wasn't anything new for me to learn. I wanted to figure out what was next in my career. There was an opening at Logicworks for a Solution Specialist to be based in Boston. That was enticing for me."
When Courtney moved to Logicworks she was able to explore job autonomy.
"It gave me the opportunity to move into a territory that I'd been working in for many years, but also run that territory like my own business," she explains. "There was nobody else working within that space, and I could create the process that I wanted to."
Now at Logicworks, she experiences the constant changes of a cloud system.
"I'm constantly learning," she shares. "We're constantly evolving our services, what products we're providing, and how our services are integrated as the cloud is maturing. It keeps me interested every single day."
Now as a sales lead, Courtney focuses on building relationships with current and potential clients.
Coincidentally, the relationship-building skills that Courtney uses on a daily basis come from her experience in retail.
"I think coming from retail, you have to be able to talk to anyone," she says. "You're getting a lot of different customer personalities, so it allows me to be comfortable talking to strangers, which I think is key in sales."
Along with sales experience, Courtney's internal drive has been key in propelling her forward.
"Being a self-starter and watching YouTube videos on what the cloud is, what AWS is, and taking that time on my own to learn and absorb as much as I can are, at the end of the day, the kinds of things that you can prepare you to enter the tech space," she explains.
Ultimately, it was the skills she learned in retail and her self-taught understanding of tech that have led to her success.
Advice for Entering the Tech World Through Sales
If you're looking to enter the tech world from a sales angle, Courtney offers this advice:
Find companies that resonate with your values. "Whether you like their product and think that product is solving a pain point in the marketplace, or you align with the company's values, work for a company whose mission you support," Courtney advises.
Be pleasantly persistent. "The biggest thing that helped me was when I reached out and nobody responded, and then I followed up and nobody responded, and then I followed up again and they called me. Being pleasantly persistent shows that you're interested and invested in the organization," she explains.
Do your research. "Take the time to figure out what the company does and what they are all about. Educate yourself above and beyond the basic training material to ensure that you have the right knowledge base to be successful in the role."
If you are looking to grow within the tech space, check out
these open positions at Logicworks
.
READ MORE AND DISCUSS
Show less
Loading...