GET EMAIL UPDATES FROM POWERTOFLY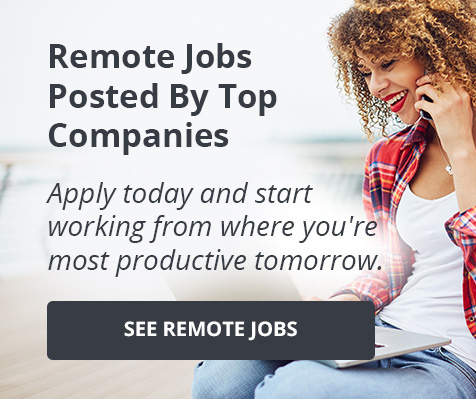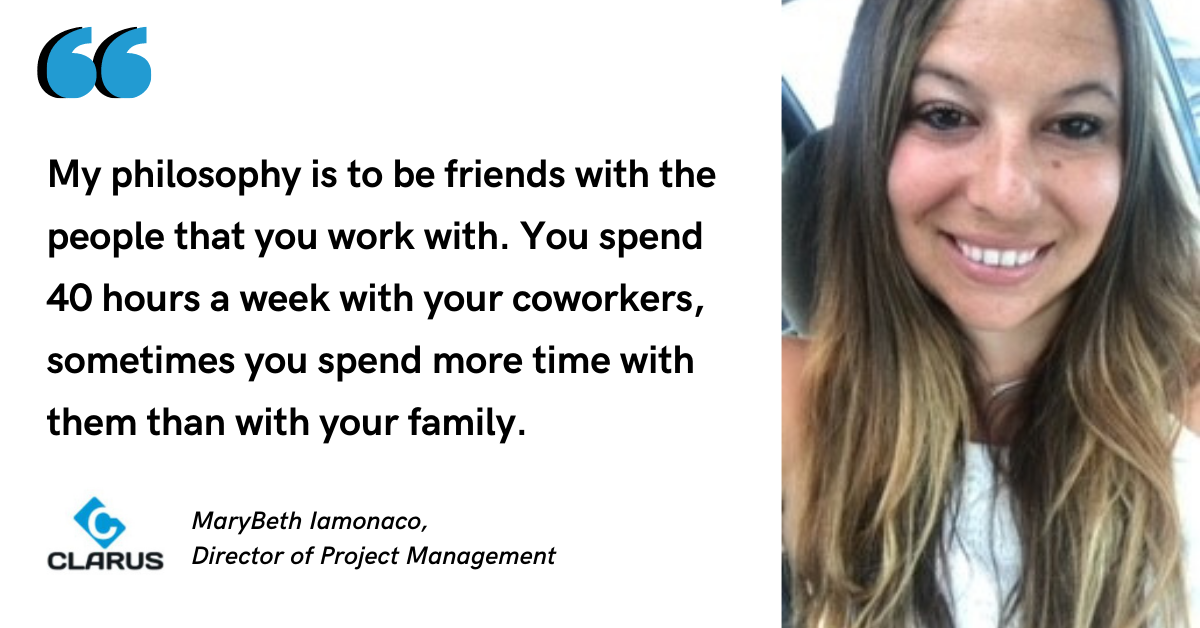 April 11, 2022
Clarus Commerce
How Clarus Commerce's MaryBeth Iamonaco Makes Work Feel Like Home
MaryBeth Iamonaco doesn't take family for granted.
"We're super close," explains MaryBeth. Which is what keeps them a 10-minute drive from each other in the beautiful state of Connecticut, where MaryBeth most feels at home. When she's not working, she enjoys spending quality time with her family, a close circle of friends of 30+ years, and her golden retriever, Rhody.
After the sudden passing of her father, she came to appreciate that family bond even more. "Unfortunately, you don't always realize the strength that you have within your family until something terrible happens," elaborates MaryBeth. "Thankfully [my family] had that bond to get through."
As Director of Project Management at Clarus Commerce, MaryBeth works hard to recreate that sense of unconditional support on her team by fostering an environment where team members are seen, encouraged, and challenged to grow. "There's nothing more important to me than my team feeling supported," she exclaims."Let's go back to making work feel like home!"
We sat down with MaryBeth to learn more about her leadership journey. Read on to hear her story, from how she started her 15 year trajectory at Clarus Commerce to her tips on how to foster an environment of belonging and support for your team.
Open-mindedness forges opportunities
Early on, MaryBeth knew she didn't want to be stuck with limited opportunities, so she decided to pursue her studies in a field that would keep her career options open: sociology. "I didn't want to be married to something that I didn't know would work out for me," she explains. "I believe whatever happens is meant to be."
After graduation, MaryBeth saw an ad for a job opening for Clarus Commerce on Craigslist and decided to apply. She folded up her resume, stuck it in her pocket, and set off to the Clarus office. "I was a firm believer in not overthinking, so I just walked into Clarus, unfolded my resume, and handed it to the hiring manager," she sheepishly reminisces. "They must have seen something in me because that was 15 years ago, and I'm still part of the Clarus family today."
MaryBeth started her career at the company as a Customer Service Representative. "I needed something to start paying my own bills," she explains. "A few years later, I moved into Operations and then was presented with this opportunity to create a project management office within Clarus, and it just made sense."
Now, MaryBeth leads and coordinates several teams as the Director of Project Management. "I was the second person on the team and now I have an entire team under me and, in some cases, they have a team under them," she explains. Her team works cross-functionally to set timelines, organize and assess processes, lead agile ceremonies, develop projects, and fight last minute fires.
Leadership Matters
MaryBeth credits her overall success to Clarus' leadership. "It's the skeleton of the company and why we're so successful," she says. "I was the 10th employee in this rickety old office and now we have thousands of square feet and 400 people. Things have definitely evolved and my success at Clarus was matched by the success of the company as a whole."
But the growth doesn't stop there. MaryBeth takes advantage of professional development opportunities whenever she can, and Clarus makes that easy. "Every year, Clarus grants each employee $1,000 for training and upskilling," she explains. "I've used it to take classes and learn about new technology within the PMO sector. More recently, my team's been focused on the SCRUM master training, as we have transitioned to agile development last year."
MaryBeth hopes to provide her team with the same support that she got from her leaders earlier on in her career, which is why she prioritizes continual learning and career pathing for her team. "I want them to feel like they are seen, encouraged, and challenged," elaborates MaryBeth. "I want them to feel at home, because they work with people that value their efforts, their interests, and their dreams."
How to make work feel like home
Along her 15 year-long career journey, MaryBeth has learned how to navigate career success, overcome challenges, and support her team along the way. Keep reading for four ways MaryBeth cultivates success for her team.
1. Build a solid team. "Get a team that you can jive with, not only professionally, but people you can go get a coffee with, too," MaryBeth advises. "My philosophy is to be friends with the people that you work with. You spend 40 hours a week with your coworkers, sometimes you spend more time with them than with your family. Just make sure that they're willing to work hard and that you actually take the time to get to know each other." MaryBeth chats with her team every day, and not only about work. Because Clarus has a hybrid work model, she's intentional about connecting her team and staying updated on what is going on in each other's lives.
2. Set clear expectations. "Project management is often looked at as the place to go when you have a problem and we're going to solve it for you," explains MaryBeth. "And we don't want to let people down." Which is why she prioritizes transparency and organization in her work by establishing clear expectations with her team members and other departments
3. Clear your inbox every day. "It sounds funny and it doesn't sound like it would be a big deal, but coming into work not knowing what to expect is hard," explains MaryBeth. "Having a clear inbox allows me to completely focus on the new set of challenges, the new set of successes, or whatever it may be that day.
4. Adjust your processes. "Love what you have put into place, because if you don't, you won't like coming to work every day," says MaryBeth. "So take the time to look back every so often and see what can be adjusted. That way you are motivated by your process and the kinds of things that help your team and company grow." MaryBeth constantly takes inventory on her team's process to see how it can improve. "Throughout the week I make mental notes of processes and team members' strong suits. I'm always thinking of ways to make things better."
Do you want to join the Clarus family? Click here to find out more about their work philosophy and open roles.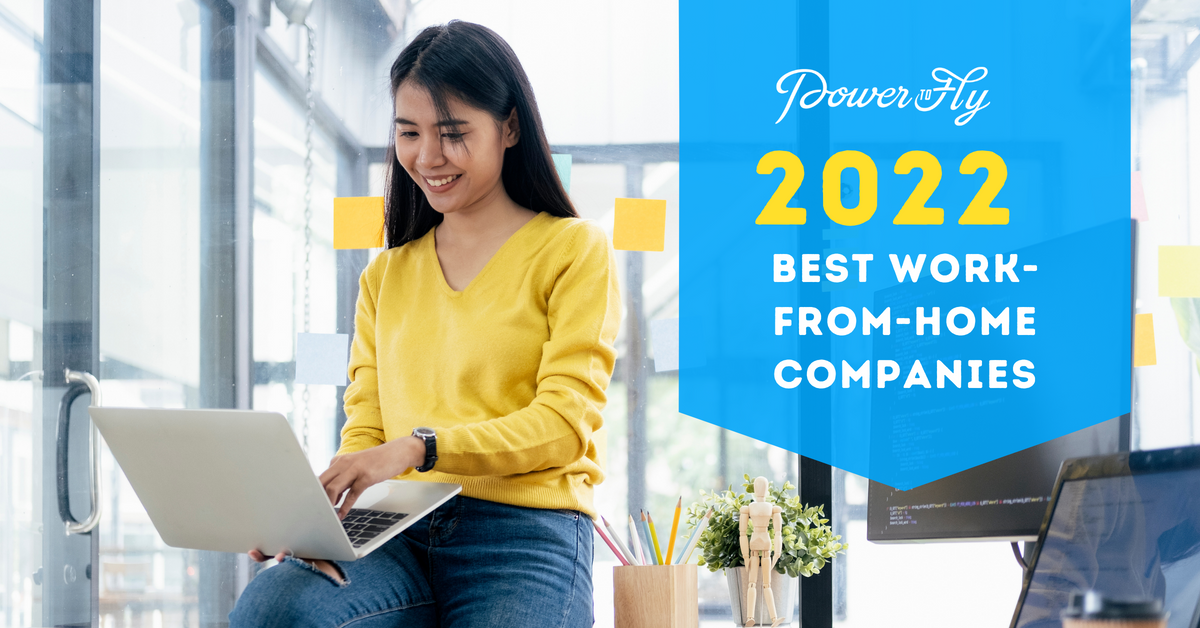 Featured Post
Every year, PowerToFly creates a list of the best work-from-home companies. Now that over half of the U.S. workforce is remote, compiling that list was a bit more challenging.
This year, we prioritized selecting companies that are remote-friendly—meaning they have both remote and in-person roles—but they have made long-term commitments to hiring and supporting employees who choose to work from home; and we think they have the perks, values, and organizational framework to allow all employees to flourish in their careers, regardless of location.
Keep reading to see our top 15 work-from-home companies for 2022, along with a description of what they do, why we like them, and who they're looking for.
PowerToFly's Best Work-From-Home Companies 2022:
Don't see what you're looking for? Check out a fill list of 5,000+ open remote roles here!
READ MORE AND DISCUSS
Show less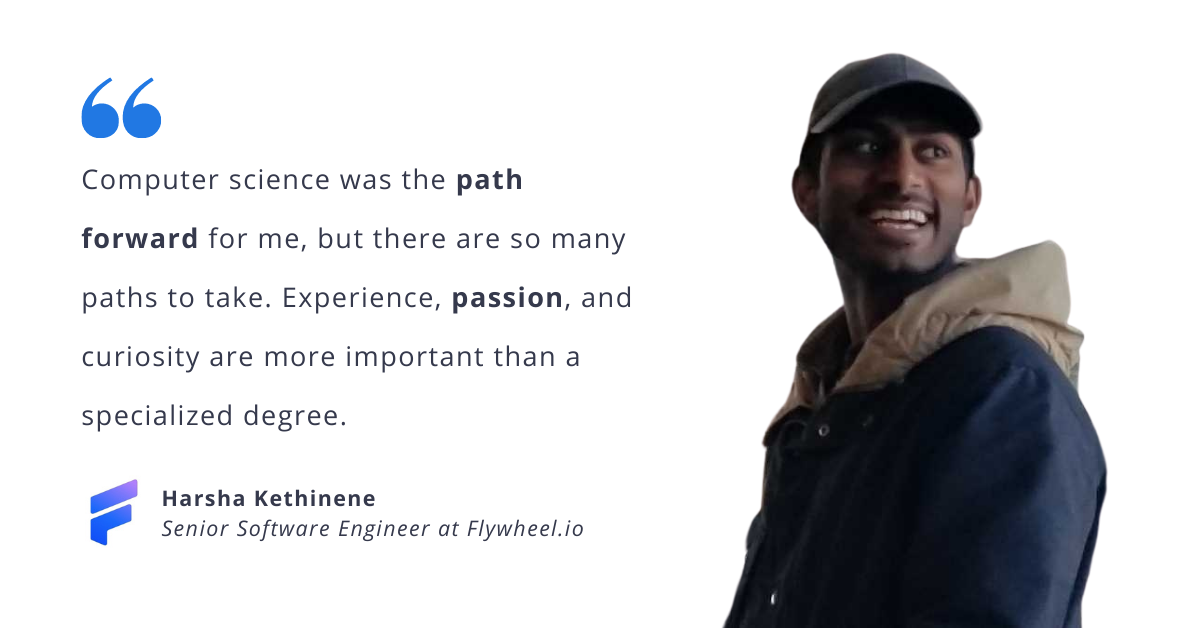 Flywheelml
Software development is in Harsha Kethinene's blood. "Both of my parents are in the computer science field," he says. "So when I was younger, they introduced me to programming." By the time he was in middle school, he was creating his own text-based video games. "I liked learning different languages and different ways of how to program, and by the time I was in high school, I knew I wanted to go into a STEM field."
And that's exactly what he did. Today, Harsha is a senior software engineer at Flywheel, a biomedical research data platform. We sat down with him to learn about his journey from college student, to intern, to engineer. Keep reading to hear his advice to smooth the transition from school to industry.
Figuring Out Next Steps
Harsha knew that he wanted to focus on science and technology in his career, so he originally opted for a double major in physics and computer science. "I had always been interested in astrophysics and space, and I wanted to learn more about that," he reminisces. "But then I took my first physics class and thought, 'alright, nevermind, we're going to stick to computer science.'"
With a new found focus, Harsha began tackling his classes and learning about different aspects of computer science, but he wasn't sure which area he wanted to focus on. "It got to a point where I thought, 'Is computer science really what I want to be doing?,' he explains. "Because what I was learning was interesting, but it didn't seem to fit with what I wanted to do."
That's when he decided to get some experience outside of the classroom to help him secure his career path. "It was my sophomore year, and I thought, 'I want to get an internship because it seemed like what smart people did,'" he laughs. After hearing about Flywheel from one of his colleagues at an on-campus student group, Harsha decided to apply for an internship.
After a series of interviews, they welcomed him on the team. He got the opportunity to dive into the industry and get insight on the different fields he could potentially work in. "Everything kind of clicked together and I thought, 'okay, this is what I want to be doing, software development.'"
Diving Into the Real World
This internship revealed some major differences between his development classes and the projects he was working on at Flywheel. "At Flywheel, what I was working on could change very fast," he elaborates. "At school you have a syllabus, you know what you are going to be working on."
While at university there were structured problems that had a neat solution, he realized that in the real world, he had to identify the problem first, and then try to solve the problem. "Sometimes you almost feel like a detective trying to figure out what's going on and why it's not working," he says. "So that's always fun. It keeps you on your toes."
"I'd say the hardest thing to learn, and what probably took me the longest to learn, is in school, when you write code, you just need to write it once, to get it to work, and then you can kind of ignore it for the rest of your life," he laughs. "You can't really do that in an industry. You need to write it and then make sure that six months from now you can still understand what you wrote."
Flywheel's dynamic, collaborative environment ultimately led Harsha to accept a full time offer as a software developer. Four years later, he's continued to climb the career ladder and is thriving in his current role as a senior software developer.
Tips for Transitioning Into the Industry
Harsha knows, first hand, that going from student to professional can be challenging. Keep reading for his advice to help smooth the transition.
Tip 1: Actively search for experiences and internships. Gaining real world experience is key to making the transition from student to professional smooth. One way to do that is through internships. "It feels very daunting when it comes to searching for an internship," Harsha confesses. "You see all of these postings online and you think, 'am I qualified for it?' Other times you get automated rejections."
When Harsha was looking for an opportunity to gain hand-on experience in the field, he relied on a network of support. "The reason I got my internship was by meeting somebody who mentioned this company that I'd never heard of." In addition to networking, Harsha recommends using other tools. "Try multiple avenues of looking for jobs and internships." Some of the avenues he suggests are industry meetups, school networking events, and conferences. "You need to break out of your shell a little bit to meet your people, to find these opportunities," Harsha advises.
Tip 2: Let your passions shine in the interview. After applying to a job or an internship, the second step is to prepare for the interview. Harsha's interview experience taught him that employers look for passionate people. "One of the people that interviewed me mentioned that they looked to see if candidates were doing any programming outside of school," he says. "That shows that you have a passion for it."
These days Harsha finds himself on the opposite side of the table as an interviewer. "When I'm sitting in on an interview, I tend to look for that [passion] as well, if they would enjoy working here in the software development industry."
Tip 3: Don't let your degree limit you. While Harsha pursued a degree in computer science, he's seen that there's no one correct path to a successful career in tech. "A computer science degree isn't really necessary at all," he elaborates. One of Harsha's former colleagues was a self-taught programmer. "He picked up small contract work online writing code and developing websites. Now, he's a software engineer at another startup."
Everyone's journey looks different, so there's no one-size-fits-all way to a successful career in tech. "Computer science was the path forward for me, but there are so many paths to take. Experience, passion, and curiosity are more important than a specialized degree."
Are you ready to put Harsha's tips into practice? Check out Flywheels' open roles here!
READ MORE AND DISCUSS
Show less
Loading...