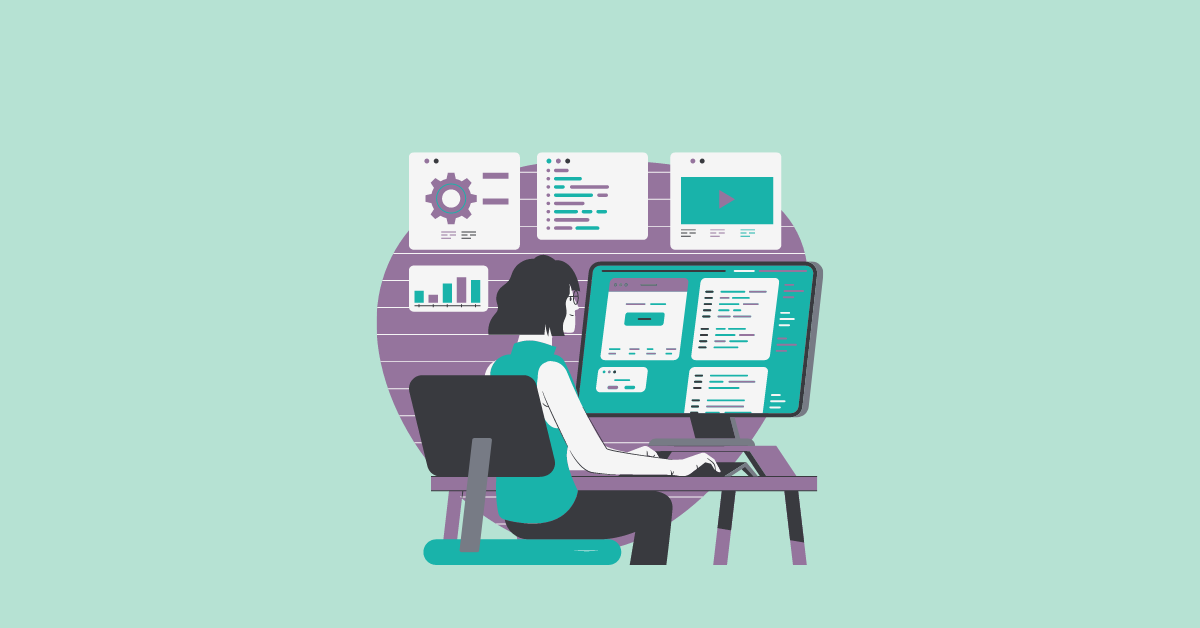 Job Search
All too often, job seekers apply for numerous types of roles across numerous different industries, thinking that keeping their options open will expedite their job search.
I see this often when people approach me seeking help to optimize their job search. It isn't unreasonable that many of us would resort to carrying out a broad job search in the hope that somebody will bite.
But what if I told you that that strategy is actually working against you?
My name is Rachel Serwetz and, as a certified career coach, I support my clients in making thoughtful career choices at every step along their path — including clarifying their best fit career direction in order to easily narrow down their job search. Keep on reading to learn why being specific and targeted in your job search is beneficial and top tips on how to do it.
Why Is it Important to Narrow Down Your Job Search Direction?
There are over 15 million job openings on LinkedIn alone. With so many options for roles, companies, and industries, it's easy to get overwhelmed in the job search. Sending in applications to every job you see that remotely fits your experience and interests can be detrimental to your overall success. Recruiters and hiring managers want to see that you're an ideal fit for the role they're hiring for, and if you're unintentional about how you approach your job search and applications, you'll notice it won't go very far.
Before we get into the tips for how to narrow down your job search, it's important to understand why it's beneficial. While there are countless advantages to targeting your job search, I'll leave you with just a few.
You'll optimize the speed and efficiency of your job search. Being specific about the types of roles you apply for will get you in the room with the right people and organizations. This can increase the effectiveness, and speed, of your job search.
You'll meet and network with the right people. When you connect with folks who work in the roles, teams, organizations, and industries you're most interested in, you can learn about your target direction. This will further inform how to be strategic with breaking into your ideal path and make it easier to figure out which skills to hone, events to attend, and resources to follow in order to seamlessly land your target role.
You'll stand out in interviews. Your understanding of your fit for a specific role and your genuine interest in the opportunity will create a compelling story and help you stand out among the competition in interviews.
You'll tailor your personal brand. Keeping up with, and strengthening, your resume and LinkedIn profile will be infinitely easier and more effective if you don't have numerous versions. Instead, your LinkedIn profile, resume, cover letter, professional summary, and any other professional materials will have a seamless, clear direction. When your materials are optimized, your inbound leads will increase.
You'll upskill to your advantage. With a clear vision of the direction you want to go professionally, you can better decide which upskilling, learning, or hands-on projects and opportunities you can take advantage of to give you additional relevant experience to further prove your fit and capabilities.
Refocusing Your Attention
You may ask, 'But, won't narrowing down close me off from opportunities?'
In short, the answer is, 'no.' The long answer is: you can find 20 open opportunities that relate to one type of role or you can find 20 opportunities that represent perhaps three to five different roles. The same could be said for industries – you can find ten companies within the industry you care about most, or you could find ten companies across three to five unique industries. Narrowing your job search allows you to double down on networking with the right people, teams, and organizations – you can still play the volume game, even with a focused, targeted direction.
You'll never be closed off if someone believes your background is worth exploring. So the more you clarify your own direction, the easier it will be for everyone else to understand what to reach out to you for. Each role varies, as do industries, so prioritizing won't close your options off, but rather help you to more easily and quickly know what to look for, what to apply to, and who to network with.
How to Narrow Down the Job Search
Finally, the moment of truth — how to narrow down your job search. Keep reading for my top tips on how to make your job search process more specific and targeted, so you can say 'YES' to your ideal job.
Get clear on your best fit role and your top industry of interest. You can do this by pursuing a process of career exploration. For those of you who aren't familiar with that term, career exploration is a "process that is distinct from, and a precursor to, the job search, including a series of steps of practical learning and self-reflection in order to compare, contrast, and clarify which career path (or which next step) you are most confident in pursuing." If you still have options for roles or industries after pursuing career exploration, it means that there is more learning and/or more reflection to do.
Build a list of your top 10 organizations within your target industry. Narrowing down your target companies is key to job search success. First, determine the right size organization that you'd thrive in. Larger organizations tend to have more structure and narrower roles. Smaller organizations often mean you'll be wearing many hats. And mid-size companies are usually a happy medium of the two. Keep in mind that there are times when a bigger, tenured organization could operate more startup-like, and vice versa.
Perform research to get to know the company's culture. I recommend getting to know a company's culture through networking. Talking to someone at one of your target organizations can help you learn about the nuances and the feel of the organization. This way, you are actively staying focused only on the organizations you know you would be happy at, and you're not overwhelming yourself with hundreds of pursuits at one given time.
Spruce up your branding materials. Now that you have determined a general direction you'd like to go in, represent it clearly in your written and digital professional branding materials like your resume and LinkedIn profile. Personal branding allows you to control how people make sense of who you are professionally and how you are choosing to utilize your skill set moving forward. Write a concise, powerful, professional summary, where you can showcase your fit and expertise with your desired direction. This summary should briefly touch on your background, your strengths, and your direction. Rather than people trying to make sense of your background without a summary, use this as an opportunity to own your story and make sense of it for them.
Be cautious as you pursue online applications. It is easy to fall down a slippery slope of "scope creep" where your job search naturally expands and takes on a life of its own without you realizing. When you look at an online job board, sometimes it's too easy to passively hit "apply." If an application is going to take an hour or more, ask yourself, "Would I happily, excitedly accept this opportunity if they were to give me the job?" and "Am I willing to go out and network with at least one or two people at this company after applying?" If the answer to one or both is no, it is likely not be worth applying at all. Take breaks or perform your job search in small chunks per day, rather than finding yourself in an hours-long rabbit hole of endless applications, so that you can avoid scope creep.
Reflect and pivot often. Identify areas for opportunity in your job search, at least once per week. Ask yourself how you're doing as it relates to pursuing your intended role, industry, and work environment or where you can adjust. Have networking calls or interviews given you any insights about how to better adjust your direction? Reflect on how you're doing as it relates to the "process" of balancing your time across key activities like networking, applications, events, personal branding, skill development, research, and more.
Practice your pitch. Think about how you'll tell your story during networking and interviews. How will you answer the "tell me about yourself" question? When you introduce yourself, remember that it's just an ice breaker and that they will ask a ton more questions about your experience later into the conversation, so how can you concisely give an overview of your professional self? (Hint: use a similar framework to the above summary (background, strengths, and direction)).
Answer interview questions. Think of potential questions that might be asked of you by an interviewer. Consider questions like, "why are you a strong fit for this role?" and "why are you interested in this company/industry?" Answer these for yourself before you apply anywhere to ensure your answers are fleshed out, or revisit the process of career exploration if you still need to narrow down your options. I recommend you practice out loud several times (for any and all interview questions). Practicing out loud is the #1 tool you can use to improve your ability to clearly highlight your skills, fit, and potential.
Remember that you are just one person, and even with a varied skill set, you can decide where, how, when, why, and with whom you want to take your skills. Any company and job you choose is just that – a choice. So, if you have some time on your side, be protective, proactive, deliberate, strategic, and intentional with each and every opportunity that you pursue. Take a step back, focus on career path exploration, gain confidence in where you want to go next, and then dive back into the job search process. Your thoughtfulness and preparedness will shine through. Happy job hunting!
---

Rachel Serwetz' early professional experience was at Goldman Sachs in Operations and at Bridgewater Associates in HR. From there, she was trained as a coach at NYU and became a certified coach through the International Coach Federation. After this, she worked in HR Research at Aon Hewitt and attained her Technology MBA at NYU Stern. Throughout her career, she has helped hundreds of professionals with career exploration and for the past 4.5 years she has been building her company, WOKEN, which is an online career exploration platform to coach professionals through the process of clarifying their ideal job and career path. She is also an Adjunct Professor of Entrepreneurship at Binghamton University and has served as a Career Coach through the Flatiron School/WeWork, Columbia University, and Project Activate. WOKEN guides professionals with career path exploration, personal branding, upskilling, job searching, career advancement, and more. Learn more here or book a free initial career coaching call here.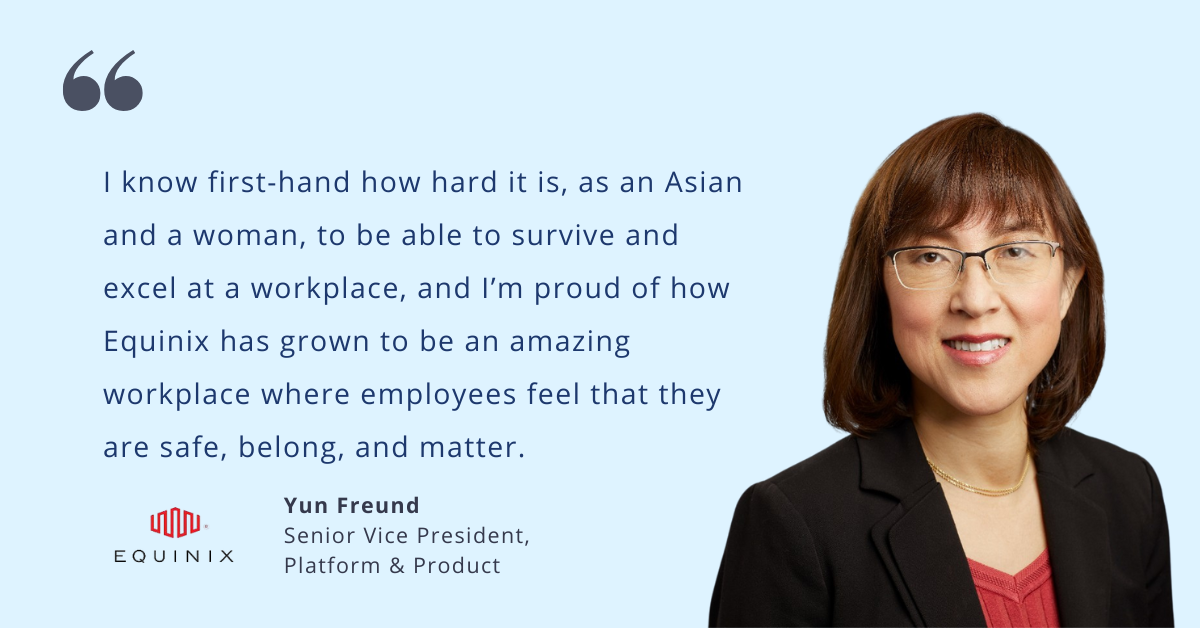 Equinix
Yun Freund considers her background to form the "typical immigrant story" — but sitting down with the SVP of Platform and Product at Equinix, it's clear she's made it her own.
"I came to the United States about 30 years ago with $80 in my pocket. I earned a CS degree from a Beijing university when computer science was new. I was good at math, so that's what I studied," explains Yun.
Fast forward a few decades, and Yun is now running one of the largest organizations at Equinix, a Fortune 500 digital infrastructure company focused on providing an interconnected platform to its global 10k customers. While focusing on external growth — the business has grown nearly 40% since her arrival — Yun has also invested in internal progress, especially when it comes to Equinix's Diversity, Inclusion, and Belonging (DIB) goals.
"I know first-hand how hard it is, as an Asian and a woman, to be able to survive and excel at a workplace, and I'm proud of how Equinix has grown to be an amazing workplace where employees feel that they are safe, belong, and matter," says Yun.
That's not just her opinion. Glassdoor confirms this, having given the company a "best place to work" distinction in 2021, and a special award for best places to work for LGBTQ+ equality list by the Human Rights Campaign Foundation.
We were excited to learn more about Yun's strategies for empowering her team — including her belief that making room for failure is just as important as celebrating success.
The Intersection of Technological Innovation and People Management
Yun first heard about Equinix through a recruiter. Decades into her career in tech leadership, she was looking for a role where she could drive innovation in both technology and people management.
"After many rounds of discussion with our executives, I realized Equinix is a company that's full of potential. It was doing a lot of innovation on interconnected SaaS products and networking products, and I thought I could really help drive, from a culture and process perspective, the company's digital transformation journey," reflects Yun.
Her first order of business? Building a strategy for scaling product development. Yun had long worked at the intersection of engineering and people management, and she embraced the challenge to scale a talent strategy as well as changing the culture.
That resulted in clear growth — not just for Yun's career, as in promotions and new responsibilities, but also in what the company was able to do.
"Helping to cultivate a DevOps culture, move products to the Cloud for high reliability and availability, and build operational excellence for our customers is contributing to us fulfilling our purpose, which is to be the platform where the world comes together, enabling the innovations that enrich our work, life and planet," says Yun.
Diverse Ways of Measuring Impact
Yun doesn't manage her team by the balance sheet alone.
"Improving the bottom line, or operating more efficiently, is just as important as improving the top line, or driving more revenue and more customer adoption," she says. "Sometimes it's not about how we get new products and services out the door, but how we run things more efficiently."
For Equinix, says Yun, that includes committing to becoming carbon-neutral by 2030.
"We're a company that really touches life every day, from online shopping, to sending emails and streaming movies, to smart cars," says Yun. "We want to be doing that sustainably. For example, by using AI and machine learning to lower our power consumption and using green sources of energy."
Yun knows that to drive the most impact, Equinix needs a diverse team. She has partnered with other senior leaders and employee connection groups and started driving a more coherent DIB strategy across the company. She is excited to see the progress and wants to continue the effort in building a diverse and safe workplace for everyone — including by leading through her own example.
3 Key Ways to Empower Your Team
When Yun says that it's important to empower your team, she doesn't mean that you simply transfer the responsibility to your team and call it done. Here's what she does mean:
Embrace failure. "It's easy to say, 'Ah, empowerment. Here's the purpose, go drive impact.' But sometimes it's not all rosy," she says. "The road to empowerment can sometimes be a failure. How do you support your employees along the way? When they fail, you should not blame them. You should be there, on their side, to help them do a retrospective and learn from it."
Show trust via delegation. "Giving your team the opportunity to make their own decisions helps give them a purpose. It shows them they can make a difference. Accountability and ownership will help drive your team to have deeper engagement and commitments, and ultimately deliver results."
Tie individual responsibilities to company OKRs (Objectives, Key Results). "I always communicate to my team that every engineer and individual contributor's work will have an impact on the business, no matter how small that is," says Yun. For example, if an engineer is working on a new digital experience component for the customers, their work will contribute to some kind of business outcome such as, hours saved from many customer support calls or customer satisfaction score improvement, and that in turn drives operational efficiency and customer experience improvement for the whole business. "When employees realize their impact on the business, it elevates their motivation as well as their state of mind."
Looking to join an empowerment-first culture? Check out Equinix's open roles!
READ MORE AND DISCUSS
Show less
Loading...