GET EMAIL UPDATES FROM POWERTOFLY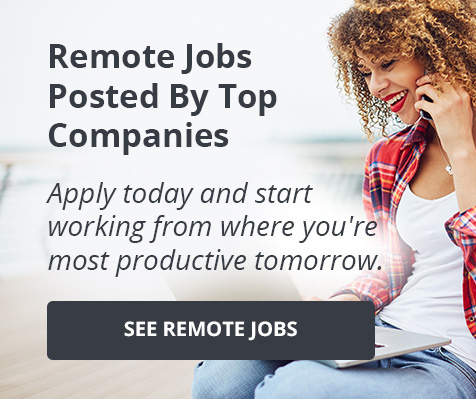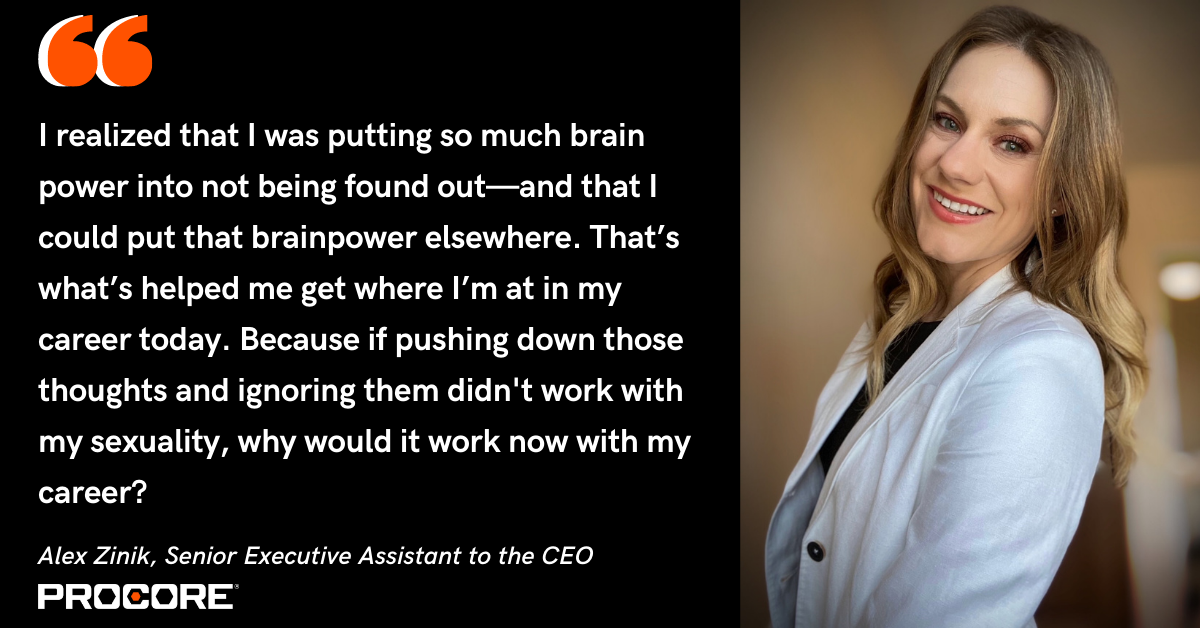 June 22, 2021
Procore Technologies Inc
How Being an Open Member of the LGBTQIA+ Community Has Helped Procore's Alex Zinik Overcome Imposter Syndrome at Work
Alex Zinik wasn't surprised that she started her career in education—she decided she would become a teacher when she was just in third grade.
She was surprised while working as a paraeducator in the school system and preparing to become a special education teacher, she discovered that it didn't feel quite right. "I didn't know if that's what I really wanted to do," she recalls.
So a friend suggested she take a job during her off summers at construction software company Procore. She thought this would be the perfect opportunity to try out this new challenge, and if she needed to, she could go back to the school district once the summer was over.
"Five summers later, I'm still here!" she says, smiling. "And I see myself here for many more years. I just fell in love with the company, the culture, and with the career growth opportunities I was presented with."
As part of our Pride month celebrations, Alex, currently the Senior Executive Assistant to the CEO at Procore, sat down with us to share how a common fear—the fear of being found out—underlay the imposter syndrome she felt when pivoting to an industry in which she lacked experience, and the anxiety she often felt before coming out to her friends and family about her sexuality.
Read on for her insight on overcoming negative thought patterns, being yourself, and paying it forward.
---
Recognizing patterns when working to fit in
Alex first learned about imposter syndrome—an internal experience of believing that you are not as competent as others perceive you to be—a few years ago. She was immediately struck with a sensation of feeling less alone—of recognizing that there was a name for what she'd been experiencing on the job.
"Imagine being part of a group where you're told your whole life that you're not good enough, or that you don't fit in, because of your skin color or your sexuality," she says. "It's so important to understand that we're not suffering through this alone. Imposter syndrome is way more common than we think it is, and it's so important to be open about it."
As she read more about it, Alex recognized signs of imposter syndrome in her day-to-day work: feeling shy presenting her work to stakeholders or avoiding using technical terms for fear someone would think she didn't know what they meant.
"I realized I would try to shove the thoughts down and avoid putting myself in certain situations at work," she says. "That was actually a lot like how I used to treat my sexuality before I was open about it. And I realized that I was putting so much brain power into not being found out—and that I could put that brainpower elsewhere. That's what's helped me get where I am in my career today. Because if pushing down those thoughts and ignoring them didn't work with my sexuality, why would it work now with my career?"
Leaning in to opportunities to be herself
Two mentors have played a big role in guiding Alex's career thus far.. First is Suzanne Mayeur, Procore's VP of Special Projects. She hired Alex, gave her her first stretch project (collecting data on improving the company's shuttle and parking services), and guided her through her first promotion into a travel role. Michael Denari, Procore's Director of Procurement, also supported her career growth at Procore. He taught her how to run Excel reports, gave her opportunities to present to executives, and supported her pursuit of project management certification.
"When I was a kid in high school and college, I didn't really ever have that passion for what I wanted to do," says Alex. "I never studied harder for anything in my life than I did for that project management test!"
She passed on her first try, and enjoyed working in program and project management within Procore's procurement team until Suzanne reached back out with an opportunity to support Tooey Courtemanche, Procore's CEO.
"It was so scary to think about," says Alex. "I was really comfortable in my position in procurement and I felt like I was in a really good place in my career." The imposter syndrome she'd dealt with earlier in her career almost kept her from taking the job. "I spent a lot of time asking, 'Am I good enough? Do I have the right qualifications? Will everybody find out that I only have teaching experience under my belt?'"
But Alex remembered what she had learned: that she had power over her own thought patterns, and that she could redirect them. "I said, 'I am good enough. In fact, I am going to use what I've learned to accomplish more and continue to grow in my career.'"
She took the job, and now loves all aspects of managing the office of the CEO—especially the opportunity to study Tooey's leadership style.
"I spend day in and day out with him. And one thing I admire is that he never changes based on his audience," says Alex. "He's the same Tooey we all know whether he's talking to a new hire he runs into in the parking lot or whether he's talking to investors on Wall Street. He's himself, he's proud of who he is, he's open about his story. He embraces who he is and he's authentic, and that's a good reminder."
Creating opportunities for others
In Alex's past jobs, she didn't feel comfortable being out as her authentic self. "My coworkers would assume I was straight...I would try to blend in and stay under the radar. I used to get extreme anxiety whenever one of my coworkers would ask me personal questions. Because how could I tell them about the awesome weekend I just had with my girlfriend?" she says.
That's not the case at Procore. She's been out since she joined the company. "As soon as I stepped foot in Procore, I was like, 'Oh my gosh, I can be out here; I can say 'my girlfriend and I'; I don't have to hide who I am.' Everyone was so welcoming and so supportive," says Alex.
Now, Alex is working to make sure that Procore stays a safe and supportive place for everyone. She's spoken about Pride on Procore's All Company Update calls and currently serves as the co-chair for Procore's PRISM (Pride Raising Awareness, Involvement, Support, and Mentoring) employee resource group for LGBTQIA+ employees and allies. With PRISM, she helps host events and create volunteer opportunities, and partners with other ERGs, including Procore's African (Descent) Council, to support allyship across identities.
As part of Procore's June Pride month celebrations, Alex is hosting a Daring Conversations episode about the never-ending process of coming out, and celebrating with virtual events across Procore campuses. Personally, she's celebrating her first Pride with her now-fiancé (Alex's girlfriend recently proposed to her!).
"I want my fellow LGBTQIA+ employees to know that not only am I part of this community, but I'm an ally to them. If I can do my part by being out and open, I want to; I want to promote psychological safety as much as I can, and make a positive impact where I can," she says.
If Procore's culture sounds like one you can get behind, check out their open roles!
Related Articles Around the Web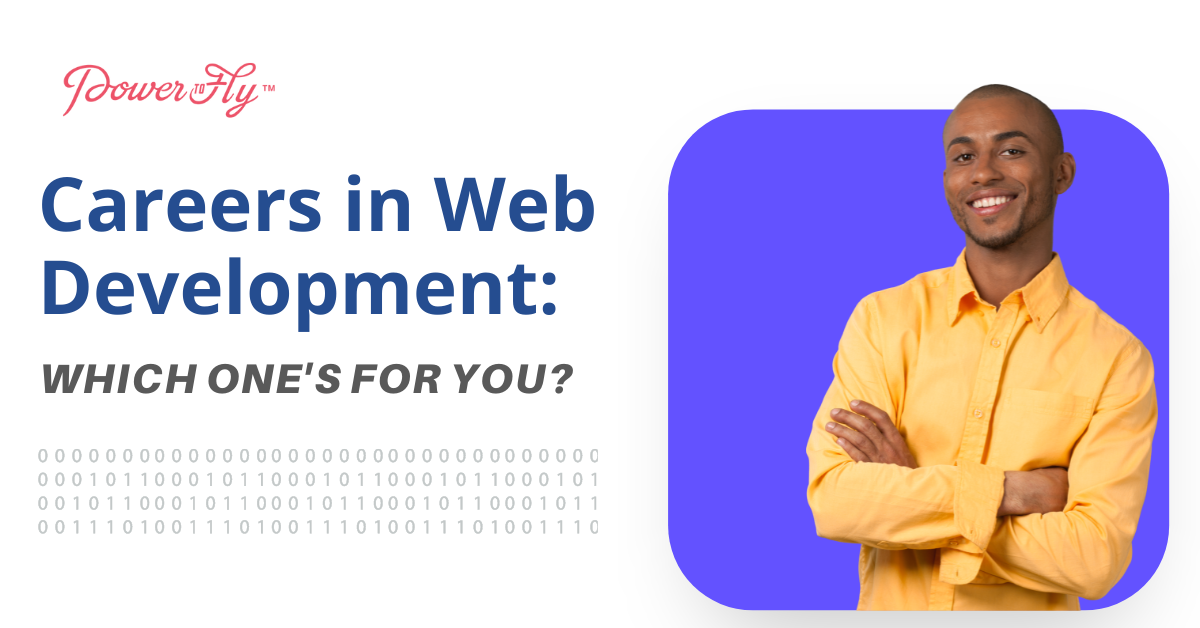 Upskilling and Development
We all have our favorite websites– the ones we frequent, bookmark, and recommend to others. You might even enjoy some website features so much that you've found yourself wondering why they aren't more popular. Or maybe you've experienced times where you were frustrated with a website and wished you could add features or even design your own!
If you've ever found yourself intrigued at the prospect of designing and developing your own websites, then a career as a web developer might be just for you!
As a web developer you would be responsible for coding, designing, optimizing, and maintaining websites. Today, there are over 1.7 billion websites in the world and, in turn, the demand for web developers is on the rise. In order to figure out what kind of web development work best suits you let's start with an introduction to the three main roles in web development that you can choose from.
The Three Types of Web Development Jobs
Front-End Web Development: The Creative Side
Think of front-end development as the décor of a house. The color scheme, furniture, manicured lawns, and overall aesthetic. In terms of a website, front-end development is laser-focused on the appearance of a website and its presentation on different devices. If you're considering a role in front-end development, it's important to learn programming languages such as HTML, CSS, and JavaScript. These three languages go hand-in-hand. HTML allows you to create user interface elements, CSS helps you with stylistic elements, and JavaScript allows you to incorporate online tools and connect your website to back-end functions.
In addition to programming skills, front-end developers need to be detail oriented, creative, willing to keep up with the latest trends in web development, cyber security conscious, and geared toward user-friendly designs. The median salary for a front-end developer can reach well into the $90,000 to $100,000 range.
Back-End Web Development: The Logical Counterpart
While a house can be beautifully decorated, it's incomplete without a solid foundation and efficient infrastructure. Similarly, a well-designed website depends on logical and functional code to power the features of that website. Back-end web development is code-heavy and focused on the specifics of how a website works. If you enjoy the analytical challenge of creating the behind-the-scenes code that powers a website, then back-end development is for you.
Since this role is more code-heavy, it's important that you learn numerous programming languages and understand algorithms and data structures. Some languages that are essential to back-end development are Ruby, Python, SQL, and JavaScript. Back-end developers also ensure that users can successfully retrieve and access data. This requires creating and using APIs (Application Programming Interfaces) which act as messengers that relay data related requests. Additionally, developing the code for the inner workings of a website also requires back-end developers to be conscious of the user interface features designed by front-end developers and to internally mitigate potential security risks. Due to the increased technical aspect of this position, back-end developers normally earn higher salaries than front-end developers. The average median salary for this role is around $118,000 per year.
Full-Stack Web Development: A Little Bit of Everything
A full-stack developer is essentially the Jack (or Jill)-of-all-trades in web development. Full-stack developers need to be knowledgeable about both front-end and back-end roles. This does not necessarily imply that you would need to be an expert in both roles, but you should fully understand the different applications and synergies they each imply. In order to work in this position, you will need to know the programming languages used by front-end and back-end developers. In addition to these languages, full-stack developers also specialize in databases, storage, HTTP, REST, and web architecture.
Full-stack developers are often required to act as liaisons between front-end and back-end developers. Full-stack developers need to be both problem solvers and great communicators. The end goal for a full-stack developer is to ensure that the user's experience is seamless, both on the front-end and on the back-end. In return, you can expect to earn a median salary of $100,000 – $115,000 a year for this role.
Taking the Next Step
Web development is both in-demand and lucrative! All three roles described above contribute to specific aspects of web development and the scope of each one can be customized to the industries and positions you feel best suit you. Regardless of which role you choose, all of them need a foundation in programming.
To gain the programming skills needed in each role, you can enroll in courses or learn independently. Coding bootcamps are a great way to boost your skillset quickly and efficiently.
Click here for some of our highly rated programming bootcamp options! Make sure to check out the discounts available to PowerToFly members.
READ MORE AND DISCUSS
Show less
Loading...