GET EMAIL UPDATES FROM POWERTOFLY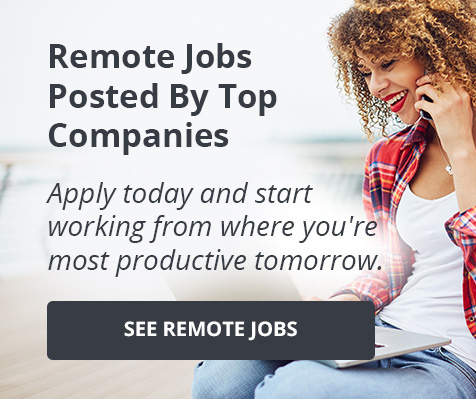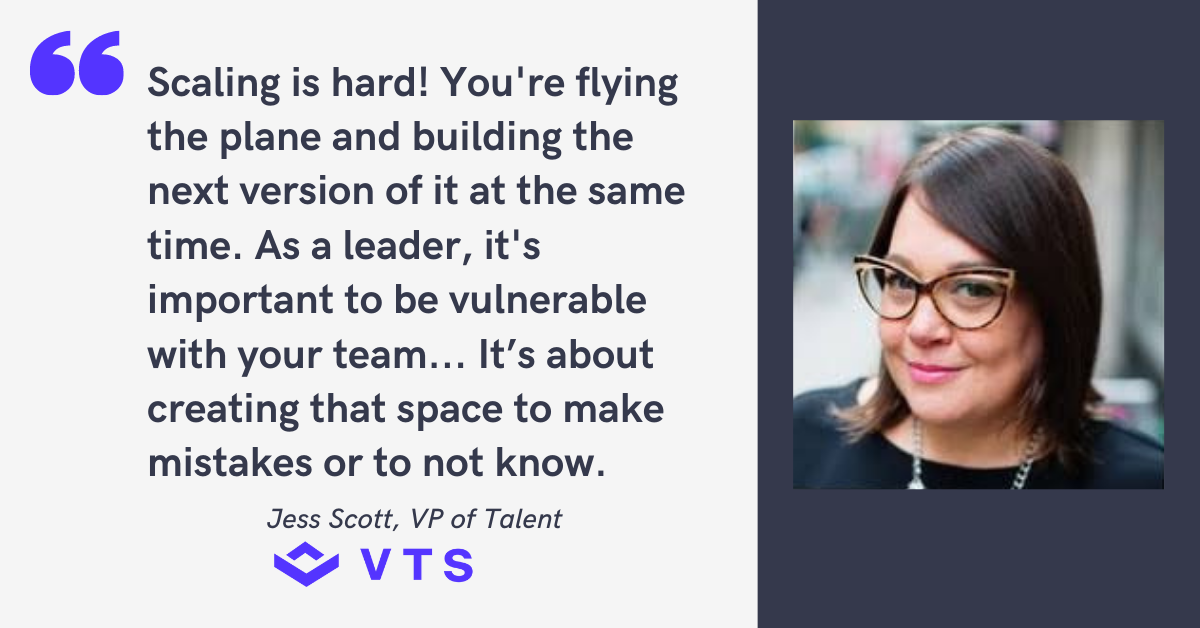 July 30, 2021
VTS
How to Scale: 3 Tips from VTS's Jess Scott on How to Go from 200 to 1,000 Employees
Remember when, in movies from the late 1990s, characters who were looking for a job would leaf through a newspaper's classified section to see who was hiring?
Jess Scott has been running HR teams and talent acquisition teams since then. "You would circle in red pen the job they're going to go apply for. That's how you applied!" she says, laughing. "Sending emails, especially with attachments, was still a very new thing."
---
While the industry has changed a lot since then, especially with the data and technology that allows for more predictive control of the process, the fundamentals of how to build a solid team have remained the same. And Jess has been leaning on those fundamentals as she's helped scale VTS, a leasing and asset management platform for the commercial real estate market, from a couple hundred employees to more than 1,000.
We sat down with Jess, who is currently VP of Talent at VTS, to hear more on how she's done it, as well as how she got her start in the industry and what she's learned along the way.
Finding a "real career" in finding people
Jess was a theater major in college when she realized that she couldn't commit to pursuing a thespian's life.
"I dated an actor very seriously in college who was eight years my senior, and I saw his life, and I was like, 'I can't live that life.' Temping forever, not knowing where your next gig is going to come from, it just seemed too erratic for me," she says. So Jess added a sociology and education major and planned to teach, but that didn't quite work out, either.
"I student-taught and found out that I love kids, but I couldn't do that all day!" she says. She got an internship at a retained search firm and figured she'd be there for a little while—and was surprised when she found it really interesting.
"I didn't think 'finding people' was a real career," she says, smiling. "But I was learning how to build an org chart, how to interact with managing directors, how to woo people, how that whole process works."
Jess later joined a search firm, then went in-house at MTV to help build their first internet team. "I got the startup bug then, and really learned about all the moving parts of being an HR generalist," she says. She worked there while she got her master's in industrial and organizational psychology. From there, she went back and forth between agencies and startups before finding her way to VTS.
Why VTS
Jess first heard of VTS from a friend who suggested she come over and consult for the growing company. But Jess stayed because she really believes in the product and the people.
"What we're building makes so much sense. It's so intuitive," she says. "Real estate isn't going anywhere. It's actually a lot sexier than I thought it was going to be!"
The opportunity to run talent acquisition at VTS checked all of the boxes Jess was looking for in a job:
An opportunity to make an impact
The chance to work with founders she believes in ("our founders are really good people with really good moral compasses," she says)
A formal commitment to DEI and ongoing learning and development
And since joining, her expectations have been met. "I've never worked somewhere where our values are truly who we are," says Jess. "We don't talk about culture fit. I think that's so subjective and kind of antiquated and has all sorts of unconscious bias and all sorts of things that creep in. We think about it as: are you a values fit? Are you going to be a good peer and member of our community? We've created a really wonderful work environment, and as we scale, we've been able to keep the things that make us special top of mind for everyone."
Embracing exponential growth: 3 tips for other managers doing the same
As the VP of Talent at VPS, Jess's days are filled managing her 14-person team, directly overseeing a few executive searches, and planning for the future of the company, from hitting next quarter's head count to building a production-driven environment that more systematically manages talent across the organization.
After seeing her team through the pandemic, says Jess, she's more focused than ever about building "true, deep, authentic relationships" and learning how to support and motivate her teammates, both at work and in their personal lives. "I really care about what I do, and I really care about my team, and I want to see us win," says Jess, who adds that her team now has even better unity and cohesion than they did pre-pandemic.
She's now able to channel that shared motivation and dedication into her biggest professional challenge to date: making sure that her team can meet the talent demands of a fast-growing company.
And she has three tips to share on how to do just that:
Adopt new tools and techniques. Jess is an intuitive manager at heart, but she knew she'd have to step outside of her comfort zone to build something truly systematic and scalable. And now, "we use data to better predict capacity," says Jess. "We know how many jobs we're going to be able to fill based on past performance, broken down by product, engineering, and business, which take different amounts of time." She invested in cleaning up her team's data and building the infrastructure to better predict and track hiring needs. "We're very metrics-driven now. We had to totally rethink and reimagine how we were doing things, because what had worked wouldn't scale."
Be vulnerable with your team. "Scaling is hard!" says Jess. "You're flying the plane and building the next version of it at the same time. As a leader, it's important to be vulnerable with your team, as it allows them to ask questions. It's about creating that space to make mistakes or to not know."
Ask for the help you need. "If you don't know how to do it, it's okay to say, 'I don't know how to do it!' and get resources to help you," she says. "There are things that I just didn't don't know how to do, like how to assess whether assessment tests are going to make our top of funnel better." In that example, Jess got around that by partnering with an outside firm to come in and help lead a six-month process to restructure her team's processes and set them up with the metrics-based approach that's currently driving a 33% increase in capacity.
Looking to join Jess's fast-growing team? Check out VTS's open roles.
Related Articles Around the Web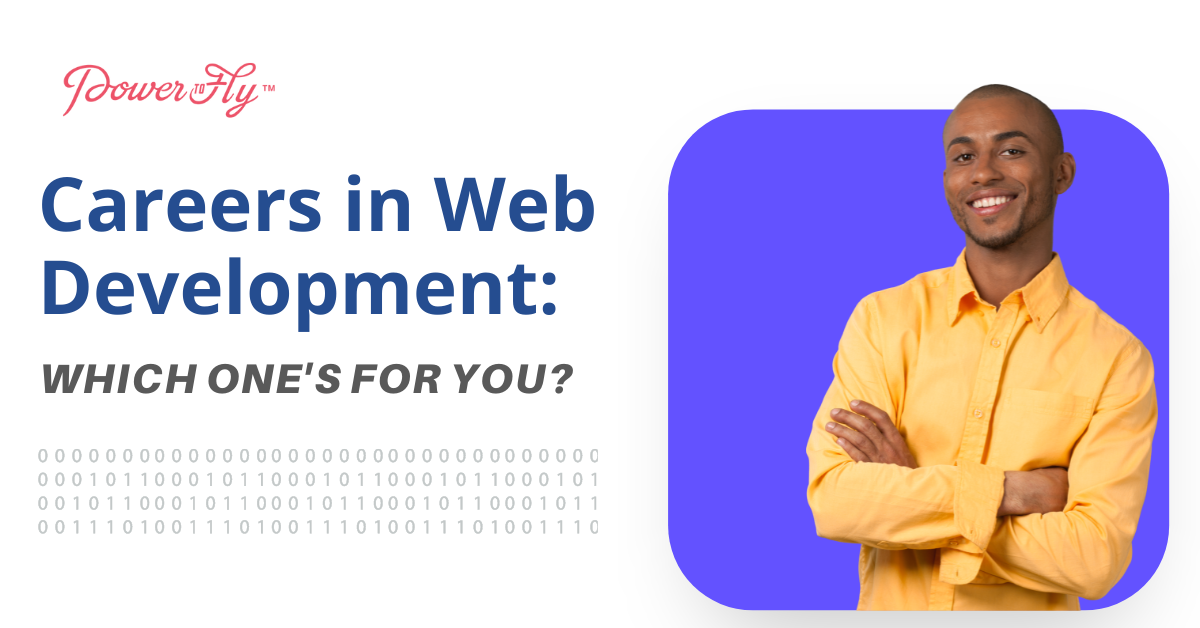 Upskilling and Development
We all have our favorite websites– the ones we frequent, bookmark, and recommend to others. You might even enjoy some website features so much that you've found yourself wondering why they aren't more popular. Or maybe you've experienced times where you were frustrated with a website and wished you could add features or even design your own!
If you've ever found yourself intrigued at the prospect of designing and developing your own websites, then a career as a web developer might be just for you!
As a web developer you would be responsible for coding, designing, optimizing, and maintaining websites. Today, there are over 1.7 billion websites in the world and, in turn, the demand for web developers is on the rise. In order to figure out what kind of web development work best suits you let's start with an introduction to the three main roles in web development that you can choose from.
The Three Types of Web Development Jobs
Front-End Web Development: The Creative Side
Think of front-end development as the décor of a house. The color scheme, furniture, manicured lawns, and overall aesthetic. In terms of a website, front-end development is laser-focused on the appearance of a website and its presentation on different devices. If you're considering a role in front-end development, it's important to learn programming languages such as HTML, CSS, and JavaScript. These three languages go hand-in-hand. HTML allows you to create user interface elements, CSS helps you with stylistic elements, and JavaScript allows you to incorporate online tools and connect your website to back-end functions.
In addition to programming skills, front-end developers need to be detail oriented, creative, willing to keep up with the latest trends in web development, cyber security conscious, and geared toward user-friendly designs. The median salary for a front-end developer can reach well into the $90,000 to $100,000 range.
Back-End Web Development: The Logical Counterpart
While a house can be beautifully decorated, it's incomplete without a solid foundation and efficient infrastructure. Similarly, a well-designed website depends on logical and functional code to power the features of that website. Back-end web development is code-heavy and focused on the specifics of how a website works. If you enjoy the analytical challenge of creating the behind-the-scenes code that powers a website, then back-end development is for you.
Since this role is more code-heavy, it's important that you learn numerous programming languages and understand algorithms and data structures. Some languages that are essential to back-end development are Ruby, Python, SQL, and JavaScript. Back-end developers also ensure that users can successfully retrieve and access data. This requires creating and using APIs (Application Programming Interfaces) which act as messengers that relay data related requests. Additionally, developing the code for the inner workings of a website also requires back-end developers to be conscious of the user interface features designed by front-end developers and to internally mitigate potential security risks. Due to the increased technical aspect of this position, back-end developers normally earn higher salaries than front-end developers. The average median salary for this role is around $118,000 per year.
Full-Stack Web Development: A Little Bit of Everything
A full-stack developer is essentially the Jack (or Jill)-of-all-trades in web development. Full-stack developers need to be knowledgeable about both front-end and back-end roles. This does not necessarily imply that you would need to be an expert in both roles, but you should fully understand the different applications and synergies they each imply. In order to work in this position, you will need to know the programming languages used by front-end and back-end developers. In addition to these languages, full-stack developers also specialize in databases, storage, HTTP, REST, and web architecture.
Full-stack developers are often required to act as liaisons between front-end and back-end developers. Full-stack developers need to be both problem solvers and great communicators. The end goal for a full-stack developer is to ensure that the user's experience is seamless, both on the front-end and on the back-end. In return, you can expect to earn a median salary of $100,000 – $115,000 a year for this role.
Taking the Next Step
Web development is both in-demand and lucrative! All three roles described above contribute to specific aspects of web development and the scope of each one can be customized to the industries and positions you feel best suit you. Regardless of which role you choose, all of them need a foundation in programming.
To gain the programming skills needed in each role, you can enroll in courses or learn independently. Coding bootcamps are a great way to boost your skillset quickly and efficiently.
Click here for some of our highly rated programming bootcamp options! Make sure to check out the discounts available to PowerToFly members.
READ MORE AND DISCUSS
Show less
Loading...