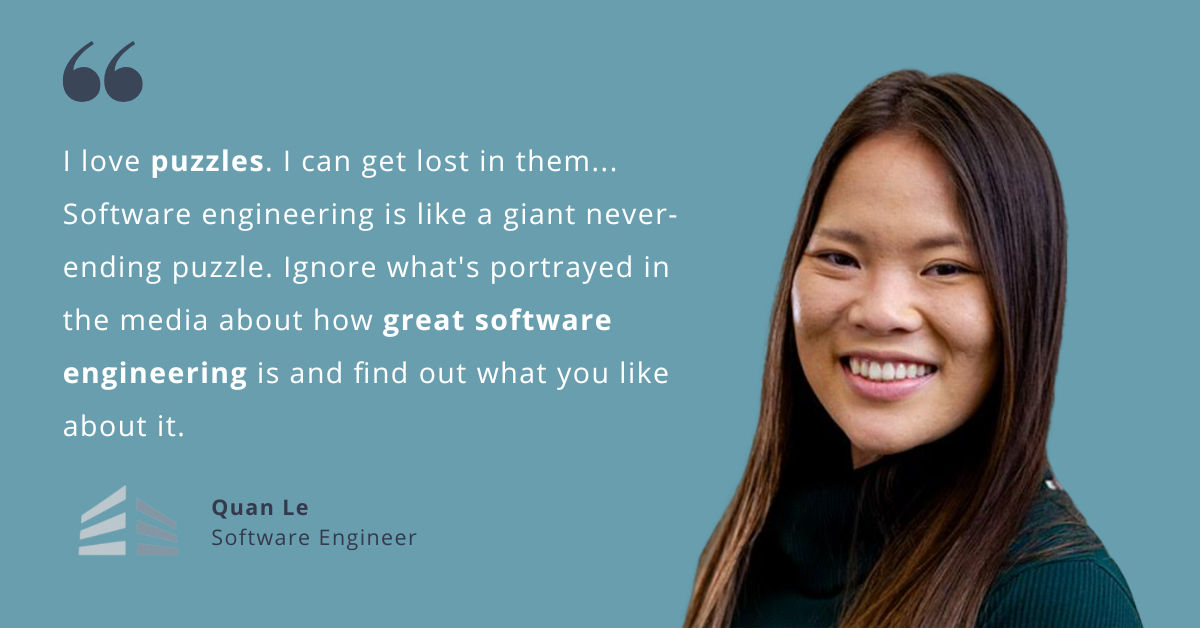 Crowdstreet
Quan Le loves being outdoors.
"I love climbing. My partner and my life goals revolve around it. We want to climb the hardest routes or the coolest mountains," Quan shares with excitement.
Although Quan and their partner share this hobby, they also have their separate outdoor interests. "My partner likes to go backpacking and I prefer scuba diving," they explain.
Quan enjoys the outdoors so much that you'll only find them inside on two occasions. The first is to watch movies like Everything Everywhere All At Once, and the second is to work from home as a software engineer for CrowdStreet.
We sat down with Quan to learn more about their career journey from mechanical to software engineering and the lessons they learned along the way.
Starting out in Mechanical Engineering
When Quan got accepted into the University of California Irvine (UCI), they majored in biological sciences thinking they would fulfill their parents' hopes of them becoming a doctor. However, they quickly became uninterested in the subject.
"I just didn't like it," they admit. "So once I got to UCI, I struggled for a year to try to figure out what I wanted to do." This temporary uncertainty led them to change their major to accounting because of their interest in money.
"Money is universal to everyone, especially in today's economy," Quan says. "Knowing how to handle your money and how it flows between different accounts is very useful."
Even though finance interested them, it wasn't exactly the career field they wanted to be in.
"I realized early on that I like to be mentally stimulated. I like challenges. So, I switched to one of the hardest majors: mechanical engineering," they explain.
With this new focus came a new career goal. "As cheesy and stereotypical as it is, I wanted to work for SpaceX and launch rockets to Jupiter or Pluto and things like that," they admit.
However, Quan had to face the reality that there are limited career opportunities in space travel and more opportunities in software.
Pivoting to Software Engineering
Quan enjoyed the logical approach they learned in mechanical engineering, but there was one drawback.
"In the industry, unless you're doing research, which you'd have to get your PhD for, it's a lot of paperwork and documentation," Quan says. "You're not doing formulas or looking up series anymore."
"I don't think people should derive their happiness from work, but I don't think you should be miserable from work either," they explain. With this realization, Quan determined to make a career shift .
In search of something more fulfilling, Quan made a career change and shifted into the world of software by attending a coding bootcamp. This helped them build a foundation in coding, and smoothly transition into software engineering.
However, a relatively seamless transition didn't mean a career without challenges.
"With software engineering, you're going to come across problems with your code," Quan shares. "It's not going to work and you're not going to understand why."
In these moments of frustration, Quan learned how to deal with these challenges without getting overwhelmed.
"When I feel like banging my head on the wall because of a problem, I go lay down," they explain. "I go sit somewhere, look at my phone, text my friend, or go on a short run."
Learning to navigate these stressors has helped Quan produce influential work.
The Advantages of Working in the Startup Culture
As the tech industry boomed, Quan saw the allure of wanting to work for big companies.
"I realized there's a lot of talk about joining big companies like Facebook, Amazon, and Google," they share. "But at the same time, when you're at a big company you can feel like a cog in the machine. To see one small change, you're probably going to be working on it for years."
With this in mind, Quan focused on working at start-ups, where they even saw one of their inventions come to life.
"At my former job, I started an app with my teammate," they explain. "We went from nothing to creating a product that the stakeholders wanted and enjoyed."
In just three months, they created an app that allows you to upload a file, be it a pdf or video, and have it translated into another language.
"I thought it was an important thing to have because there's lots of great literature and video content in different languages, but we can't access them because not everyone can speak 10 languages."
Being able to see the results of their hard work is something that Quan appreciates about working with start-ups. This, along with the remote freedom and supportive work culture that comes with it.
Remote Freedom at CrowdStreet
Soon after creating the app for their former employer, the pandemic hit, which temporarily forced Quan to work remotely. Fortunately, this allowed them to support their partner who was working in the ICU at the time.
"I wanted to find a remote solution so that I could be home to support him," they share. "After a 12-hour shift, the last thing you want to think about is cooking dinner or a two-hour commute."
In search of a company that would allow them to work fully remotely, they found CrowdStreet, one of the leading real estate investing platforms.
At CrowdStreet, Quan not only gets the freedom to work from anywhere they want, but they also reap the benefits of a dynamic and supportive work environment.
"Sometimes during our stand-up meetings, we talk about coding or our weekend," they say. "We don't only talk about work."
CrowdStreet's 'stand-up' meetings provide space for daily check-ins and help build comradery. They also have 'retro' meetings, which focus on long-term plans.
"In retro planning, we talk about our goals for the next brand and what we want to accomplish," Quan explains.
Within the team, everyone has a say. "It does feel very democratic," Quan shares. "The product manager can present the needs and concerns of the stakeholders, but we have the opportunity to push back. For example, the customers may care about this, but we need to fix this major bug right now."
"The culture of collaboration within the company makes you feel like you're not just a cog in the machine, that your opinion does matter," Quan comments.
3 Points for Pivoting Careers
From biology major to mechanical engineer to software engineer, Quan has a lot of advice to offer about shifting career paths. Here are their top 3 points:
Switch to a field you are genuinely interested in. Some careers may look appealing from the outside, but may not be what truly interests you. "I love puzzles," Quan shares. "I can get lost in them. Software engineering is like a giant never-ending puzzle." If you switch careers based on appearances, popularity, or salary, you will ultimately get burnt out. "Ignore what's portrayed in the media about how great software engineering is and find out what you like about it."
Find what you like doing outside of work. Having hobbies outside of work is just as important as doing work that you enjoy. "All my friends who are software engineers like what they do, but they are the happiest people because they have something else outside of work that they love," Quan explains.
Keep on learning. Quan suggests taking your learning outside of the office. "You don't always have to be learning about your work," they advise. "It's hard to do that all the time. Learn how to build a bookshelf, go read a book, or try a new crocheting technique." Quan encourages you to study what interests you in addition to your professional needs.
If you're interested in making a career move, check out Crowdstreet's career opportunities.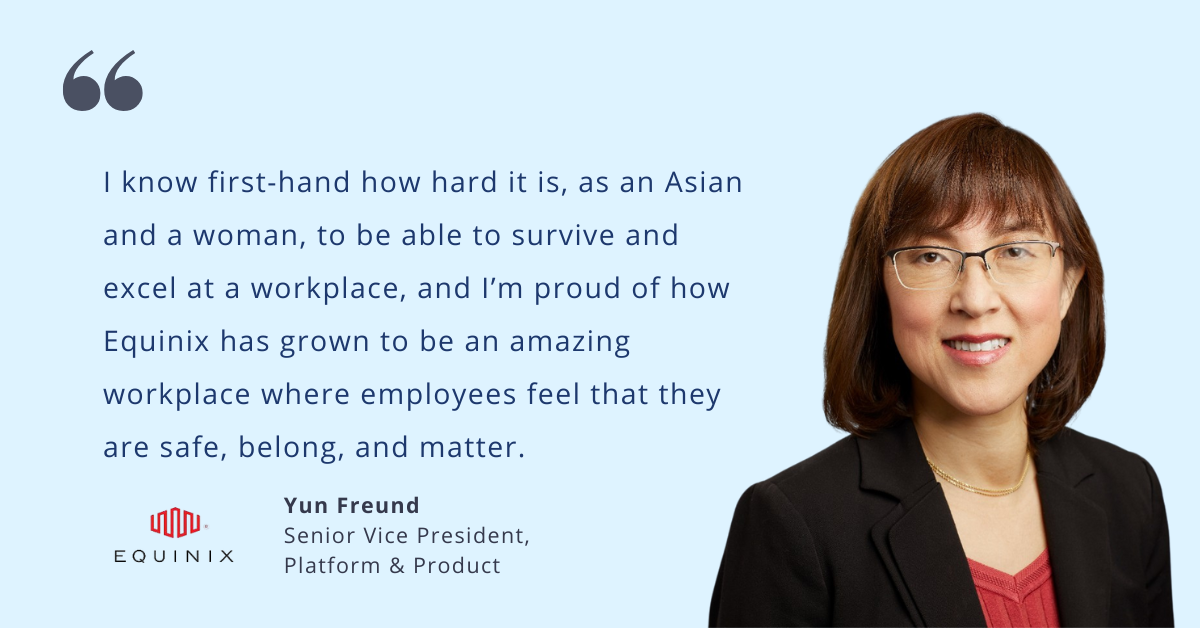 Equinix
Yun Freund considers her background to form the "typical immigrant story" — but sitting down with the SVP of Platform and Product at Equinix, it's clear she's made it her own.
"I came to the United States about 30 years ago with $80 in my pocket. I earned a CS degree from a Beijing university when computer science was new. I was good at math, so that's what I studied," explains Yun.
Fast forward a few decades, and Yun is now running one of the largest organizations at Equinix, a Fortune 500 digital infrastructure company focused on providing an interconnected platform to its global 10k customers. While focusing on external growth — the business has grown nearly 40% since her arrival — Yun has also invested in internal progress, especially when it comes to Equinix's Diversity, Inclusion, and Belonging (DIB) goals.
"I know first-hand how hard it is, as an Asian and a woman, to be able to survive and excel at a workplace, and I'm proud of how Equinix has grown to be an amazing workplace where employees feel that they are safe, belong, and matter," says Yun.
That's not just her opinion. Glassdoor confirms this, having given the company a "best place to work" distinction in 2021, and a special award for best places to work for LGBTQ+ equality list by the Human Rights Campaign Foundation.
We were excited to learn more about Yun's strategies for empowering her team — including her belief that making room for failure is just as important as celebrating success.
The Intersection of Technological Innovation and People Management
Yun first heard about Equinix through a recruiter. Decades into her career in tech leadership, she was looking for a role where she could drive innovation in both technology and people management.
"After many rounds of discussion with our executives, I realized Equinix is a company that's full of potential. It was doing a lot of innovation on interconnected SaaS products and networking products, and I thought I could really help drive, from a culture and process perspective, the company's digital transformation journey," reflects Yun.
Her first order of business? Building a strategy for scaling product development. Yun had long worked at the intersection of engineering and people management, and she embraced the challenge to scale a talent strategy as well as changing the culture.
That resulted in clear growth — not just for Yun's career, as in promotions and new responsibilities, but also in what the company was able to do.
"Helping to cultivate a DevOps culture, move products to the Cloud for high reliability and availability, and build operational excellence for our customers is contributing to us fulfilling our purpose, which is to be the platform where the world comes together, enabling the innovations that enrich our work, life and planet," says Yun.
Diverse Ways of Measuring Impact
Yun doesn't manage her team by the balance sheet alone.
"Improving the bottom line, or operating more efficiently, is just as important as improving the top line, or driving more revenue and more customer adoption," she says. "Sometimes it's not about how we get new products and services out the door, but how we run things more efficiently."
For Equinix, says Yun, that includes committing to becoming carbon-neutral by 2030.
"We're a company that really touches life every day, from online shopping, to sending emails and streaming movies, to smart cars," says Yun. "We want to be doing that sustainably. For example, by using AI and machine learning to lower our power consumption and using green sources of energy."
Yun knows that to drive the most impact, Equinix needs a diverse team. She has partnered with other senior leaders and employee connection groups and started driving a more coherent DIB strategy across the company. She is excited to see the progress and wants to continue the effort in building a diverse and safe workplace for everyone — including by leading through her own example.
3 Key Ways to Empower Your Team
When Yun says that it's important to empower your team, she doesn't mean that you simply transfer the responsibility to your team and call it done. Here's what she does mean:
Embrace failure. "It's easy to say, 'Ah, empowerment. Here's the purpose, go drive impact.' But sometimes it's not all rosy," she says. "The road to empowerment can sometimes be a failure. How do you support your employees along the way? When they fail, you should not blame them. You should be there, on their side, to help them do a retrospective and learn from it."
Show trust via delegation. "Giving your team the opportunity to make their own decisions helps give them a purpose. It shows them they can make a difference. Accountability and ownership will help drive your team to have deeper engagement and commitments, and ultimately deliver results."
Tie individual responsibilities to company OKRs (Objectives, Key Results). "I always communicate to my team that every engineer and individual contributor's work will have an impact on the business, no matter how small that is," says Yun. For example, if an engineer is working on a new digital experience component for the customers, their work will contribute to some kind of business outcome such as, hours saved from many customer support calls or customer satisfaction score improvement, and that in turn drives operational efficiency and customer experience improvement for the whole business. "When employees realize their impact on the business, it elevates their motivation as well as their state of mind."
Looking to join an empowerment-first culture? Check out Equinix's open roles!
READ MORE AND DISCUSS
Show less
Loading...