GET EMAIL UPDATES FROM POWERTOFLY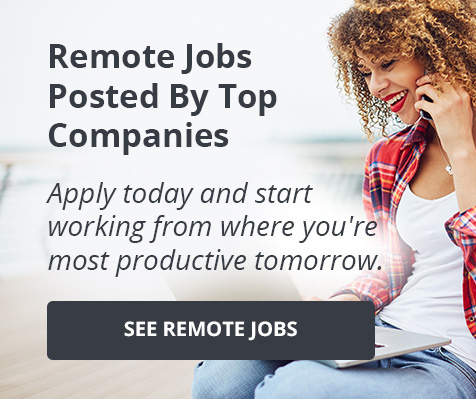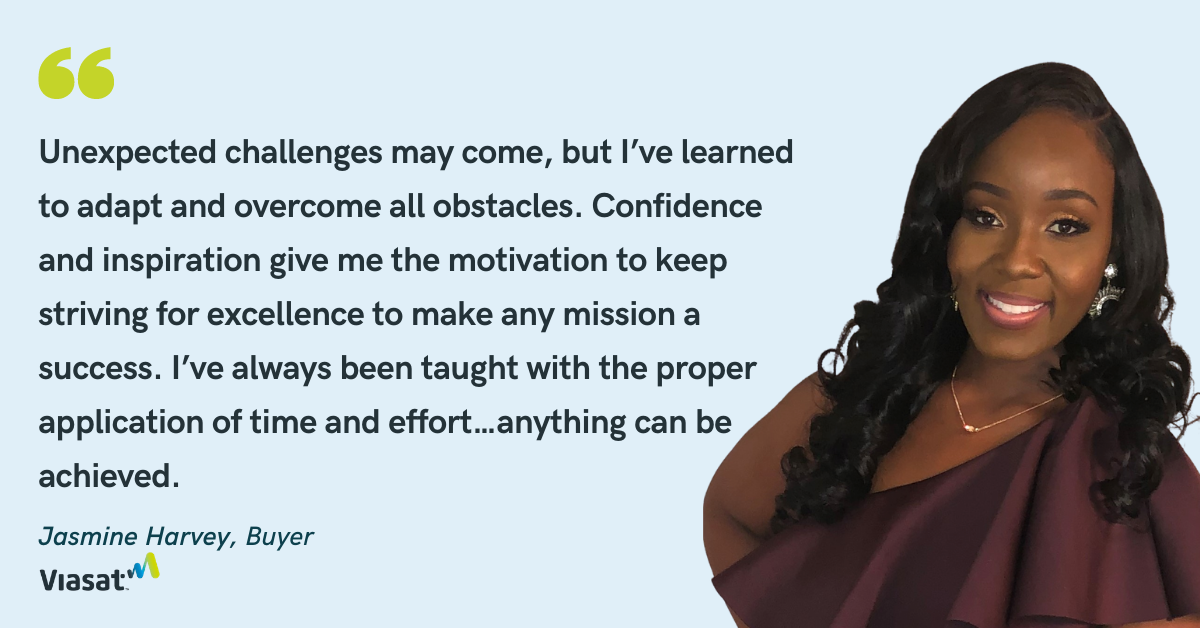 September 15, 2020
Viasat
How Viasat's Jasmine Harvey Architects Her Own Career
Jasmine Harvey is pursuing her MBA while working full-time as a buyer for Viasat, a global communications and satellite internet company. Balancing home, work, and school while maintaining a 3.9 grade point average has been quite a challenge. Jasmine had a perfect 4.0 until she took one of the hardest classes in her program, Managerial Economics and Global, during this COVID pandemic. She finished a full 15 percentage points above the class average, but was still 0.6 points away from an "A".
---
"I was devastated after receiving my first B," she says. "I have two more classes remaining, and I know I am going to hit this out of the park. I'm speaking into existence that I will complete my MBA with only one B."
I don't doubt that she will.
Jasmine applies that level of drive, determination, and focus to everything in her life, whether it's launching a Black Professional Alliance (BPA) chapter at Viasat's Duluth campus or advancing her career and plotting her way towards her dream job. We sat down to discuss her career journey, what it's like being a Black woman at Viasat, and how she optimizes her development at work, in the classroom, and beyond.
From government to private industry
Jasmine spent several years working as a purchasing specialist for the United States Army, at Fort Benning, Georgia. She enjoyed the work, but realized that her opportunities for growth were minimal, particularly since leadership positions were seldom vacated. "I became uninterested with the repetitiveness and was determined to expand my career," says Jasmine, who spruced up her LinkedIn profile and later contacted by a Viasat recruiter.
Highly impressed with the interview, Jasmine quickly accepted Viasat's offer to come on board as a Procurement Specialist. "I researched the company and saw that they received several awards for being one of the best places to work," she notes. "It appeared that Viasat is not just a place of work, but they actually care for their employees. Not to mention, I've never been employed with a company who offered tuition reimbursement."
Although her responsibilities are similar to her previous work at Fort Benning, the challenges she endured were the complete opposite. Jasmine was unknown to the satellite industry. "In the beginning, it was like being at a new school; surrounded by unfamiliar faces and learning from a new teacher. At times, I became very frustrated trying to grasp the information." Now, two and a half years into her career at Viasat, Jasmine is mentoring and answering questions from other new buyers.
Leaning into her career development
Jasmine knows exactly where she'd like to be in a few years: achieving the goal of being promoted into a leadership or management role at the Duluth location. She's already chasing after that goal by enrolling in Viasat's mentorship program.
Jasmine matched with Ron Rhodes, Director of Operations, who is listed as the most compatible mentor for her career goals. Jasmine is preparing for her first meeting with Ron. "I'm excited to hear about Ron's career journey and the challenges he faced along the way. Ron came on board as an Operation Program Manager and worked his way to the Director's position, and that's the typical goal for me also," says Jasmine.
Thrilled for the opportunity to obtain advice from people sitting in seats she one day hopes to occupy, Jasmine plans to select the director of purchasing, as her next mentor. "His extensive knowledge with Viasat is a perfect fit for my career guidance," she says, with poise.
Jasmine credits her success to the opportunities offered at Viasat and supporting cast. Formal programs, tuition reimbursement supporting her MBA, and the opportunity to visit Viasat headquarters for training (after which Jasmine developed a presentation to share her learnings with her team in the Duluth office) are just a few tools available to help move oneself to the next level.
Her coworkers have also played a critical role in her development. Jasmine says that she is grateful for Charlotte White, who has been at Viasat for over 40 years. Charlotte provides calmness, techniques, and workarounds to unique situations. "I wouldn't be in the place I am today if it wasn't for her," says Jasmine. "She often reminds me that this is not a sprint, but more like a marathon. It takes time to grow and you will never know it all," says Jasmine.
Supporting women and minority groups at work
When Jasmine joined Viasat, her desire was to get involved and become active throughout the organization. As a member of Viasat Women in Technology Alliance, which is an Employee Resource Group that supports women in Science, Technology, Engineering, and Mathematics, Jasmine is continuing her goal to collaborate with peers and leadership.
During strains of the current pandemic, and recent world events centered around racism and police brutality, Jasmine insisted on being part of the change to make the world a better place. Deliberations amongst other employees, they created and launched a Black Professional Alliance (BPA) at Viasat's Duluth campus a few weeks ago, with the goal of creating a diverse and inclusive workplace.
The BPA's first meeting was a huge success! Jasmine is receiving feedback from others who also want to be involved. "BPA is not just providing opportunities for Black people, but we want to give an opportunity for everyone to have a sense of belonging within the organization."
Jasmine, like Viasat's Chief People Officer Melinda Kimbro, wants the company's renewed focus on diversity to last. "Speaking about race in the workplace can be uncomfortable sometimes," she says, "but cultural diversity and inclusion must be a round clock practice within our organization."
Looking forward
You know how people get homesick when they're away for a while? Well, Jasmine says she's getting "worksick" as she continues to work from home—she misses the face-to-face interaction with her teammates and coworkers. But for now, she'll continue to keep doing what she does best—striving ahead despite the constraints of an ongoing pandemic.
"Unexpected challenges may come, but I've learned to adapt and overcome all obstacles. Confidence and inspiration give me the motivation to keep striving for excellence to make any mission a success," she says. "I've always been taught with the proper application of time and effort…anything can be achieved"
You can learn more about careers at Viasat here.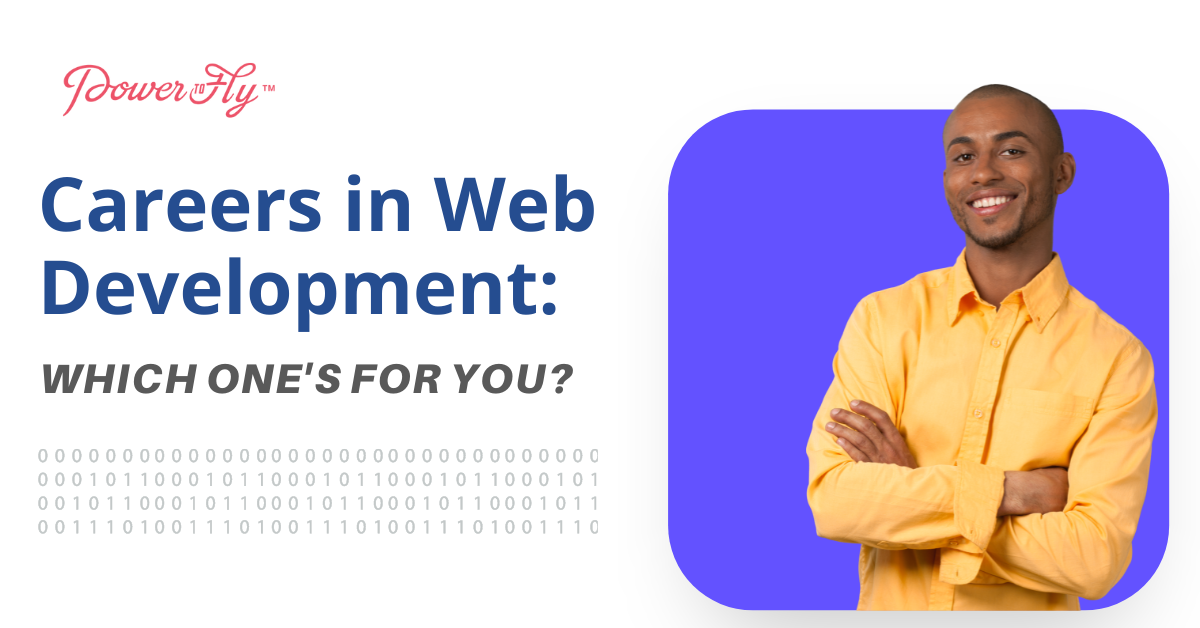 Upskilling and Development
We all have our favorite websites– the ones we frequent, bookmark, and recommend to others. You might even enjoy some website features so much that you've found yourself wondering why they aren't more popular. Or maybe you've experienced times where you were frustrated with a website and wished you could add features or even design your own!
If you've ever found yourself intrigued at the prospect of designing and developing your own websites, then a career as a web developer might be just for you!
As a web developer you would be responsible for coding, designing, optimizing, and maintaining websites. Today, there are over 1.7 billion websites in the world and, in turn, the demand for web developers is on the rise. In order to figure out what kind of web development work best suits you let's start with an introduction to the three main roles in web development that you can choose from.
The Three Types of Web Development Jobs
Front-End Web Development: The Creative Side
Think of front-end development as the décor of a house. The color scheme, furniture, manicured lawns, and overall aesthetic. In terms of a website, front-end development is laser-focused on the appearance of a website and its presentation on different devices. If you're considering a role in front-end development, it's important to learn programming languages such as HTML, CSS, and JavaScript. These three languages go hand-in-hand. HTML allows you to create user interface elements, CSS helps you with stylistic elements, and JavaScript allows you to incorporate online tools and connect your website to back-end functions.
In addition to programming skills, front-end developers need to be detail oriented, creative, willing to keep up with the latest trends in web development, cyber security conscious, and geared toward user-friendly designs. The median salary for a front-end developer can reach well into the $90,000 to $100,000 range.
Back-End Web Development: The Logical Counterpart
While a house can be beautifully decorated, it's incomplete without a solid foundation and efficient infrastructure. Similarly, a well-designed website depends on logical and functional code to power the features of that website. Back-end web development is code-heavy and focused on the specifics of how a website works. If you enjoy the analytical challenge of creating the behind-the-scenes code that powers a website, then back-end development is for you.
Since this role is more code-heavy, it's important that you learn numerous programming languages and understand algorithms and data structures. Some languages that are essential to back-end development are Ruby, Python, SQL, and JavaScript. Back-end developers also ensure that users can successfully retrieve and access data. This requires creating and using APIs (Application Programming Interfaces) which act as messengers that relay data related requests. Additionally, developing the code for the inner workings of a website also requires back-end developers to be conscious of the user interface features designed by front-end developers and to internally mitigate potential security risks. Due to the increased technical aspect of this position, back-end developers normally earn higher salaries than front-end developers. The average median salary for this role is around $118,000 per year.
Full-Stack Web Development: A Little Bit of Everything
A full-stack developer is essentially the Jack (or Jill)-of-all-trades in web development. Full-stack developers need to be knowledgeable about both front-end and back-end roles. This does not necessarily imply that you would need to be an expert in both roles, but you should fully understand the different applications and synergies they each imply. In order to work in this position, you will need to know the programming languages used by front-end and back-end developers. In addition to these languages, full-stack developers also specialize in databases, storage, HTTP, REST, and web architecture.
Full-stack developers are often required to act as liaisons between front-end and back-end developers. Full-stack developers need to be both problem solvers and great communicators. The end goal for a full-stack developer is to ensure that the user's experience is seamless, both on the front-end and on the back-end. In return, you can expect to earn a median salary of $100,000 – $115,000 a year for this role.
Taking the Next Step
Web development is both in-demand and lucrative! All three roles described above contribute to specific aspects of web development and the scope of each one can be customized to the industries and positions you feel best suit you. Regardless of which role you choose, all of them need a foundation in programming.
To gain the programming skills needed in each role, you can enroll in courses or learn independently. Coding bootcamps are a great way to boost your skillset quickly and efficiently.
Click here for some of our highly rated programming bootcamp options! Make sure to check out the discounts available to PowerToFly members.
READ MORE AND DISCUSS
Show less
Loading...