GET EMAIL UPDATES FROM POWERTOFLY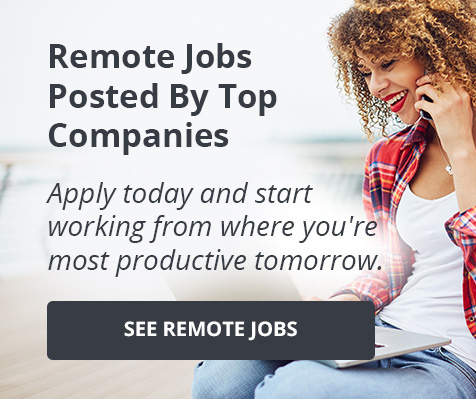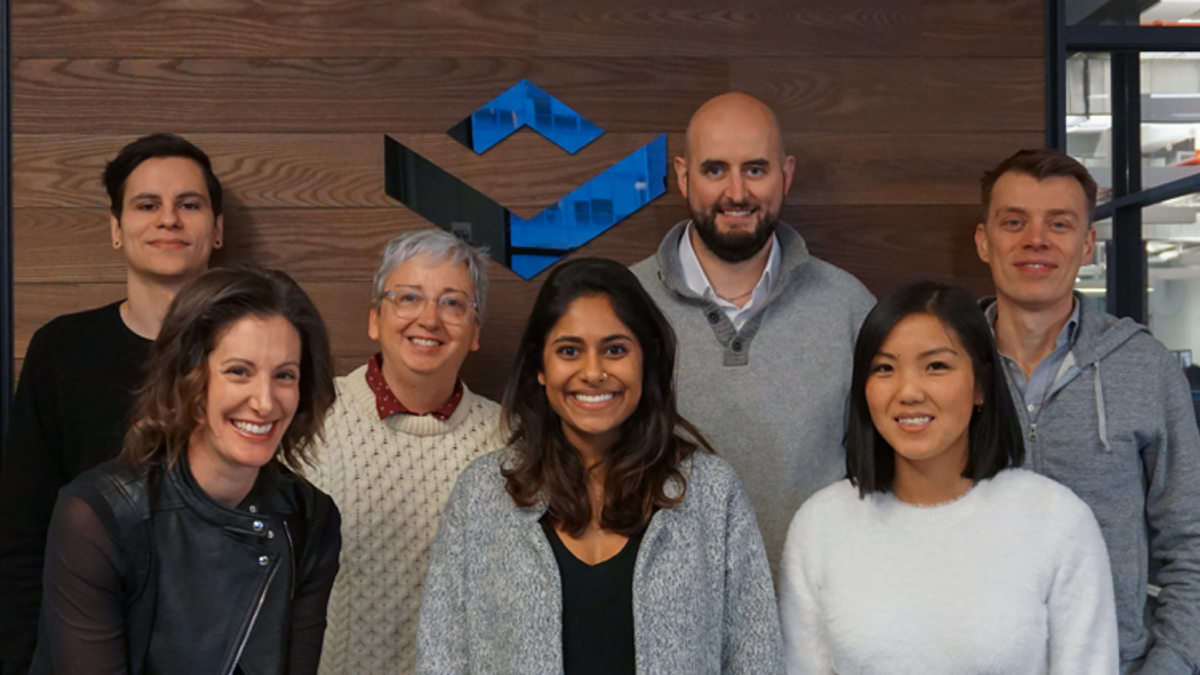 October 16, 2020
VTS
How VTS is Making Diversity and Inclusion Part of Our Identity
Below is an article originally written by Julia Woodward, Content Marketing Manager at PowerToFly Partner VTS, and published on July 9, 2020. Go to VTS' page on PowerToFly to see their open positions and learn more.
At VTS, our vision is for every team member to bring a full expression of themselves — including their unique backgrounds, experiences, and thoughts — to their work. By engaging diverse perspectives we can not only transform our internal community but contribute to the transformation of the commercial real estate industry as a whole. However, as you'll learn below, diversity and inclusion don't happen on auto-pilot and don't happen accidentally.
To create and sustain a culture where everyone can thrive and feel welcome — regardless of their background and identity — we develop and execute an annual Strategic Diversity and Inclusion Plan (SDIP). These yearly plans keep us focused and honest as we look to raise the bar on diversity and inclusion.
Read on to hear from two individuals on the frontline of making diversity and inclusion a part of our company's identity. Enjoy!
VTS: What do you do at VTS? Why are you involved with the SDIP, and what is your role in it?
Jena Booher: I am a strategic culture consultant, academic, and hold a Ph.D. (ABD) in Psychology. VTS hired me three years ago to improve culture, diversity, and inclusion. As VTS' Culture Consultant, I created the initial SDIP in 2017 and have led the strategy and execution of each year's plan.
Niall Smart: I'm the Chief Technology Officer at VTS. I got involved because I care about the issues and felt a deep personal responsibility to participate. I knew we needed to be intentional to achieve the kind of changes we wanted to see — and wanted to help VTS be more intentional as well.
Jena: A key part of my role is facilitating our diversity and inclusion working group, which has representatives from each department. They're highly engaged. There's high attachment. In one calendar year, we aggregated over 700 hours of volunteer work to execute on the 30 initiatives that comprise our SDIP. Without this group, we couldn't have been as successful.
Partnership at the executive level is also critical. We have two executive seats in the working group. Niall has been a member since the group formed, and Amy Millard, our Chief Marketing Officer, joined in 2018. They are a bridge to the rest of the executive team and help contextualize different parts of the plan. Their participation demonstrates that the executive team as a whole is bought in and engaged with our work.
VTS: What is an "SDIP?" Why do we have it?
Jena: An SDIP is a Strategic Diversity and Inclusion Plan for an entire company. It's a compilation of initiatives to help a company make progress on diversity and inclusion. When you want to make progress on diversity and inclusion, it doesn't happen accidentally; you need a plan that targets different areas for improvement and reinforces the overall direction. It really takes time to weave diversity and inclusion into the fabric of a company. Three years ago, the SDIP was a bit of a foreign concept, but we had a strong partnership across the department leaders. The more we stuck with the initiatives, then the more people talked about it and then the more work got executed against the plan. Once that happens, D&I just becomes woven into the fabric of the company.
And VTS is raising the bar for commercial real estate on this. Commercial real estate is one of the least diverse industries in America. For example, minority women hold fewer than 1% of senior-level posts and Asian men and minority women hold only 6% of mid-level management roles. When you have a company like VTS that uses diversity and inclusion as a source of differentiation, you raise the bar not only for the people in the company but also for the industry as a whole.
Niall: Diversity and inclusion don't happen on auto-pilot. We have an SDIP because if we didn't, these efforts would fall to a limited number of individuals who are the most interested in or affected by it. But it shouldn't fall on a limited number of people, it's something that we should tackle holistically as a company. Of course, those same people are welcome to participate, but commitment at a company level is important. With a plan, there's more accountability and support.
Not only is this a moral imperative, but there are also hard evidentiary studies that show workforces with diverse representations have better outcomes. As a company that's constantly innovating, we need to create an environment that's open to new ideas and perspectives.
VTS: What have we achieved over the years with our annual SDIPs?
Jena: Our middle management is more diverse. Our executive team is more diverse. Both of those are actually very hard to do and where most of our efforts were in 2017 and 2018. Over the last year, we have narrowed the gap on gender parity in middle management with 40% female managers, 60% male. Our hiring velocity is almost at gender parity. And we have best-in-class retention. So we're not hiring people from diverse backgrounds who are then leaving — we don't have a leaky bucket, which is another big deal. But another huge reason diversity and inclusion work is so important is that these numbers can shift quickly as new people enter or leave an organization. This is why we need to be constantly vigilant and weave it into the fabric of VTS rather than look at it as a one-and-done solution.
An area we have a lot more work to do is around ethnic diversity. While we have moved the needle in gender diversity, we have not seen the same progress in ethnic diversity. We focused our 2020 SDIP to shift this. We realize it's going to take time, but we are committed to making it happen.
Lastly, we've solidified our diversity and inclusion efforts into the company values. In 2019, we did a huge bottom-up process to create three new company values with the entire organization, and one of the values was to "Appreciate the Difference." That's huge because that inclusion-based value came from the company itself, not from the top down.
Niall: We've also seen huge improvements in our yearly inclusion survey results. In 2017 there wasn't a strong perception that VTS was prioritizing diversity and inclusion. Two years later, our 2019 survey showed that close to 90% of employees believe that this is a company priority. This shows that the initiatives we're driving are reaching the entire company.
VTS: And what were some of the key initiatives that drove these outcomes?
Niall: First of all, it goes back to having a plan and having an expert like Jena. Those first steps helped to marshall resources and create a great foundation. We also invested in communication and broader employee participation to create awareness across the entire company. Each quarter we host a quarterly speaker series that has brought diverse perspectives and voices to the forefront. Another key initiative was forging partnerships with community organizations. We've partnered with organizations like Write/Speak/Code, Out in Tech, Women in Proptech, Women in Software Engineering, We Build Black, and Real Estate Balance to create really meaningful events in our office and fill our talent pipeline with more diverse candidates.
We've also worked hard to integrate diversity and inclusion into how we work. For example, in our hiring process, we've added a values interview with the goal of providing clear evaluation criteria versus fuzzy "culture-fit" assessments. We created a D&I toolkit for our managers. We do a structured diversity and inclusion survey every year to measure how the SDIP is making an impact. We've made it real. It's not about showing up to a presentation or hosting an event. We've brought this to people's day-to-day.
Jena: For employees going through individual challenges, I also host weekly coaching sessions with VTSers regardless of their title or position. Anyone can book a session with me. A lot of the topics people bring revolve around diversity-and-inclusion-related issues like "How do I advocate for myself as a woman of color?" I'm someone in the office who is a mental health professional that employees can go to and talk through some of these challenges that's paid for by VTS. Three years into working with VTS, I have held over 1,500 coaching sessions with employees. I haven't heard of any other company that's doing something like this.
But ultimately, it's not just about checking the box on the initiatives in our SDIP. The SDIP keeps us focused and holds us accountable. What we're really working toward with all of this is to make diversity and inclusion part of VTS' identity and after three years, we're weaving this into the fabric of the company.
VTS: What's the focus for 2020?
Jena: 2020 is all about scaling the plan. We've acquired a new company and we've opened new offices. How do we embed this into their fabric? PropertyCapsule (a proptech company VTS acquired in October 2019) already had a company identity. I want the strategy this year to be about incorporating new companies and identities into the VTS identity.
So while we had already been more focused on remote initiatives this year than in past years, since the pandemic began, urgency around remote inclusion is now at an all-time high. Before it was about making employees in our 7 remote offices feel connected to the rest of the company, but now it's about making employees feel connected from 265+ home offices feel connected.
We're also more focused on initiatives that will help us increase ethnic diversity. This year is all about building that connective tissue so all employees feel connected and feel like they belong because they're well-represented at VTS.
Niall: There's still a lot of work to do, but we're at a point in our journey where we can tell a pretty compelling success story. We can share the frameworks and initiatives that have worked for us and help others achieve the same results.
VTS: Anything else you want to add?
Jena: People join VTS because of this. That's not a small thing. We know this because we host new-employee breakfasts and people talk about it. When you create a culture of belonging and a culture that really cares about its people and actively wants to bring in people with different perspectives, you create something pretty magical. We still have a lot of work to do, but my hope is that when people look back on their VTS journey and think, "That culture was the best one in my career."
Niall: The work has been a huge team effort. Thank you to Jaclyn Pomerantz, Matt Howard, Rebecca Cunningham, Rafael Petry, Devki Rana, Dave Power, Sam Berg, Amy Millard, Matt Seburn, Rachel Spurrier, Anna Cheung, Eric Doran, Jess Scott, Stephanie Carlon, Katie Higgins, Julia Woodward, Kim Smit, Brielle Silvestri, Erin Cronin, Allie Cialeo, Dana Klein, Rachel Spurrier, Daisy Padden, Chery Sutjahjo, and Lucas O'Connor for their contributions to our D&I Working Group and helping us drive toward the vision we set in 2017.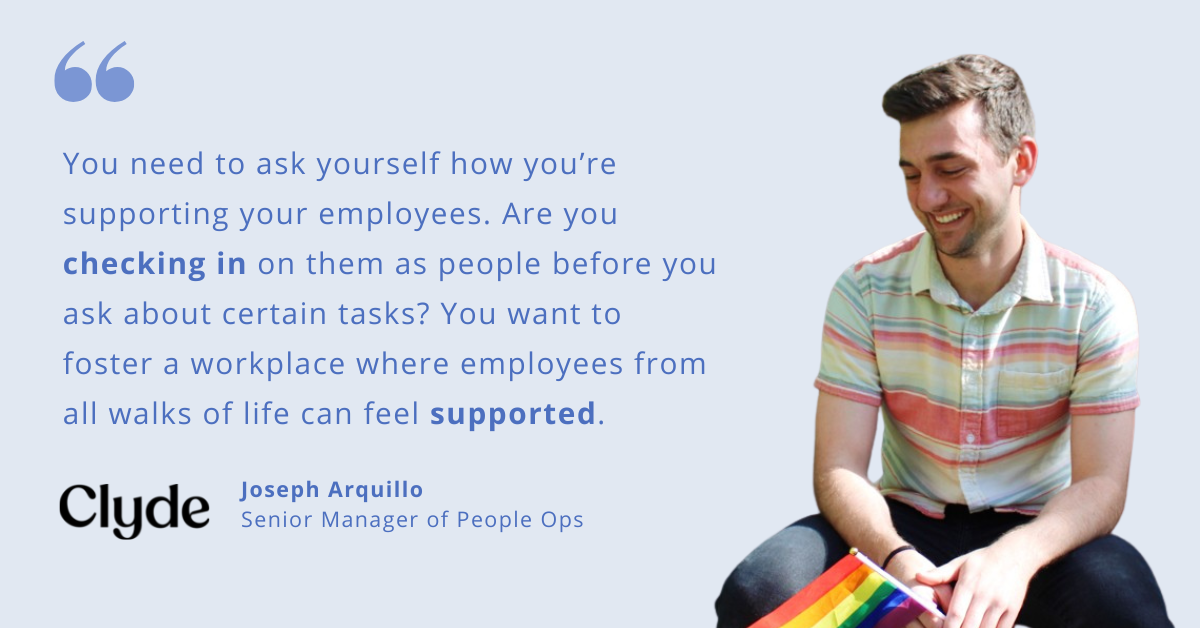 Clyde
Joseph Arquillo doesn't work in Human Resources — he works in People Operations. And the distinction matters.
"It was named 'human resources' because it saw humans as resources, utilized for certain tasks or behaviors. But that's not really what it's about," says Joseph, who is a Senior Manager of People Ops at Clyde.
"Calling it 'people ops' adds back what you lose with 'HR.' My philosophy is that I am there to support you. I am there to work with you, empower you, and enable you so you can be your best self."
For Joseph, a key element of helping employees become their best selves is making sure that the workplace, whether in-person or virtual, is an inclusive space for all. That doesn't happen by accident — it requires a dedicated DEIB strategy and leaders who are committed to asking hard questions of themselves and others.
We sat down with Joseph to hear more about his professional journey, and the practices of leaders who create environments where everyone feels included.
More Than Just a Number
As a college freshman, Joseph planned on sticking with liberal arts when it came to choosing a major. But then he took a class in Boston College's School of Education, and loved its holistic approach to applied psychology.
This inspired him to switch his major to psychology and human development, and select minors in political science, and management and leadership, where he enjoyed learning about organizational psychology.
After graduation, he explored the consulting space to put theory into practice, but found out during an internship at a multinational consulting firm that finance or accounting weren't the places he wanted to build his career.
"Since Big Four companies have 250,000 employees, you become just a number," he says of the experience. "It wasn't my cup of tea. Too corporatized."
That kicked off Joseph's interest in startups.
"It's always fun to get in the weeds! One thing that's very interesting to me is a challenge," he says. "When you're helping a company like Clyde grow and scale, joining when they're at a Series B and helping them get to the next level, you really get to focus on the interaction between people, process, and product," explains Joseph. "You need to hire the right people to work towards increasing efficiencies in all areas, but also make sure that we're enabling them to create a strong product."
6 Keys To Building Inclusive Spaces as a Leader
Across the different industries and companies that Joseph has worked in, he's identified the behaviors that create truly inclusive environments — as well as those that discourage them.
Here's what he's seen:
First, recognize your own privilege. "If you're a man, you have privilege, even if you're a gay male. If you are a white woman, you have racial privilege. It's really important that you're cognizant while you interact with somebody how they might interpret the interaction based on your identity."
Leaders should always speak last. This is important always, but especially in in-person spaces, where it might seem even more nerve-wracking to speak up in a crowd, says Joseph. "You want to make sure you're creating that space for employees who aren't as senior to feel comfortable voicing their thoughts."
And, leaders should use check-ins liberally. "You need to ask yourself how you're supporting your employees. Are you checking in on them as people before you ask about certain tasks? You want to foster a workplace where employees from all walks of life can feel supported," he says.
DEIB isn't just about adding new initiatives — sometimes it's about removing barriers. "You need to remove unnecessary bias," explains Joseph. "That can mean making sure you have appropriate policies and practices that don't hinder people depending on who they are or where they live."
Maximizing participation requires planning with a diversity lens. Joseph has helped the Clyde team gather together and bond as a group. Along the way, he's been careful to consider physical and psychological safety for everyone involved. "For instance, if you're doing an event, do you have someone who's not drinking? Have you set up the environment for people who might have a physical disability, or carefully planned the flow of activities for people who might be neurodivergent?"
Saying you want to be better isn't enough — articulate actions you will take. "Pride is a great example," explains Joseph. "Yes, June is a time to celebrate. But it's also a time to march. And beyond that, how do you show up and celebrate with the LGBTQIA+ community throughout the year?"
Embracing the Unknown
If you visit Joseph's LinkedIn profile, you'll see his personal motto: "Without challenge, change, and a bunch of unknowns, it's no fun."
That belief has led him to study what he's passionate about, to take on new and exciting roles at growing startups, and now, at Clyde, to help formalize what world-class people operations looks like at a fast-growing company.
"I view myself as a connector that really empowers people, challenges teams, and helps drive us towards what I consider to be an improved future," he says. "I feel like it's my responsibility to be the chief advocate for each of our employees, and remove any barriers in the way of their growth."
Want to learn more about what opportunities Clyde offers? Check out their open roles!
READ MORE AND DISCUSS
Show less
Loading...