GET EMAIL UPDATES FROM POWERTOFLY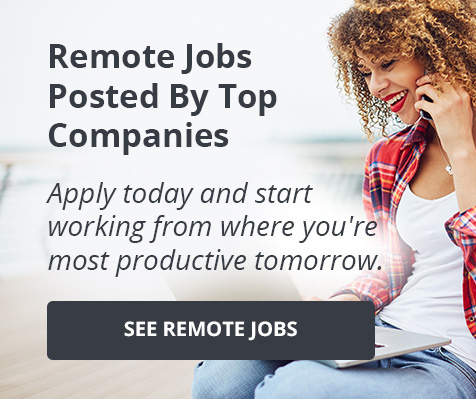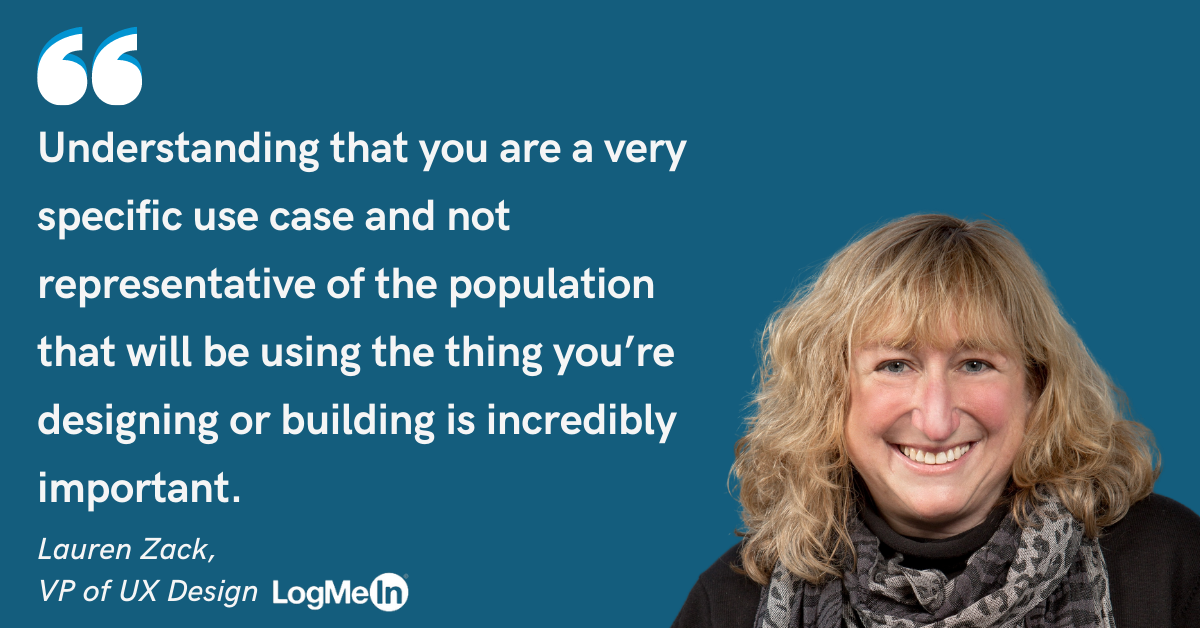 February 10, 2021
GoTo
5 ways to foster DEI through inclusive product design with LogMeIn's Lauren Zack
There's a laptop sticker that Lauren Zack sees and agrees with every day: "You are not the user."
As a longtime UX professional, and the current VP of UX Design at SaaS company LogMeIn, recognizing the diverse set of people who will be using the products she works on is vital to Lauren's work.
---
"Understanding that you are a very specific use case and not representative of the population that will be using the thing you're designing or building is incredibly important," says Lauren. That approach builds empathy, she argues, because it forces designers to start their work from the perspective of people with different backgrounds, different viewpoints, and different priorities.
Whether she's working on the next generation of remote-friendly meeting software or managing her growing team, Lauren leads with inclusion, which allows her to design products that work for the largest percentage of people possible. We sat down with her to learn just how she does that—and what sparked her interest in this field.
Making problem solving better
Lauren owes her career to a book she read when she was 11: Cheaper by the Dozen, the biographical novel about parents who are efficiency experts and their large brood of children.
"They figured out that making peanut butter and jelly sandwiches in the morning, they should do bread, bread, bread, peanut butter, peanut butter, peanut butter, jelly, jelly, jelly, bread, bread, bread. You can see how that led to process improvements," explains Lauren. "And it just resonated with me. It was like wow, that is exactly how I see the world."
When she got to college, Lauren majored in physics, because it seemed like a way to understand how the world works, then added a cognitive psychology major. "I figured if I knew a lot about how the world works and how people think and work in the world, I could design things better for people," she says. After a class called Human Factors Engineering, she walked up to the professor, shook his hand, and said, "How do I do this?"
There wasn't a name for the field of user experience research and design, but that's what Lauren wanted to do. She started as a human factors engineer at IBM. She later worked in healthcare systems, figuring out how to help people deliver care in better ways, from designing bedside terminals for doctors to transforming how health records were kept.
Along the way, she was always interested in how she could solve people's problems and make their daily lives better.
Why culture matters
A few years into her career, Lauren realized that the best ideas couldn't help solve problems if no one was willing to listen to them. She was working at a well-known website whose culture didn't facilitate creativity or collaboration.
"Something that really came home to me was the connection between a company culture and the products they produce," she says. "It was very frustrating. You want to feel valued as an employee, and that each voice is heard. As somebody who was developing products, I was seeing that we weren't able to innovate in a way that made sense for our product market fit."
Lauren says that was the first time she realized how hard culture was to change—and how important it was to be in a culture that aligned with her values from the get-go. "So one of the things that I've done since then is to always select where I'm working based on the culture," she says, "because culture is so foundational to producing great products for people."
That's what interested her about LogMeIn, shares Lauren. "We really value communication, transparency, and being fearless," she says. "Those things are key tenets to a healthy culture, and as the leader in UX in the company, those are things that will make us successful in producing great designs."
How inclusion propels projects
One of LogMeIn's most well-known products is their GoToMeeting software, which has become especially beloved during COVID. Included in that software is a Smart Meeting Assistant feature. "If you were impaired in any way, you would be able to review the transcript and make sure you catch everything that happened in the meeting. But that's a fantastic tool for anybody," says Lauren. "In this day of meeting fatigue, if you zone out for a couple of minutes or turn off the camera to get another Diet Coke, having a transcript of the meeting is useful to you regardless of where you fall on an ability spectrum."
That's an example of inclusive design, explains Lauren, and how it means better projects for people with disabilities, but also for everyone.
Lauren's team starts all of their work with an inclusive focus, aiming to create products and services that are accessible to a large part of the population. That means they study not just the 80% of users who fall within the bell curve, but also the outliers. "You need to understand what their needs are and make sure that you're creating a product that can include as many of them as possible," she says. For example, notes Lauren, many people over 40 need glasses to help see things up close. An app that doesn't allow for pinch zoom—like Uber and Lyft's car confirmation pages—means not only that you've left out a segment of the population, but also that you've invited a competitor to come in and seize that market opportunity.
"By doing inclusive design and having products that are more available to people, you actually open up opportunities for a much more diverse workforce and a much more diverse environment," says Lauren.
5 DEI lessons from inclusive product design
Lauren shared her top five tips for design teams who want to create a culture of inclusivity where ideas are freely shared and products serve the greatest possible population, but we think these tips are transferable to anyone looking to create more inclusive teams:
Consider failure—and see it as an opportunity. Lauren shares another favorite design principle, inspired by a popular science fiction novel: "When you've invented a new technology, you've automatically invented its failure. So the Wright brothers invented flight, they also invented the plane crash." In her work, that means that extended video meetings begat "Zoom bombing," or unwanted participants crashing meetings. The need to solve for that failure led to Lauren's team creating meeting lock controls, which evolved into waiting rooms for participants, which in turn became a really useful feature for meeting moderators, even beyond the benefit of keeping would-be crashers out.
Build empathy. "It's building empathy and figuring out how to personalize that… deep empathy helps you to create [an] understanding of what people truly want."
You don't have a pipeline problem. Lauren read an article a while back that resonated with her called "If you think it's a pipeline problem, you haven't been paying attention." "What that means is you can fill your pipeline as much as you want with a diverse slate, but if you don't hire that way, you won't hire those people. And if you do hire that way, but you don't create a culture where they can be successful, they're going to leave," she says. To solve that, she suggests applying a product-design framework to your hiring systems to make sure they allow for everyone to be successful.
Listen. Lauren's team spans continents, from California to Budapest to India and beyond, and to foster connection and inclusion, she hosts regular "listening post" office hours every week. She also uses Slack and informal monthly all-hands meetings to create a sense of community and give her team multiple avenues for sharing their ideas.
Consider the overall org design. Lauren says she's worked at companies where product design reports into marketing or other groups, and she didn't like that structure. "One of the reasons I took the job at LogMeIn has been to elevate design to be a partner with both product and engineering," she says. "I call it the three-legged stool. It creates a very healthy tension between the product team, who's saying 'here's what we should build, because it's going to be a great product market fit,' and the engineering team, that says 'here's how we will build it.' The design team says 'here's how it's going to work.'"
Interested in joining LogMeIn? Check out their open roles here.

Related Articles Around the Web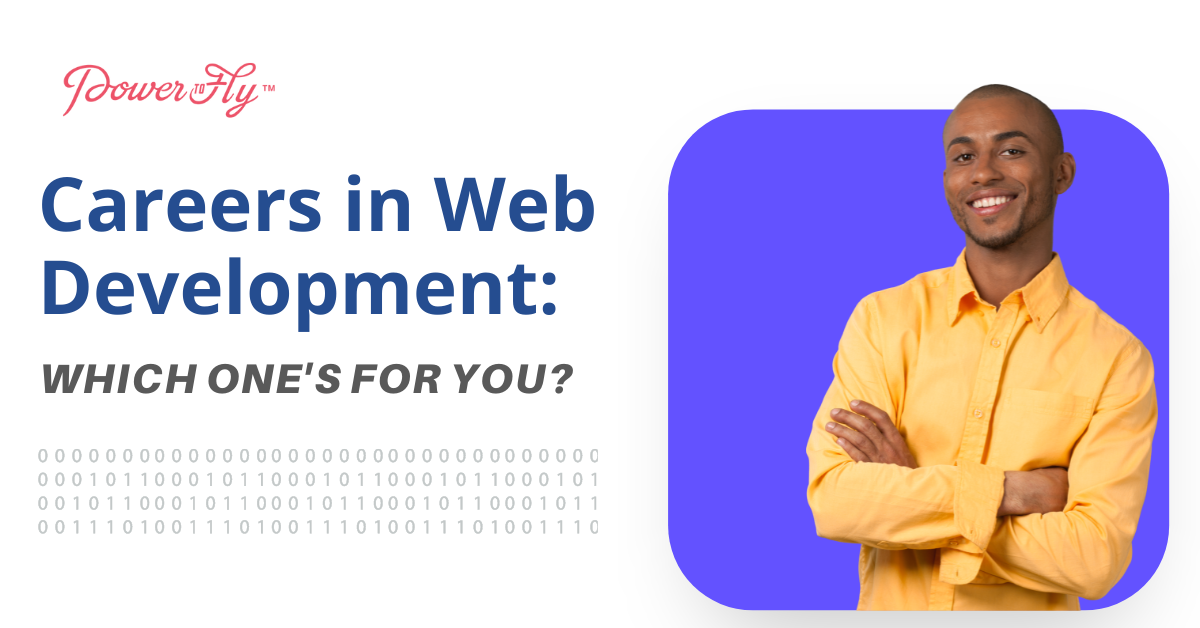 Upskilling and Development
We all have our favorite websites– the ones we frequent, bookmark, and recommend to others. You might even enjoy some website features so much that you've found yourself wondering why they aren't more popular. Or maybe you've experienced times where you were frustrated with a website and wished you could add features or even design your own!
If you've ever found yourself intrigued at the prospect of designing and developing your own websites, then a career as a web developer might be just for you!
As a web developer you would be responsible for coding, designing, optimizing, and maintaining websites. Today, there are over 1.7 billion websites in the world and, in turn, the demand for web developers is on the rise. In order to figure out what kind of web development work best suits you let's start with an introduction to the three main roles in web development that you can choose from.
The Three Types of Web Development Jobs
Front-End Web Development: The Creative Side
Think of front-end development as the décor of a house. The color scheme, furniture, manicured lawns, and overall aesthetic. In terms of a website, front-end development is laser-focused on the appearance of a website and its presentation on different devices. If you're considering a role in front-end development, it's important to learn programming languages such as HTML, CSS, and JavaScript. These three languages go hand-in-hand. HTML allows you to create user interface elements, CSS helps you with stylistic elements, and JavaScript allows you to incorporate online tools and connect your website to back-end functions.
In addition to programming skills, front-end developers need to be detail oriented, creative, willing to keep up with the latest trends in web development, cyber security conscious, and geared toward user-friendly designs. The median salary for a front-end developer can reach well into the $90,000 to $100,000 range.
Back-End Web Development: The Logical Counterpart
While a house can be beautifully decorated, it's incomplete without a solid foundation and efficient infrastructure. Similarly, a well-designed website depends on logical and functional code to power the features of that website. Back-end web development is code-heavy and focused on the specifics of how a website works. If you enjoy the analytical challenge of creating the behind-the-scenes code that powers a website, then back-end development is for you.
Since this role is more code-heavy, it's important that you learn numerous programming languages and understand algorithms and data structures. Some languages that are essential to back-end development are Ruby, Python, SQL, and JavaScript. Back-end developers also ensure that users can successfully retrieve and access data. This requires creating and using APIs (Application Programming Interfaces) which act as messengers that relay data related requests. Additionally, developing the code for the inner workings of a website also requires back-end developers to be conscious of the user interface features designed by front-end developers and to internally mitigate potential security risks. Due to the increased technical aspect of this position, back-end developers normally earn higher salaries than front-end developers. The average median salary for this role is around $118,000 per year.
Full-Stack Web Development: A Little Bit of Everything
A full-stack developer is essentially the Jack (or Jill)-of-all-trades in web development. Full-stack developers need to be knowledgeable about both front-end and back-end roles. This does not necessarily imply that you would need to be an expert in both roles, but you should fully understand the different applications and synergies they each imply. In order to work in this position, you will need to know the programming languages used by front-end and back-end developers. In addition to these languages, full-stack developers also specialize in databases, storage, HTTP, REST, and web architecture.
Full-stack developers are often required to act as liaisons between front-end and back-end developers. Full-stack developers need to be both problem solvers and great communicators. The end goal for a full-stack developer is to ensure that the user's experience is seamless, both on the front-end and on the back-end. In return, you can expect to earn a median salary of $100,000 – $115,000 a year for this role.
Taking the Next Step
Web development is both in-demand and lucrative! All three roles described above contribute to specific aspects of web development and the scope of each one can be customized to the industries and positions you feel best suit you. Regardless of which role you choose, all of them need a foundation in programming.
To gain the programming skills needed in each role, you can enroll in courses or learn independently. Coding bootcamps are a great way to boost your skillset quickly and efficiently.
Click here for some of our highly rated programming bootcamp options! Make sure to check out the discounts available to PowerToFly members.
READ MORE AND DISCUSS
Show less
Loading...