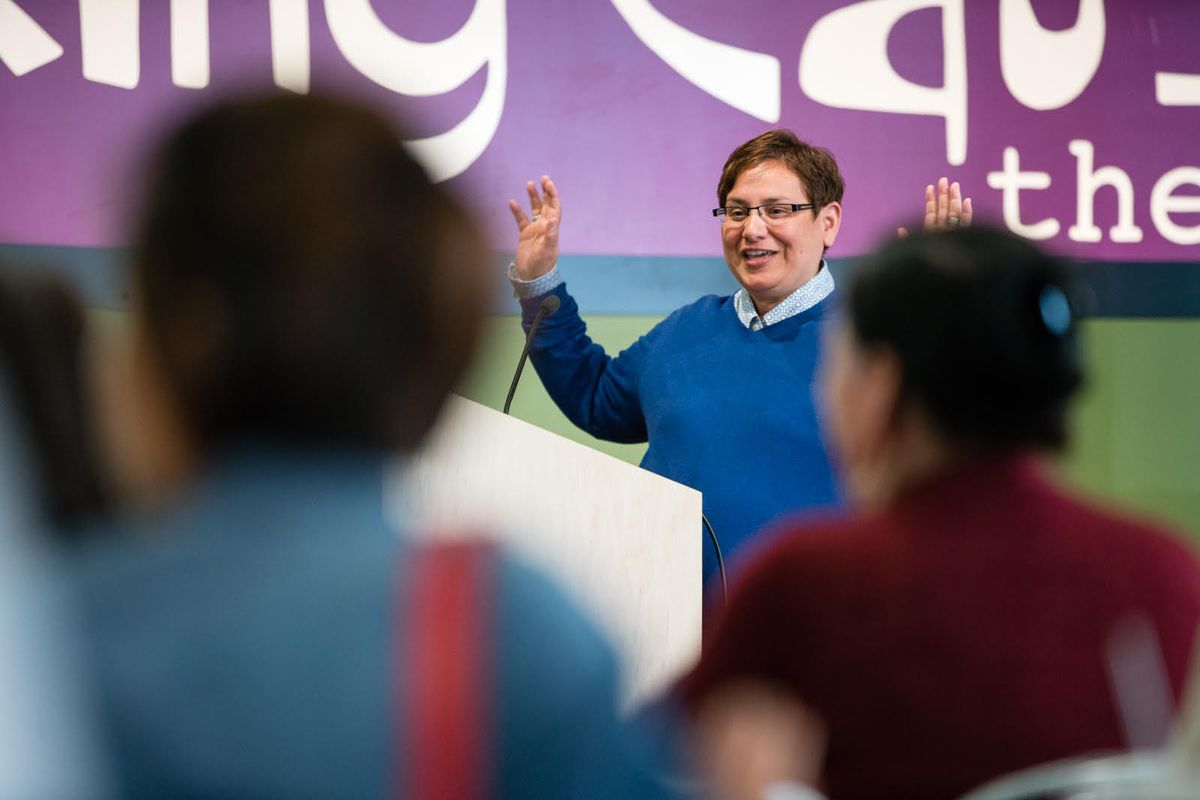 Better Companies
When PowerToFly's Seattle community spent the evening at Amazon's Seattle campus.
Most of us spend time on Amazon.com each week, ordering household goods or watching streaming shows (I highly recommend Catastrophe btw). We all know the experience is seamless, especially if you have an Echo. I mean, you don't even need to lift your hands to to make orders. Yeah, it's all pretty magical and futuristic - a future that is happening now thanks to a few of the brilliant female and male engineers who talked to the PowerToFly community at an event we held with Amazon on June 28th on their Seattle campus.

With the goal of introducing women in tech to the female and male developers in the room who are running engineering teams for Amazon Restaurants, Machine Learning for Ads, and the Amazon Tickets platform, the PowerToFly community in Seattle was able to ask about what it's like to work at Amazon as they got an inside look into what the company is building.
In that spirit, Rachel Valdez, PowerToFly's Chief Dream Maverick and the MC for the event, started us off with a behind the scenes demo from Uma Boddeti, the Software Development Manager for Amazon Restaurants. Uma explained the challenges of building applications for on-demand food delivery - from coordinating the in-restaurant ordering process to ensuring that the drivers who make the deliveries go to the right house. After Uma's presentation, the audience asked her questions about the product, but they also took the opportunity to understand how Uma balances being a tech leader while raising two children. Her answer: I ask for flexibility when I need it and I get my work done. She used an example from that day to illustrate her experiences. Uma said she was planned on leaving the office early to take her son to the dentist. It wasn't a problem because her team knew she was would make up for any lost time and productivity. Uma made it clear that family matters came first on her team, as long as goals are being met.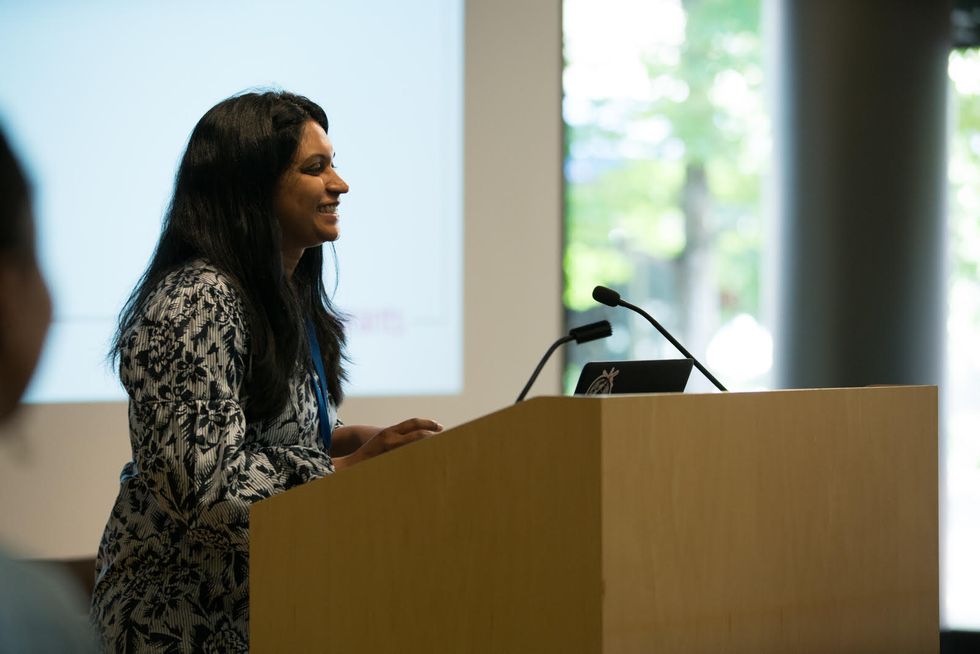 Uma Boddeti, the Software Development Manager for Amazon Restaurants answers questions about work-life integration and the products she's building.
To cap off the event we held a similar discussion with Alice Zheng, who is a Senior Software Development Manager for Advertising platforms at Amazon. Alice is also the author of "Mastering Feature Engineering" and "Evaluating Machine Learning Models". The PowerToFly members in the audience particularly wanted to know how Alice manages her time, especially if she's feeling overwhelmed. Alice advised the women in the room to sit down with their managers and go over their task lists to prioritize when things are due. She reiterated advice she received early on from a woman executive at Amazon: focus on "running a marathon" and not a sprint. At PowerToFly we give that same advice to our team members - it's all about training and preparing for a long steady pace. Too many sprints knock people out of the game and are unsustainable, especially at high-growth companies like Amazon.
After discussing how we can better manage ourselves and talk to our managers, Alice briefly discussed what she found different and useful about the hiring process at Amazon. She touched on the set of values Amazon asks candidates to match their experiences to in the interview process. In Alice's opinion, these core values allow candidates to measure themselves against a universal company framework. If you do end up joining Amazon then you know exactly what the company expects from you and your colleagues on day one.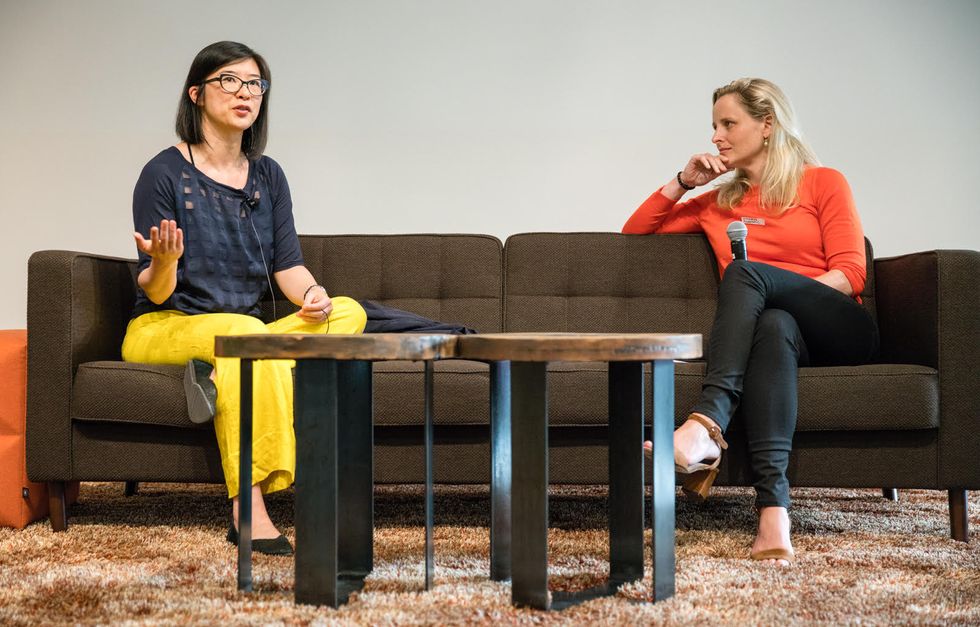 Alice Zheng and Katharine Zaleski, PowerToFly's Co-Founder and President take questions from the audience.
Want to come to events like these? Sign up for PowerToFly.com and we'll send you exclusive invitations for events where we connect you to executives and hiring managers at companies that care about creating gender diverse and inclusive environments. And if you're interested in working at Amazon, check out their page on PowerToFly.com.

Pax8
💎 How to build trust in your team? Watch the video to the end to find out!
📼 How should you work to build trust in your team? Play this video to get three top tips that will help you. You'll hear from Veronica Setzke, Senior Director of People Ops at Pax8, who shares tips and tricks she learned through years of coaching.
📼 How to build trust with peers in your team? Tip #1: Relationships. There's no better way to start forming relationships than having regular one-on-ones. It doesn't have to just be with your supervisor. It can be with your coworkers. It can be with those people that you collaborate regularly with. And it's really important in these one-on-ones that we're spending time listening. Take the time to be present and listen. Also, spend time together not working. Have lunch together. Go for coffee. Take a five-minute walk around the building and just have a conversation. Relations are a key element to trust!
📼 How to build trust? Open yourself in your team Tip #2: Vulnerability. Allow yourself to be vulnerable. Ask for feedback, whether it's feedback about a project, a process, or even maybe a leadership behavior that you're trying to master. This allows those on your team and those around you to see you as willing to be vulnerable. Trust and vulnerability go hand in hand. It doesn't mean that you're weak, but rather that you're open. It allows your team to understand that it's a safe place for them to also be vulnerable.
How To Share To Build Trust In Your Team - Tip #3: Clear Is Kind
Keep the team informed and say as much as you can about what you know. There are times that we hold information that could be shared. We could share that information that impacts others' work and have them have the opportunity to use that to do better. If you've learned something that could help your colleague make a better decision, share that! Try to ensure that your communication with others is clear. When you make the effort to be clear about your intentions, your work, and your roadblocks, it opens others up to do the same.
📨 Are you interested in joining Pax8? They have open positions! To learn more, click here.
Get to Know Veronica Setzke
She works as a People professional because she sincerely believes that people want to be excellent, and it is her role to help move the obstacles to their achieving success. She believes the employees deserve a culture that values their work and will respond to such a culture by creating amazing results. If you are interested in a career at Pax8, you can connect with Veronica on LinkedIn. Don't forget to mention this video!
More About Pax8
The company simplifies the way organizations buy, sell, and manage cloud solutions, empowering its partners to achieve more with cloud technology. At Pax8, they know that they are only as great as their people. They realize that every individual has unique personal and professional aspirations, which is why they strive to offer a complete and competitive Total Rewards offering for their members and family.
READ MORE AND DISCUSS
Show less
Loading...