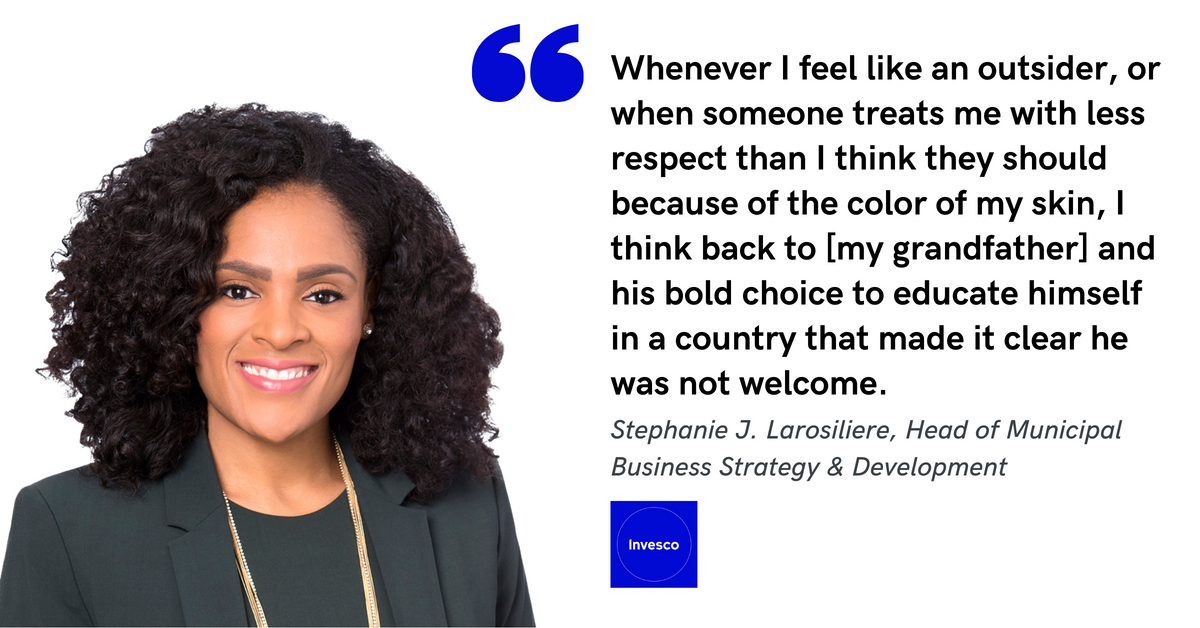 Invesco
Stephanie J. Larosiliere has a career she enjoys in an industry she didn't even know existed when she was a kid—and the resilience to stay in that industry, even when she looks around and doesn't see many people like her in her field.
She has her grandfather to thank for that.
"My family has greatly affected who I am today, and my journey," says Stephanie, whose grandfather emigrated from Haiti to Michigan in the early 1950s to pursue a degree in agronomy, where he was the only Black man in his program. "Nothing I could go through today could come close… this helps to drive me to fight to be represented in spaces where I may not be welcome."
We sat down with Stephanie, whose long career in financial services has led to a role as the Head of Municipal Business Strategies & Development at investment firm Invesco, to talk about her personal and professional journey. Read on to hear why she decided to pursue a career in financial services, and her top piece of advice for other people who aspire to find success in a field they have to navigate on their own.
Paving the Way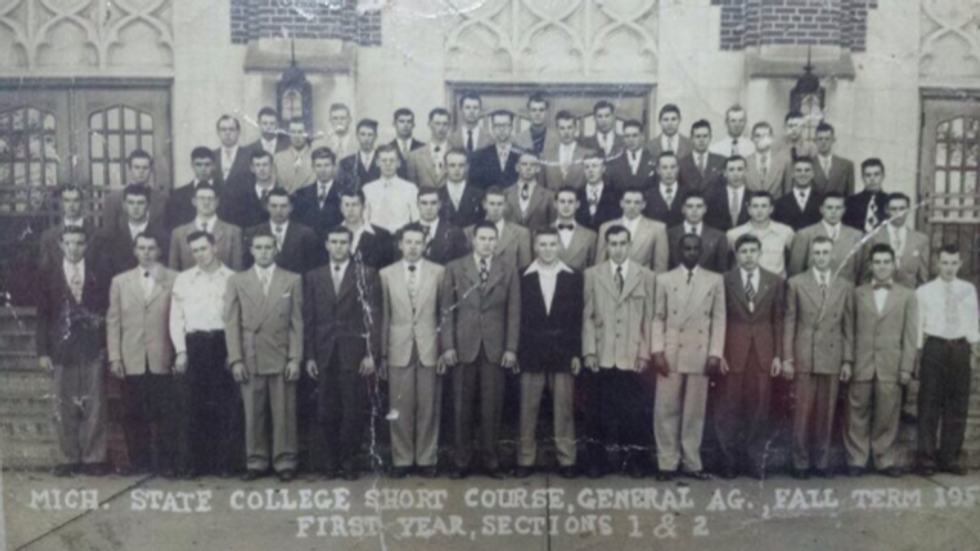 Faine Jean-Baptiste, Stephanie's maternal grandfather, and his class at Michigan State University, then Michigan State College, where he ultimately received his degree in Agronomy from what was widely regarded as the best such program in the U.S. Photo circa 1953.
Stephanie's parents were born in Haiti. She is a first-generation American, but thanks to her grandfather, her family already had a history of attending American institutions of higher education. When it came time to decide what she was going to do with her life, Stephanie says she felt she had "no choice but to continue the legacy."

"Being Haitian I've always known that I come from a brave and bold people that established the world's first independent Black republic. Haiti has a very rich history; that history gives us a sense of ownership over our being, over who we are, and that has resonated in the way that Haitian people engage in the world."
Stephanie sees that ownership in her grandfather's story. He came to the U.S. when he was 45, a married father of seven daughters, and was the only Black man in his class. "There was somewhat of an audacity on his part to think that he could leave Haiti and go to Michigan. And why not?" says Stephanie.
Why not, indeed?
Stephanie asked that same question of herself when it came time to plan her own career.
New Possibilities
No one in Stephanie's family knew anything about financial services. She only found out about the industry through the cooperative learning program offered by her New York City high school.
Through the program, she was matched with a company during the summer between her junior and senior years of high school. Stephanie was matched with JP Morgan, and stayed working with them through her senior year, switching off weeks at work and at school.
"As a 16-year-old, I knew you went to the bank to deposit money, and that's it. I'd heard of trading, but I didn't quite connect how that even worked," says Stephanie. She soaked in everything she learned on the job—especially when it came to the incoming class of post-college analysts.
"These were people who were five years older than me. They were not so old that it felt like a far reach. I remember looking at them and saying, 'I want to do what they do,'" says Stephanie.
So she kept working for it. When her manager at JP Morgan asked her to stay on during college, Stephanie withdrew from the out-of-state school she was planning to go to and enrolled in a NYC program so that she could stay employed during undergrad.
"Now that I think about it, I have no idea how I did it, but I worked 40 hours a week and I had a full-time schedule at school," says Stephanie, laughing. "I just ran around the city. I would take early morning classes, go to work, take evening classes, get home at 10, do my homework, and get up and do it again. It's the benefit of being 20 years old. And I would do this all in heels, which is insane to me."
Stephanie's hard work paid off. After finishing school, she was offered a full-time role at the bank. She was proud of what she'd accomplished, but it didn't come easily, and entering the world of full-time work in financial services was a whole new challenge.
"Not only was I a woman, a Black woman, but I was also the child of immigrants," says Stephanie. "I always feel like I don't belong here. I happened to have broken my way through to get here, but I'm not the person that is supposed to be here, based on how this normally goes."
Two things have helped Stephanie deal with those feelings. The first is remembering her grandfather's story.
"Whenever I feel like an outsider, or when someone treats me with less respect than I think they should because of the color of my skin, I think back to him and his bold choice to educate himself in a country that made it clear he was not welcome," she says. "He was so brave to do this and it makes me wonder how much he dealt with as the only Black man in his class. Nothing I could go through today could come close… this helps to drive me to fight to be represented in spaces where I may not be welcome."
The second thing is leaving environments she felt she couldn't change.
Finding a Place to Grow
Stephanie stayed at JP Morgan, and later JPMorgan Chase, for six years. She struggled with figuring out how to take up space, especially when an early manager told her that she was too outspoken. But Stephanie realized that was more of a comment on the manager's leadership skills than it was something for her to deal with. "I have always made it clear that I had a voice. I have value to add. I've made it my business not to let people quiet me and silence me in rooms where I feel like I should be speaking," she says.
When Stephanie realized risk management wasn't for her, she decided to switch to a smaller firm. That was "less of a rat race," she says, but also felt like a fast-path to "a cushy life and a mediocre existence." So she went back into big banks for a job at Goldman.
"My time there molded me and shaped me a lot into the person I am today," she says. But her time there wasn't without its challenges: "There was a hierarchy in place. You know, 'you don't speak before your boss' kind of thing. Although I loved the company, my career path felt unclear, and I knew it was time for a change."
When an opportunity at Invesco came up, Stephanie took it. She hadn't heard of the standalone asset manager, but was interested in the opportunity, particularly in the chance to do something completely new to her: be client-facing. When her boss's role, which required plenty of client interaction, opened up, Stephanie decided to go for it. "I kept thinking that if I have to report to someone new, I'm always going to know that I could've been that person, but because I let fear stand in the way, I'm not," she says. So she overcame that fear and now is both a senior client portfolio manager and head of a team of product managers and client portfolio managers covering the Municipal Bond business.
And she gets to do it in an environment that really works for her.
"Invesco has been extremely supportive of me, and of women in general, having a voice. That's not something that I necessarily had in my previous roles," says Stephanie. "At Invesco, I feel like I have much more ownership of my narrative than I ever had, and that has allowed me to progress in the way that I have in the last decade."
For Others
Looking back on her career, Stephanie has one piece of advice for others who are trying to build a career that fulfills them, especially in places they don't feel welcome: you don't have to have all the answers.
"People assume that I have a very specific vision," she says. "A lot of the time, I just know what I don't want. And by knowing what I don't want, it allows me to see the things that I want. So those things kind of shine a little bit brighter, and help to attract me to the things that make sense for me."
Does Invesco's culture sound intriguing? Check out their open roles!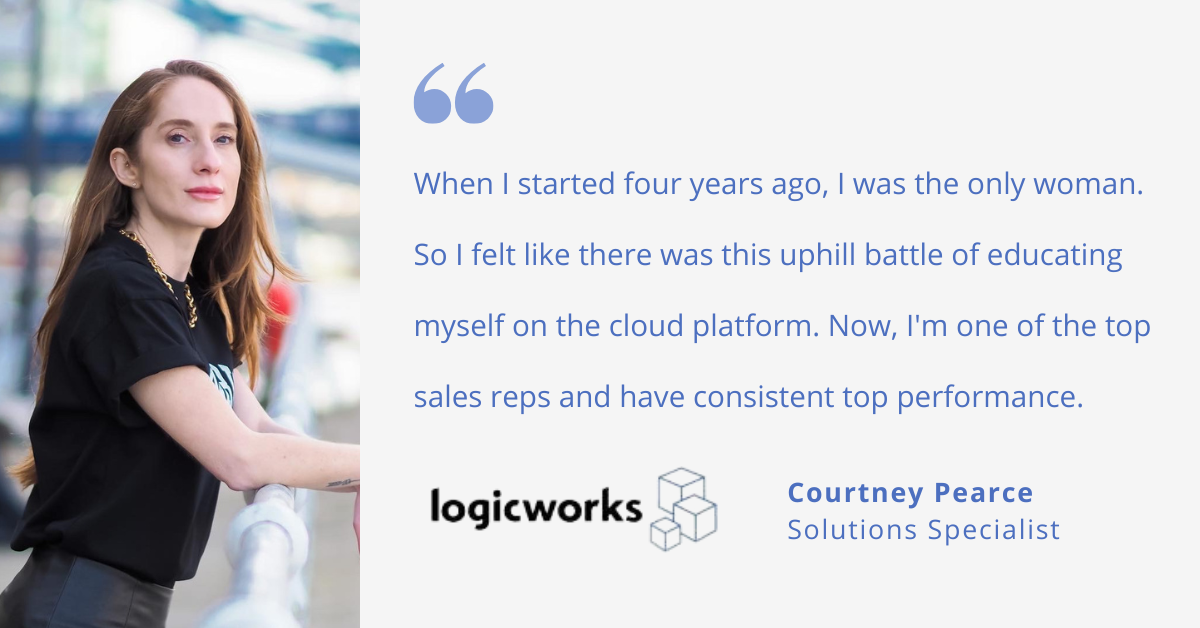 Logicworks
Courtney Pearce's background isn't one you'd expect to find in a tech sales position. But as a motivated self-starter, it makes all the sense in the world that she's been so successful in her role as Solutions Specialist at Logicworks.
If you ask her what she's most proud of about her time so far at Logicworks, she'll say her growth over the last four years.
"Even though I came from a technology company that was selling software, selling infrastructure and infrastructure managed services is very different. There was a learning curve. And when I started four years ago, I was the only woman. So I felt like there was this uphill battle of educating myself on the cloud platform. Now, I'm one of the top sales reps and have consistent top performance. So I'm most proud of my growth over the last four years."
Courtney has a lot of wisdom to impart to those interested in taking on the sales side of tech. We sat down with her to learn more about how she broke into the tech world by utilizing her retail experience.
An Unexpected Path Into Sales
Courtney started college as an Orthodontics major but eventually realized that science wasn't her calling.
"Although I'm a great student, science and math were difficult subjects for me," she admits. "I ended up taking a random textile and clothing elective and it was my favorite class."
She enjoyed the breadth of the program and decided to become a Textiles and Clothing major.
"You got the opportunity to learn the sociology behind why people wear clothes, the chemistry behind dying, how to make fabric, then creating a line from start to finish and marketing that to the class," she shares.
Although fascinated by the program, her career journey didn't lead her to the fashion industry but rather to an adjacent career in retail.
"I ended up accepting a leadership position for a big box department store," she says. "At 23 years old, I ran a 35 million dollar store. It was a great experience and I learned a lot."
After two years of working in retail for various name brands, she found her way into a tech company through a recruitment role.
Breaking Into the Tech World
While Courtney was working at a recruiting firm, she was approached by a security tech company with a position as a technical recruiter. She was interested in the role and applied, but didn't get an immediate response.
"I didn't hear back, but continued to follow up," she recounts. "One night, I got a phone call that said, 'You're not a good fit for the technical recruiter role, but we have this new group that we're building out called business development and they're working directly with sales. Based on your experience and the fact that you're willing to follow up, we think you'd be a great fit'."
At the time Courtney knew nothing about the tech space but that didn't stop her from interviewing for the position.
"I spent an entire week browsing the website, watching all their product marketing videos, and tried to wrap my head around what this security company did," she explains.
During the interview, she blew them away with her knowledge of the company.
"I gave my five-minute spiel and I think that impressed them," Courtney shares. "I had taken the time to research the company, and not having had a tech background, I tried to comprehend what they do."
Hired as a business development rep, she had the opportunity to build the team from the ground up.
Reaching New Heights at Logicworks
Courtney continued to rise in the ranks, but she eventually felt that she had hit a plateau. With a desire to try out something new, she looked to Logicworks who offered her the career advancement she was looking for.
"I had reached my potential with my previous employer. There wasn't anything new for me to learn. I wanted to figure out what was next in my career. There was an opening at Logicworks for a Solution Specialist to be based in Boston. That was enticing for me."
When Courtney moved to Logicworks she was able to explore job autonomy.
"It gave me the opportunity to move into a territory that I'd been working in for many years, but also run that territory like my own business," she explains. "There was nobody else working within that space, and I could create the process that I wanted to."
Now at Logicworks, she experiences the constant changes of a cloud system.
"I'm constantly learning," she shares. "We're constantly evolving our services, what products we're providing, and how our services are integrated as the cloud is maturing. It keeps me interested every single day."
Now as a sales lead, Courtney focuses on building relationships with current and potential clients.
Coincidentally, the relationship-building skills that Courtney uses on a daily basis come from her experience in retail.
"I think coming from retail, you have to be able to talk to anyone," she says. "You're getting a lot of different customer personalities, so it allows me to be comfortable talking to strangers, which I think is key in sales."
Along with sales experience, Courtney's internal drive has been key in propelling her forward.
"Being a self-starter and watching YouTube videos on what the cloud is, what AWS is, and taking that time on my own to learn and absorb as much as I can are, at the end of the day, the kinds of things that you can prepare you to enter the tech space," she explains.
Ultimately, it was the skills she learned in retail and her self-taught understanding of tech that have led to her success.
Advice for Entering the Tech World Through Sales
If you're looking to enter the tech world from a sales angle, Courtney offers this advice:
Find companies that resonate with your values. "Whether you like their product and think that product is solving a pain point in the marketplace, or you align with the company's values, work for a company whose mission you support," Courtney advises.
Be pleasantly persistent. "The biggest thing that helped me was when I reached out and nobody responded, and then I followed up and nobody responded, and then I followed up again and they called me. Being pleasantly persistent shows that you're interested and invested in the organization," she explains.
Do your research. "Take the time to figure out what the company does and what they are all about. Educate yourself above and beyond the basic training material to ensure that you have the right knowledge base to be successful in the role."
If you are looking to grow within the tech space, check out
these open positions at Logicworks
.
READ MORE AND DISCUSS
Show less
Loading...