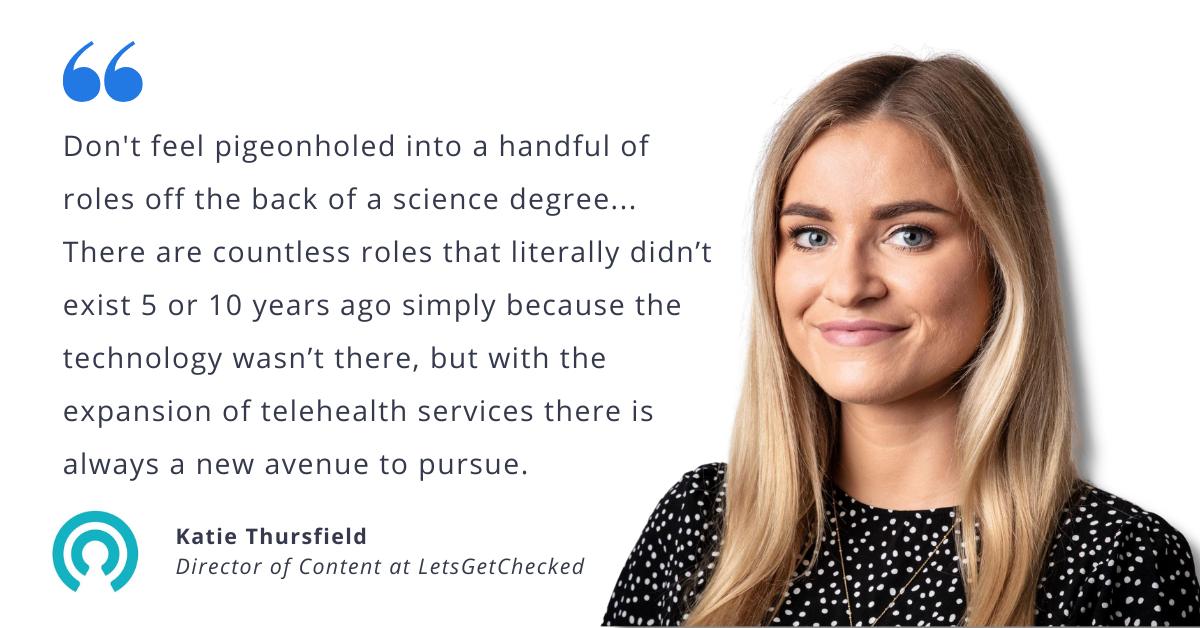 LetsGetChecked
Born and raised in Dublin, Ireland, Katie Thursfield enjoys spending time with friends and taking advantage of good weather. "Ireland is not renowned for its weather," Katie laughs. "So when we do get sun, we like to make the most of it."
When she's not soaking up the sun in the great outdoors or listening to a great podcast in her downtime, you can find her mindfully managing her team as the Director of Content at LetsGetChecked, a healthcare solutions company that empowers individuals to be their own health advocates.
We sat down with her to learn more about her career, creating patient-focused medical-related content that helps bridge the communication gap between patients and medical professionals. Keep reading to hear her story and her advice to women who are looking to advance in the Biotech space.
Combining Business and Science
Katie started off in pursuit of an art major. "I had all the interest and passion for art, but none of the skill," she laughs. After this realization, she decided to pursue a completely unrelated degree — Science in University College Dublin. "I loved science because it was logical and results-generated," she says. "You could pick apart something that seemed incredibly complex into its basic components and pathways and make it easier to understand." Guided by her love for art and intrigue of the human body, she chose to major in physiology.
"I suppose I chose physiology over the other science branches because you can often see it," says Katie. "There's a visual cue, a visual representation of what you're looking at, whether it's a tissue type or cell structure. I always felt this is what led me to pursue it."

After completing her degree in physiology, Katie knew that she didn't want to work in the traditional lab setting. "I loved the idea of theory in science, and we had a lot of brilliant opportunities to work in labs, which [I] enjoyed. But I just couldn't see myself doing it long term," she elaborates. "I wanted to branch into the business a little more to understand the bigger picture of the market." So she started a master's degree in Business and Biotechnology. "Coming from a purely science-based course, it was a really interesting perspective as it brought science into the business world, and provided insight into how these global leaders in the biotechnology industry bring their products to the market, how they are developed and regulated, and how they respond to the market impact," she explains. "It gave you a 360-degree view, from the financial side to marketing of pharmaceuticals and other biotechnology products."
Her newfound passion for science in business led her to an internship at a 3D medical education platform. That internship turned into a full-time job offer, and eventually, Katie grew her career there, where she was able to work on impactful projects that helped students globally. "The concept was based on the gap in the market where medical students were missing a take-home tool to accurately represent the 3D relationships between the body, like how all the muscles intertwine and where tendons attach and how bones are laid," Katie shares. "We created a platform for medical students to leverage." This platform helps students conceptualize the human body beyond textbooks and cadavers.
Production of this tool required Katie to communicate the complexities of the human body in a comprehensive and digestible way to artists with limited scientific backgrounds. "It was about finding a counterpoint in the non-science world to open up that communication channel," she shares. "For muscles, we would use meat as a reference, because everyone knows what that looks like. For tendons, we would use things like fiber material, and cotton wool. There's such a storytelling aspect to science."
After nearly three years at that company, Katie began looking for another professional opportunity where she could leverage her storytelling and communication skills in the healthcare field.
Enter LetsGetChecked.
"I came to LetsGetChecked three years ago because of the type of impactful innovation that they were putting into play. I was following their story and the route to care they were presenting as a solution to so many who need it was really motivating," she shares. LetsGetChecked is a healthcare solutions company that allows customers to manage their health from home through direct access to diagnostic testing, virtual care, and medication delivery for a wide range of health and wellness conditions
Katie first joined as a Content Strategist and has moved up to Senior Content Manager, and now Director of Content serving both the marketing and product needs across the business. Her team's main goal is to create patient-centered content that focuses on the needs of the consumer. "It's about understanding what the patient needs and making sure that they feel confident in taking control of their health," she elaborates. "We know what the pain points are in the current healthcare landscape globally, so we try to identify what they're motivated by, and help them understand that we have this incredible solution that's accessible and affordable."
One of Katie's main focuses is strategically finding ways to get the right message out to the right people, especially those with limited healthcare access. "We hear time and time again that patients are feeling unheard, or they feel that healthcare is out of reach both physically and financially. Introducing a service that is such a new concept to people offers its challenges, especially as there is such a trust-building element. What we find is the patient's voice is the most powerful tool for us because we're always trying to improve and enhance the experience. Positive feedback about how our tests are saving lives is really the most powerful motivator." ," Katie shares.
Katie has been able to build an incredible team of mostly women who are medical writers, campaign creators, and UX copywriters, all working together towards a patient-focused mission.
"So much of what we're doing is translating a service that has been an interpersonal one, and taking that level of assurance and communication into a platform that you can access from the comfort of your home," Katie explains. "Our best method is to make sure that we're putting ourselves in the shoes of the patient, figuring out how they can feel the most informed and know exactly what to do next."
Advice for Women in Science
Being an active voice in the Biotech industry is exciting, but at times it can be challenging and competitive. "It's such an innovative space. There's a lot of energy in it and I know that people are always striving to improve on what they have," Katie shares. "It's by no means a stagnant area of the market." Katie offers the following advice to women pursuing a career in science.
Shake off your preconceptions. "I can completely appreciate that specific industries are associated with a male-led workforce, and that can be intimidating. I've been lucky enough to have strong female leaders in the form of professors and mentors throughout my degrees and career which helped shift that stereotype," Katie says. "At LetsGetChecked, we have an almost all-female content team and a strong female representation in our wider marketing team. I think that many of the newer companies in the health technology sector in general strongly believe that gender isn't what drives success, it's an innovative mind and a strong work ethic. If you find an environment that motivates you to grow, give it your all."

Pursue different areas of science. The career options for scientists may seem a bit limited, but Katie encourages women to look beyond traditional medical or lab roles. "Science is an incredible jumping-off point," Katie says. "I've now worked in two companies that have teams of doctors, nurses, and scientists that wanted to work in a setting that wasn't the most traditional." Remember, the opportunities are there. "Don't feel pigeonholed into a handful of roles off the back of a science degree, because the areas of health technology and biotechnology are rapidly expanding and diversifying in the types of roles that are available. There are countless roles that literally didn't exist 5 or 10 years ago simply because the technology wasn't there, but with the expansion of telehealth services there is always a new avenue to pursue."
Are you ready to combine your passion for science with business and technology? Check out LetsGetChecked's open roles
here
!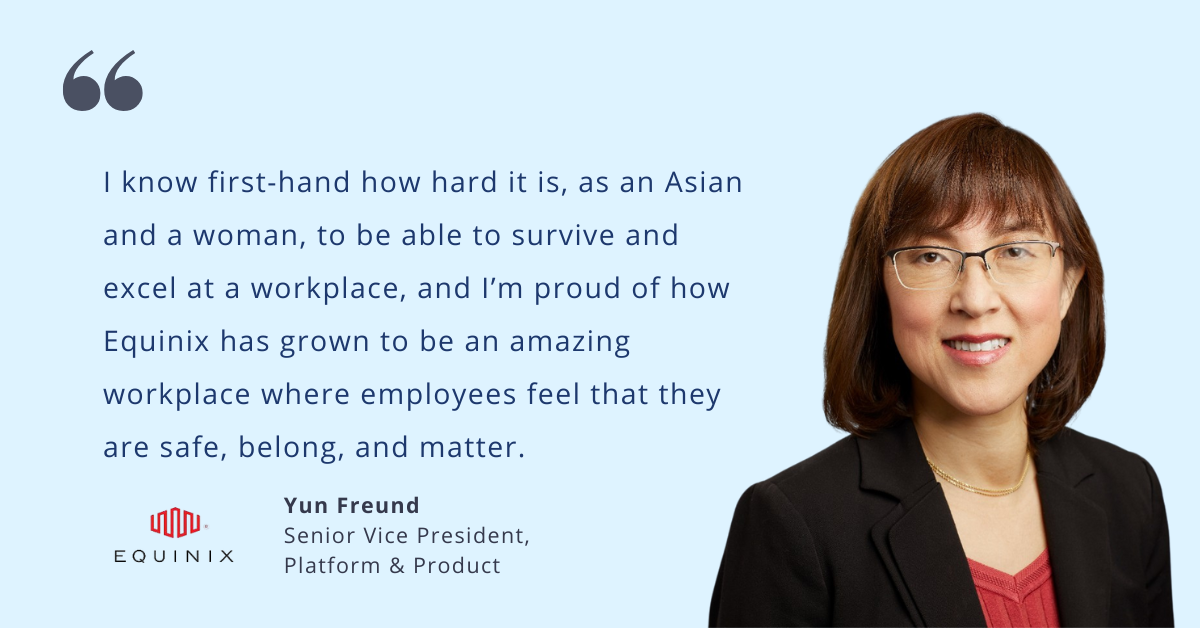 Equinix
Yun Freund considers her background to form the "typical immigrant story" — but sitting down with the SVP of Platform and Product at Equinix, it's clear she's made it her own.
"I came to the United States about 30 years ago with $80 in my pocket. I earned a CS degree from a Beijing university when computer science was new. I was good at math, so that's what I studied," explains Yun.
Fast forward a few decades, and Yun is now running one of the largest organizations at Equinix, a Fortune 500 digital infrastructure company focused on providing an interconnected platform to its global 10k customers. While focusing on external growth — the business has grown nearly 40% since her arrival — Yun has also invested in internal progress, especially when it comes to Equinix's Diversity, Inclusion, and Belonging (DIB) goals.
"I know first-hand how hard it is, as an Asian and a woman, to be able to survive and excel at a workplace, and I'm proud of how Equinix has grown to be an amazing workplace where employees feel that they are safe, belong, and matter," says Yun.
That's not just her opinion. Glassdoor confirms this, having given the company a "best place to work" distinction in 2021, and a special award for best places to work for LGBTQ+ equality list by the Human Rights Campaign Foundation.
We were excited to learn more about Yun's strategies for empowering her team — including her belief that making room for failure is just as important as celebrating success.
The Intersection of Technological Innovation and People Management
Yun first heard about Equinix through a recruiter. Decades into her career in tech leadership, she was looking for a role where she could drive innovation in both technology and people management.
"After many rounds of discussion with our executives, I realized Equinix is a company that's full of potential. It was doing a lot of innovation on interconnected SaaS products and networking products, and I thought I could really help drive, from a culture and process perspective, the company's digital transformation journey," reflects Yun.
Her first order of business? Building a strategy for scaling product development. Yun had long worked at the intersection of engineering and people management, and she embraced the challenge to scale a talent strategy as well as changing the culture.
That resulted in clear growth — not just for Yun's career, as in promotions and new responsibilities, but also in what the company was able to do.
"Helping to cultivate a DevOps culture, move products to the Cloud for high reliability and availability, and build operational excellence for our customers is contributing to us fulfilling our purpose, which is to be the platform where the world comes together, enabling the innovations that enrich our work, life and planet," says Yun.
Diverse Ways of Measuring Impact
Yun doesn't manage her team by the balance sheet alone.
"Improving the bottom line, or operating more efficiently, is just as important as improving the top line, or driving more revenue and more customer adoption," she says. "Sometimes it's not about how we get new products and services out the door, but how we run things more efficiently."
For Equinix, says Yun, that includes committing to becoming carbon-neutral by 2030.
"We're a company that really touches life every day, from online shopping, to sending emails and streaming movies, to smart cars," says Yun. "We want to be doing that sustainably. For example, by using AI and machine learning to lower our power consumption and using green sources of energy."
Yun knows that to drive the most impact, Equinix needs a diverse team. She has partnered with other senior leaders and employee connection groups and started driving a more coherent DIB strategy across the company. She is excited to see the progress and wants to continue the effort in building a diverse and safe workplace for everyone — including by leading through her own example.
3 Key Ways to Empower Your Team
When Yun says that it's important to empower your team, she doesn't mean that you simply transfer the responsibility to your team and call it done. Here's what she does mean:
Embrace failure. "It's easy to say, 'Ah, empowerment. Here's the purpose, go drive impact.' But sometimes it's not all rosy," she says. "The road to empowerment can sometimes be a failure. How do you support your employees along the way? When they fail, you should not blame them. You should be there, on their side, to help them do a retrospective and learn from it."
Show trust via delegation. "Giving your team the opportunity to make their own decisions helps give them a purpose. It shows them they can make a difference. Accountability and ownership will help drive your team to have deeper engagement and commitments, and ultimately deliver results."
Tie individual responsibilities to company OKRs (Objectives, Key Results). "I always communicate to my team that every engineer and individual contributor's work will have an impact on the business, no matter how small that is," says Yun. For example, if an engineer is working on a new digital experience component for the customers, their work will contribute to some kind of business outcome such as, hours saved from many customer support calls or customer satisfaction score improvement, and that in turn drives operational efficiency and customer experience improvement for the whole business. "When employees realize their impact on the business, it elevates their motivation as well as their state of mind."
Looking to join an empowerment-first culture? Check out Equinix's open roles!
READ MORE AND DISCUSS
Show less
Loading...