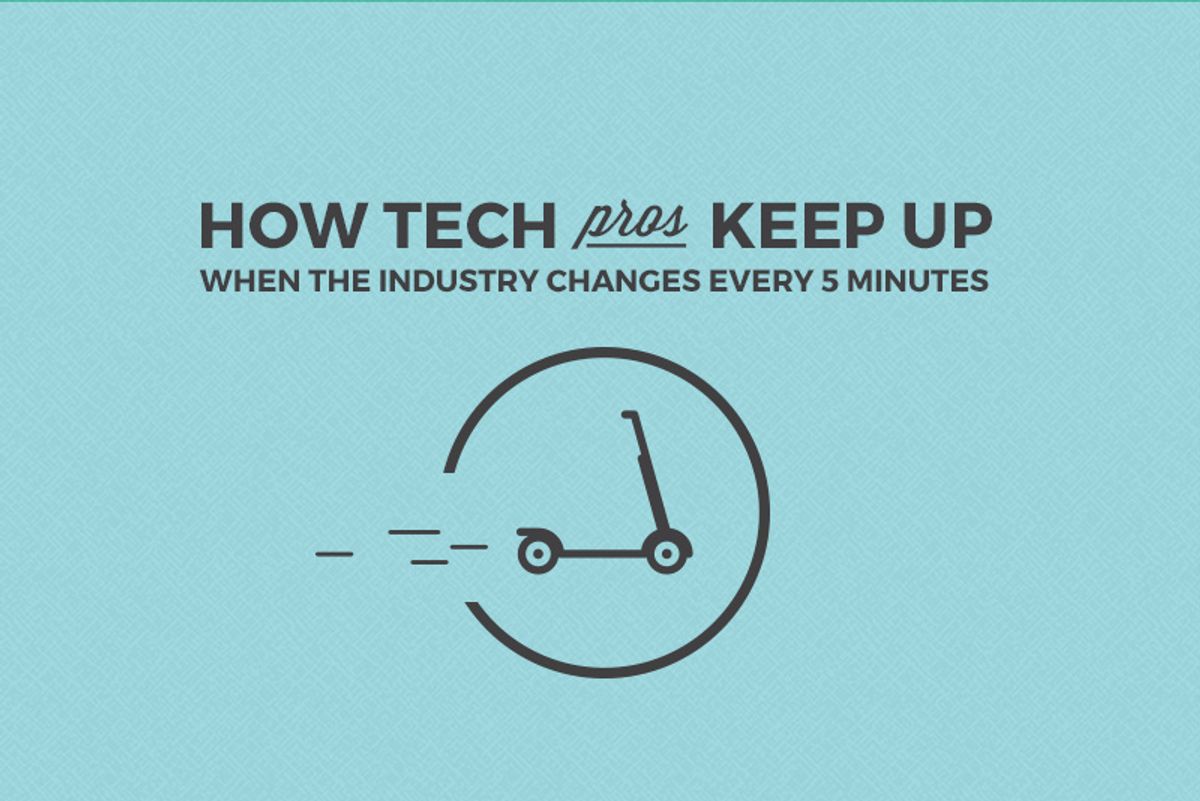 Career and Interview Tips
A version of this article previously appeared on Skillcrush, an online education program for creatives, thinkers, and makers that gives total tech newbies the tools to make major career changes.
Cameron Chapman, Skillcrush
Sometimes it seems like new technologies, techniques, and standards get released on an almost daily basis, making the tech industry dizzyingly fast.
For someone new to the industry, keeping up can feel puzzling—or nearly impossible. How do you stay on top of changes that happen all the time, especially ones that can directly impact the work you do and what your boss (or clients) expect?
I talked to web designers, developers, and other techies to find out what they do to keep up. The answers are more straightforward than you might expect.
Follow Influencers on Social Media
Almost everyone I spoke to said one of the best ways to stay on top of innovations in the industry is by following influencers on social media. Setting up custom lists (or following lists others create) on Twitter can take a lot of the legwork out of finding the news you need to keep up with.
Watching what influencers are doing in their spare time is a great way to know what might be coming next. "Things like 'Initial Coin Offerings' and AI seem like moonshots, but the smartest people I know work on those subjects in their free time. That makes me confident that some big businesses will emerge in these areas," says Philip Thomas, co-founder and engineer at Moonlight. Pay attention to what gets developers excited and you'll know where to look for the next big thing.
If you're looking for whom to follow on Twitter, try Skillcrush's Women in Tech list—our favorite influencers and experts.
Spend Time Reading Every Day
"Read. Read. Read." That's how Kate Chan, a full-stack marketer at BlueFox.io, stays up to date on changes in the industry. She sets aside time daily to read about tech, insuring she won't fall behind. James McCarthy, CEO and lead web developer at Boldtask, is specifically a fan of A List Apart for long-form articles that keep him up to date. We also love:
Staying in the Know Doesn't Mean Falling for Trends
Nathan Kontny, CEO of Highrise (a spin-off of the wildly popular Basecamp project management software), warns against the appeal of quick fads at the expense of staying grounded. "I think keeping up with changes is far overrated. We're better served by studying history and how companies that are decades old, if not older, have made customers happy. It's a fool's game to keep chasing fads and responding with knee-jerk reactions."
It's a fair point and one that's well evidenced. He uses Google Wave as one such example, touted as a revolutionary product that would change how we all work together. Instead, Wave was dead within three years due to lack of interest despite all the hype of its release.
The moral here: Focusing on user needs can allow you to create successful projects without falling for fads.
Skip the Four-Year Degree
As Erik Zuuring, a 10X programmer who dropped out of college, told Mashable, "One of the biggest issues with post-secondary education in the technology industry is its ability to keep a curriculum current and at the cusp of technology…Just in the web-sphere, trends and technology change on a monthly basis."
We see this proven over and over again at Skillcrush: You don't need a four-year degree to find success. What you learn in your first semester might be obsolete by graduation day. Learning in a faster-paced environment sets you up to actually start working in the tech industry in way less than a quarter of the time it would take to get a degree.
Want to get started in the tech industry right away? Check out the Ultimate Guide to Coding for Beginners for a step-by-step plan to launch your tech career.
Tenable
💎For a successful job search you need to be very strategic, focused, and intentional about your career. Watch the video to the end to get advice on how to achieve it!
📼Be successful in your job search by identifying the career goals you'd like to achieve over the next 12 to 18 months. LaMont Price, Senior Recruiter, and Meg Fronckowiak, Senior Talent Acquisition Recruiter at Tenable, share with you the benefits of having a short-term career development plan and understanding your unique value proposition.
📼A successful job search requires you to take a deep dive into the job description. Look at your resume and try to match the skills and the qualifications and highlight that on your resume, so it stands out. Secondly, do your research. You want to make sure that you've taken a look at the company website. You've looked at the leadership of the company, the size of the company, and the culture of the company. And to go one step further, look at the interviewer. Look them up on LinkedIn, and take a look at their background. Recruiters always look for people who have great insightful questions that show the level of research the person did.
📼You'll be successful in a job search if you know how to face the interview process. Every interview includes some don'ts. Don't be late. There's nothing worse than showing up late for an interview. Dress Professionally. Try to be in a quiet place so that you're not distracted. Get through the interview process, show that you're engaged, and have good body language. At the end of the interview, you always want to ask if there's any question that maybe you weren't able to answer. And always ask about the interview process to get a good understanding of the timeline.
A Successful Job Search Requires Research - Learn About A Company's Values!
Recruiters need to know if you are aligned with the company's culture. If you want to apply to Tenable, you should know that its core values are diversity, equity, and inclusion. They work together and they win together, and this is an idea that resonates throughout the entire organization. Tenable celebrates all of its employees. This allows them to focus on the equal representation of women and minorities in technical roles, sales roles, and leadership roles. The company provides training for all of its employees in diversity, equity, and inclusion. This helps employees to understand how their behaviors can impact others. Make sure to show that you are aligned with these values during your interview!
🧑💼 Are you interested in joining Tenable? They have open positions! To learn more, click here.


Get to Know LaMont Price and Meg Fronckowiak
Over the last 25+ years, LaMont Price has researched, analyzed, and optimized services and products by exploiting the latest tools and tactics aligned with the strategic goal via Attention, Differentiation, Trust, and Memorability. Meg Fronckowiak has been working in the recruiting and talent attraction since 2003 and she spent the majority of her career working across all disciplines including, Building out GTM Teams, Accounting & Finance, Marketing, Operations, and Sales Leadership. If interested in a career at Tenable, you can connect with LaMont and Meg on LinkedIn. Don't forget to mention this video!
More About Tenable
Tenable empowers all organizations to understand and reduce their cybersecurity risk. Over 30,000 organizations, more than 50% being fortune 500 companies worldwide, rely on Tenable to help them understand and reduce cybersecurity risk. The company has some of the greatest minds. That's because they bring people who come from diverse backgrounds and give them the resources and support to partner together to bring new ideas to life.
READ MORE AND DISCUSS
Show less
Loading...