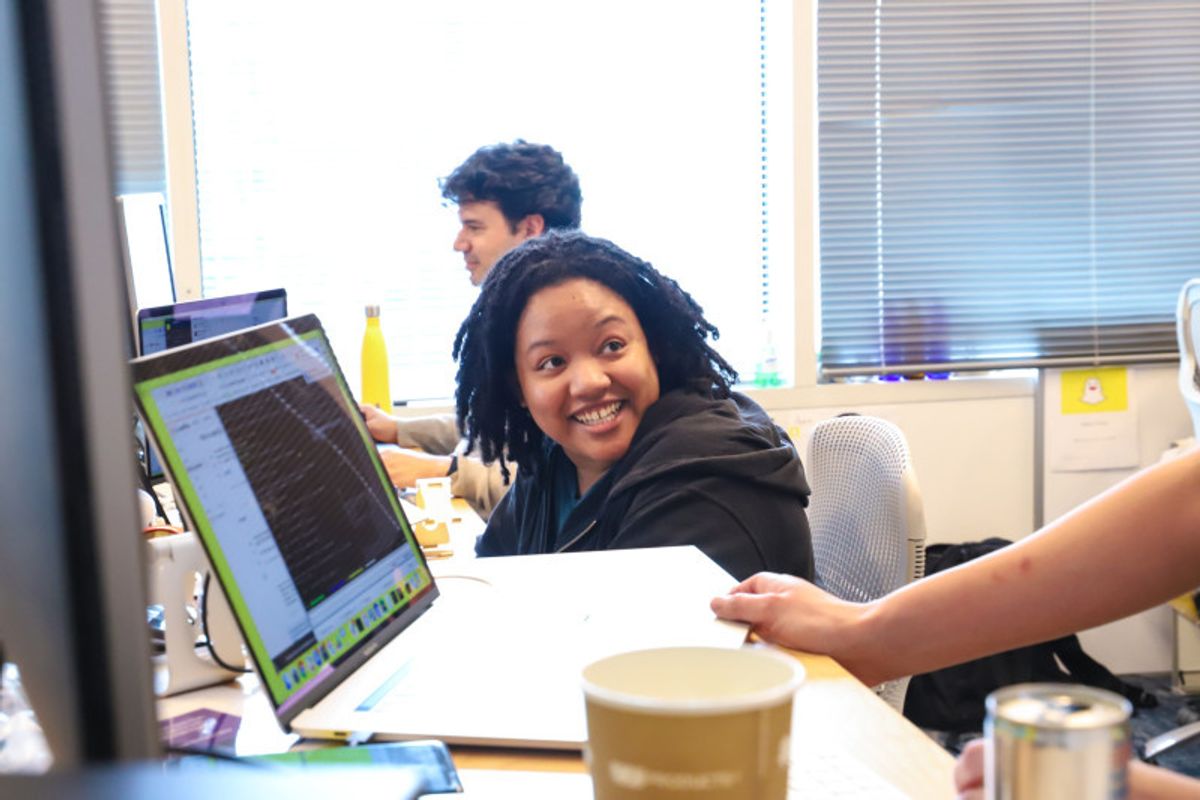 Snap Inc.
Below is an article originally written by Snap Engineering, a PowerToFly Partner. Go to Snap Inc's page on PowerToFly to see their open positions and learn more.
At Snap, we believe that kindness is at the heart of engineering: we place a high value on integrity, craftsmanship, and collaboration in all of our work. We also recognize that kindness without courage is not always enough: successful companies should foster healthy internal debate, driving positive change.
At the same time, throughout our careers, many of us have learned that the line between debate and conflict can be thin - and that disagreements that are allowed to fester may frustrate teams and get in the way of getting stuff done. To that effect, based on our experiences in the tech industry, we wanted to share a set of simple, time-tested strategies to help folks give productive feedback and make good engineering decisions in complex work environments.
1. Assume good intentions
When we see another person doing something inexplicable, we all sometimes fall back to what feels like the simplest explanation: that they don't know what we know. But especially in a professional setting, this is often the wrong conclusion to reach.
At Snap, we want to celebrate different perspectives, but we want to harness such differences to build better products, not to divide teams. And so, when disagreements arise, we encourage folks to assume the best intentions of others, and to make sure we all have a full picture of each participant's thought process and goals.
In our experience, perhaps the most practical tool at our disposal is deliberation: before challenging a decision, it pays to seek out all the facts in an open-minded and non-confrontational way. It's good to dig up design docs to understand the project's motivation and priorities, and get a solid sense of the alternatives considered before the team committed to a particular approach. Explicit critiques and hard-hitting questions are best reserved for later; even if they remain valid, this lets us fine-tune our thesis along the way.
2. Choose the best way to deliver a message
When giving critical feedback, we believe it's crucial to find a venue where both sides of the conversation can speak freely, and where everybody can think through their responses, discuss alternatives, and dive into the technical details of the matter at hand.
In this sense, it's best for pointed conversations to happen in smaller forums. Lively discussions in large forums are common in the tech industry, but need to be approached with special care: in a very public setting, you might have had a chance to think through your argument and present it in the best possible way; the person who has to respond is not necessarily afforded the same courtesy.
On the other extreme, we feel it is seldom healthy to air frustrations when the other side is not in the room; fairness aside, it just doesn't get much done. When faced with profound and important disagreements, it's incumbent upon us to find a way to resolve them swiftly; and for minor annoyances, sometimes it is best to just move on.
3. Follow the "Jeopardy!" rule
When a loaded question appears to attack our integrity or casts doubt on our competence, we are likely to react viscerally and defensively - and are much less likely to give due consideration to the merits of the other person's views.
To avoid putting others in this position, the oft-repeated tip is to make sure we are criticizing ideas, not personalities; in other words, we should never open with "I can't believe you thought this is a good plan!". At Snap, we try to take this principle one step further, with what I informally call the "Jeopardy!" rule: trying to phrase your feedback in the form of a question that prompts the other person to independently work through the considerations that are on your mind. Instead of exclaiming "but X is going to completely break your design!", it almost always pays to start with "do we need to worry about X?".
In some settings, it is OK to be more blunt; but especially if you're in a senior role, remember that your off-the-cuff remarks carry a lot of weight - and have a lot of subtext - in the eyes of your team.
4. Don't become the resident obstructionist
On some level, opinions are cheap; every person has one. What matters is the ability to turn these opinions into action - and to ship top-notch products to the world.
For this reason, we found it best to avoid the role of an armchair critic: it is not worthwhile to be the person who simply shoots down ideas without offering alternatives. As a corollary: most critiques should include a proposal for how to accomplish our shared goals in a better way.
The proposal we come up with as a part of this thought exercise does not have to be brilliant; going through that step is beneficial simply because it levels the playing field: it allows the other team to poke holes in your design. This sets the stage for collaboratively iterating on the proposal until the right solution emerges - and until everybody is excited about giving it a try.
5. Pick your battles wisely
Just like any other company, we sometimes deal with big, fundamental disagreements that need to be settled for the good of our business. That said, across the tech industry, we also often get passionate about far less significant things, where one outcome may be a bit better than the other - but ultimately, there are no dire consequences either way.
In such situations, protracted, unending arguments impose a very real tax on our teams. They waste a ton of time and affect the well-being of participants, especially in situations where a single person or a small group of people is on the receiving end of a debate where countless other engineers chip in over and over again.
To build healthy organizations at Snap, we encourage folks to zero in on the problems that truly matter and resolve them swiftly; but we think it's equally important to know when to let go and move on. Once again, this rule is particularly important for senior folks: we want you to bring your knowledge and wisdom to the job, but you have to leave breathing room for more junior folks to experiment, learn from personal experiences, and grow.
6. Politely escalate the disagreements that matter the most
Important disagreements need to be talked through in person first, but when no progress can be made, escalations are the right way to go. When done correctly, escalations are a collaborative tool for highlighting risks to the higher-ups, and for making strategic decisions - such as providing additional funding for neglected projects, or giving up some revenue to do what's right for the Internet.
The secret of successful escalations is to sit together with the other team and work on a joint problem statement: there must be a broad agreement between you and the product team on the underlying facts, the problem in question, and the potential paths forward. A good escalation captures all that in a concise and accessible way.
Conversely, adversarial escalations - where each team works in isolation to present a vastly different take on the underlying facts and effectively discredit the other - are unlikely to lead to making the right call.
When suggesting paths forward, we like to remind folks to think big: asking to cancel a project or to sign off on a risk is seldom the right approach. Perhaps the solution is to allocate or shift resources; to resolve a policy question; or to commit to a long-term fix that will replace a temporary workaround.
7. When necessary, disagree but commit
Snap operates in a fast-paced environment. As we navigate ambiguity, we need to be able to take chances boldly and in a principled way. To avoid decision paralysis, we must settle debates quickly - and once a decision is made, we generally need to set personal opinions aside and commit to getting things done as a team. This means not just agreeing to not complain - but treating the path we've chosen as your own, and investing in making it successful.
In some cases, our bets will pay off; other times, we will make mistakes. It is important to learn from them - but it is also important to remember that hindsight is always 20/20. It is not constructive to deliver persistent, low-key critiques of other people's work, to constantly undermine or revisit settled decisions, or to belittle people for believing in ideas that ultimately did not pan out. The only result of such an approach is a company that never takes any risks.
Learn more about Snap engineering values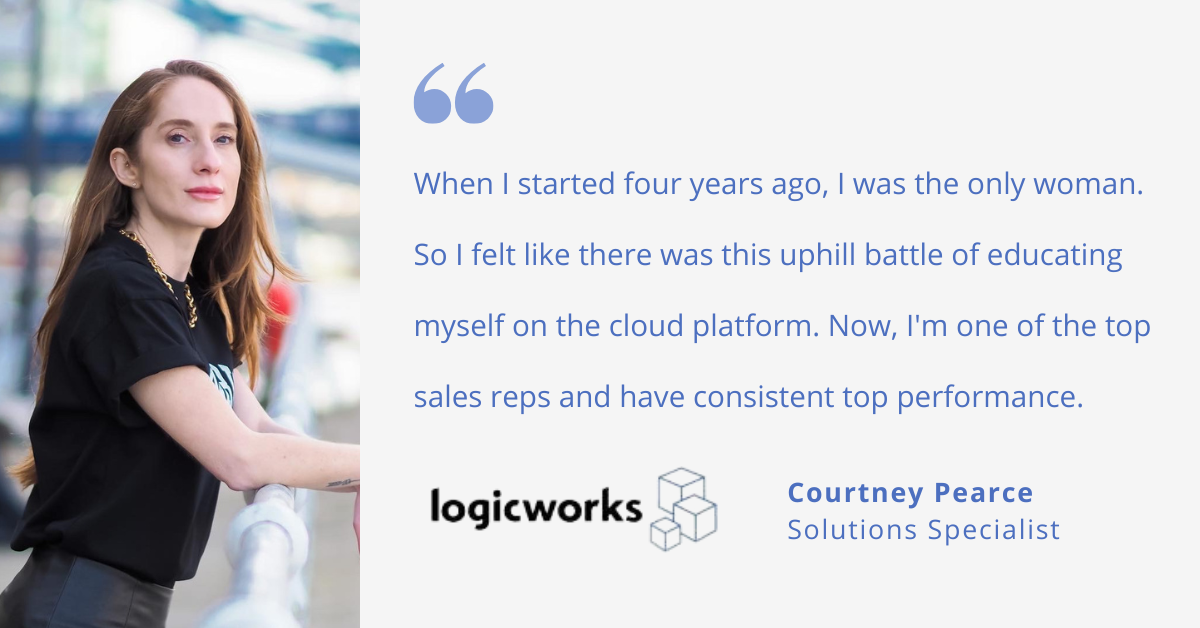 Logicworks
Courtney Pearce's background isn't one you'd expect to find in a tech sales position. But as a motivated self-starter, it makes all the sense in the world that she's been so successful in her role as Solutions Specialist at Logicworks.
If you ask her what she's most proud of about her time so far at Logicworks, she'll say her growth over the last four years.
"Even though I came from a technology company that was selling software, selling infrastructure and infrastructure managed services is very different. There was a learning curve. And when I started four years ago, I was the only woman. So I felt like there was this uphill battle of educating myself on the cloud platform. Now, I'm one of the top sales reps and have consistent top performance. So I'm most proud of my growth over the last four years."
Courtney has a lot of wisdom to impart to those interested in taking on the sales side of tech. We sat down with her to learn more about how she broke into the tech world by utilizing her retail experience.
An Unexpected Path Into Sales
Courtney started college as an Orthodontics major but eventually realized that science wasn't her calling.
"Although I'm a great student, science and math were difficult subjects for me," she admits. "I ended up taking a random textile and clothing elective and it was my favorite class."
She enjoyed the breadth of the program and decided to become a Textiles and Clothing major.
"You got the opportunity to learn the sociology behind why people wear clothes, the chemistry behind dying, how to make fabric, then creating a line from start to finish and marketing that to the class," she shares.
Although fascinated by the program, her career journey didn't lead her to the fashion industry but rather to an adjacent career in retail.
"I ended up accepting a leadership position for a big box department store," she says. "At 23 years old, I ran a 35 million dollar store. It was a great experience and I learned a lot."
After two years of working in retail for various name brands, she found her way into a tech company through a recruitment role.
Breaking Into the Tech World
While Courtney was working at a recruiting firm, she was approached by a security tech company with a position as a technical recruiter. She was interested in the role and applied, but didn't get an immediate response.
"I didn't hear back, but continued to follow up," she recounts. "One night, I got a phone call that said, 'You're not a good fit for the technical recruiter role, but we have this new group that we're building out called business development and they're working directly with sales. Based on your experience and the fact that you're willing to follow up, we think you'd be a great fit'."
At the time Courtney knew nothing about the tech space but that didn't stop her from interviewing for the position.
"I spent an entire week browsing the website, watching all their product marketing videos, and tried to wrap my head around what this security company did," she explains.
During the interview, she blew them away with her knowledge of the company.
"I gave my five-minute spiel and I think that impressed them," Courtney shares. "I had taken the time to research the company, and not having had a tech background, I tried to comprehend what they do."
Hired as a business development rep, she had the opportunity to build the team from the ground up.
Reaching New Heights at Logicworks
Courtney continued to rise in the ranks, but she eventually felt that she had hit a plateau. With a desire to try out something new, she looked to Logicworks who offered her the career advancement she was looking for.
"I had reached my potential with my previous employer. There wasn't anything new for me to learn. I wanted to figure out what was next in my career. There was an opening at Logicworks for a Solution Specialist to be based in Boston. That was enticing for me."
When Courtney moved to Logicworks she was able to explore job autonomy.
"It gave me the opportunity to move into a territory that I'd been working in for many years, but also run that territory like my own business," she explains. "There was nobody else working within that space, and I could create the process that I wanted to."
Now at Logicworks, she experiences the constant changes of a cloud system.
"I'm constantly learning," she shares. "We're constantly evolving our services, what products we're providing, and how our services are integrated as the cloud is maturing. It keeps me interested every single day."
Now as a sales lead, Courtney focuses on building relationships with current and potential clients.
Coincidentally, the relationship-building skills that Courtney uses on a daily basis come from her experience in retail.
"I think coming from retail, you have to be able to talk to anyone," she says. "You're getting a lot of different customer personalities, so it allows me to be comfortable talking to strangers, which I think is key in sales."
Along with sales experience, Courtney's internal drive has been key in propelling her forward.
"Being a self-starter and watching YouTube videos on what the cloud is, what AWS is, and taking that time on my own to learn and absorb as much as I can are, at the end of the day, the kinds of things that you can prepare you to enter the tech space," she explains.
Ultimately, it was the skills she learned in retail and her self-taught understanding of tech that have led to her success.
Advice for Entering the Tech World Through Sales
If you're looking to enter the tech world from a sales angle, Courtney offers this advice:
Find companies that resonate with your values. "Whether you like their product and think that product is solving a pain point in the marketplace, or you align with the company's values, work for a company whose mission you support," Courtney advises.
Be pleasantly persistent. "The biggest thing that helped me was when I reached out and nobody responded, and then I followed up and nobody responded, and then I followed up again and they called me. Being pleasantly persistent shows that you're interested and invested in the organization," she explains.
Do your research. "Take the time to figure out what the company does and what they are all about. Educate yourself above and beyond the basic training material to ensure that you have the right knowledge base to be successful in the role."
If you are looking to grow within the tech space, check out
these open positions at Logicworks
.
READ MORE AND DISCUSS
Show less
Loading...