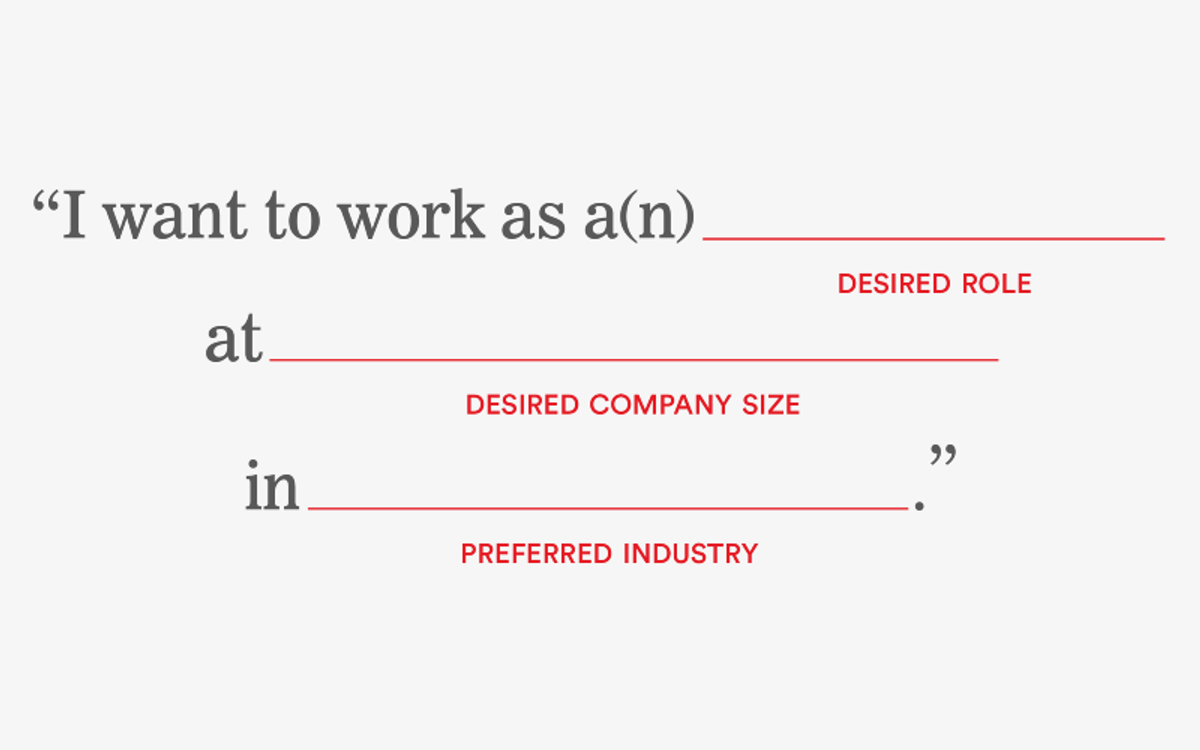 General Assembly
How to narrow your focus, get a leg up on the competition, and look like the most prepared person in the room.
Below is an article originally written by startup founder and former GA leader Matt Cynamon for PowerToFly Partner General Assembly. Go to General Assembly's page on PowerToFly to see their open positions and learn more.
Working for a startup company can be one of the most challenging, exhilarating, sometimes heartbreaking, and oftentimes fulfilling journeys of your life. But wanting in and breaking in to this competitive industry are two different things. Landing an opportunity at a startup is about more than luck. There are terms to learn, steps to take, and skills to grow to make you a candidate who stands out from the crowd.
Whether you're a recent college graduate, someone with 10 years of executive-level experience, recently completed a career accelerator program, or are just making a jump from a more traditional work background, there is a pathway to a dream job at a startup for everyone. While there's no foolproof method for landing a job, we've compiled six proven tips that can help you narrow your focus, get a leg up on the competition, and look like the most prepared person in the room.
1. People can get you further than job boards.
One of the nice surprises about the startup ecosystem is how supportive and helpful some of the people are. In every city, leaders in grassroots startup communities host events, give educational talks, make introductions, and offer advice. These individuals can serve as your early guides as you start out on your journey.
If you're just breaking into the startup world, you may not have a strong network to draw upon. That's OK. Go to events, meet people, and listen. As a new entrant into the community you might feel like you have little to offer in return, but one of the biggest favors you can do for someone is just ask them questions about their work. Don't be too forceful, but where appropriate, invite people for a coffee. It may seem intuitive, but being generally interested in others and what they do will help you foster relationships that aren't only valuable, but fulfilling.
When it comes time for you to start applying, warm introductions from someone within the community will go much further than a resume submitted on a job board. Founders often cite hiring as the biggest obstacle to successfully growing their company. It's a timely and difficult process that they love to circumvent with a nice, warm introduction to top talent (aka you).
One of the most common mistakes people make when trying to get introductions is assuming that if people don't get back to you, hope is lost. Be prepared for repeated failure. Ninety percent of people will say they want to help you. Ten percent actually will. Why most people don't follow through is due to a variety of factors, but just know it's rarely about you. If you go into every conversation with this attitude, you will more easily be able to sustain your energy when your inbox sounds like crickets.
2. Polish your elevator pitch with a job-search thesis.
We're living in an age of self-driving cars, private spaceships, artificial intelligence, augmented reality, on-demand everything — and startups often lie at the center of these innovations. It's completely normal for someone starting on their journey to want to be a part of all of it. While you will encounter many people who are willing to help you in your job junt, you need to make it easy for them to do so. To that end, nothing will get you further than clarity and focus.
When you tell people what you are looking for, you want them to think, "I know who you should talk to." The easiest way to get there is to distill what you're looking for into three distinct points. We call this a job-search thesis.
The best job-search thesis will contain:
Your desired company size.
Your preferred industry.
Your desired role.
For example, if you can tell someone at a cocktail party, "I want to work as a product manager at post-Series A company in the fashion industry," there's a good chance they'll remember you the next time they hear about a PM role at a company that makes smart athletic gear. Speaking about yourself with that level of specificity will instantly make connections in the mind of whomever you find yourself talking to.
3. Got experience? Great. Not so much? Then make it.
If you are moving into the startup world from a career in a different industry or type of role, make sure to play up your relevant experience. If you feel like your job title really doesn't translate to the position for which you're applying, break apart the components of your current role into the factors that would be relevant at a startup. For example, if you were a lawyer then you likely have strong attention to detail, analytical problem-solving skills, an ability to explain complex problems to many stakeholders, a strong work ethic, and a history of achievement. These are all things a startup would want out of a product manager. This exercise is especially important for more senior individuals trying to move into the startup world.
Of course, you don't have to rely only on your previous experience — the best candidates never do. Fortunately, the rules around experience have shifted and there are ways for you to start developing skills within a given field even if you've never worked in that field before.
Let's say you're really interested in doing digital marketing for a fashion tech company. For less than $50 you can start running Facebook advertisementsfor a friend's T-shirt website, cultivating skills in running paid social media campaigns. If you want to do UX design for an eCommerce startup, you can publish a series of UX critiques about popular eCommerce sites on a blog. Engineers rarely depend on resumes alone anymore; they demonstrate their experience by publishing their code to GitHub.
Even opening an account on Medium.com and writing commentary on the industry you're interested in can go a long way. Coupling this level of initiative with your previous (or nonexistent) work experience is the best way to demonstrate your talents and potential. In addition to gaining relevant skills that will assist you in a new role, you'll appear to be both passionate about the subject matter and a knowledgeable self-starter who practices it in your spare time.
4. Do your homework. Then, do some more.
With a solid network, clear thesis, and foundation of experience, it's only a matter of time before you start landing interviews. Most recruiters will tell you at this point to spend 12 hours preparing for an interview. We think that's child's play. You aren't interviewing to be a cog in a massive corporate machine. You are being assessed on whether the founder or manager would bet the future of their budding company on you. Make them comfortable — and confident in you — by being the most prepared person in the room.
Find founders on Twitter, LinkedIn, or in the blogosphere and consume every bit of content you can find. The information you'll find there is priceless because you will gain a deep understanding of how founders think and feel about the world. You can even head to Facebook and see if you have any mutual friends. Does all of this seem a little overboard? Perhaps, but startups expect a different level of commitment than many traditional careers. So if this sounds like a lot, you'll be in for a big surprise once the job begins.
5. Play the numbers game. Ask metrics-driven questions.
In an interview with a startup, you really have three goal goals: 1) Clearly communicate why you're capable of doing the job, 2) be the most passionate person in the room, and 3) ask the best questions. You certainly should ask standard interview questions, like "What makes someone successful in this role?" or "What will the first 90 days look like?" But what you really want to do in the interview is discover the metrics the company cares most about.
Sure, a company's public brand may be all about changing the world, but we can guarantee that every night before they go to bed and every morning after they wake up, the person interviewing you is checking a dashboard with a handful of key metrics, such as cost to acquire a customer, lifetime value of a customer, net promoter score, or churn. When they leave your interview, they'll probably check it again.
Metrics dictate performance, and in the uncertain conditions in which startups live, having insight into how well the business is doing is essential for a small team that has a lot of impact.
When you go into your interview, don't be afraid to ask:
What metrics are you checking daily?
What metrics are you checking weekly?
What metrics are you checking monthly?
What do you see as the biggest levers for improving those metrics?
How are you doing against your goals?
How can this role help you get there faster?
The answer to those questions will give you everything you need to know to position yourself as the best fit for the job. For example, if you're applying for a marketing job and learn in the interview that high product churn is keeping the founder up at night, you can follow up with an email with three ideas on how the company can immediately improve retention.
6. Pay attention to startup funding cycles.
Fundraising impacts everything about a startup, and understanding it can also serve as a huge advantage for you in your job hunt. When you read that a startup raised $15 million, it's safe to assume it isn't looking for a safe, high-yielding savings account to put it in. The company is going to put almost every cent to work by increasing marketing, improving the product, and, most importantly building the team it needs to take the business to the next level. There is literally no time when the ground is more fertile for you to land a job than immediately after a startup raises money. So it's on you to stay on top of the news.
TechCrunch is an excellent resource for keeping up with fundraising news. The site will report on just about every dollar raised in the startup world. If you're interested in a particular company, set up Google Alerts so you can be the first to know whenever a new round of funding comes in. If you want to be ahead of the curve, AngelList has a directory of all startups looking to raise their first round of funding. It's also an excellent job board.
These tips are just a start — for more expert insight, download our free guide, How to Get a Job at a Startup. Discover firsthand tips on how to break into a startup career, clear up confusing industry jargon, and learn about important resources that will aid you on your journey. Good luck!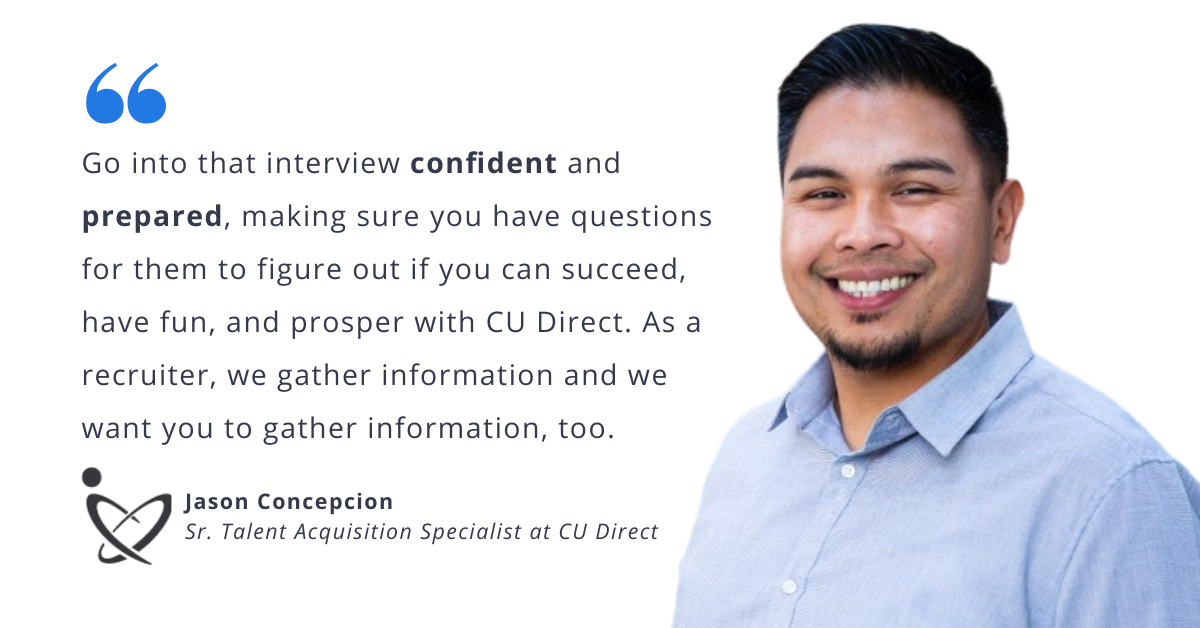 CU Direct
Jason Concepcion is a Sr. Talent Acquisition Specialist at CU Direct, a technology leader that delivers lending solutions to financial institutions, auto dealers, retailers, and medical providers nationwide. As a progressive company that looks for the best diverse talent, CU Direct prides themselves on seeking and taking care of their employees.
We sat down with Jason to learn about CU Direct's hiring process. Keep reading for his top 6 tips to put into practice when interviewing with CU Direct.
Tip # 1 Do Your Research
While it may seem obvious, learning about the company you're interviewing for is crucial. "Before the interview, do some research on CU Direct, our products and services, and even our subsidiary companies," says Jason. Doing the research will show the interviewer that you are highly interested and that "you did your due diligence in getting to know the company." Check out their About page to get to know CU Direct and its various projects.
Tip #2 Ask Questions
It's important to be transparent from the first point of contact with the company, which means asking questions to clarify and gain more information. Jason suggests, "when talking to the recruiter, ask questions. Go into that interview confident and prepared, making sure you have questions for them to figure out if you can succeed, have fun, and prosper with CU Direct. As a recruiter, we gather information and we want you to gather information, too."
Tip #3 Take Your Time
Pace yourself in the interview. Jason explains that "it's okay to pause, regroup, and answer questions. When asked about your experiences, taking your time will allow you to think of the situation, how you solved it, and what was the outcome."
Tip #4 Ask Yourself, 'What Do I Want to Do?'
Take inventory of what you have accomplished or learned in your professional trajectory so far. "We're not just looking for what you've done, but we are also looking for what you can do and what you want to do," says Jason. He believes that "those things are just as important as what you've done in the past. Your drive and determination will show us where you want to go and ideally, that will organically align with the positions we have here at our company."
Tip #5 Understand the Job Description
With your resume in hand, consider what experiences best align with the job description. "Valuable work experience can be found almost anywhere. It can come from your first job or it can come from your most recent job," Jason explains. Whatever small or short experience you have that matches the job description is worth mentioning and explaining, depending on the job you are applying for. Jason explains, "a good understanding of the job description you're going for, and related positions within the company will give you a greater insight as to what we're looking for and what you want to highlight or present in regards to this role."
Tip #6 Don't Be Afraid to Get Personal
One way to stand out in the interview process is to show that you'll be a good values fit, so intentionality throughout, and after, the interview can go a long way. Jason suggests sending a thank you email after the interview. "This will make sure that you stand out in front of thousands of applicants," he says. "Don't make it generic, tailor the message including details mentioned in the interview, this will show the person that you were completely engaged throughout the interview."
CU Direct's personal and careful recruitment process is a reflection of their fun and innovative atmosphere, their value of team members, and commitment to growth. They offer several benefits to their employees, such as a flexible working environment, paid time off, 401k match, college tuition reimbursement, and an exciting company culture. Because of this, they want to make sure people are treated with the same kindness and positivity from the start. As Jason reiterates: "We want to make sure you are prepared and ready for each step of this process, from interviewing, to asking questions, and to possibly onboard in the future," says Jason.
Are you interested to find out more about working at CU Direct? Check out their
openings
here!
READ MORE AND DISCUSS
Show less
Loading...