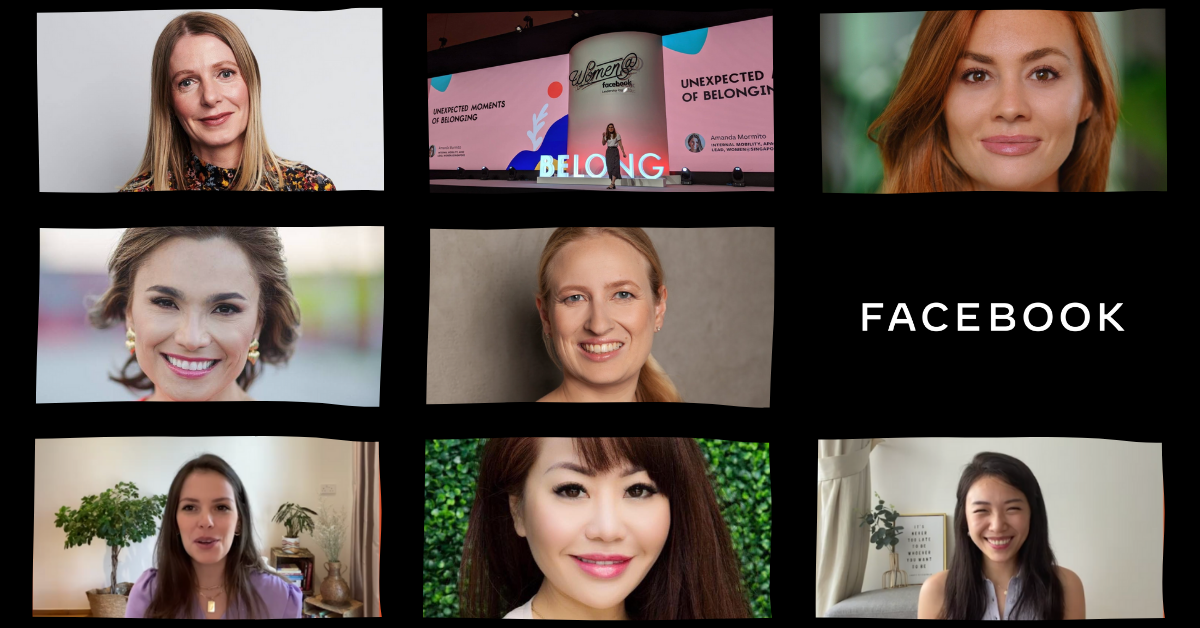 Meta
When you think about strong female leadership, what comes to mind? For Tatiana L., a global client partner in Miami, it's about more than having an executive seat, being a mother, or making dreams come true. "Good leadership is about being open, flexible, and able to understand different perspectives," she says. "It's about fostering collaboration, bringing people together, and empowering them to connect."
---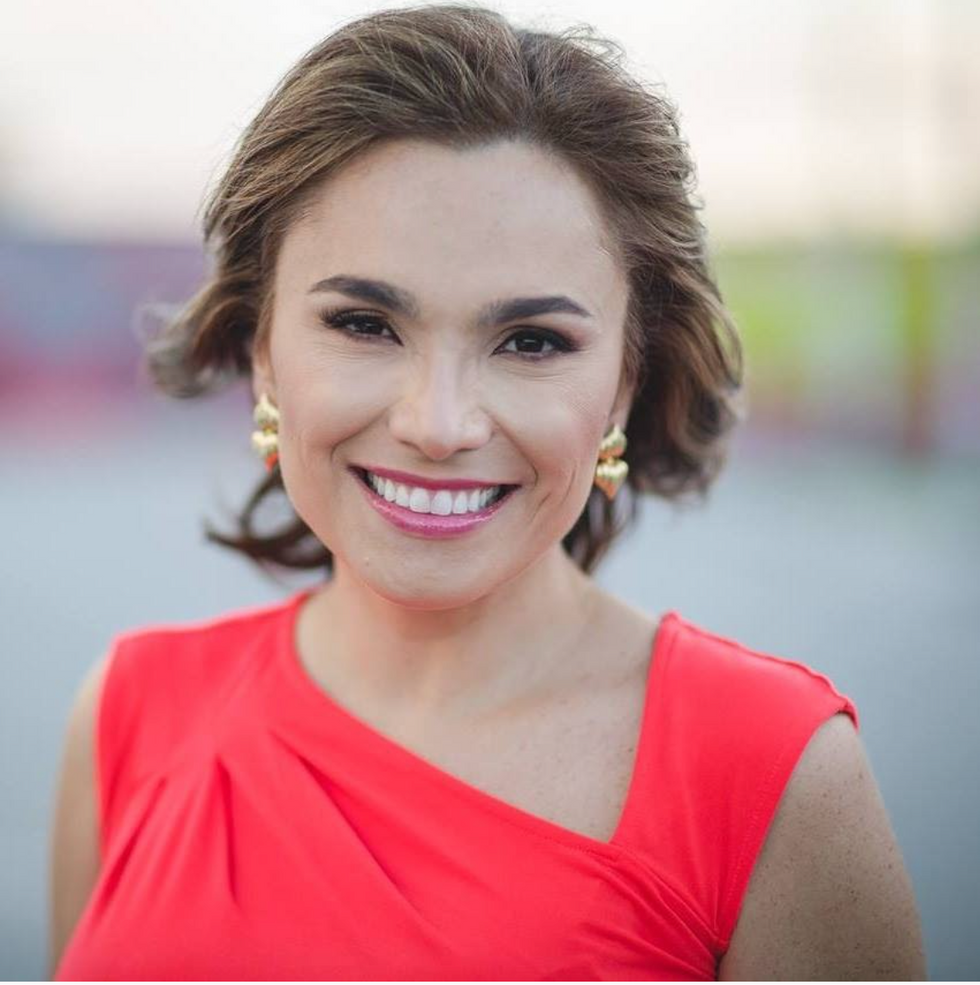 Tatiana L. is a global client partner based in Miami.
Tatiana is part of the Women@ Facebook Resource Group and helped plan Women's Leadership Day, an annual global community summit. While the highly-anticipated event takes place over just one day, its massive impact is felt over the course of the entire year.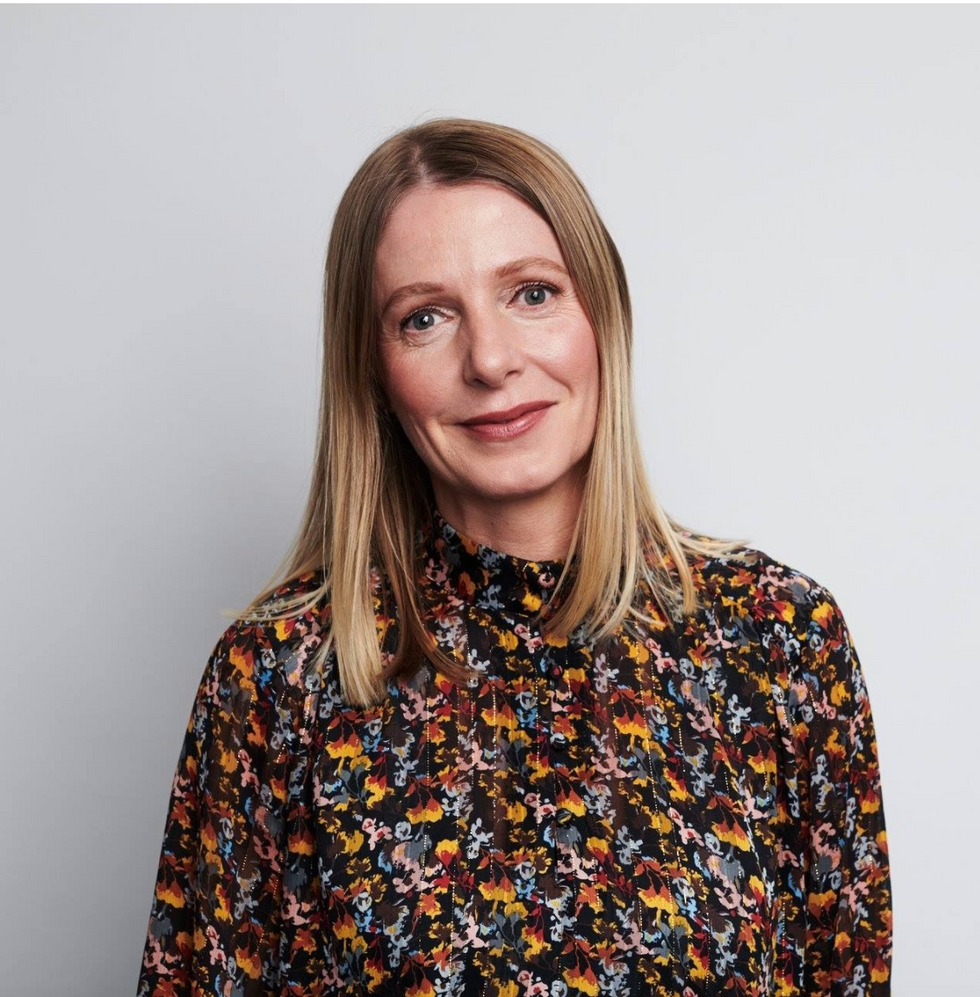 Amy W. is an operations lead based in London.
"Women's Leadership Day is more than an event. It's energy, and it's a movement," Amy W., an operations lead in London, says. "Moments like this can completely change the perception of women in technology."

From choosing the content and programming for the event to making it accessible for women around the globe, we went behind the scenes with seven members of the Women@ Facebook Resource Group to learn more about how women are empowered—and are empowering one another— in their career journeys at the Facebook company.
Behind the scenes with Women@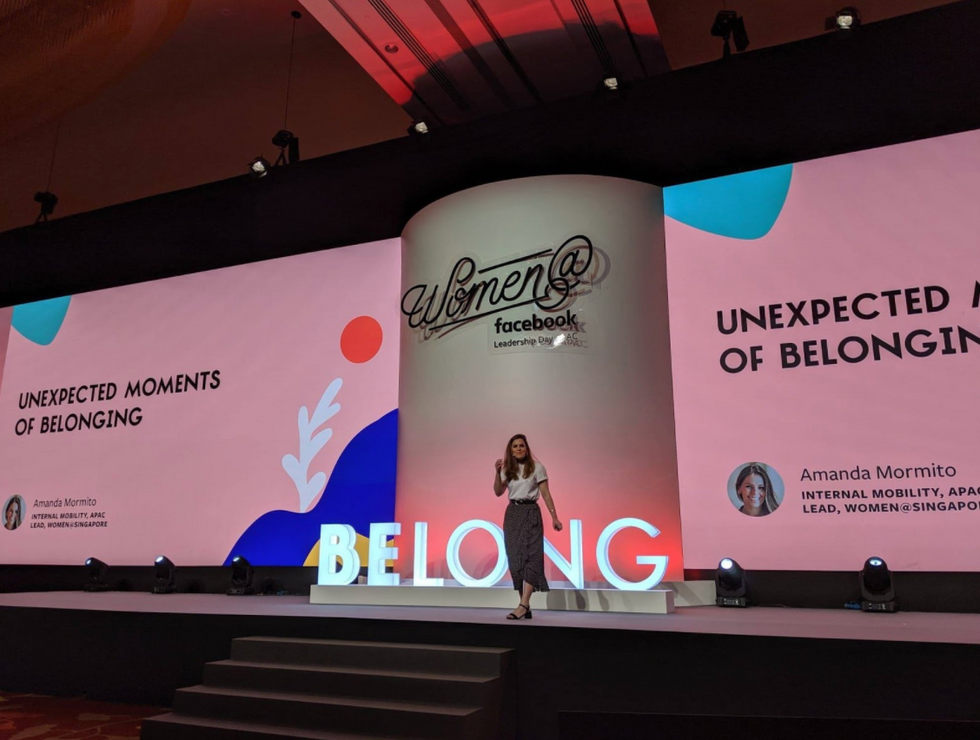 Amanda M., an internal recruiting manager based in Singapore, speaking onstage at 2019 Women@ Leadership Day in APAC.
"I've always been passionate about empowering women, but I didn't know how I could do it at work. My first Women@ experience changed how I felt at Facebook," Amanda M., an internal recruiting manager in Singapore, remembers. "From then on, I wanted to help other women feel heard, valued, and confident."

Planning the global event, which brings together women from more than 20 countries, calls for close collaboration across multiple teams, regions, and timezones. Members of Women@ also partner with other Facebook Resource Groups, such as the Pride@ Resource Group, Latin@ Facebook Resource Group, Desis@ Facebook Resource Group and Black@ Resource Group, to ensure all women at Facebook are represented and feel included.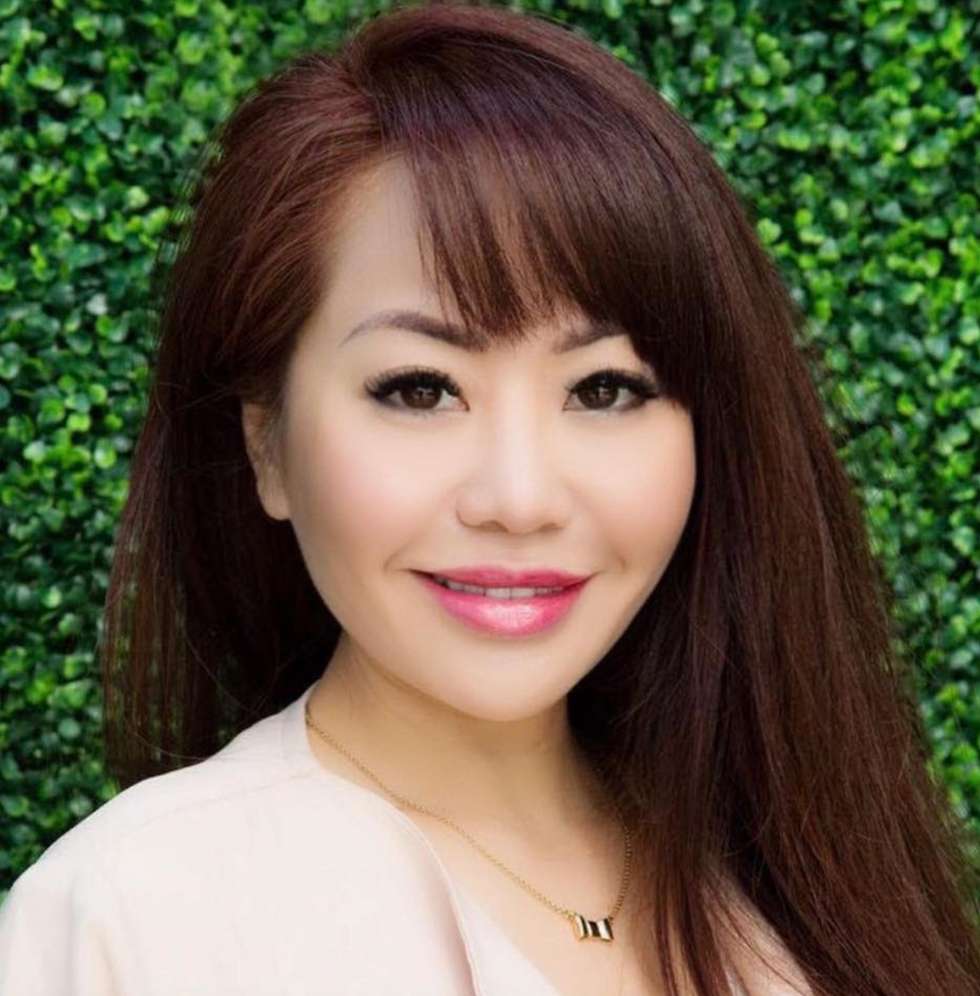 Vivian V. is a program manager based in the San Francisco Bay Area.
"Across regions and communities, we each bring unique differences and powerful stories. When one of us moves forward, we have the opportunity to bring all of us forward," Vivian V., a program manager in the San Francisco Bay Area explains. "While planning the summit, we meet weekly to talk about what women in different regions are experiencing. From the event theme and content to planning speaker sessions and fine-tuning details, we each have items to own. Two months before the summit, we meet daily to share updates and make sure nothing slips through the cracks."
"Just like me, women in APAC look forward to Women's Leadership Day all year long," Amanda says. Planning something that's deeply meaningful to so many people can feel like a lot of pressure, but at the same time, it's uplifting. I appreciate that we have the opportunity to talk about our individual and shared challenges, and we map out ways we can build community while empowering leadership for women across the globe."
Empowering confidence, equality, and leadership through storytelling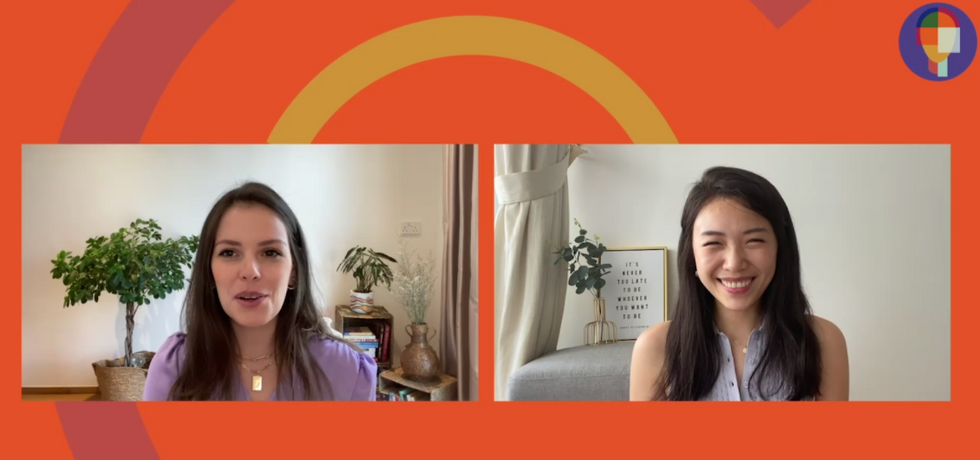 Paris Z., a vertical strategy lead in Singapore, and Amanda M. collaborate with women across the globe to plan Women@ programming and events.
Women's Leadership Day encourages women to talk about challenges like experiencing imposter syndrome, breaking through barriers, and how to manage work/life flexibility. "Storytelling is a huge part of the event," Paris Z., a vertical strategy lead in Singapore, explains.
Vivian says, "I've been at Facebook for nearly two years and help plan these events, and honestly, I never really understood imposter syndrome before I got here. Working with the Women@ community and hearing from our speakers—who are talented, brilliant superstars—I've seen firsthand how it affects them too."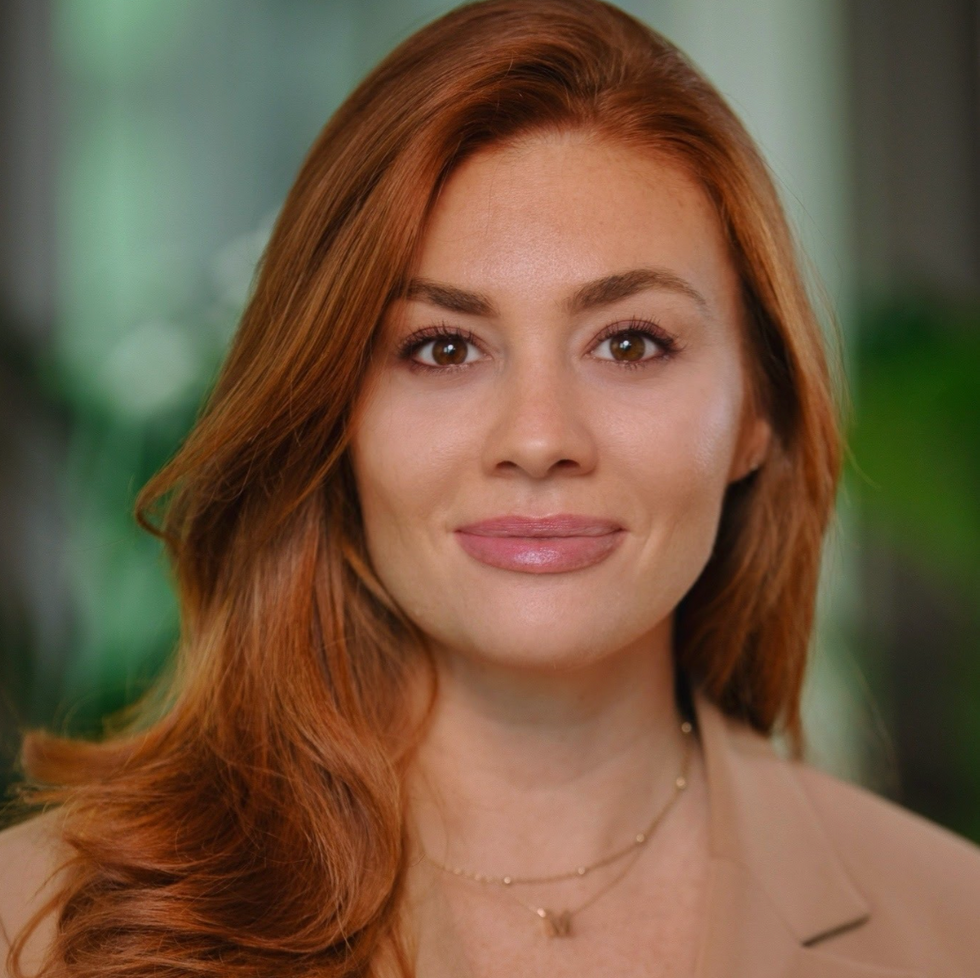 Michelle C. is a client partner based in London.
Michelle C., a client partner in London, says that the summit's speaker sessions, which feature people from inside and outside of Facebook, are a highlight of every event. "We had a speaker from Tel Aviv who talked about the importance of balance in her personal life and how she co-parents with her husband. She shared specific things she's done, like adding her husband to the WhatsApp chat groups for mothers she's in and reminding her daughter's school that her husband is also available when their child feels sick. Her message was that we'll never be equal in the workplace until we're equal at home, and it really struck a chord."

Paris says that in APAC, Eva Chen's talk about facing challenges amidst the coronavirus pandemic and how she's raising her daughter was a top-rated session because it was so relatable. "From talking about her daughter's love for dinosaurs—a "boy" thing—and raising kids to fully be themselves to opening up about what it was like to grow up with immigrant parents from China and Vietnam, Eva inspired us with her authenticity and openness. Her struggle to feel supported while working in fashion and tech, rather than medicine, is something a lot of people in APAC understand."
"Every woman has a unique story," Michelle says. "Hearing from others is inspiring, validating, and truly eye-opening. It reminds us that we're not alone."
A memorable and lasting impact
It's no surprise that with the tremendous amount of planning and careful consideration that goes into the summit, its full impact is impossible to measure.
"It meant so much to me when people shared such positive feedback about Women's Leadership Day," Paris says. "We heard that some attendees felt inspired for days and weeks."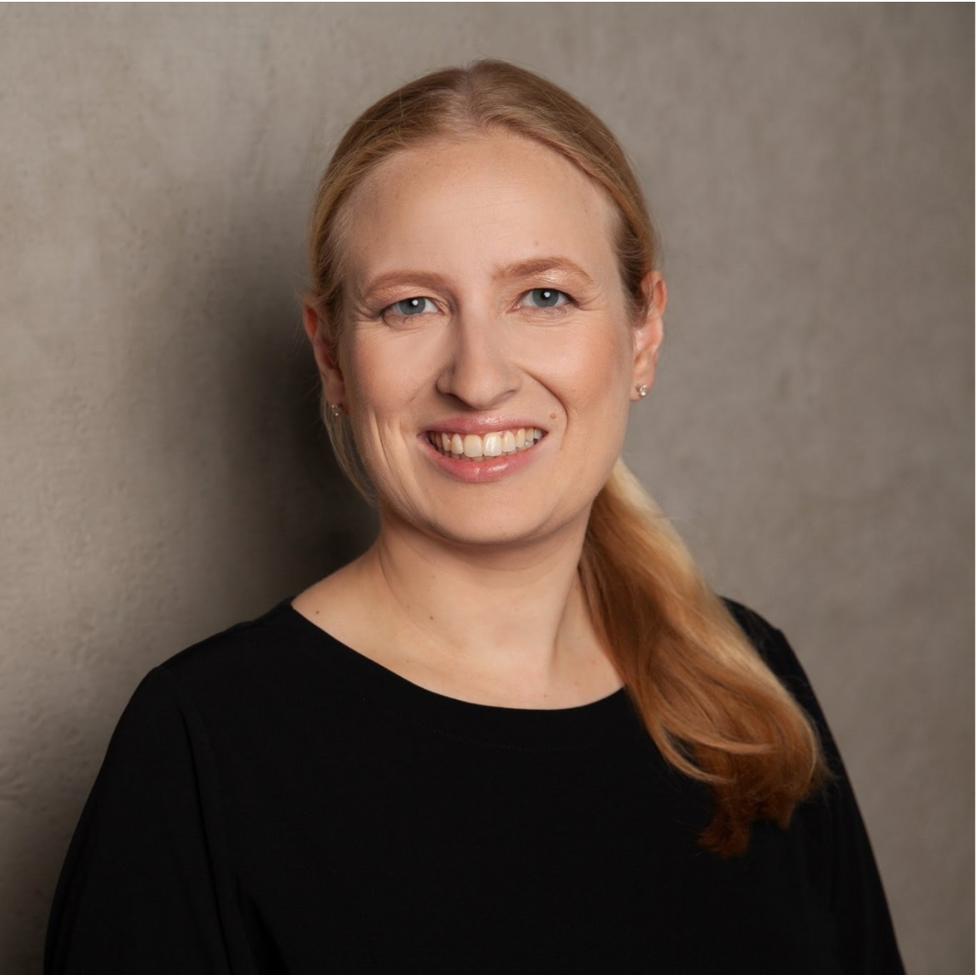 Kira G. is an agency partner based in Berlin.
Kira G., an agency partner in Berlin, has witnessed how the summit's programming can inspire action, even helping people push past a career plateau. "We might reach a point in our careers when we think, "I can't do this anymore, I'm not moving forward'," she says. "Women's Leadership Day gives us fresh perspectives, shows us new approaches, and starts important conversations. This can unlock new paths for growth and help us move forward."

Impact is felt in other Facebook groups, communities, and across teams too, inspiring interest and allyship. Amanda explains, "I felt so proud when a male VP from the Sales team came to us after hearing about what people talked about at Women's Leadership Day. He told us he wanted to learn more because it's everyone's responsibility to be an ally."
Empowering the community throughout the year
While Amanda describes Women's Leadership Day as a "bump in energy and inspiration" and "an injection of adrenaline", Vivian says that the real magic is what happens afterwards—and takes place all year long.

"When we think about Women's Leadership Day, our focus is on making sure that the powerful messages we hear and experience serve us throughout the entire year. We ask ourselves questions like, "How can we sprinkle these themes into our programming throughout the month or quarter? How do these ideas fit with our Women@ initiatives?" Going through something awesome together is just the beginning. Our work takes place year-round and we're constantly building on it to do more."
Paris agrees: "There's no shortage of amazing stories from our Women@ community throughout the year. Women's Leadership Day is just one channel for those stories, and I love how it stays top of mind with people and empowers them to do more good. When we come together, we can do anything we dream of."
"We're building a sisterhood and a community," Tatiana beams. "It feels so good to know there's always someone there to support you."

Learn more about Facebook's Employee Resource Groups, including Women@ here.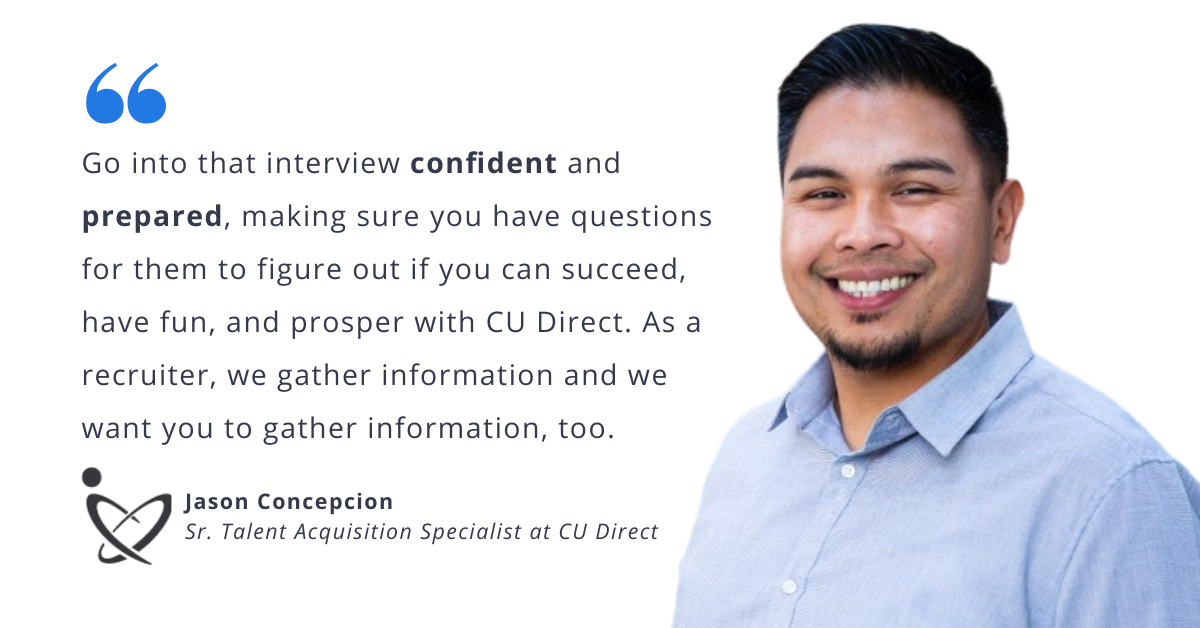 CU Direct
Jason Concepcion is a Sr. Talent Acquisition Specialist at CU Direct, a technology leader that delivers lending solutions to financial institutions, auto dealers, retailers, and medical providers nationwide. As a progressive company that looks for the best diverse talent, CU Direct prides themselves on seeking and taking care of their employees.
We sat down with Jason to learn about CU Direct's hiring process. Keep reading for his top 6 tips to put into practice when interviewing with CU Direct.
Tip # 1 Do Your Research
While it may seem obvious, learning about the company you're interviewing for is crucial. "Before the interview, do some research on CU Direct, our products and services, and even our subsidiary companies," says Jason. Doing the research will show the interviewer that you are highly interested and that "you did your due diligence in getting to know the company." Check out their About page to get to know CU Direct and its various projects.
Tip #2 Ask Questions
It's important to be transparent from the first point of contact with the company, which means asking questions to clarify and gain more information. Jason suggests, "when talking to the recruiter, ask questions. Go into that interview confident and prepared, making sure you have questions for them to figure out if you can succeed, have fun, and prosper with CU Direct. As a recruiter, we gather information and we want you to gather information, too."
Tip #3 Take Your Time
Pace yourself in the interview. Jason explains that "it's okay to pause, regroup, and answer questions. When asked about your experiences, taking your time will allow you to think of the situation, how you solved it, and what was the outcome."
Tip #4 Ask Yourself, 'What Do I Want to Do?'
Take inventory of what you have accomplished or learned in your professional trajectory so far. "We're not just looking for what you've done, but we are also looking for what you can do and what you want to do," says Jason. He believes that "those things are just as important as what you've done in the past. Your drive and determination will show us where you want to go and ideally, that will organically align with the positions we have here at our company."
Tip #5 Understand the Job Description
With your resume in hand, consider what experiences best align with the job description. "Valuable work experience can be found almost anywhere. It can come from your first job or it can come from your most recent job," Jason explains. Whatever small or short experience you have that matches the job description is worth mentioning and explaining, depending on the job you are applying for. Jason explains, "a good understanding of the job description you're going for, and related positions within the company will give you a greater insight as to what we're looking for and what you want to highlight or present in regards to this role."
Tip #6 Don't Be Afraid to Get Personal
One way to stand out in the interview process is to show that you'll be a good values fit, so intentionality throughout, and after, the interview can go a long way. Jason suggests sending a thank you email after the interview. "This will make sure that you stand out in front of thousands of applicants," he says. "Don't make it generic, tailor the message including details mentioned in the interview, this will show the person that you were completely engaged throughout the interview."
CU Direct's personal and careful recruitment process is a reflection of their fun and innovative atmosphere, their value of team members, and commitment to growth. They offer several benefits to their employees, such as a flexible working environment, paid time off, 401k match, college tuition reimbursement, and an exciting company culture. Because of this, they want to make sure people are treated with the same kindness and positivity from the start. As Jason reiterates: "We want to make sure you are prepared and ready for each step of this process, from interviewing, to asking questions, and to possibly onboard in the future," says Jason.
Are you interested to find out more about working at CU Direct? Check out their
openings
here!
READ MORE AND DISCUSS
Show less
Loading...