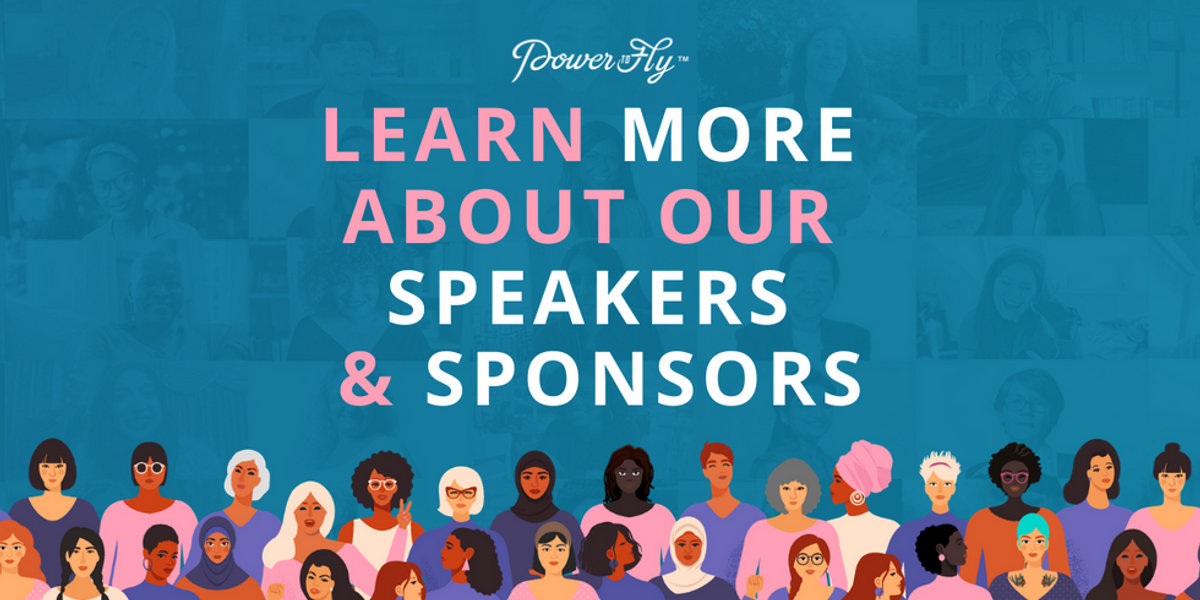 Webinars
Learn more about our amazing sponsors, partners, and diversity and inclusion award winners! Also, check out some of our speakers' inspiring work and initiatives.
From everyone here at PowerToFly we want to extend a BIG thank you to everyone who tuned into last week's Diversity Reboot: Returning to the Workforce. In case you missed a talk or you'd like to revisit one of our great conversations, don't worry, all of the fireside chats and panels will be available to watch for free on PowerToFly soon.
We were thrilled to present talks on such important subjects as the future of flexible work, returning to work after being a caregiver, combatting ageism, practicing work-life integration and fighting for major policy changes such as universal parental leave and affordable child care.
We want to extend a HUGE thanks to our amazing sponsors Freddie Mac, Johnson & Johnson and Smartsheet who made this summit possible as well as the support of our speakers and partners such as TheLi.st, New Power Media, Vote Mama and Path Forward.
Please take a moment to support these leaders, whether by buying their books, donating to their organizations, or just visiting their sites to learn more about how to get involved with them in the future.

Finally, don't forget to visit our Merch Store and grab yourself some PowerToFly apparel. 100% of the proceeds from our sales will be going to TransTech Social, supporting transgender people in tech.
---
Our Sponsors
Freddie Mac makes home possible for millions of families and individuals by providing mortgage capital to lenders. Since our creation by Congress in 1970, we've made housing more accessible and affordable for homebuyers and renters in communities nationwide. We are building a better housing finance system for homebuyers, renters, lenders and taxpayers.
Our Work Drives Our Mission
From supporting the stability of the housing market to promoting housing affordability, everyone at Freddie Mac helps lead the industry forward. And that's the best part of working here — knowing that the work we do makes home possible for homebuyers and renters across the U.S. We call it being home to more.

Come back to the workforce stronger and more prepared to take on the world's most critical health challenges.

The Johnson & Johnson Re-Ignite program is a paid returnship for experienced professionals ready to return to work after a career break of two years or longer. Get back to your career alongside others who have been where you are, who understand and appreciate nontraditional career journeys, unique skills, and life experiences like yours. Guided by mentors and feedback from those who have successfully completed the program, Re-Ignite also includes:

Comprehensive onboarding and industry-specific skills training
Projects based on your goals
Building confidence and fluency in key workplace tools through on-the-job learning
A network of support for the next phase of your career journey and beyond
Consideration for a full-time role at Johnson & Johnson after completing the program
We believe pausing your career to pursue something else important shouldn't stand in the way of your next breakthrough—it should enhance it.
Re-Ignite is for people rejoining the workforce after:

Military service
Starting or raising a family
Caring for a family member
Teaching· Community service
Political office
Entrepreneurial ventures
Volunteer work· Continuing education
Or many other professional or personal pursuits

In 2005, Smartsheet was founded on the idea that teams and millions of people worldwide deserve a better way to deliver their very best work. Today, the company delivers a leading cloud-based platform for work execution, empowering organizations to plan, capture, track, automate, and report on work at scale, resulting in more efficient processes and better business outcomes.
Smartsheet went public on the New York Stock Exchange in April 2018 and currently enables collaboration, better decision making, and accelerated innovation for over 76,000 domain-based customers in 190 countries, including 96 of the Fortune 100.
Smartsheet is a passionate team of 1500+ employees spanning offices in Seattle, Boston, London, Edinburgh and Sydney.

Our Partners
TransTech is an incubator for LGBTQ Talent with a focus on economically empowering the T, transgender people, in our community. TransTech is a co-working, co-learning community dedicated to empowering trans, lesbian, gay, bisexual, queer people and allies with practical, career-ready skills.
TheLi.st is a global community of high impact women in media, technology, and entrepreneurship who are devoted to helping each other unlock new opportunities, achieve greater visibility, and succeed to even higher heights. We are an inclusive community, welcoming all who identify with womanhood (trans, cis, non-binary).
At the intersection of content and community, New Power Media curates powerful conversations, panels and conferences to connect brands and corporations to thought-leaders, media and influencers who are lighting the way for a new dynamic of power. With a focus on championing diversity, celebrating women and elevating next generation leadership, New Power Media can help you tell your brand story, strengthen your thought-leadership, and reach new audiences with authenticity.
The Vote Mama Foundation was founded to overcome the structural and cultural hurdles that mothers face while running for office and that legislators face while fighting for family-friendly legislation.We are working to ensure that all parents and children in the United States have access to safe, affordable childcare and that candidates running in all 50 states can use their campaign funds for childcare..Founded by former Congressional candidate Liuba Grechen Shirley, The Vote Mama Foundation belongs to a group of organizations dedicated to making our country a better place for moms and kids.

https://www.votemamafoundation.org
We believe the success of our mission can be best measured not by the number of moms who win their elections, but also by the normalization of moms and young women in positions of leadership and power. Our kids need to see - running for office is just what mamas do.
Path Forward is a nonprofit organization on a mission to empower people to restart their careers after time spent focused on caregiving. We fulfill this mission by working with companies to create and run mid-career internships — also known as "returnships" — that give professionals a jump start back to their careers, while giving companies access to a diverse, untapped talent force. Since 2016, we've worked with more than 80 companies to create return to work programs, including Walmart, Netflix, Apple, SAP, NBCUniversal, Verizon, PayPal, Intuit, and others. More than 80% of the participants in our programs have been hired by the companies where they completed their returnships.
Having an inclusive culture with diversity of thinking is essential to business performance. The only way to 'shift the dial' on tough gender and commercial targets is to build more inclusive cultures where everyone is engaged and can reach their potential. That's why Talking Talent exists: enabling leaders, individuals and organizations to succeed by unlocking the full power and potential from within - delivering coaching programs and consultancy that ignite companywide behavioral shifts.
We are a team of motivated innovators with a shared passion for helping clients and talent achieve their goals. Our core mission is to deliver high-quality, impactful results to our partners — and includes 110% dedication to having fun and providing convenience.
Learn More About These Amazing Initiatives & Organizations
Since 2012, S.H.E. Summit has been a leadership platform and community advancing diversity, inclusion and social impact in the workplace and the world--through a leadership framework guided by whole-life purpose, inclusion and wellbeing that our future of work needs. We believe transforming culture and creating a better future starts with transforming people and unlocking the potential of their whole, authentic-being. We are award-winning for creating exceptional content, inspiring learning experiences and an unparalleled network and community in order to activate inclusive leaders so we can work towards equity for all. S.H.E. Summit is founded and led by Claudia Chan, a 20+ year social-entrepreneur, bestselling author and creator of the HOW WE RISE Whole-Life Leadership method. Learn more about Claudia Chan.
Claudia Chan talk reminds us that we will never achieve true equity in business and society without a more "whole-being" approach to leadership. She would love to stay in touch with you and share free #WholeLifeLeadership resources and send our community a 20% discount code to S.H.E. Summit Conference Membership and How We Rise "Whole-Life Leadership" Certificate Program. Sign up here http://bit.ly/claudia connect
The Jane Club is curated community platform that offers live gatherings and social connection that is educational, inspirational and transformative.
Honor all work. Come as you are. Show up. Be of service.
From the first incubator space where we tested coworking with onsite, full-time childcare, to our expanding digital community of 500+ Janes from all across the country and around the world, these have been our guiding principles.
Get $20, or 40%, off your first month of membership using code WORKFORCE20.
Mission: A community of women 45+ navigating the present and future of work together in this digital worldTogether, we inform, learn and connect.
Gender Equality in Tech (GET) Cities is an initiative designed to accelerate the representation and leadership of women in tech through the development of inclusive tech hubs across the United States.
YWCA has been at the forefront of the most critical social movements for more than 160 years — from women's empowerment and civil rights, to affordable housing and pay equity, to violence prevention and health care.
Our mission: winning high-quality paid family and medical leave for everyone.
Today 9to5 is one of the largest, most respected national membership organizations of working women in the U.S., dedicated to putting working women's issues on the public agenda.
iRelaunch, the pioneering company in the career reentry space, produces the iRelaunch Return to Work Conferences, iRelaunch Employer Events, and works with over 100 global companies on return to work initiatives of all kinds, through which thousands of relaunchers have resumed careers after career breaks of one to over 20 years.

Commsor integrates with all the tools you already use, tying your community data together and enabling you to unlock insights, measure impact, and build a community-led company.
We were founded on the belief that the best organizations are the ones that treat people fairly. Our origin story is based on a shared vision: to reimagine the way the world works for the benefit of employees and the betterment of all. Using technology to empower, data to inform, and our expertise to inspire, we are leading the way in workplace fairness.
Compensation matters. It's also one of the hardest problems facing companies. We wanted to work on the hardest problem we could find — and that's why we created Compaas.
Premier Moms is an organization dedicated to moms in Gainesville, FL. We offer training and mentorship programs.
INVERSITY™ takes the "division" out of traditional DEI programming by offering a truly inclusive way to communicate, learn, and create an environ-ment vital to an institution's and organization's success.
Divinely Powered is a full-service leadership development and executive coaching firm, dedicated to serving the world's leading organizations in the private, public and non-profit sectors. Our goal is to advance leadership and maximize human potential.
Speaker Spotlight: DEI Book Club Picks!
by Christine Michel Carter
READ HER NOVEL "MOM AF" FOR FREE HERE!
------
by Claudia Chan
------
by Ann Shoket
------
by Dr. Sheryl Ziegler
------
By Kathryn Sollman
------
The Model Minority Myth: Harmful for Society, Harmful for the Workplace
By Alice Li
****************************************************
Thank you to all of our wonderful, amazing speakers! And thank you again for supporting Diversity Reboot 2021 and PowerToFly!
Related Articles Around the Web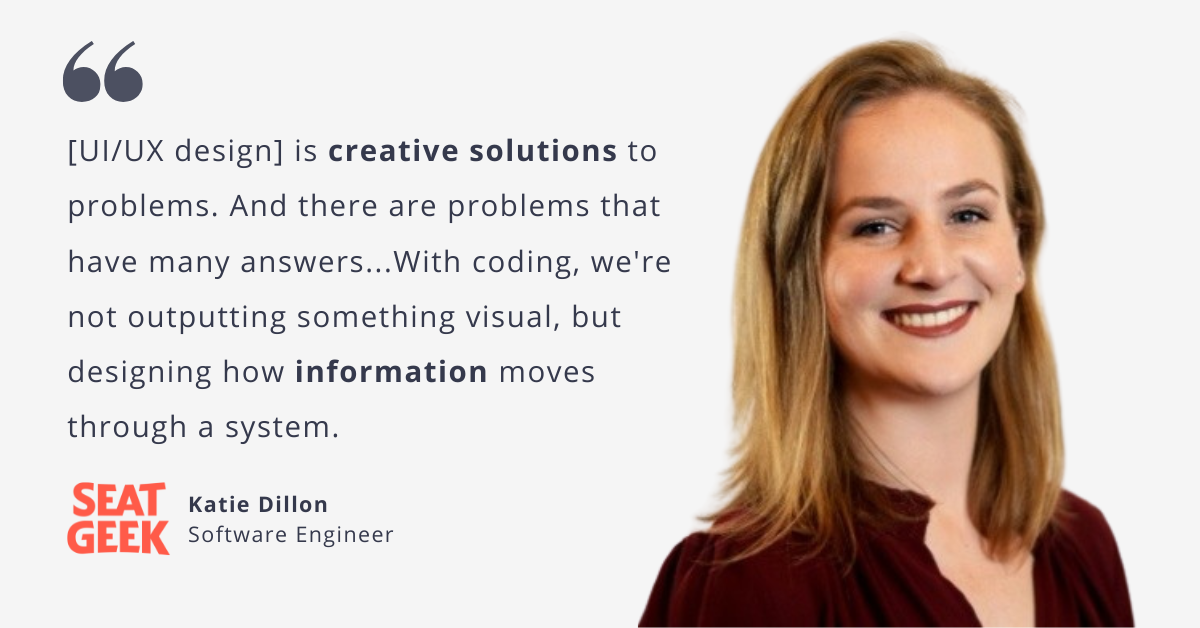 SeatGeek
Katie Dillon has many hobbies. During the pandemic, she picked up candle and jewelry making, opened an Etsy shop, learned new watercolor techniques, and poured hours into maintaining her vegetable garden.
And recently, her interest in the lindy hop community has been resparked. "Swing dancing is something I enjoy doing," she shares. "I used to travel for dance every other weekend. It was a huge part of my life. And I recently got inspired to get back into it."
Whether through crafting or dancing, Katie enjoys harnessing her creativity — a skill she also uses for her work as a Software Engineer at SeatGeek. We sat down with Katie to learn how producing effective code involves creativity and design thinking.
Following Her Interest in Design
Katie grew up within a family of software engineers. "My dad is a software engineer and my younger brother has always wanted to be a software engineer," she shares.
Katie, on the other hand, wanted to carve her own path. "I wanted to do the absolute farthest thing that I could think of from software engineering. There was no way that I was going to code."
In an effort to find her own voice, she joined a filmmaking program in high school. "It was film, design, and English," she explains.
After two years in the program, her mind was set on filmmaking and she applied to several university filmmaking programs. Although she was accepted to some reputable schools, she started having second thoughts.
"I thought I didn't know exactly what I wanted to do, so I wanted to go to a school that allowed me the flexibility to change my mind. I ended up applying to some design schools and then going to the University of Michigan," she says.
There, she pursued an art and design major and started on her career journey.
"I [ended up] doing graphic design, UI/UX stuff," she explains. "I was doing a lot of freelance design work and consulting for small businesses. I was full design and felt pretty good about that for my future."
Katie had regular clients and a full schedule with her design work, however, she felt inclined to take an intro to coding class to stay current—and keep up with her family's dinner table conversations about machine learning.
"[I thought to myself], 'I'd like to understand what this chaos is when my dad talks about it,'" she admits with a smile.
And after that first class, she was hooked.
Merging Creative Design With Coding
"I took one class and I [knew] this was for me," Katie shares.
"It opened my eyes to the fact that engineering can feel like adult Legos, where it's highly creative, but in a way that also tickles my organization brain," she explains.
Because of her newfound interest, Katie decided to finish her design degree with a minor in computer science. While working to achieve this, she got a first glimpse at what a career in tech could look like. This glimpse came from an internship for a company she was previously doing design work for. "It was a local company in Ann Arbor. [I told them] I wanted to code and it worked out great," she shares. She went on to describe the invaluable mentorship and support she received during her transition from design to code. "That internship really helped me envision what it would look like to work as a software engineer," she adds. "Something I'm still grateful for."
Because of her design background, Katie was able to draw similarities between designing and coding. From a design perspective, coding is "designing how a system is going to work or designing the flow of information," she explains.
She has always thought of design as a form of creative problem solving; understanding a problem or a pain point that needs to be solved, ideating different possible solutions, and then realizing those solutions.
Similarly, coding involves designing creative solutions to problems. In both cases, these problems often have many solutions. "With coding, we're not outputting something visual, but designing how information moves through a system," she explains.
The key is being able to design code that helps reach goals; and design thinking plays a crucial role in that. "There are so many different design choices that make good code."
Using Creativity to Code at Seatgeek
After her first experience with coding, Katie decided to expand her career and found SeatGeek through a job search. What caught her attention was the staff.
"Something that resonated with me was that there were these people in all different walks of life who, I felt, SeatGeek honored and encouraged to be their whole [selves] both inside and outside of work," Katie says.
SeatGeek is the live entertainment platform that's rethinking ticketing by caring more about fans, teams, and venues. With their technological savvy and fan-first attitude, they're simplifying and modernizing the ticketing industry.
Now as a Software Engineer, Katie uses creativity and design work in her coding process. "I use creativity more when I'm thinking about and planning code," she adds.
"[On my team] we try to think about these big problems and break down those problems into smaller chunks and that process is so creative to me. We're figuring out what needs to be solved and then designing some sort of solution."
Advice on Using Creativity to Power Your Code
Creativity is a beneficial skill — one that Katie uses on a regular basis.
"In my job, I end up wearing many hats and playing designer when writing frontend code," she explains. "It's always great when I'm able to collaborate with someone and have explicitly asked for design input on bigger projects, but when that's not possible, my design background allows me to still be effective and create user-friendly interfaces through conversations with stakeholders and an iterative design process."
Katie emphasizes that everyone should identify their own creative processes and harness those when designing and writing code, but she offers this advice for those searching to vary that creative spark:
When in doubt, draw it out. "This may not work for everyone but it works for me to have a physical pen to paper and be able to draw my ideas," says Katie. "Whether you're drawing a diagram or a doodle, it doesn't have to be perfect. This process can reveal the weak points and help you focus and iterate on your ideas."
Be open to collaboration. Having open and casual meetings with other engineers can create the space for innovation. "I think that some of the most effective and groundbreaking meetings don't really have a plan other than 'let's talk about this big idea and think about it,'" Katie shares. "Talking to other engineers during that unstructured design time is really helpful."
Do the big design work first. "Doing enough of the planning and design work ahead of time, I feel, lays the base to be more creative with the small things," shares Katie. "Once you have the structural pieces in place, you can utilize creativity by getting feedback and bouncing ideas off of other colleagues to fill in the missing components."
If you're ready to apply creativity and design to solve big problems, check out the open positions at SeatGeek.
READ MORE AND DISCUSS
Show less
Loading...