GET EMAIL UPDATES FROM POWERTOFLY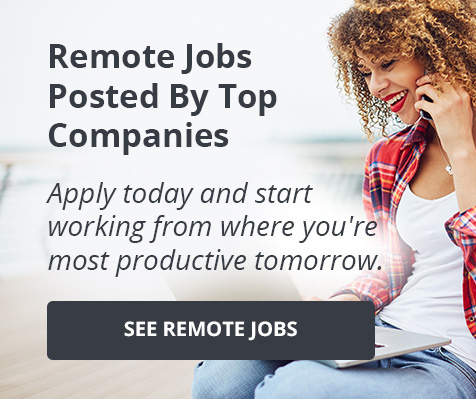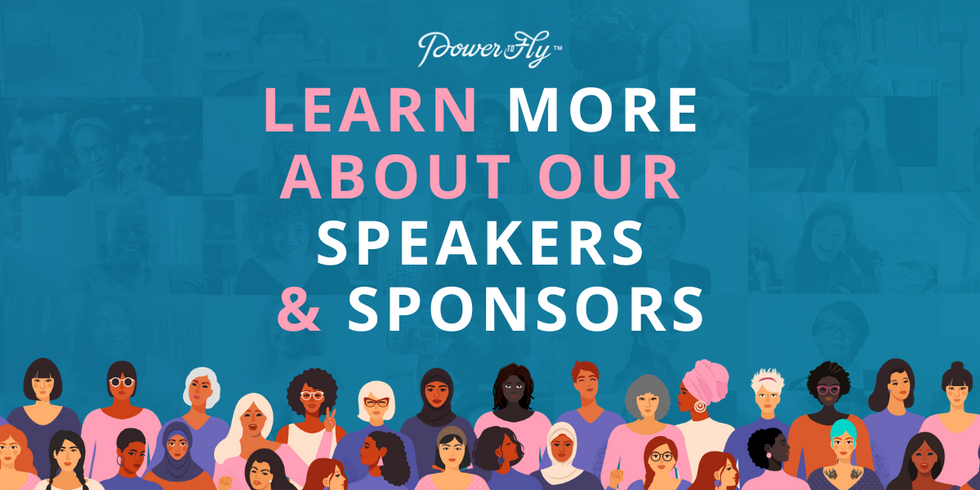 September 08, 2020
Learn More About Our Speakers & Sponsors
Check out our speakers' books, products, services and websites to learn more about their amazing projects and initiatives.
All we can say is: WOW and THANK YOU!
That's a wrap on Allyship to Impact, part of PowerToFly's Diversity Reboot virtual summit series! Whether you were able to join us live and engage with our amazing lineup of leaders in antiracism and inclusion education or you will be watching the recordings of our conversations at a later date, we sincerely thank you for your interest in this vital topic. We hope that you were able to walk away feeling empowered with new information, new connections, and new opportunities. Only together can we take the actionable steps towards creating a more diverse and inclusive workplace.
Just scroll down to check out our amazing speakers projects, websites, books and more. Below you'll find links to purchase and learn more about the books written by our many groundbreaking authors who spoke at the summit. Please take a moment to support these leaders whether by buying their books, donating to their organizations or just visiting their sites to learn more about how to get involved with them in the future.

---
What We're Reading Right Now

by Elijah Cummings, Forward by Nancy Pelosi, Afterward by Maya Rockeymoore Cummings
A message from Dr. Maya Rockeymoore Cummings:

My late husband Congressman Elijah E. Cummings was a profoundly decent man whom I deeply admired and loved with all my heart. His tragic death from thymic cancer at the age of 68 was a heart-wrenching loss for his family, constituents, colleagues, and the nation. A son of Baltimore who rose to become an esteemed lawyer, Maryland state legislator, and member of the U.S. House of Representatives, at the time of his death Elijah chaired the House Committee on Oversight and Reform, a primary investigative body of the Congress. It is with immense pride and profound gratitude that I announce the September 22nd publication of his book, We're Better Than This: My Fight for the Future of Our Democracy, written in collaboration with Baltimore writer James Dale and published by HarperCollins. Elijah and Jim worked on this book throughout the last year of his life which considering the intensity of his work and his health challenges, is a testament to his strength of will and an example of values-based leadership at its finest. Featuring life lessons that fueled Elijah's pain, passion, and purpose, the book also details his fight to root out corruption in government and contains his dire warning about the threat that Donald J. Trump represents to the American people and U.S. democracy. With a foreword written by Speaker Nancy Pelosi and an afterword written by me, this must-read book provides a roadmap to help you understand the significance of the man, the gravity of the moment, and what we must all do to save our families, communities, and the country. Last but certainly not least, I am excited and honored to announce that world-renowned actor Laurence Fishburne provides a masterful interpretation of Elijah's voice in the audio version of the book.

by Tiffany Dufu
Once the poster girl for doing it all, after she had her first child, Tiffany Dufu, a renowned voice in the women's leadership movement, struggled to accomplish everything she thought she needed to in order to succeed. Like so many driven and talented women who have been brought up to believe that to have it all, they must do it all, Tiffany began to feel that achieving her career and personal goals was an impossibility. Eventually, she discovered the solution: letting go. In Drop the Ball, Tiffany recounts how she learned to reevaluate expectations, shrink her to-do list, and meaningfully engage the assistance of others—freeing the space she needed to flourish at work and to develop deeper, more meaningful relationships at home.

by Julie Lythcott-Haims
Having tackled a far-reaching parenting crisis with her New York Times bestselling How to Raise an Adult, Lythcott-Haims is back with an equally powerful and persuasive book for the adult children of those hovering parents--and for everyone who struggles to be a grown-up in these challenging times. What does it mean to be a "grownup"? And how do we define success? For generations, the milestones were easy to pinpoint: college graduation, if possible, a steady nine-to-five, home ownership; marriage; and children not long after. For those entering adulthood today, expectations and hopes are sometimes as rigid and high-pressure as they ever were, but the realities and the options have changed. Many choose to pursue careers and passions that diverge from desk jobs, joining the escalating gig economy; many live at home with family to save money in the face of staggering student debt; and others begin struggling with how or whether raise their own children in a time of steep economic inequality and climate change. When it comes to essential, basic skills such as dating and building friendships, or learning to channel one's energy into being an informed and responsible citizen, well, it's harder than ever to focus and figure things out. Into this swirl of anxiety and inexperience steps Julie Lythcott-Haims. A former Stanford dean of freshman and undergraduate adviser and author of the perennial bestseller How to Raise an Adult, Lythcott-Haims has encountered hundreds of twentysomethings who feel they're just playing the part of "adult," while struggling in silence with stress and general unease. In How to Be an Adult, she offers inspiration and practical strategies for how to face pervasive insecurities--from the terror of being in charge or of meeting new people to quandaries about how to achieve financial independence, cope with traumas, or discover what gives us joy.

by Maëlle Gavet
Trampled by Unicorns: Big Tech's Empathy Problem and How to Fix It explores how technology has progressed humanity's most noble pursuits, while also grappling with the origins of the industry's destructive empathy deficit and the practical measures Big Tech can take to self-regulate and make it right again. Author Maëlle Gavet examines the tendency for many of Big Tech's stars to stray from their user-first ideals and make products that actually profoundly damage their customers and ultimately society.

by Camille T. Dungy
An award-winning African American poet debuts in prose with a stunningly graceful and honest exploration of race, motherhood, and history. As a working mother whose livelihood as a poet-lecturer depended on travel, Camille Dungy crisscrossed America with her infant, then toddler, intensely aware of how they are seen, not just as mother and child, but as black women. With a poet's eye, she celebrates her daughter's acquisition of language and discoveries of the natural and human world around her. At the same time history shadows her steps everywhere she goes: from the San Francisco of settlers' and investors' dreams to the slave-trading ports of Ghana; from snow-white Maine to a festive, yet threatening, bonfire in the Virginia pinewoods. With exceptional candor and grace, Dungy explores our inner and outer worlds―the intimate and vulnerable experiences of raising a child, living with illness, conversing with strangers, and counting on others' goodwill. Across the nation, she finds fear and trauma, and also mercy, kindness, and community. Penetrating and generous, Guidebook to Relative Strangers is an essential guide for a troubled land.

by Nadia Owusu
Combining literary memoir and cultural history, Aftershocks grapples with the multiplicity of identity, the meaning of home, the complexities of family, and the ripple effects, both personal and generational, of emotional trauma. As young Nadia followed her father, a civil servant with the United Nations, around the globe, she bounced between Africa and Europe before moving to the United States to attend college. The fractured geography she called home mirrored the multiple identities she laid claim to through a Ghanaian father descended from Ashanti royalty and an Armenian American mother who abandoned Nadia when she was two. Nadia has, at different points in her life, felt stateless, motherless, and uncertain about who she really is. At other times, she has been overwhelmed by her identities. Is she European, African, American? All, or none of the above? At no point does this fractured sense of self make her feel more unmoored than when her father dies. This cataclysmic event is compounded by the bombshell secret her stepmother reveals after his passing, a secret rife with shaming innuendo. What follows are episodes of confusion, sorrow, and depression as the pressure to hold herself and her siblings together gives way to what Nadia describes as fault lines in her own self. Aftershocks is the way she hauled herself out of the wreckage of her life's perpetual quaking, the means by which she finally came to understand that the only ground firm enough to count on was the one she wrote into existence.

by Shauna Gordon-McKeon & Elena Popova
When magic runs wild on Darling Street and Ajax the Dog gets scared, he barks out "woof, woof!" (that's dog for "help, help!") and Super Princess comes to the rescue. She shows Ajax that with a little love and empathy, there's nothing to be scared of. One day, Mom and Dad ask Sam if they can meet Super Princess. Their love and empathy show Sam that there's nothing to be scared of. She learns that Super Princess can save the day as well as the night! Super Princess Saves the Night is a children's book about embracing difference and loving people for who they are. It features a trans/gender non-conforming character, her supportive parents, her big silly dog, and a variety of magical household items. All proceeds from this book are being donated to the Trans Women of Color Collective.

---
Learn More About Our Speakers and Their Organizations
We empower leaders and teams to lead inclusively and authentically, through modern, interactive, and action-oriented workshops.

Using my 10+years of experience in coaching and my knowledge and expertise as an intersectional feminist and scholar, I utilize a holistic approach that considers your community experiences while also drawing attention to the systems and institutions that may hinder personal growth and development.

A consulting practice looking for social transformation within religious and faith spaces in support of justice, equity and affirmation for all. Through facilitation, training, and coaching my practice works short and long term with faith and religious institutions to explore and implement changes towards reaching the principles stated above.

The Cru is a constellation of women committed to helping each other thrive. We match circles of ten women based on their personality, values, demographics and life goals. Crus coach one another to accelerate their personal and professional growth. You receive structure, exclusive content and a virtual guide to support your Cru with your annual membership.

We are the intersection between business and the political system ensuring that government does not impede your success.

Camille T. Dungy's debut collection of personal essays is Guidebook to Relative Strangers (W. W. Norton, 2017), a finalist for the National Book Critics Circle Award. She is also the author of four collections of poetry, most recently Trophic Cascade (Wesleyan UP, 2017), winner of the Colorado Book Award. She was awarded a Guggenheim Fellowship in 2019.

Ellevate works with companies committed to diversity and inclusion, providing an effective framework for companies to be a leader in diversity, attract top talent, and retain high performers through our customized programming, access to career resources, and top notch events.

Floreo is leveraging the power of Virtual Reality to develop a supplementary method of teaching social and communication skills for individuals with Autism Spectrum Disorder (ASD). Our library of lessons is fun and engaging for the learner, while also providing a supervising adult the opportunity to monitor and track the learner's progress. Floreo is currently being used by schools, therapy practices, and parents. Floreo's lessons are science-based; we are currently running several research studies including a study in collaboration with the Center for Autism Research at Children's Hospital of Philadelphia and National Institutes of Health.

Maëlle Gavet has been a leading technology executive and entrepreneur for over 15 years. One of the tech industry's brightest stars, Maëlle Gavet has been named a Young Global Leader by the World Economic Forum, one of Fortune's 40 Under 40, one of the Most Creative People in Business by Fast Company and was fifth among Time magazine's List of the Top 25 'Female Techpreneurs'. After six years as a Principal at the Boston Consulting Group she went on to become CEO of OZON.ru, Russia's largest e-commerce site, and executive VP of operations of the Priceline Group, the largest online and travel agency in the world which includes brands like OpenTable, Kayak, and Booking.com.

Jackie Gordon is a combat veteran, an educator, a public servant, and a community leader. Jackie was born in Jamaica, West Indies, and grew up in Queens, NY. While in college and teaching in local schools, she enlisted in the United States Army Reserve. Over her 29-year career in the Armed Forces, Jackie served our country overseas as a platoon leader in Germany during Operation Desert Storm, as an operations officer at Guantanamo Bay during the Global War on Terror, as a battle captain in Baghdad during the U.S.-led invasion of Iraq, and as Commander of the 310th Military Police Battalion in Afghanistan in 2012. She retired from the Army Reserve with the rank of Lieutenant Colonel in 2014. Gordon spent three decades working in New York public schools, and has earned degrees in education from Hunter College and Queens College. As a former guidance counselor at Wilson Technological Center in Farmingdale, Jackie has mentored and advised Long Island high schoolers, guiding them into productive lives, into college, and into the workforce. From 2007 to 2020, she served on the Babylon Town Council, where she worked to direct resources to veterans and military families as Chair of the Veterans Advisory Council, pushed for the revitalization of Wyandanch Village, which has breathed new life into the community, and helped raise nearly $1 million for the Wounded Warriors Project through the annual Soldier Ride in Babylon. Jackie lives in Copiague with her son Augustus. Her daughter, Kerrianne, is a Captain in the U.S. Air Force.

Hook & Fasten is a social impact consulting firm that builds transformational partnerships between communities and corporations around the globe. We craft custom programs, initiatives and campaigns that help clients be authentic, intentional, mindful and results-oriented in their impact and giving.
Our mission is to work for and ensure the physical, mental, spiritual, political, cultural and economic survival and growth of the Lesbian, Gay, Bisexual and Transgender people of color communities.

Karat is on a mission to engineer a better technical interview, and assess the world's talent. We are the first dedicated marketplace for technical interviewers. Karat's network of seasoned engineers conduct the first rounds of technical interviews for elite engineering companies. Our robust platform removes bias from the hiring process and saves teams thousands of valuable hours while allowing them to focus on top performing candidates. Karat's unique approach recognizes that people are central to the hiring process and that they can be supercharged by leveraging machine learning and our rich database of the world's interviews.

Leadership for Educational Equity is a nonprofit leadership development organization inspiring & supporting a network of civic leaders to end the injustice of educational inequity.

LEVICK is one of the world's leading independent strategic communications, public affairs, and business advisory consulting firms.

Living Cities harnesses the collective power of philanthropy, financial institutions and local governments to close racial income and wealth gaps in American cities.

Julie Lythcott-Haims believes in humans and is deeply interested in what gets in our way. She is the New York Times bestselling author of the anti-helicopter parenting manifesto How to Raise an Adult. Her TED Talk on the subject was one of the top talks of 2016, and in 2020 she became a regular contributor with CBS This Morning on parenting.

Content & Branding for Creative Boss Babes.

The oldest Black newspaper in the country that offers the "New Black View" within local, national and international news for the Black community.

Calista Phair, LLC is a business that provides talent recruitment implementation plans, diversity, equity and inclusion, business coaching, change management strategies, business sales generation strategies, and workforce training. These services are in place to ultimately provide businesses with the opportunity to recruit talent and more so provide others with the tools to advance their career, grow a business, and maximize their full potential.
Subscribe on calistaphair.com for access to upcoming events, resources, special offers and more which are sent out every week. Contact me directly at calista@calistaphair.com I would love to hear from you and reach out directly anytime!
Send me an email to receive a Free 30 minute consultation and let me know you attended #Allyshiptoimpact Summit by PowertoFly!

Dr. Tana M. Session is an award-winning International Speaker, Executive-level Performance Coach, Best-selling Author, recognized Inclusion, Diversity & Multigenerational Thought Leader and Media Contributor. She has been recognized by Huffington Post as a "Top Female Expert to Follow;" by Forbes as a "Top Diversity & Inclusion Business Leader;" and by Fond.co as a "Top 10 Company Culture Consultant."

I'm Mira-- a queer white Jewish woman and third-generation San Franciscan. I have dedicated my life to building strong and diverse communities, developing white antiracist consciousness and courage, and creating opportunities for societal transformation. I co-create solutions with my clients; we turn some of the biggest issues into opportunities for change and growth.

Janna Meyrowitz Turner founded Style House in 2006 as a boutique antithesis to high-stress public relations offices that didn't breed creativity, loyalty or progress. For over a decade Style House has been partnering with female-forward startups and corporations that turn our entrepreneurial business brains into overdrive to move society forward.

Trans Women of Color Collective (TWOCC) was created to cultivate economic opportunities and affirming spaces for trans people of color and our families, to foster kinship, build community engage in healing and restorative justice through arts, culture, media, advocacy and activism.

Trifecta Media Group provides small businesses with the integrated marketing support they need to be their best. We believe in personalized service that hones in on the needs and vision of our clients.

viBe Theater Experience (viBe) provides girls, young women, and nonbinary youth of color (aged 13-25) in New York City with free, high quality artistic, leadership and academic opportunities. viBe works to empower its participants to write and perform original theater, video and music about the real-life issues they face daily. viBe's performing arts and training programs provide the platform for participants to amplify their voices and "speak truth to power", by creating an artistic response to the world around them.

The Vixen is a multi-talented performer dedicated to making the world a better place. Growing up on the South Side of Chicago, her art has always been intertwined with social justice and activism. An accomplished drag queen, songwriter, fashion designer and dancer, she credits her creative family for her love of the arts. As a student at Columbia College in Chicago, Vixen learned the makeup skills it took to create her growing drag persona. After turning 21, her athletic performance style quickly gained her attention in the Chicago drag scene. Through hard work and dedication The Vixen has become an influential member of Chicago's gay community - interviewed by many publications for her unique style and outspoken viewpoint. As a rapper, her bold lyrics and intricate delivery has earned her national attention for her show-stopping collaborations. Her proudest achievement is creating BlackGirlMagic, a drag concert, where queens of color can celebrate their unique experiences through storytelling and performance.

---
Support Our Sponsors
Datadog is the essential monitoring platform for cloud applications. We bring together data from servers, containers, databases, and third-party services to make your stack entirely observable. These capabilities help DevOps teams avoid downtime, resolve performance issues, and ensure customers are getting the best user experience.

Guru is a dynamic, fast growing start-up based in Philadelphia and San Francisco. Our mission is to reinvent the way people connect with meaningful information at work. Guru's knowledge management solution provides customer-facing teams access to expert-verified information where they work and when they need it most. We believe in cultivating a welcoming, inclusive culture that encourages personal growth through working hard and having fun.

cielo24's cutting-edge video solution technology enables us to create detailed information about the content within your videos, which in turn amplifies your video discovery, engagement, reach and compliance. This can include speaker identification, audio transcript and visual information (faces, actions, products, etc.). This information can also be used to generate video insights including topics, keywords and ad words for targeting and asset management.

FACTUALITY is a facilitated dialogue, crash course, and interactive experience, that simulates structural inequality, in America. Participants assume the identities of the characters above, encountering a series of fact based advantages & limitations based on the intersection of their race, class, gender, faith, sexual orientation, age, and ability.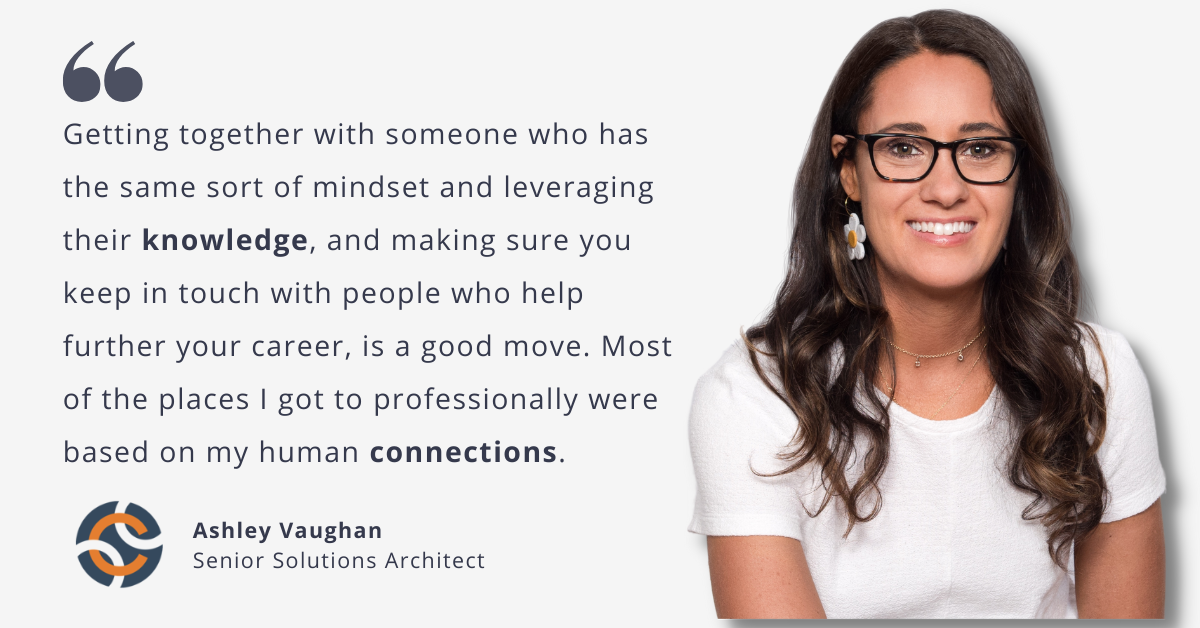 Chainalysis Inc.
How much money do criminals control today, and where is it?
These are some of the many questions that Ashley Vaughan, Senior Solutions Architect at blockchain data platform Chainalysis, spends her days working to answer.
"You learn more about a situation or problem by following the money than from any other resource or piece of information," she explains. "Money doesn't lie. People can lie in text messages or other means, but the path of the money leads you to what you're trying to accomplish."
Though Ashley always knew she wanted to work with computers, she found her way into roles in cybersecurity, and then specifically blockchain security, through networking and exposure — not by setting out to do so.
We sat down to talk about her career journey, as well as what advice she has for other women looking to make their mark in these burgeoning fields.
Resilience and Curiosity
Ashley doesn't often give up, and credits some of that attitude to an obsession with soccer as a kid.
"Playing sports makes you a more resilient person, I think. You learn failure and risk, which are very applicable to my job and my career path," she says.
That resiliency was a good thing, notes Ashley, because as a young girl, she wasn't always encouraged to pursue what she was most interested in: math and science. A teacher early on had told her that she wasn't good at math, and Ashley believed that narrative until high school.
"We really shouldn't put those ideas in children's minds, because it affects them for much longer than you might think," she says of the experience. "But I'm the kind of person that when someone tells me I can't do something, it makes me want to do it even more, and do it better."
Finding out in advanced high school math classes that she actually was good at math turned into choosing a computer engineering major when she got to college.
Graduating during a recession in 2010 meant Ashley didn't have the job market of her dreams, but after working in IT, she networked her way into a role in the cybersecurity department of a prominent DC law firm.
"They were getting hit left and right from social engineering and phishing attempts," says Ashley. "Due to the sensitive nature of the work they dealt with, I was exposed to the darker realities of the digital era, and I began to see a new side to the world—one of real significance to national security."
Specializing in Cybersecurity — and Finding a Home in the Private Sector
Inspired by what she was working on at the law firm, Ashley pursued a master's in cybersecurity with a focus on counterterrorism.
"I wanted to help protect our country," she explains. "I have a lot of family members who are former military, so that was a natural step for me."
That led to her taking a contract role specializing in offensive security at a government agency that frequently worked with Chainalysis. After working with Chainalysis folks onsite, she was sold and started pursuing a position with the company.
"I wanted to help make sense of blockchain data for a bigger purpose, like assisting in the continued threat of ransomware activity against American interests," she explains.
Although she credits her public sector work with providing a solid foundation in blockchain security, the private sector turned out to be a better fit for her.
"What I love about Chainalysis is that my colleagues are really happy people, and I've always felt welcome and not scared to ask questions," says Ashley. "In past jobs, where I was one of five women in a group of 150, I felt a lot of pressure. I didn't ever want to make a mistake. I felt as if I had to be a chameleon to match the social environment of my male counterparts."
Blockchains are all about democratizing data, and Ashley likes working with a team of people of all backgrounds to help support that mission. At Chainalysis, Ashley works with internal product and engineering to show customers how Chainalysis data can help them use complex blockchain solutions to solve data problems — and catch bad guys.
"Sometimes we're following a bad actor who's tied to child sex trafficking. Being part of a coordinated operation to put a stop to things like that is really fulfilling," she says.
3 Tips for Women Who Want to Find Their Place in Cybersecurity
For a long time, reflects Ashley, she just wanted to come into work, do her job, and feel supported, without feeling like she didn't fit in or was representing her entire gender. Fortunately, she found what she wanted — and she hopes other women will find that, too. They can start their search by:
Knowing they're not alone in having tough experiences. "Everyone has different definitions for how you're supposed to act or supposed to handle your emotions as a woman at work, and it's exhausting. It's like, 'This is just me.' I can't repeat enough how tiring that is," she says.
Prioritizing self-directed learning. Although Ashley completed a master's in cybersecurity, she emphasizes that there are many other routes into the industry, including self-study. Whether you get involved in programs like Girls Who Code or do self-paced learning through platforms like Udemy or Coursera, the important thing is that you pursue independent learning about topics that interest you, she says.
Creating and maintaining relationships. "Really talking to people is almost a lost art," says Ashley. "Getting together with someone who has the same sort of mindset and leveraging their knowledge, and making sure you keep in touch with people who help further your career, is a good move. Most of the places I got to professionally were based on my human connections."
Nowadays at Chainalysis, Ashley is no longer one of five women in the office, and is excited to start paying it forward so that more people with backgrounds like hers can pursue their own professional success.
"We tend to feel more comfortable talking to people who might have our same gender or educational background, and being open and vulnerable with them," she says. "Being a visible role model is really important to me."
Check out Chainalysis' open roles
here
!
READ MORE AND DISCUSS
Show less
Loading...